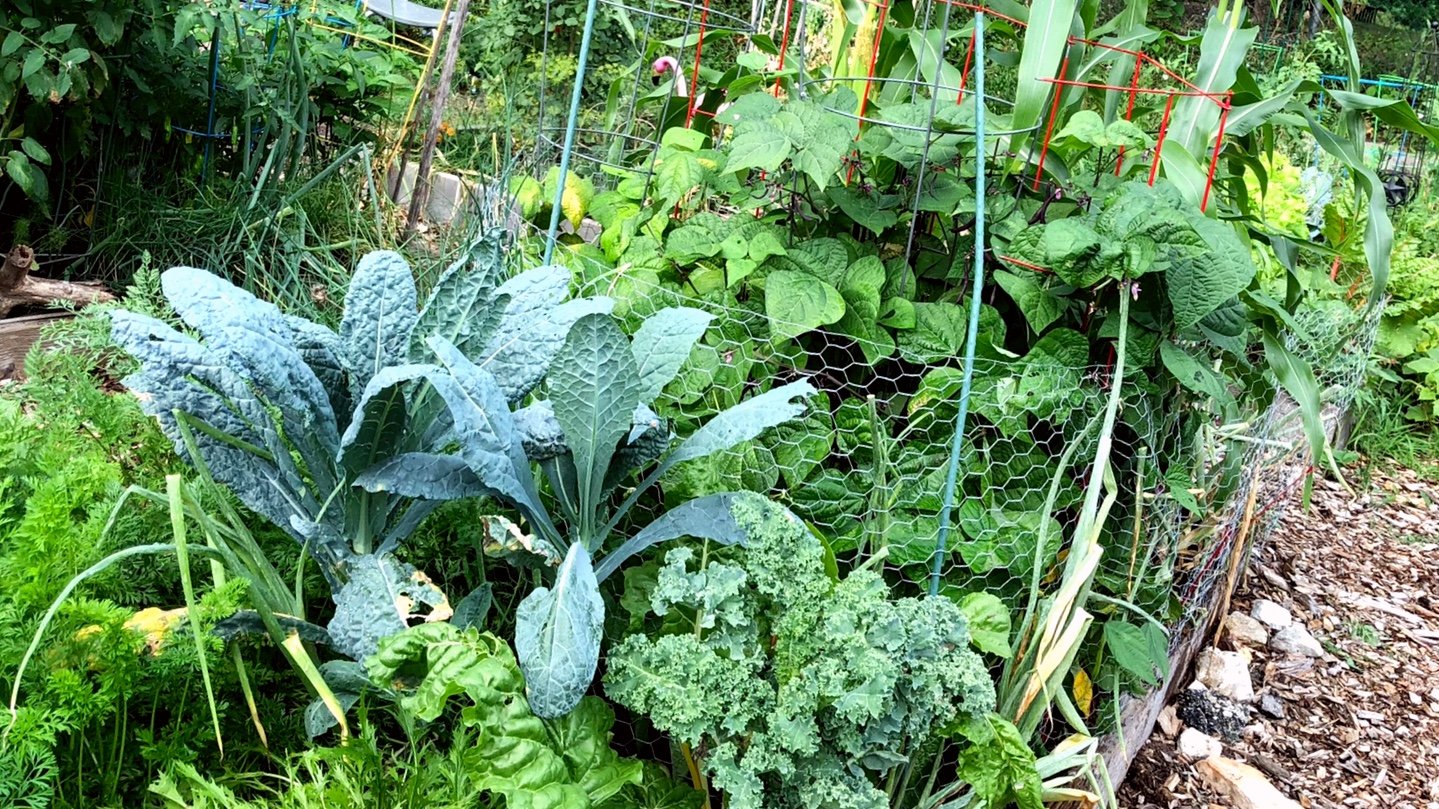 Vegetable gardening looks to be the next homebound hobby. (Patty Wetli / WTTW)
Chicago's gardening season doesn't really begin in earnest until mid-May, when the last threat of frost has reliably passed. (See: April snow.)
But the phone at Farmers Market Garden Center has been ringing off the hook since mid-March, almost as soon as Gov. J.B. Pritzker issued his stay-at-home order to combat the spread of COVID-19.
"That first week [of quarantine], our phone blew up," said Jennifer Paravola, co-owner of Farmers Market Garden Center with her sister Nicole Erickson. "We're fielding so many calls about vegetable gardens right now."
In the same way that everyone seemed to have collectively agreed to bake bread during the coronavirus quarantine — good luck finding yeast, if you're a latecomer to that party — the entire nation appears now to have settled on growing their own food as the next homebound hobby, either out of boredom or fears that the grocery store supply chain could buckle under the pandemic's pressure. Raised bed kits have been selling out at independent garden centers, and seeds have nearly as much currency as toilet paper.
Indeed, an early rush on seeds by both rookie and veteran growers (seeds can be germinated indoors weeks before outdoor transplanting) has already overwhelmed Seed Savers Exchange, a source treasured by long-time gardeners. The company has had to press pause on accepting new orders while it processes the unexpected avalanche it received in March.
Farmers Market, a nearly 100-year-old Irving Park mainstay, is one of Seed Savers' retail accounts, and even they got back-burnered.
"We had just placed our regular order, and then they reached back out and told us they had 26,000 orders in the course of week," said Paravola. "We were like, 'Um, we'll take it whenever you guys get to it.'"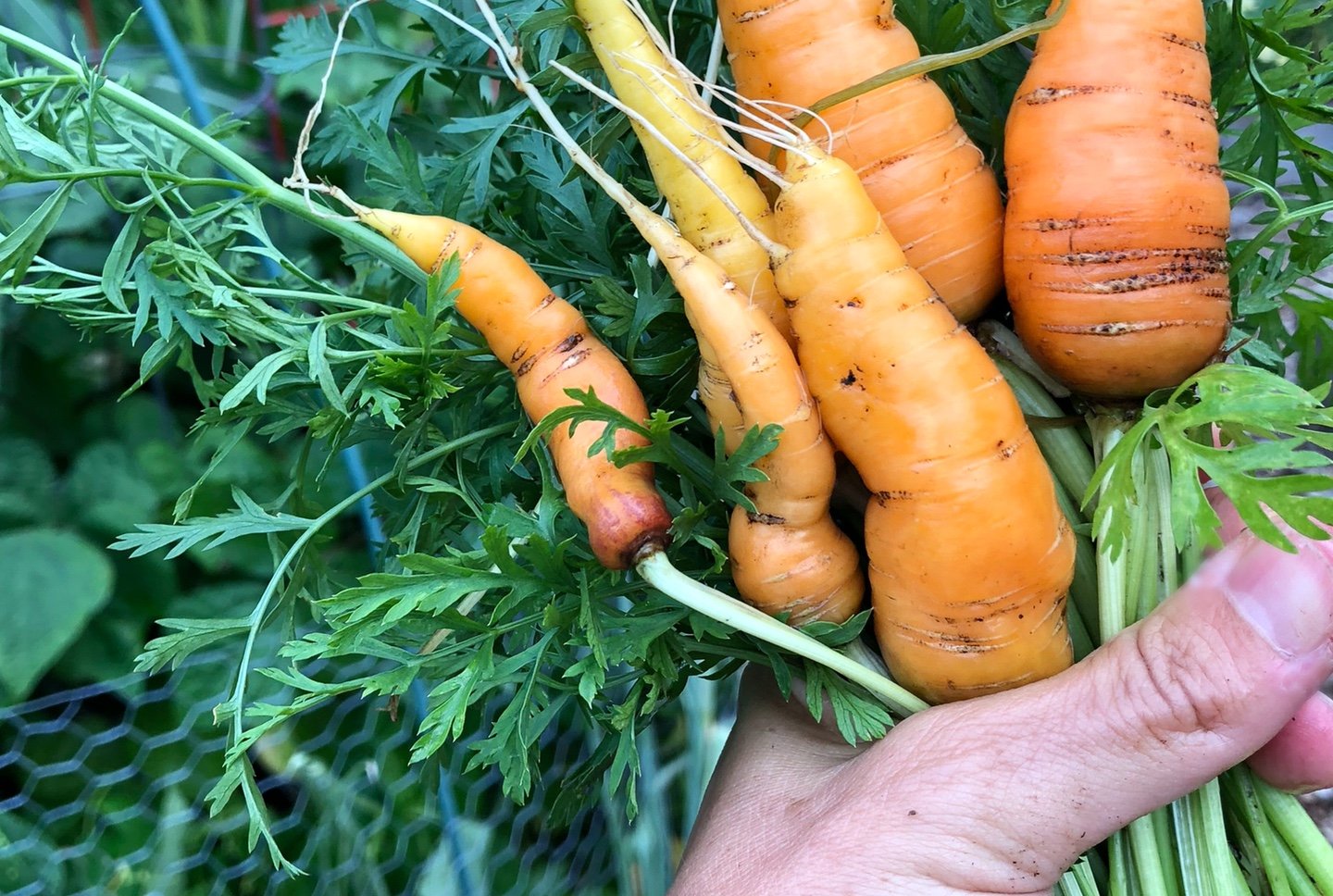 Carrots can be grown easily from seed, provided you can find seeds. (Patty Wetli / WTTW)
Garden centers were labeled "essential," according to Pritzker's executive order, precisely because of the food-growing end of their business, so pressure on the shops' services in many ways justifies their continued ability to operate. But juggling an anticipated increase in demand with social distancing concerns for employees and customers has required significant adjustments.
Some, like the highly trafficked Gethsemane Garden Center located on the border of Edgewater and Andersonville, opted to completely shutter for the duration of the stay-at-home order. "Spring and gardening will still be here at the end of April, and we'll be waiting for you with open arms," Gethsemane posted to its website. On the other end of the spectrum, big-box garden centers such as Lowe's and Home Depot are functioning in a business-kind-of-as-usual mode, simply limiting the number of customers allowed in stores at any one time in order to promote proper social distancing. Meinke's Garden Center in Niles is open daily to the public, but is asking customers to wear masks and gloves.
Farmers Market, Chalet Nursery, City Grange and Christy Webber Farm & Garden, to name a few, are among those that have split the difference with a hybrid approach, offering online or email ordering and curbside pickup or delivery, but no on-site shopping. Some have also created how-to videos and are arranging social media chats and FaceTime consultations with customers to compensate for the lack of in-person interactions. 
"Basically we went from being a retail store in a week's time to being like a concierge or personal shopping experience," Paravola said, adding that Farmers Market pushed forward the launch of an in-development e-commerce site to accommodate the shift. 
The decision to remain open, albeit in an altered way, was made only after consulting with staff, she noted.
"We were really weighing it on an internal level. We have plants that need maintenance, we had nursery stock coming in. We asked [employees], 'What do you want to do, what's your comfort level?' and the vast majority of them were like, 'We'd like to come into work,'" said Paravola.
"It was kind of a really easy answer," she said, given how soothing it is to be around plants in general but even more so in such stressful times. 
"It's therapeutic. There's a lot of therapy in pruning and planting and care for plants," said Paravola. 
She suspects that the restorative benefits of gardening are part of what's lured so many first-timers to give the activity a try, but as any veteran gardener can attest, it's also a hobby fraught with pitfalls and as many failures as successes.  
"I just tell everyone: Start slow, don't get overwhelmed, and have realistic expectations," Paravola said. "Do your research, come here with a list of questions based on some research, and that way I can help you navigate your best route."
Meanwhile, Paravola and her counterparts are attempting to steer their businesses through uncharted territory, with no real clue of how 2020's gardening season will progress. 
The panic that led to that early hoarding of seeds seems to be over, she said, but the situation could change at any moment with a single sentence uttered by the governor, mayor or president.
All she has to go on is instinct, and Paravola's gut is telling her that creating sanctuary at home will remain a priority for people in the coming months, regardless of which restrictions remain in place or are loosened.
"They're going to want to create a good home environment because they're probably going to be spending some additional time there," Paravola said. "I think anything gardening will increase to some effect this year, just because people do feel safer in their homes right now and it is a safe escape for them." 
Contact Patty Wetli: @pattywetli | (773) 509-5623 |  [email protected]
---