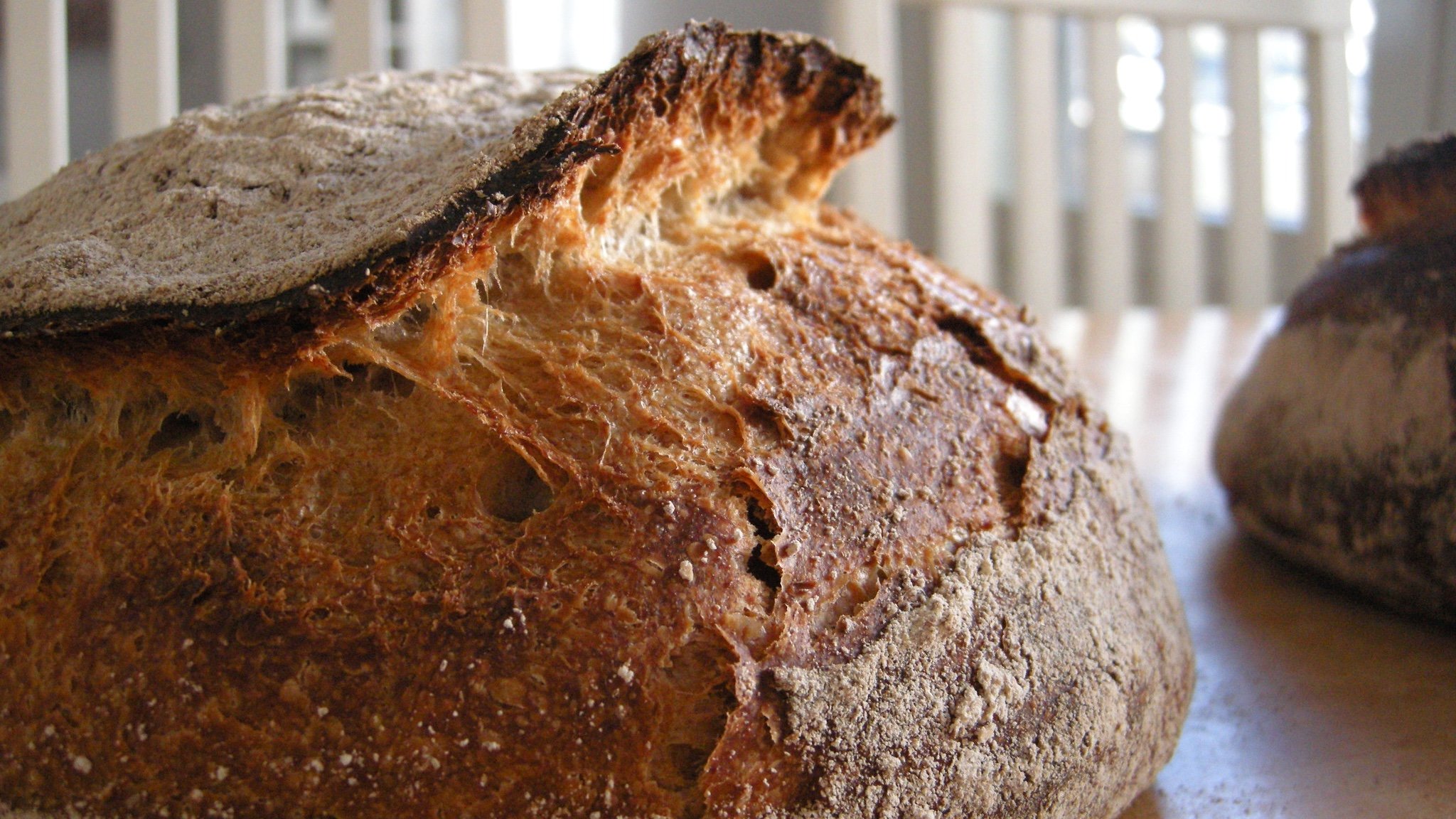 Sourdough bread, the perfect comfort food and time-consuming hobby for these times. (Jarkko Laine / Flickr)
In just a matter of days, COVID-19 has managed to upend age-old traditions and rituals, like the simple act of breaking bread together. 
Families and friends aren't able to gather for meals for fear of spreading the virus among households, to say nothing of the ban on the casual rubbing of elbows with neighbors at the local pizzeria or bar and grill while many of us shelter in place.
And yet such is the power of food to connect that it continues to create a sense of community even during these days of social isolation.  
Just ask Ashley Neal, an actor and theater professor, who thought she'd fill the gaping hole in her schedule by finally learning how to bake bread.
In the time before COVID-19, Neal was enjoying the kind of streak most actors dream of, starring on the stage in one play with her next role already booked. Then the first wave of coronavirus cancellations hit and Neal's run in First Floor Theater's well-reviewed production of "Plano" at Steppenwolf was shut down midway through its residency. Future acting work is on hold and her job as an adjunct theater professor at Columbia College shifted to distance learning. 
The abrupt change to her routine left Neal, like a lot of people, feeling adrift.
"I'm an artist and I'm an actor, so I'm used to having lots of contact with people all the time," said Neal, who's at home with her husband, a furloughed restaurant manager. "I definitely feel isolated and lonely because my life is normally very social."
While bread making may seem like a relatively solitary pursuit, Neal turned it into something of a group effort by choosing to tackle sourdough out of the gate. That's kind of like attempting to merge onto the Kennedy at rush hour during your first driving lesson.
A lot of home bakers never clear sourdough's first hurdle: The key ingredient is a "starter," a fermented witches' brew of flour and water that needs to be fed, typically daily, and can be kept alive for decades if not centuries. It's a commitment some have compared to having a pet.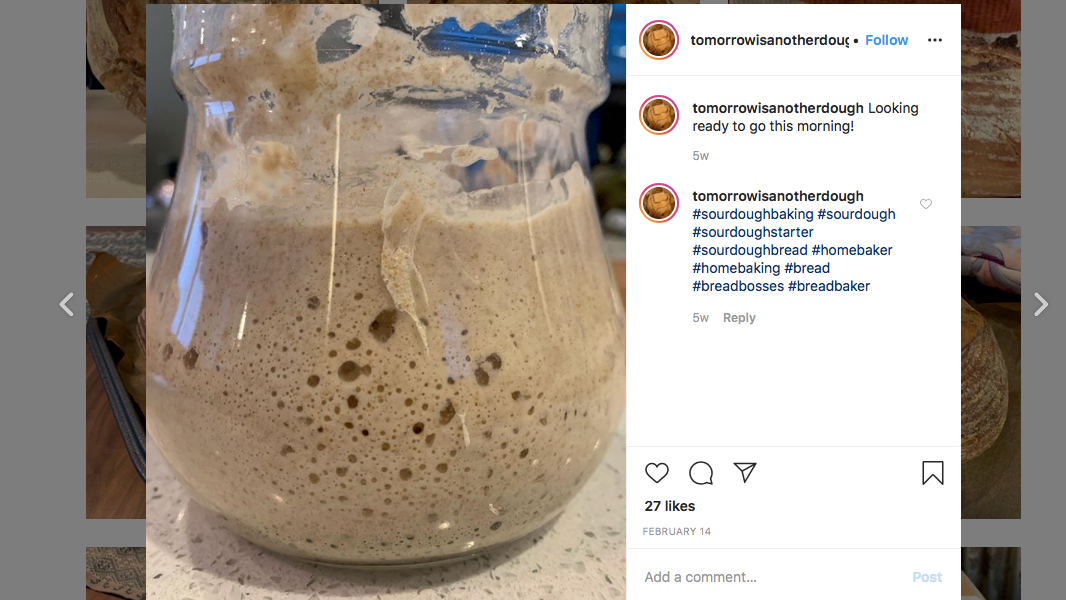 Bubbling sourdough starter. (Kelsey Hornbach / Instagram)
Instead of creating her own starter, Neal did what in the digital age passes for knocking on a neighbor's door and asking to borrow a cup of sugar: She posted a request to a neighborhood Facebook page, essentially knocking on a couple of thousand computers in the Lincoln Square area. 
"People are so helpful. I love it," Neal said of the social media group. "I knew if I posted, I would get a response."
Make that responses, plural.
Apparently there's a whole underground network of sourdough bakers willing to give away starter for free.
Short of baking a loaf of bread a day, a starter's caretaker will always have an excess of the stuff. 
"Every day I can give away part of my starter," said Kelsey Hornbach, who was among those who replied to Neal's "in search of" plea.
In fact, Hornbach had actually posted "starter for free" on a different Facebook page a couple of days before Neal's query, and already had half a dozen takers. The exchange is simple: Leave a container on Hornbach's doorstep, she'll fetch it, fill it with a bit of "Lucille" (her starter's nickname, after a character on "Arrested Development"), and set the container back out for pickup.
"Of course, I sanitize now," Hornbach said.
Hornbach created her starter in the summer of 2019, looking for something that was "hers" outside of being a mom and wife. It took her months to master the process of producing consistent loaves, images of which she shares on Instagram at @tomorrowisanotherdough. 
"It's easy to lose your life in your child. This gave me focus, something to be proud of," she said. "It's a weird but fun thing to do."
It's also therapeutic, especially in these uncertain times. 
"I can make my own bread, that's one bit of self-sufficiency," said Hornbach, who's stocked up on flour to feed Lucille the way others have hoarded toilet paper, ordering 25 pounds of her preferred brand online.
"Getting that big bag of flour, I almost teared up," she said, and it's that sense of relief she passes along with each portion of Lucille.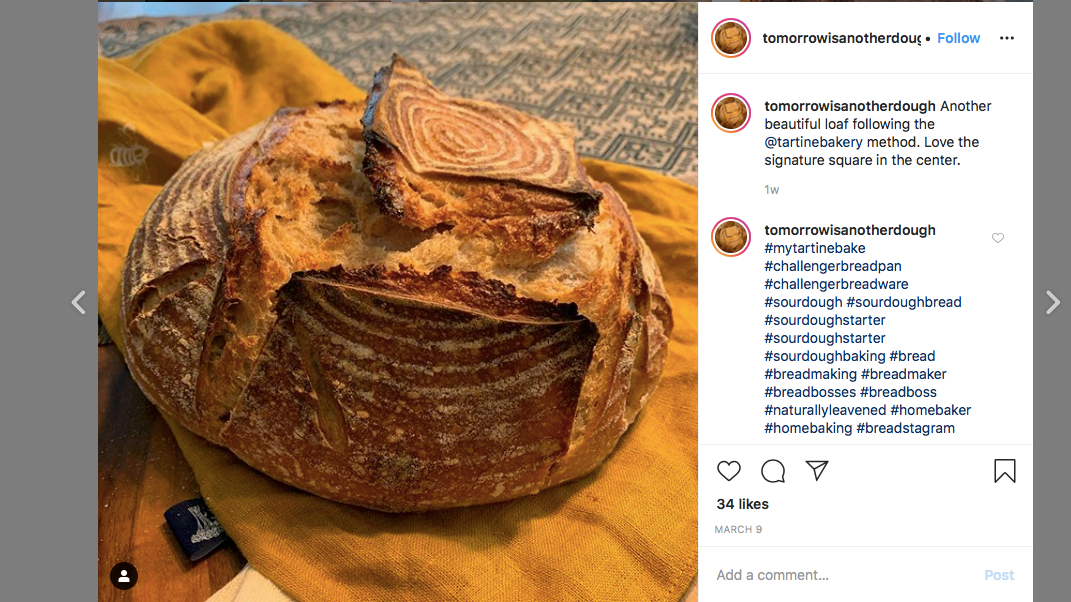 From starter to loaf. (Kelsey Hornbach / Instagram)
Likewise, Amanda Slawkowski Summers has turned to "comfort baking" — sourdough waffles, sourdough rolls and sourdough crackers ("they're like crack in my house," she said) — and is picking up flour on every grocery run.
Summers, who's been self-isolating at home with her husband and children, was the first to chime in with an offer to share some of her starter with Neal, happy to pay things forward, having received "Bruce" (her starter's name) as a gift from a neighbor herself. 
She arranged the handoff with Neal via direct message and the two never physically crossed paths, something Summers admitted felt a little odd, but is also indicative of the new normal.
And yet the impersonal exchange felt plenty heartwarming to Neal.
"It felt very neighborly," she said. "I feel like we're all banding together right now, we're all trying to take care of each other."
And now Neal has her own starter to nurture.
"I fed it. It seems to be doing the thing it's supposed to be doing," she said. 
She promised to share a photo of her initial baking results with the Facebook group, with a beginner's caveat: "It probably won't be pretty."
Contact Patty Wetli: @pattywetli | (773) 509-5623 |  [email protected]
---