As of Tuesday, 63 of the 160 people who have tested positive for the new coronavirus in Illinois are Chicago residents, according to the Chicago Department of Public Health.
That includes a woman in her 60s who marked the state's first coronavirus-related death, officials announced Tuesday.
So far, the majority of Chicagoans who have tested positive are believed to have acquired COVID-19 as a result of domestic and/or international travel, while 23% have acquired the virus from someone already confirmed to have COVID-19, according to the CDPH. Nearly 10% of cases were acquired in the community, and 33% are under investigation, according to CDPH statistics.
Cases acquired through what's called community spread indicate the source of the virus can't be identified. That is, the patient isn't a close contact of someone with a confirmed case of the virus, and didn't travel to an area where the coronavirus is known to be spreading widely, CDPH Commissioner Dr. Allison Arwady said. "Every time we detect a case of community acquisition, it lets us know there are many more individuals who have coronavirus but have not been detected at this point."
For that reason, officials strongly encourage people to stay home as much as possible and only go out when needed, Arwady added during her daily Q&A livestream, "The Doc is In: Ask Dr. Arwady," that launched Monday. Arwady says she expects more cases to be confirmed in the days ahead because of an increased testing capacity.
But not everyone diagnosed with COVID-19 will require hospitalization. So far, only 28% of cases in Chicago required hospitalization at some point during the course of their illness, according to the CDPH. Most people will experience mild symptoms.
"There are a handful of cases here in Chicago (of) people who are critically ill, and those cases are in people, by and large, again, who are in these vulnerable categories that we've been talking about," she said, including people over 60 and people who have underlying health conditions. "We want vulnerable individuals home as much as possible, putting their health first," she added.
Speaking on uncharacteristically subdued St. Patrick's Day, Arwady discouraged people from participating in large gatherings to celebrate. "It is not the day for getting together unnecessarily. I hope down the line we can have a much bigger St. Patrick's Day celebration. That is not for today," she said. "We need people to be taking (our) guidance seriously, really limiting the movements they're making to those that are essential and having a time of reflection at this point as opposed to celebration."
Coronaviruses are respiratory viruses that range from the common cold to more serious illnesses, like SARS and MERS, and are generally spread via droplets in the air when people cough or sneeze, as happens with the common cold. Symptoms of COVID-19 include fever, cough and shortness of breath. There is no treatment or vaccine for the virus.
Graphic: Symptoms of COVID-19 compared to those of the flu and allergies.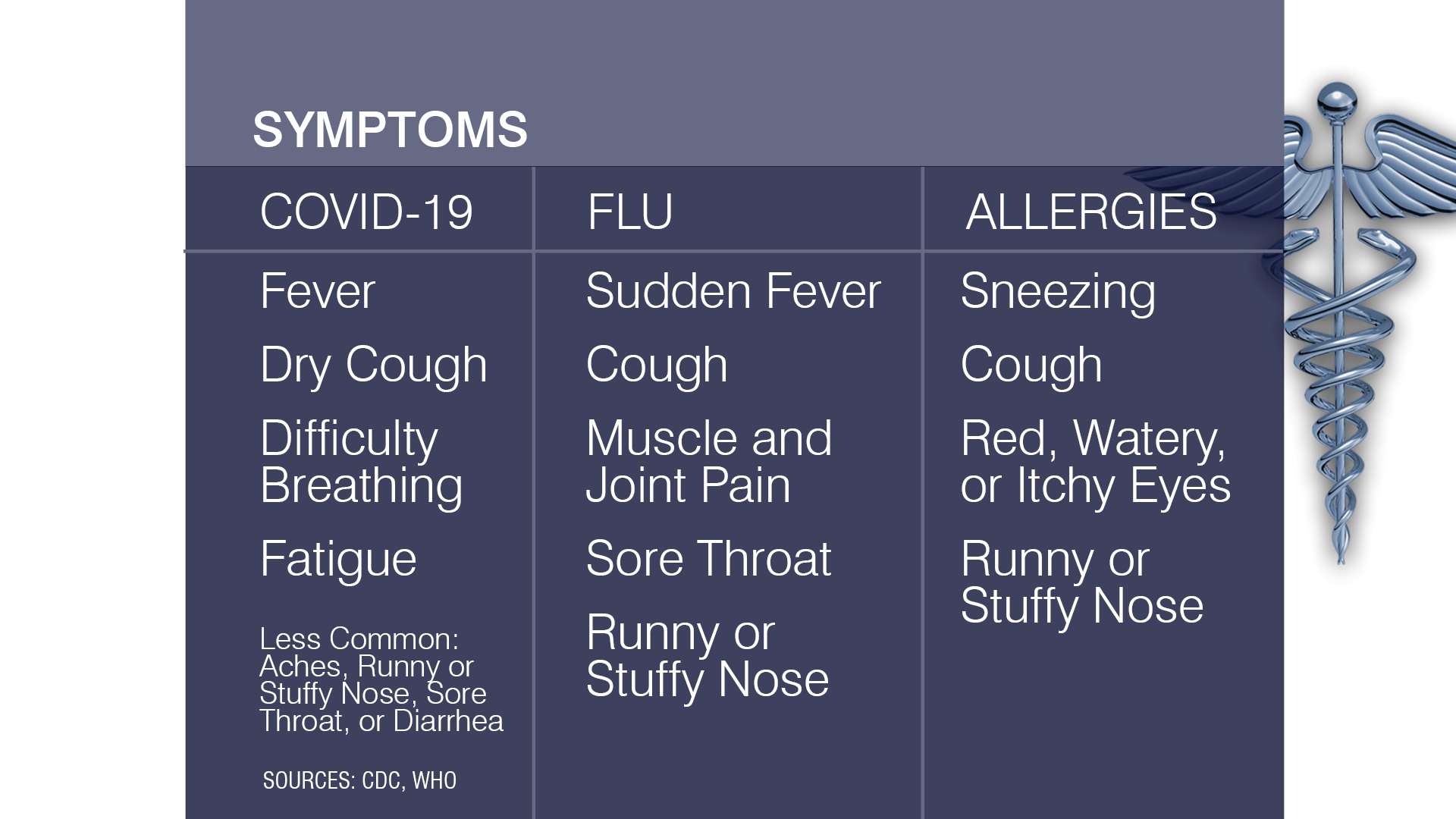 Health officials encourage people to take daily preventive measures to slow the spread of the virus, such as frequent handwashing, routine cleaning of frequently touched surfaces and objects, and covering coughs and sneezes with a tissue and then disposing of the used tissue.
On Monday, Gov. J.B. Pritzker mandated gatherings of 50 people or more should be canceled to help slow the spread of COVID-19. And Tuesday marked the first day that bars and restaurants across the state are closed to dine-in customers and public and private K-12 schools, including Chicago Public Schools, are closed. Those closures run through March 30 and 31, respectively, though restaurants are allowed to provide takeout and CPS will have grab-and-go meals available between 9 a.m. and 1 p.m. Monday through Friday to any child, regardless of whether they qualify for free and reduced lunches.
For more information about the virus, visit CDPH's website, call its dedicated COVID-19 hotline (312-746-4835) or send an email.
Contact Kristen Thometz: @kristenthometz | (773) 509-5452 |  [email protected]
---