Gov. J.B. Pritzker issued a new mandate Monday in the fight against spread of the coronavirus. Gatherings of 50 people or more should be canceled, he said, citing guidelines announced Sunday by the U.S. Centers for Disease Control and Prevention that recommend that action for the next eight weeks.
"Illinoisans who can stay home should continue to do so. It is imperative our residents take responsibility for themselves, their families and for their communities at this moment," Pritzker said during his daily press briefing on COVID-19 Monday afternoon.
The number of people who have tested positive for the novel coronavirus in Illinois now stands at 105, according to state health officials, who reported 12 additional cases of the virus Monday, including the first cases in Will and Peoria counties. Cases have also been confirmed in the counties of Cook, Champaign, Clinton, Cumberland, DuPage, Kane, Lake, McHenry, Sangamon, St. Clair, Whiteside, Winnebago and Woodford, according to the Illinois Department of Public Health.
Coronaviruses are respiratory viruses that range from the common cold to more serious illnesses, like SARS and MERS, and are generally spread via droplets in the air when people cough or sneeze, as happens with the common cold. Symptoms of COVID-19 include fever, cough and shortness of breath. There is no treatment or vaccine for the virus.
IDPH Director Ngozi Ezike says the situation is "serious" in Illinois and that the number of cases and places the virus has spread is increasing each day. "People should assume the novel coronavirus is in their community and should take steps to protect themselves and reduce the spread," she said.
Steps include washing your hands for at least 20 seconds with soap and water, using hand sanitizer with at least 60% alcohol, sneezing or coughing into a tissue and then tossing it, limiting contact with people regardless of how you feel, and staying home when you are sick.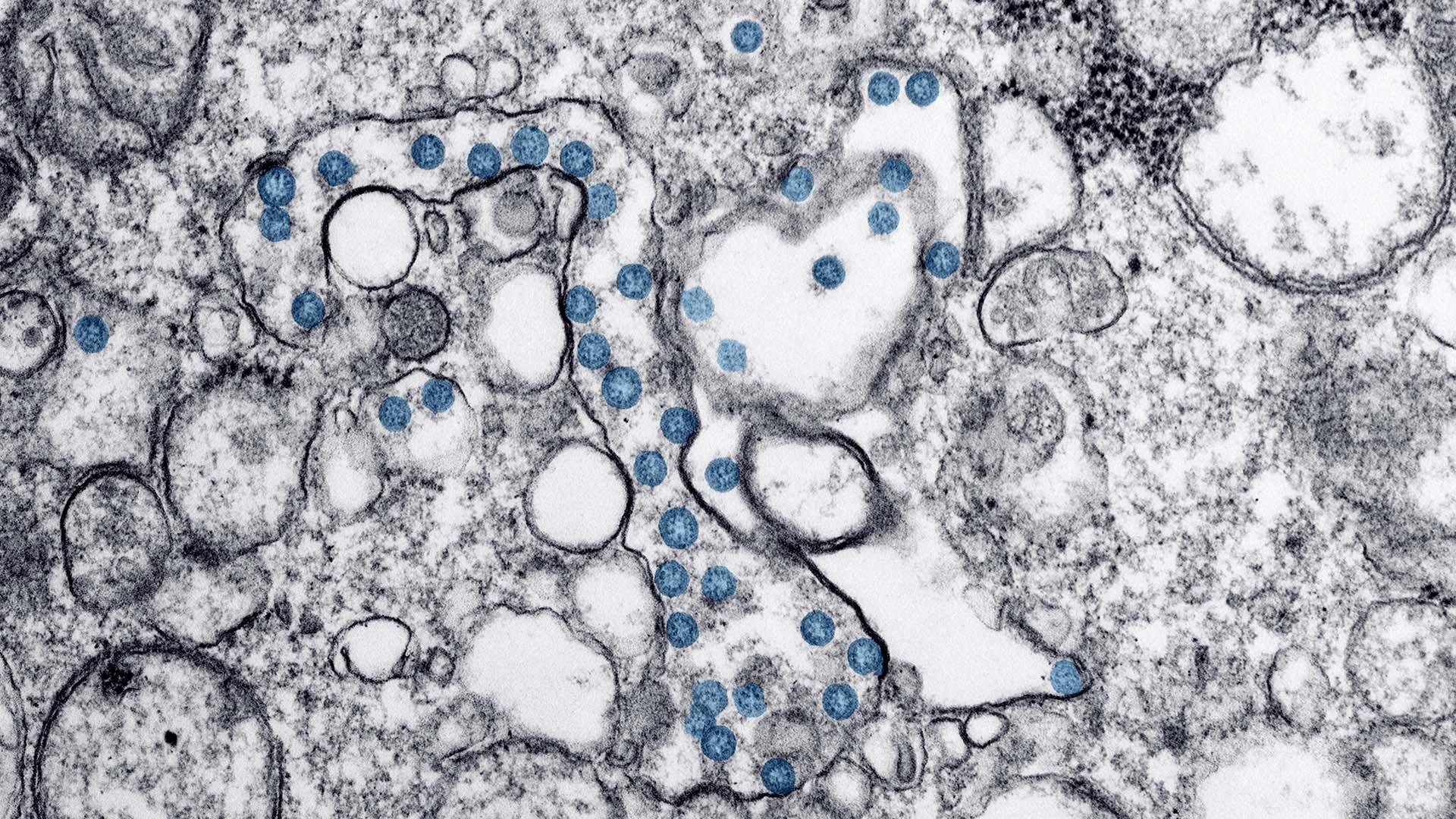 This image from a transmission electron microscopic image shows a sample from the first U.S. case of COVID-19. The spherical viral particles, colored blue, contain cross-sections through the viral genome, seen as black dots. (Image provided by the U.S. Centers for Disease Control and Prevention)
Most people who develop COVID-19 have mild symptoms, and they should remain home during their illness and not demand a test for the virus, according to Ezike. "We need to reserve our testing supplies for those who need them most," such as the elderly, health care workers and people with preexisting conditions, like heart disease and diabetes, Ezike said.
Statewide, 15 hospitals are testing patients with flu-like symptoms for the virus. Officials won't disclose which hospitals are conducting the tests because they don't want people to inundate those places seeking tests, according to Pritzker.
Officials also urged people to stay calm and only make necessary purchases. "Hoarding is irresponsible," said Illinois Emergency Management Agency Director Alicia Tate-Nadeau. "When people go out and buy more than what they need, they are hurting our most vulnerable. … Please stop buying more than what you need."
On Sunday, Pritzker ordered all bars and restaurants closed to dine-in customers starting Monday at close of business through March 30 in an effort to prevent the further spread of the coronavirus. Restaurants can still serve food via delivery, or curbside pick-up. 
"I know there are Illinoisans across the state who get their paychecks from bars and restaurants," Pritzker said Monday. He said his administration has extended unemployment insurance to individuals without access to paid sick leave or unable to work because of COVID-19.
And staring Tuesday, all public and private K-12 schools, including Chicago Public Schools will be closed until March 31 per Pritzker's orders, but CPS will have grab-and-go meals available between 9 a.m. and 1 p.m. Monday through Friday to any child, regardless of whether they qualify for free and reduced lunches.
Illinois' primary election is still a go for Tuesday, according to Pritzker, who said "democracy has to go on."
For more information about the coronavirus, visit IDPH's website, call its dedicated COVID-19 hotline (800-889-3931) or send an email.
Contact Kristen Thometz: @kristenthometz | (773) 509-5452 |  [email protected]
---