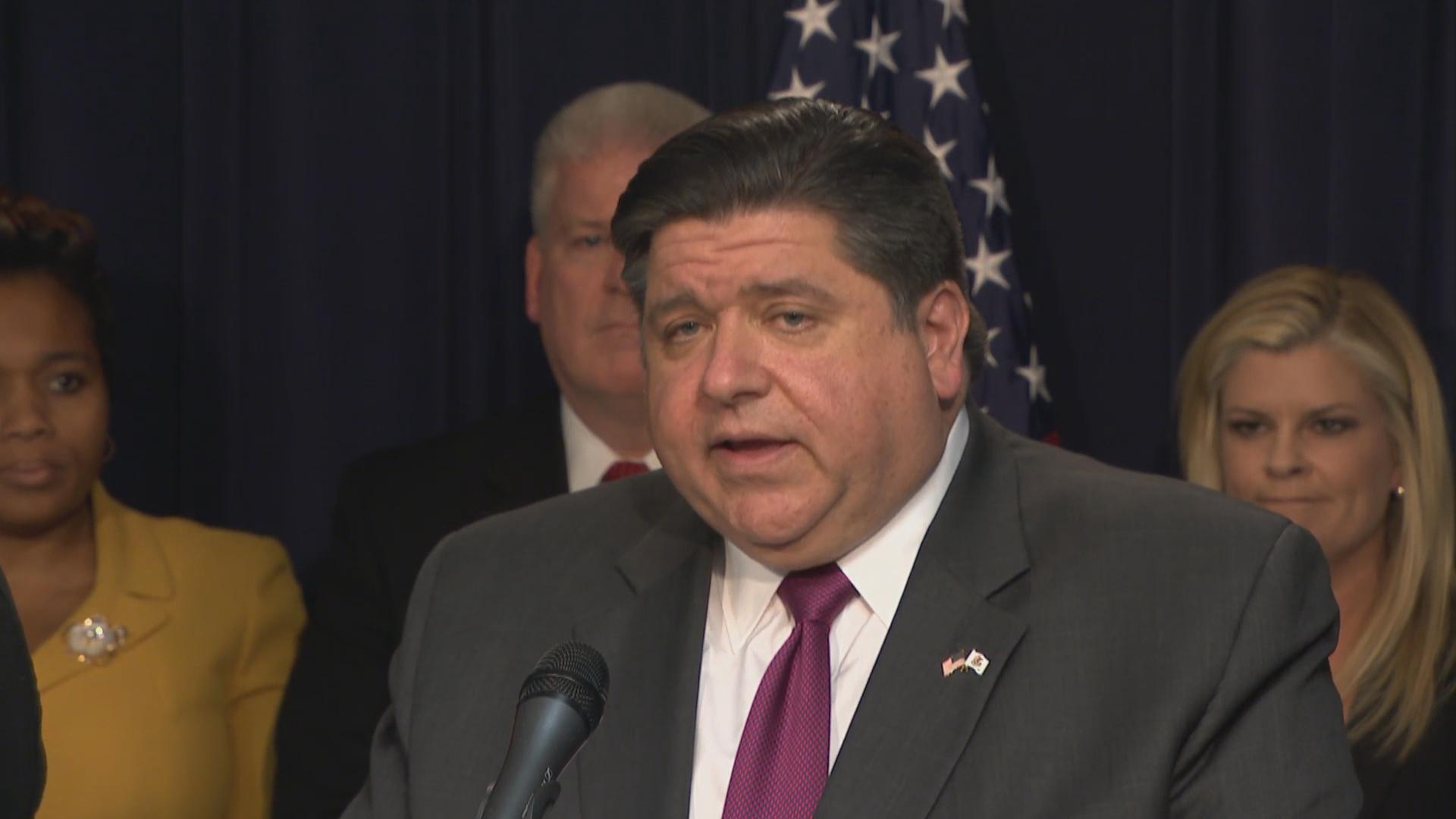 Gov. J.B. Pritkzer announces the closure of all Illinois schools during an update on the coronavirus on Friday, March 13, 2020. (WTTW News)
All Illinois restaurants and bars must close to dine-in customers starting Monday at close of business through March 30 in an effort to prevent the further spread of the coronavirus, Gov. J.B. Pritzker announced Sunday. 
"This is another hard step to take," Pritzker said in a statement of the "unprecedented" decision to close restaurants. "I know how difficult this will be on small businesses around the state. But we must do everything we can to safeguard the health of the citizens of Illinois, and that requires this urgent action."
Restaurants can still serve food via delivery, or curbside pick-up. 
Pritzker asked that people not "hoard" food. 
"I know the grocery stores faced a major surge of shoppers" in recent days, Pritzker said. "I want people to know that Illinois' food supply chain is among the nation's strongest."
He said Illinois is working to ease local and federal restrictions on grocery delivery and how merchandise moves from warehouses to retailers.
The drastic measure comes as officials announced the number of COVID-19 cases in Illinois has risen to 93, with cases for the first time appearing in five counties: Champaign, Clinton, Sangamon, Whiteside and Winnebago. 
"The number of positive test results that we're getting each day is increasing exponentially," said Illinois Department of Public Health director Dr. Ngozi Ezike. "People should assume that this novel coronavirus is in their communities."
Even if you don't feel sick, it's important to limit social interactions, given "evidence that transmission of the virus often occurs when symptoms first start."
"This virus does not discriminate," Ezike said, calling coronavirus an "equal-opportunity virus that can affect anyone of any age, of any race, from any zip code."
The true depth of the outbreak is likely to be much higher, given a lack of tests. 
Everyone is encouraged to avoid social interaction and stay home, but especially those who feel unwell. 
Those experiencing mild cold- or flu-like symptoms shouldn't run to the doctor or emergency room unless it is an emergency. And in an attempt to prevent further spread of the virus, people should call before going to a health care facility.
Despite the drastic action, Tuesday's primary election is still on. 
"Democracy must continue," the governor said. "We have to elect leaders, even in less-than-ideal circumstances."
Early voting is available Monday; those who requested and received mail-in ballots should be sure those are in the mail and postmarked on or before Tuesday. 
Elections authorities are still seeking judges who can monitor polling places in person on Tuesday; Chicago and Cook County elections officials have waived most training requirements so that anyone who is not immunocompromised can serve as a last-minute standby judge for a paycheck of at least $150.
Voters are encouraged to check local election websites to verify where they can cast an in-person ballot given long-term care facilities and nursing homes will no longer serve as polling places.
The governor also encouraged anyone who does feel well and who is eligible to donate blood and platelets.
"A blood shortage could impact patients who need surgery, victims of car accidents and other emergencies, or patients suffering from cancer," Pritzker said. "One of the most important things that you can do to ensure that we don't have another healthcare crisis on top of the coronavirus is to give blood."
He also called for donations to food pantries. 
Chicago Public Schools, which will be temporarily closed starting Tuesday along with all K-12 schools across the state, will have grab-and-go meals available between 9 a.m. and 1 p.m. Monday through Friday to any child, regardless of whether they qualify for free and reduced lunches.
The restaurant limitations came after Chicago saw lines outside of some bars Saturday, despite the cancellation of the annual St. Patrick's Day Parade and related celebrations. 
O'Hare International Airport also saw mass gatherings, as customs agents were overwhelmed with travelers returning to the U.S. following President Donald Trump's European travel ban. 
"The federal government needs to get its s@#t together.  NOW," Pritzker tweeted at 9:50 p.m. Saturday. 
The federal government needs to get its s@#t together. NOW.

— Governor JB Pritzker (@GovPritzker) March 15, 2020
---
He was likewise critical of Trump during a Sunday morning appearance on "Meet the Press."
During his daily coronavirus press briefing Sunday afternoon, Pritkzer called the situation "unacceptable and, frankly, dangerous" but said that by then he heard from Vice President Mike Pence and a Homeland Security official who acknowledged "mistakes were made" and that Customers and Border Patrol would double the number of staff at O'Hare. 
"There has been nothing here having anything to do with politics," Pritzker said. 
Chicago Mayor Lori Lightfoot said the city has reached an agreement with the Department of Homeland Security to, "in effect, deputize members of the Chicago Fire Department as screeners" so that EMTs can help to screen incoming travelers' health.
She also said she made clear in "blunt and, frankly, candid" conversations with federal contacts that "they start to listen to local officials – mayors and governors. We are all on the front lines of making sure that we're implementing federal directives and they would be well-served to listen to us" to understand the consequences of any federal actions. 
Per Ezike, a reminder of the measures everyone should take to help prevent further spread: 
– Stay home and limit social interactions
– When that's not possible, keep a 6-foot distance when talking with others. 
– Do not shake hands or touch
– Wash hands frequently with soap and water for a minimum of 20 seconds 
– Clean frequently touched surfaces 
– Use hand sanitizer with a content of at least 60% alcohol 
– Sneeze and cough into a tissue, then toss it 
Follow Amanda Vinicky on Twitter: @AmandaVinicky
---