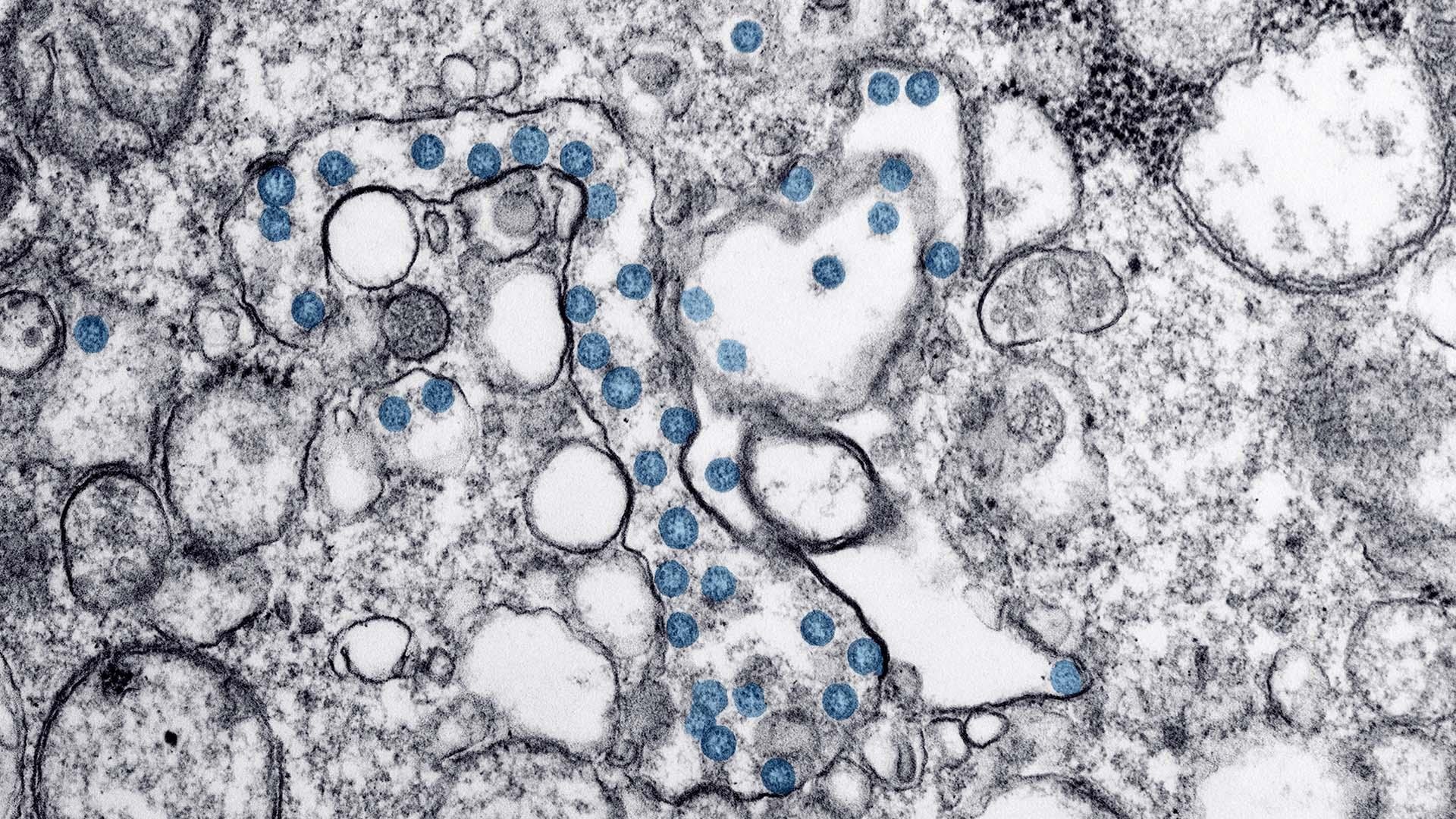 This image from a transmission electron microscopic image shows a sample from the first U.S. case of COVID-19. The spherical viral particles, colored blue, contain cross-sections through the viral genome, seen as black dots. (Image provided by the U.S. Centers for Disease Control and Prevention)
Illinois reported its first novel coronavirus-related death Tuesday, Gov. J.B. Pritzker announced. The patient, a Chicago woman in her 60s, had underlying medical conditions and was in a hospital at the time of her death, officials said. She did not live in a nursing home.
"I'm deeply saddened to share news that I've regretted since the earliest days of the outbreak: The first COVID-19-related death in Illinois," Pritzker said Tuesday during his daily press briefing. "I want to extend my deepest condolences to her family members. I want them to know the entire state of Illinois mourns with them."
The woman was diagnosed with COVID-19 earlier this month and had contact with someone else known to have the virus, according to health officials. She died at the hospital where she had been receiving treatment. Officials didn't disclose the name of that hospital, or identifying details about the patient.
In Illinois, 160 people have tested positive for COVID-19, including 63 in Chicago, according to officials, who said four people are no longer in isolation.
Pritzker said an additional 21 cases have been reported at a DuPage County long-term care facility, which reported its first case Saturday. Eighteen of the 22 people who tested positive there for COVID-19 are residents, and all of the patients are in isolation either at the facility or at a hospital, according to Pritzker, who said visitors have been restricted to the facility.
"This situation shows how critical it is, especially for our vulnerable population, to get approval and supplies from the federal government so that we can test large groups of vulnerable people earlier than we are able to now," Pritzker said. "My team and I have been on the phone day and night communicating with the medical testing supply chain. The federal government is monopolizing supplies and not providing them to the states."
Pritzker called the lack of testing kits an "incredible failure" by the federal government. "Every day that they continue to abdicate their responsibilities is another day that we fall behind," he said. "I've requested and now I'm demanding the White House, FDA and CDC produce rapid increase in test supplies nationwide or get out of the way, allow us to get them elsewhere ourselves."
The outbreak at the DuPage County long-term care facility underscores the need for isolation, according to Illinois Department of Public Health Director Dr. Ngozi Ezike.
"This reinforces the need for all of us to do our part to reduce the possible exposure in the community. To those who go in and out of these facilities to provide care to these residents, just recall that these residents are sitting in their home. The virus is being brought into them by either visitors or staff," she said.
Public health officials are recommending nursing homes cancel all group activities and group dining, implement active screening of residents and health care personnel for fever and respiratory symptoms and restrict all visitation except for certain compassionate care situations, such as end-of-life residents.
During the Tuesday briefing, Pritzker also responded to criticism from the Chicago Board of Elections for going forward with Tuesday's election in spite of his mandate to cancel gatherings of 50 people or more.
Chicago election officials urged the governor to postpone Tuesday's election, close polling places and move to mail-in balloting. But Pritzker said he doesn't have the authority to do so.
"I will not use this moment, this moment to supercede my constitutional authority. I will not," Pritzker said. "For the people out there who want to say, 'It's a crisis. Bend the rules a little bit (use your executive authority.)' ... It is exactly in times like these when the constitutional boundaries of our democracy should be respected above all else. ... If people criticize me for it, I'll wear it like a badge of honor."
Officials advise taking preventive measures to slow the spread of the virus, such as washing your hands for at least 20 seconds with soap and water, using hand sanitizer with at least 60% alcohol, sneezing or coughing into a tissue and then tossing it, limiting contact with people regardless of how you feel, and staying home when you are sick.
Tuesday marked the start of several new statewide initiatives to prevent further spread of the coronavirus. All bars and restaurants are closed to dine-in customers through March 30, though restaurants can still serve food via delivery or curbside pick-up. And all public and private K-12 schools, including Chicago Public Schools, are closed until March 31 per Pritzker's orders. CPS will have grab-and-go meals available between 9 a.m. and 1 p.m. Monday through Friday to any child, regardless of whether they qualify for free and reduced lunches.
Coronaviruses are respiratory viruses that range from the common cold to more serious illnesses, like SARS and MERS, and are generally spread via droplets in the air when people cough or sneeze, as happens with the common cold. Symptoms of COVID-19 include fever, cough and shortness of breath. There is no treatment or vaccine for the virus.
For more information about the coronavirus, visit IDPH's website, call its dedicated COVID-19 hotline (800-889-3931) or send an email.
Contact Kristen Thometz: @kristenthometz | (773) 509-5452 |  [email protected]
---