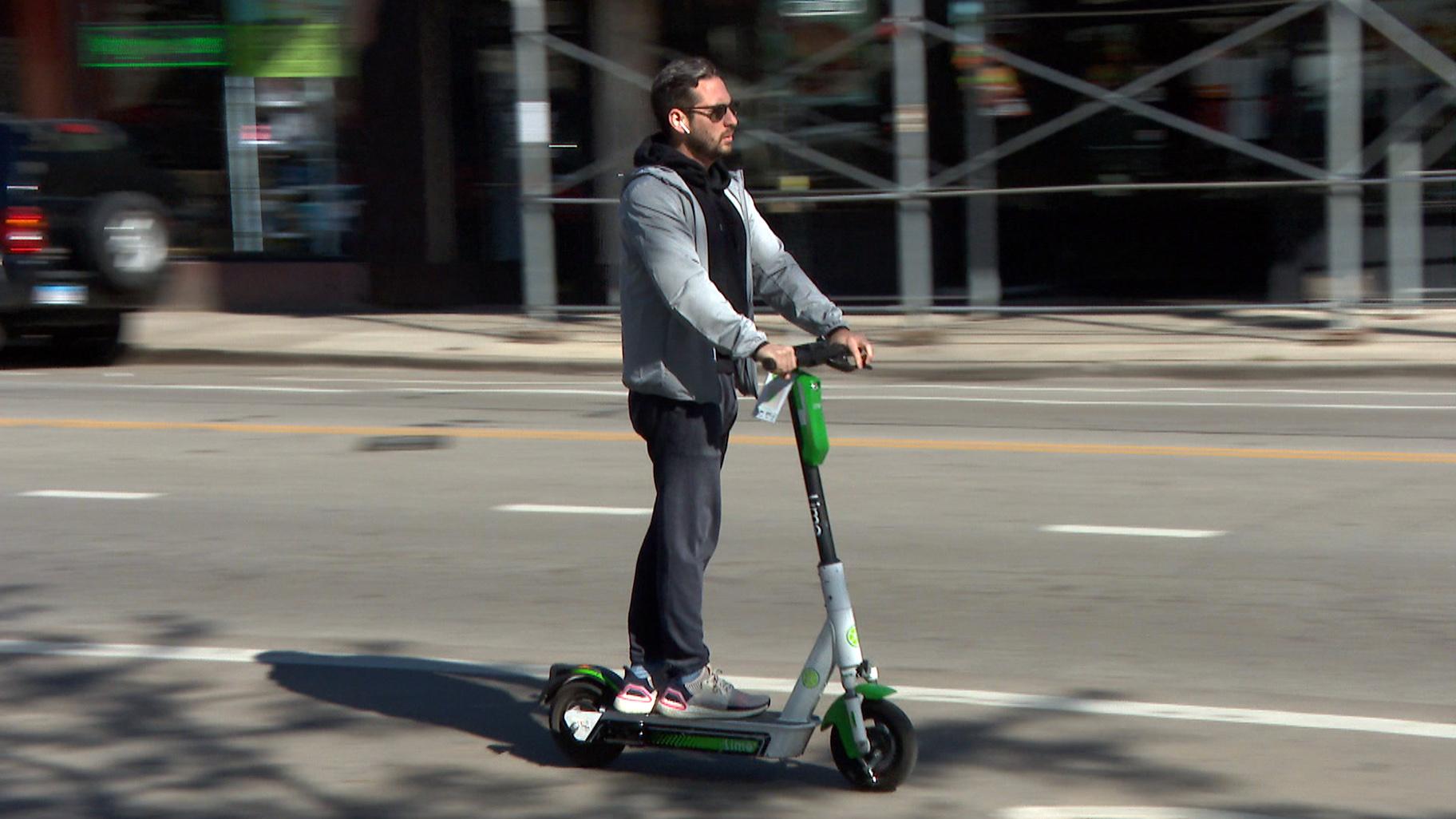 (WTTW News)
Keeping electric scooters off city sidewalks will be key to keeping residents from revolting against the devices.
That was the message from Chicago aldermen Wednesday at a hearing on best practices for the second round of the scooter pilot program that's expected to kick off sometime this summer.
"I love these scooters," said Ald. Walter Burnett (27th Ward.) "I think they help a lot of people get around." Burnett said that group includes his wife, who feels much more comfortable riding a scooter on the street than riding a bike.
While Ald. Daniel LaSpata (1st Ward) acknowledged the potential e-scooters have in the city, he pointed out that the first pilot program appeared to fall far short of its equity goals: A bulk of scooter trips were taken by well-to-do white men, according to a city report on the program.
"Some love 'em, some hate 'em, and there's a lot of passion around this issue," said Commissioner Rosa Escareno of the city's Business Affairs and Consumer Protection department. "There is a significant demand for scooters as a true mobility option, which is very important to state, but there's also significant pushback."
The city's report, which included a non-scientific survey of both riders and non-riders, found the pilot program was popular, polarizing and that its impact was inconclusive. Wednesday's hearing focused largely on equity, safety, access and whether both e-scooter companies and riders are following the rules.
"Electric scooters represent one of many micro-mobility tools we're examining to make our transportation network more effective and robust," said Chicago Department of Transportation Commissioner Gia Biagi. "These kinds of micro-mobility tools will continue to come our way, and so it's less about the scooter itself. It's how do we prepare ourselves for these kinds of new mobility devices and get this one right."
Biagi said only the 10 companies that participated in the first pilot program will be eligible to apply for the second, and that it "makes sense" for fewer firms to be allowed to participate in this round. She also said the city is considering how to keep scooters from being left in the public right of way. Among the topics frequently mentioned at the hearing were so-called "lock-to" requirements, which would force scooter riders to lock the devices to a bike rack or pole after completing a trip.
In addition to controlling parked scooter clutter, aldermen also asked about ways to keep scooter users from illegally riding on sidewalks. Ald. Brendan Reilly (42nd Ward) floated the idea of using "geo-fencing" technology that would limit trips to the pilot area boundaries.
"I have to figure, if properly motivated, these companies full of smart people could find a way to disable these scooters from being used on the sidewalks," Reilly said.
Many at the hearing also agreed on keeping scooters out of downtown and off urban trails such as the lakefront path. Biagi and some aldermen appeared to be open to the idea of expanding or refocusing the pilot area to make it more equitable and accessible for Chicagoans with fewer transit options. But stakeholders also raised concerns about a potential expansion of the program.
Adam Ballard, housing and transportation policy analyst at the disability advocacy organization Access Living, said while his group isn't taking a position on e-scooters yet, it too is concerned about sidewalks covered in parked scooters. Since scooters are virtually silent when they're operating, Ballard said they can pose risks to blind or visually impaired people. And he highlighted the finding in the city report that some scooter trips appeared to replace CTA rides. Ballard said if expanded scooter access leads to lower ridership, it could mean disabled transit customers will face reduced service, eliminated routes and less funding for door-to-door paratransit. "This is already happening in the suburbs, so don't think we're being too alarmist," Ballard said.
Biagi said the city is interested in ensuring that Chicagoans who don't have access to banks or smartphones can use the e-scooters. While those considerations were also part of the first scooter pilot, the city report showed mixed results on those fronts.
Biagi and Escareno stressed that the second pilot is just that, and a permanent e-scooter program would still need city council approval.
---