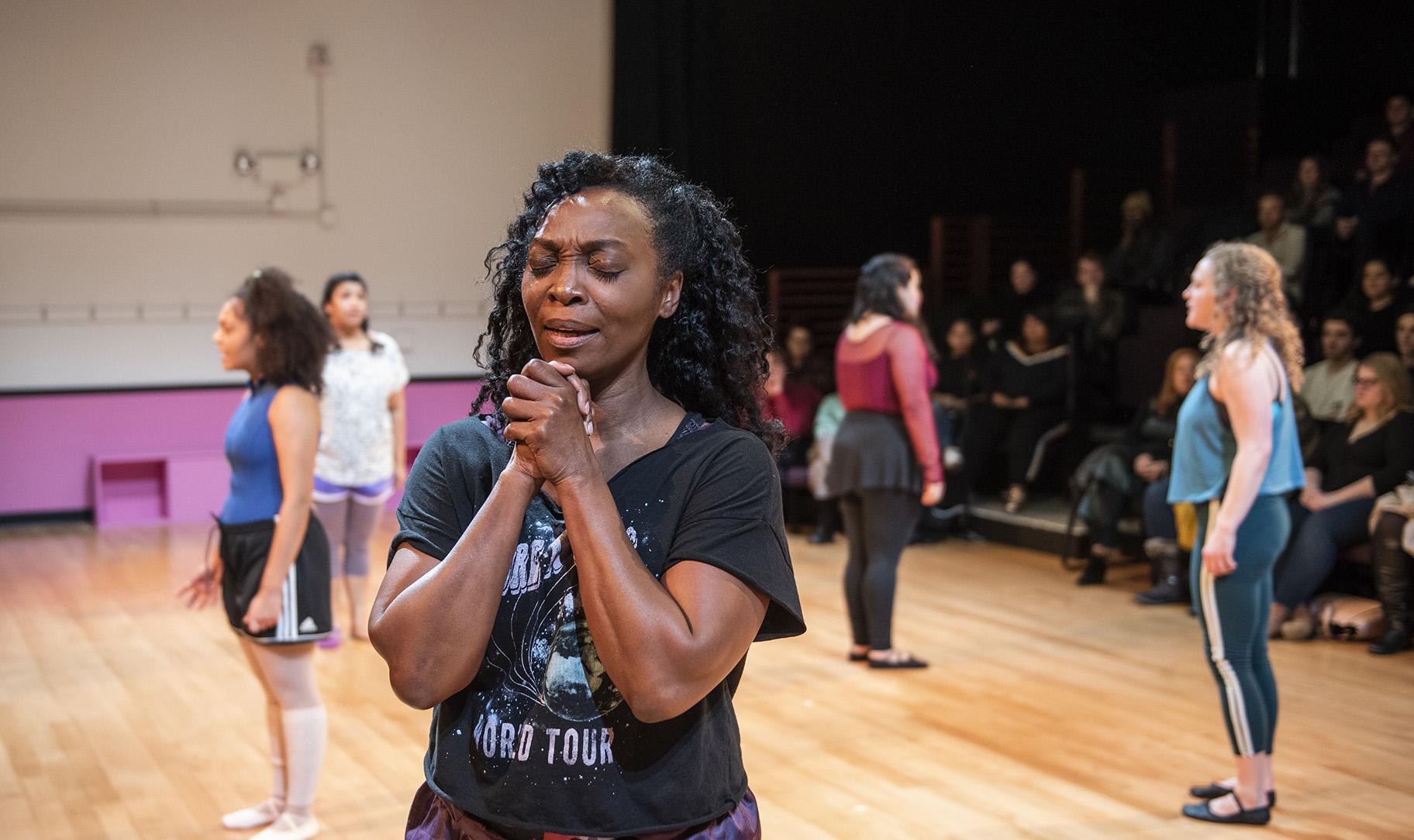 Shanésia Davis in Steppenwolf's Chicago premiere of "Dance Nation" by Clare Barron. (Photo by Michael Brosilow)
Self-hatred, self-harm, suicidal thoughts, emotionally scarring competition, unreliable and often destructive "friendships," and a great deal of rage and despair. If you were to consider the dominant feelings expressed by the adolescent girls in two shows now on stage in Chicago – "Dance Nation" at Steppenwolf Theatre, and the national touring production of "Mean Girls" at the Nederlander Theatre – the obvious conclusion to be reached would be that for all the talk, the feminist movement of the past five decades has, in some profound ways, failed to reach (or change) a whole generation or two of girls as they stand on the perilous brink of adulthood.
Clare Barron's "Dance Nation," directed and choreographed by Lee Sunday Evans (who staged the original New York production of the show in 2018), has assembled a fine cast that gives its all to the work, and then some. But aside from a few memorable scenes, the play is a mess. To be sure, no adolescent existence is easy, but the girls who gather here (and they are played by actresses of a wide range of ages, with an elderly man and woman in the mix, and a suggestion of time-warping that is more distracting than revelatory) are plagued by so many issues that you could easily mistake their middle school for a clinic for the mentally ill.
Tim Hopper in "Dance Nation." (Photo by Michael Brosilow)
The premise at work is this: The dance team of a school in a small Midwestern town is preparing for a national competition whose big prize is a finale in Tampa, Florida. The girls are being coached by Pat (Tim Hopper), a decidedly creepy dance teacher who knows that Zuzu (Caroline Neff), is his strongest dancer even though she continually undermines herself. So when it comes time to cast the ludicrous piece he is devising about Gandhi, he finds a way to use both Zuzu, and the more self-assured Amina (Karen Rodriguez), as two aspects of the fabled Indian independence movement leader. (The use of the peace-and-love Gandhi theme is more thudding than funny.)
The truth is, these girls could do exceeding well in a drama club, but none of them would ever succeed as a professional dancer. But that is beside the point. The dance competition hook is simply an excuse for taking on a great rush of personal issues that have them talking about masturbation, menstruation, men, difficult mothers, and, at one moment, to loudly chant the word "pussy" as if it were the ultimate cry of liberation. The moral of the story? Success does not bring happiness, romance is a fantasy, and your destiny is pretty much determined by the age of 13.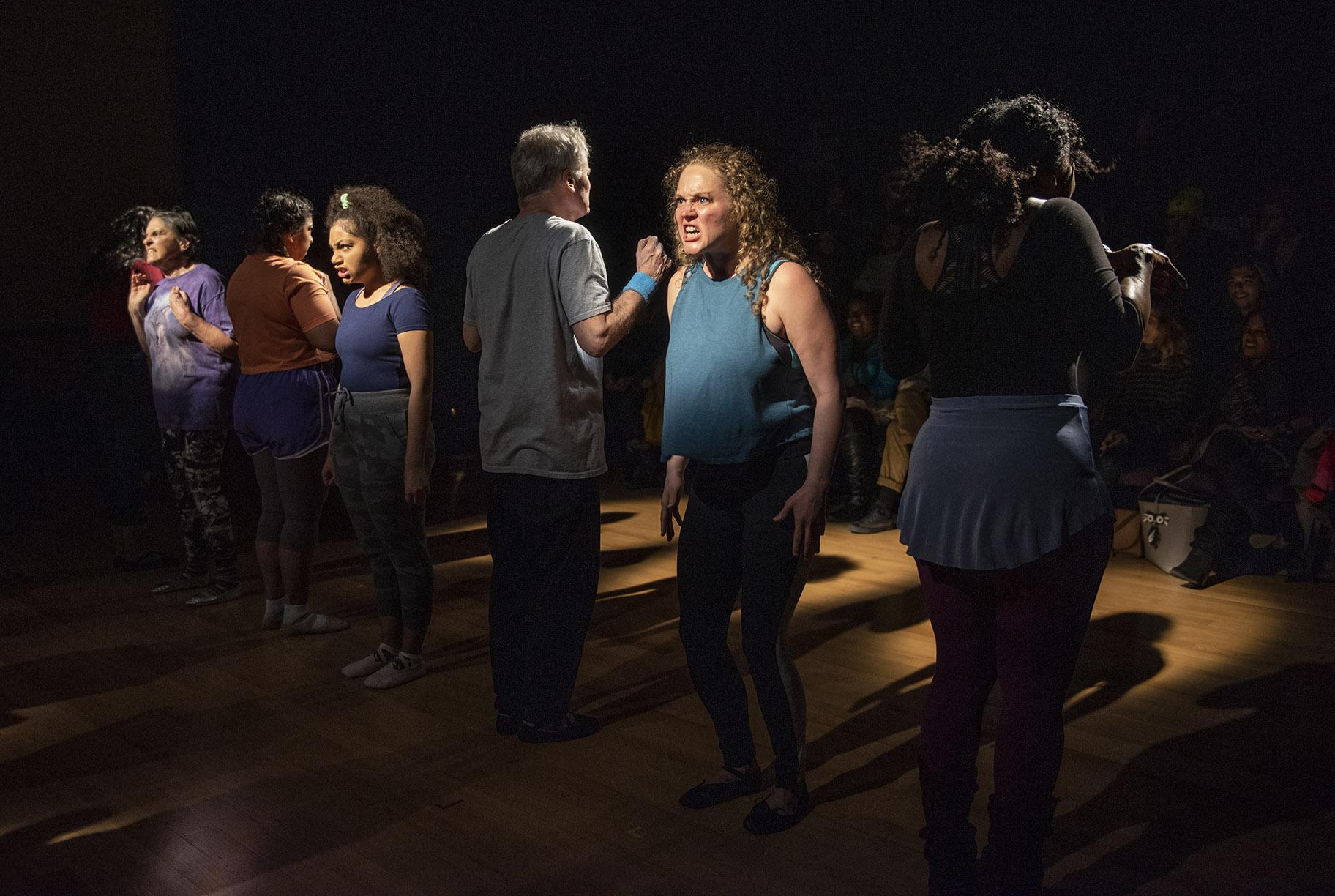 From left: Ellen Maddow, Ariana Burks and ensemble member Caroline Neff in "Dance Nation." (Photo by Michael Brosilow)
Neff, an actress of blazing intensity who must deal with much of the play's psychodrama, is rewarded with one truly lovely scene when she finally imagines her ideal love match and loss of virginity in a chat with Luke (a winningly understated turn by Torrey Hanson as the ever-overlooked man).
Rodriguez, full of energy, gets to vent about the price paid for winning. As Ashlee, the fiery Shanesia Davis goes fully ballistic in a diatribe against men that seems to come out of nowhere. And as Sofia – the naive girl who has clearly heard a great deal about masturbation and circumcision, and gets her first period just as a competition is about to begin – the luminous Ariana Burks has a perfect moment when she definitively rejects her mother's offer of help with tampons. The ever excellent Audrey Francis plays all the mothers in the show, and Adithi Chandrashekar and Ellen Maddow complete the cast.
---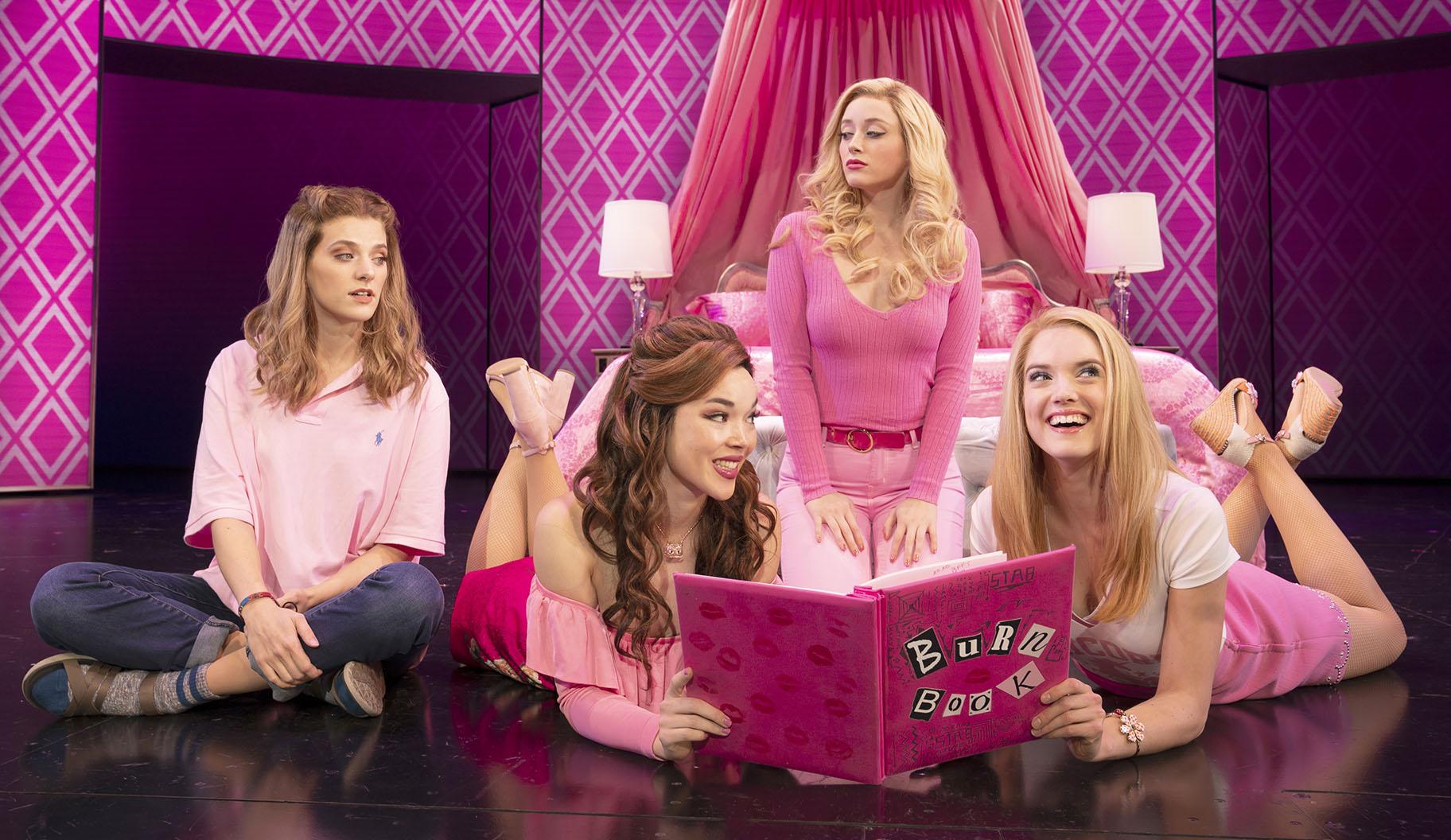 From left: Danielle Wade, Megan Masako Haley, Mariah Rose Faith and Jonalyn Saxer in the National Touring Company of "Mean Girls." (Credit: © 2019 Joan Marcus)
"Mean Girls," the 2014 musical version of the hit 2004 film that came with a screenplay (and performance) by Tina Fey, homes in on an upscale north suburban Chicago high school, where all the familiar cliques (artists, outcasts, brainiacs, jocks and, of course, vacuous fashionista "mean girls") are in play. The story is in the same category as "Heathers" and "Wicked" and a slew of other tales. The only difference is that here, the newcomer to the school, Cady Heron (in an ideally calibrated performance by Danielle Wade), arrives from Kenya, where her parents worked, where she was home-schooled, and where her best friends were the wild animals (playfully suggested by "Lion King"-costumed knockoffs).
The culture shock is intense, and her fellow students turn out to be more vicious than the lions and tigers. But Cady desperately wants to fit in. And although she is "mentored" by two other high-energy outcasts – punkish bohemian Janis Sarkisian (Mary Kate Morrissey), and her gay pal, Damian Hubbard (Eric Huffman) – she gradually falls under the influence of "The Plastics," the trio led by Regina George (Mariah Rose Faith), the quintessential rich, bitchy and vacuous mean girl, and her ladies-in-waiting – the insecure, idolizing Gretchen Wieners (Megan Masako Haley), and the dumb blonde, Karen Smith (Jonalyn Saxer). (The actresses form an ideal triumvirate.)
Cady also finds herself with a serious crush on Aaron Samuels (the easily winning Adante Carter), the handsome guy who is almost as gifted at calculus as she is, and was, at one time, Regina's boyfriend. Aaron, in turn, is taken with Cady, who seems so much more genuine and interesting than Regina – until, that is, she becomes almost as plastic as his ex.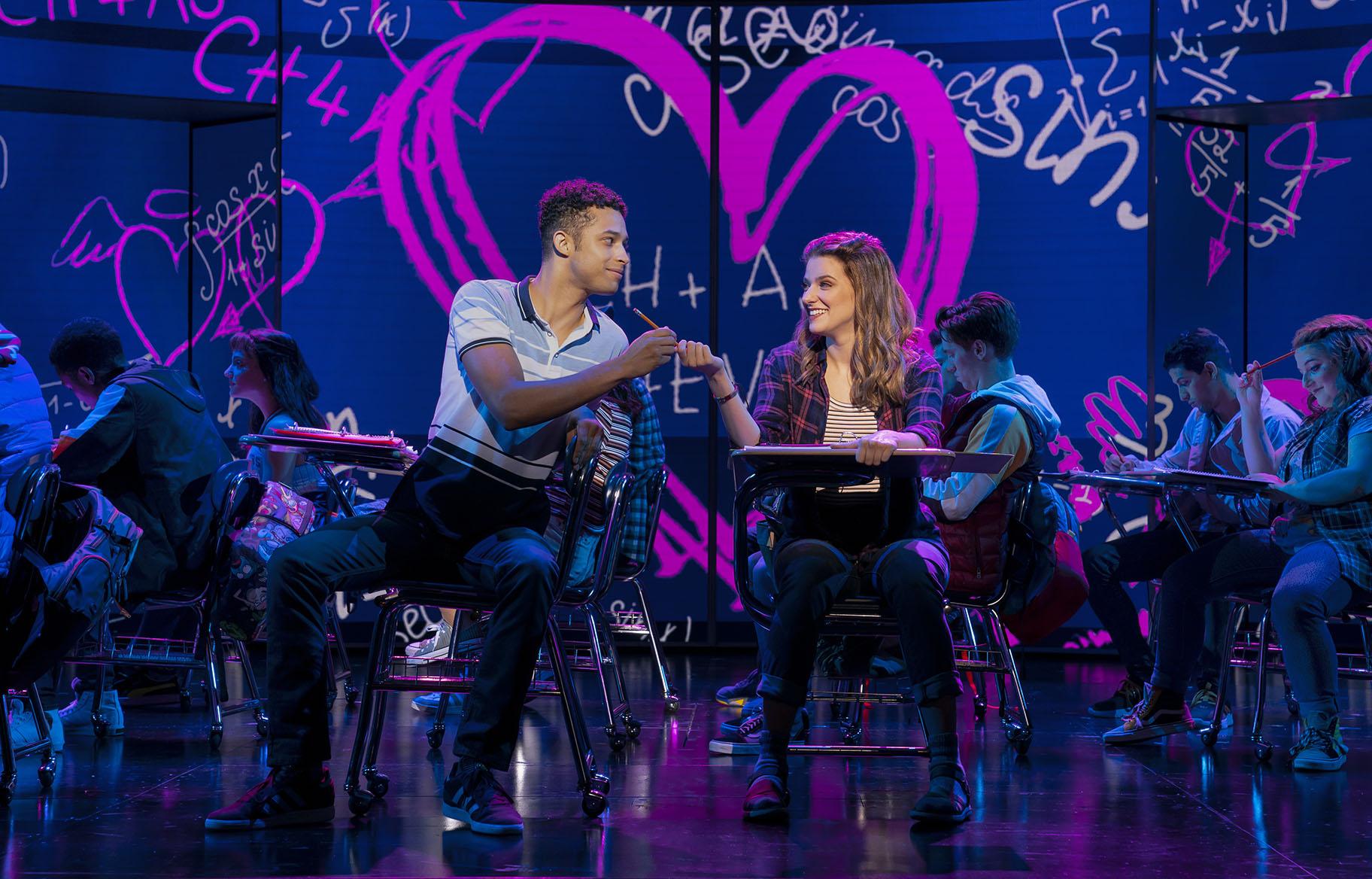 Danielle Wade and Adante Carter in "Mean Girls." (Credit: © 2019 Joan Marcus)
With a book by Fey, and a lively score by Jeff Richmond and Nell Benjamin, the show is wholly predictable. But director-choreographer Casey Nicholaw (whose credits include "The Book of Mormon," Disney's "Aladdin" and "Spamalot") is a master at pumping energy, humor and rollicking dance numbers into everything he touches. And he has a first-rate chorus of singer-dancers to form the student body here. What Nicholaw can't quite do is make the show's more or less happy ending full of "woke" teenagers feel believable. And all in all, the whole thing feels decidedly retro.
One final note: After catching these two shows I went to see Greta Gerwig's new film version of "Little Women," the Louisa May Alcott classic.
Set during the Civil War (although you'd hardly know this without having read the book), Gerwig puts a rather heavy-handed 21st century spin on the story of the four March sisters – young women of wide-ranging temperaments who make a slew of different choices about the direction they will take in life. In the process, the director loses hold of the crucial notion that with a father away at war, and a mother somewhat distracted, these women – especially Jo March (the ever superb Saoirse Ronan as the writer determined to forge her career at a time when women had a very difficult time getting published) – experience an unusual degree of freedom.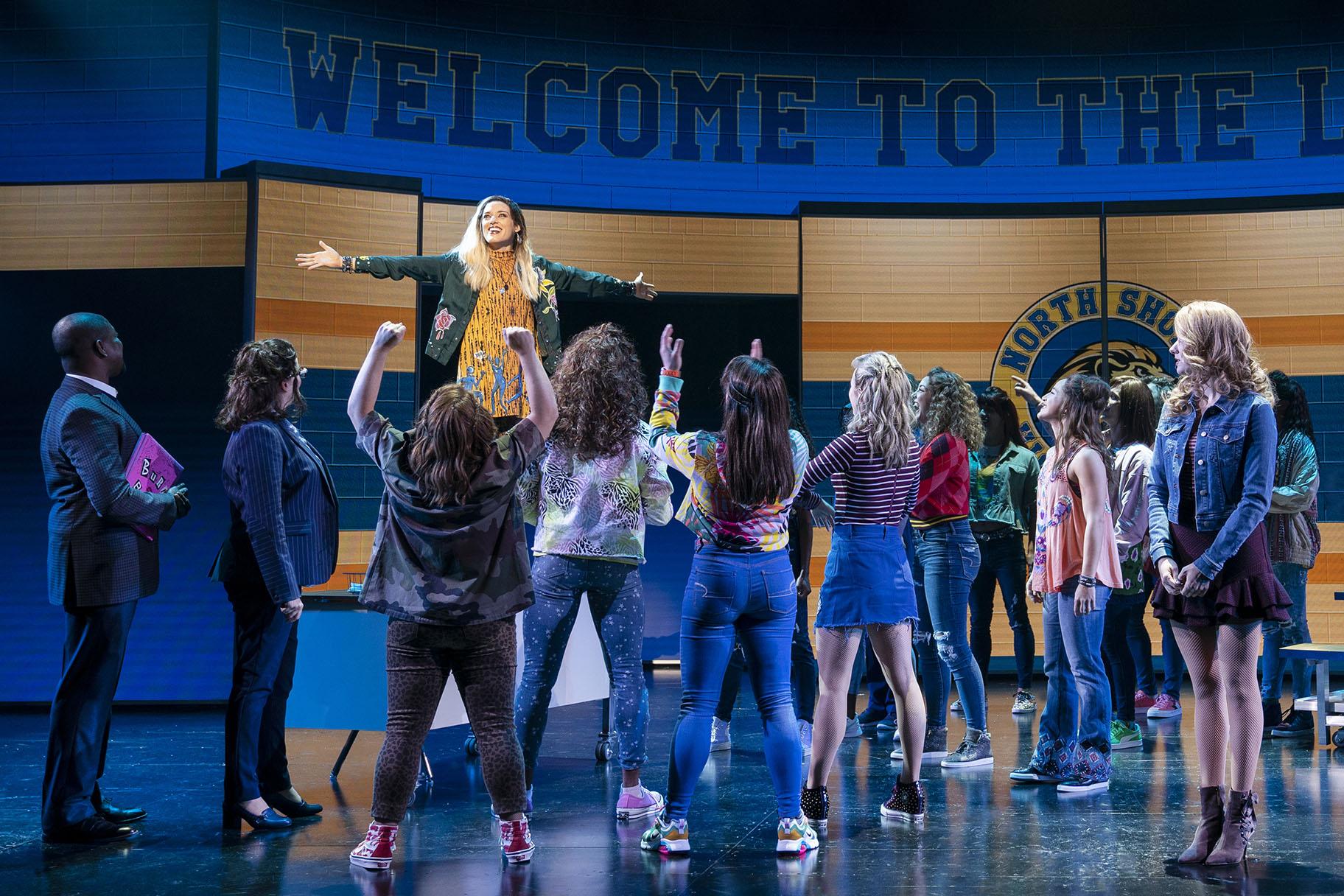 Mary Kate Morrissey, standing, and the National Touring Company of "Mean Girls." (Credit: © 2019 Joan Marcus)
The movie, which lurches back and forth in time, is often confusing to follow, and the acting styles (including those of Tracy Letts and Meryl Streep in supporting roles) are all over the map. Too bad, for had Gerwig remained true to Alcott's story the feminist message she wanted to trumpet would have sounded far more convincingly.
"Dance Nation" runs through Feb. 2, 2020 at Steppenwolf Theatre, 1650 N. Halsted St. For tickets ($20-$94) call (312) 335-1650 or visit steppenwolf.org. Running time is one hour and 50 minutes with no intermission.
"Mean Girls" runs through Jan. 26 at the Nederlander Theatre, 24 W. Randolph St. For tickets ($30-$120)!call (800) 775-2000 or visit BroadwayInChicago.com. Running time is 2 hours and 30 minutes with one intermission.
Follow Hedy Weiss on Twitter: @HedyWeissCritic
---