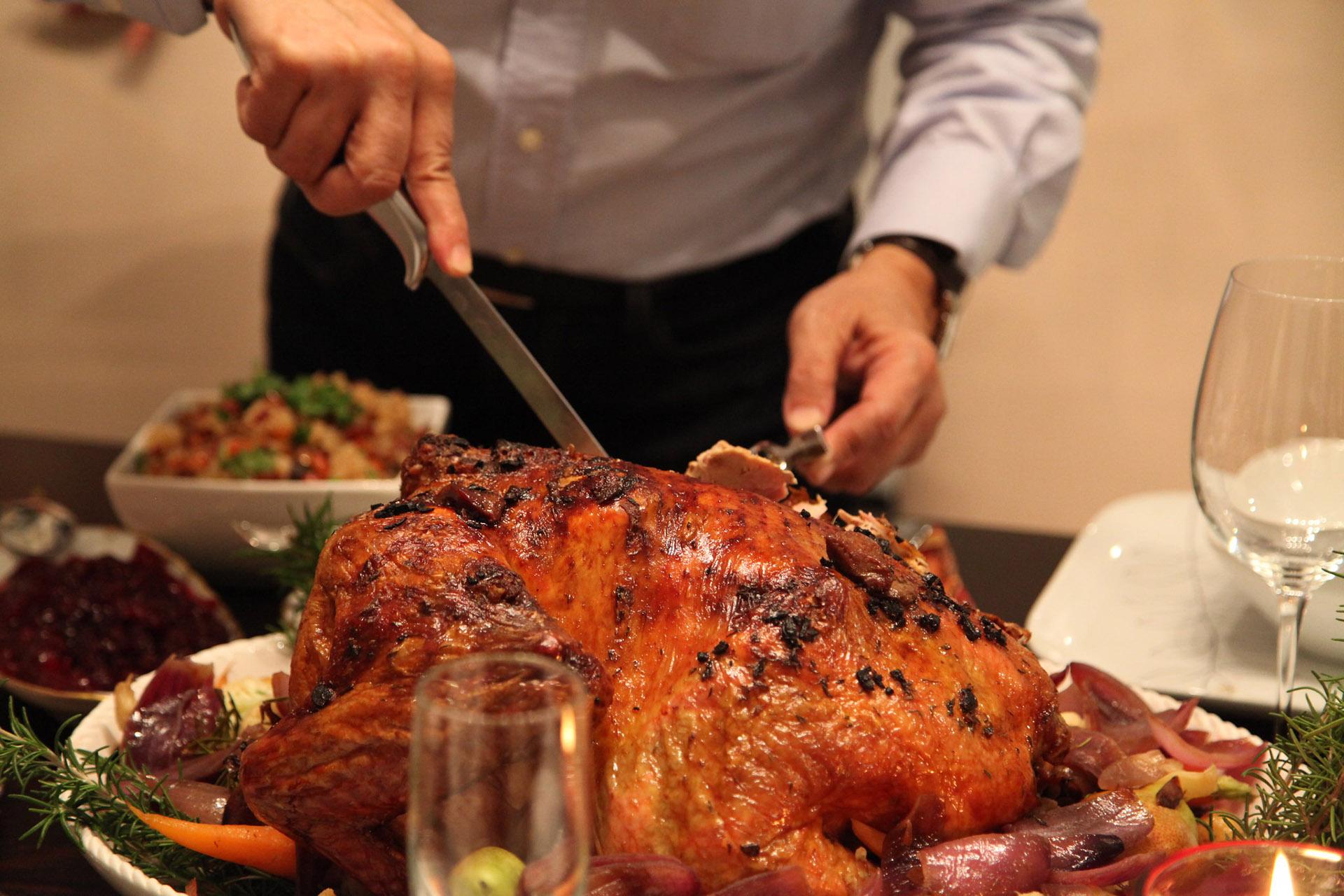 (jennie-o / Flickr)
Thanksgiving's so close you can almost taste it. In anticipation of the marathon day of eating, we asked local chefs, foodies and staff for their favorite Thanksgiving recipes.
Click on any dish below to jump directly to that recipe. Dig in!
---
Turkey
Brined turkey: Thanksgiving dinner is synonymous with turkey. While most people have their tried and true recipe for the big day, we've included one from "Chicago Cooks," if you're looking to try something new. 
---
Side Dishes
Sausage and Bread Stuffing: If turkey's the Most Valuable Plate for Thanksgiving, then stuffing is the runner-up. But that doesn't mean it's second best. Tantalize your taste buds with a recipe for sausage and bread stuffing, which restaurateur Donnie Madia calls incredible. This dish comes from Madia's mother-in-law, a gourmet cook.
Sage and Garlic Mashed Potatoes: Mashed potatoes are another Thanksgiving dinner staple. Freshen up this classic dish with a recipe from Chicago Tribune columnist JeanMarie Brownson.
Cranberry Chutney: Globetrotting foodie Layne Mosler seeks out the best eats in cities across the globe by asking cabdrivers to take her to their favorite restaurant. She shares her mother's recipe for cranberry chutney, which is so delicious that her family "usually end[s] up fighting over [it]."
Stuffed Kabocha Squash: WTTW News staffer Erica Gunderson shares a recipe that can be prepared the night before and easily adapted for vegetarians, too.
Mashed Sweet Potatoes: This passes the most important taste test—the American Test Kitchen taste test and is one of ATK chief creative officer Jack Bishop's favorites. Keep it simple or try a few of the recommended variations.
She-Crab Soup: Not your typical Thanksgiving Day dish, this comes recommended by James Beard semifinalist Paul Fehribach for special occasions and is featured in "The Big Jones Cookbook."
Classic Butternut Squash Soup: WTTW News staffer Rebecca Palmore shares a Whole Foods recipe that she's been making for years in advance of the big day.
---
Desserts
Pumpkin Cheesecake: Everyone will be expecting pumpkin pie. Treat them to a sweet surprise with this recipe for pumpkin cheesecake by Chicago's "Breakfast Queen" Ina Pinkney.
Chocolate Pecan Pie Bars: Give your pecan pie a south of the border twist this Thanksgiving with Rick Bayless' chocolate pecan pie bars featuring Mexican chocolate. 
Pumpkin Chocolate Chip Cookies: Put a seasonal twist on a classic with this recipe for pumpkin chocolate chip cookies from WTTW News reporter Kristen Thometz.
---
Leftover Turkey
Thanksgiving truly is the holiday that keeps on giving—especially when it comes to leftovers. Turkey's great and all but after the 10th plate it's not as appetizing. Keep your taste buds and stomach happy by transforming that turkey into a whole new dish.
Try these recommendations from Dr. Andrew Weil, author of "Fast Food, Good Food: More than 150 Quick and Easy Ways to Put Healthy, Delicious Food on the Table."
Persian Turkey Sliders with Yogurt-Tahini Sauce
---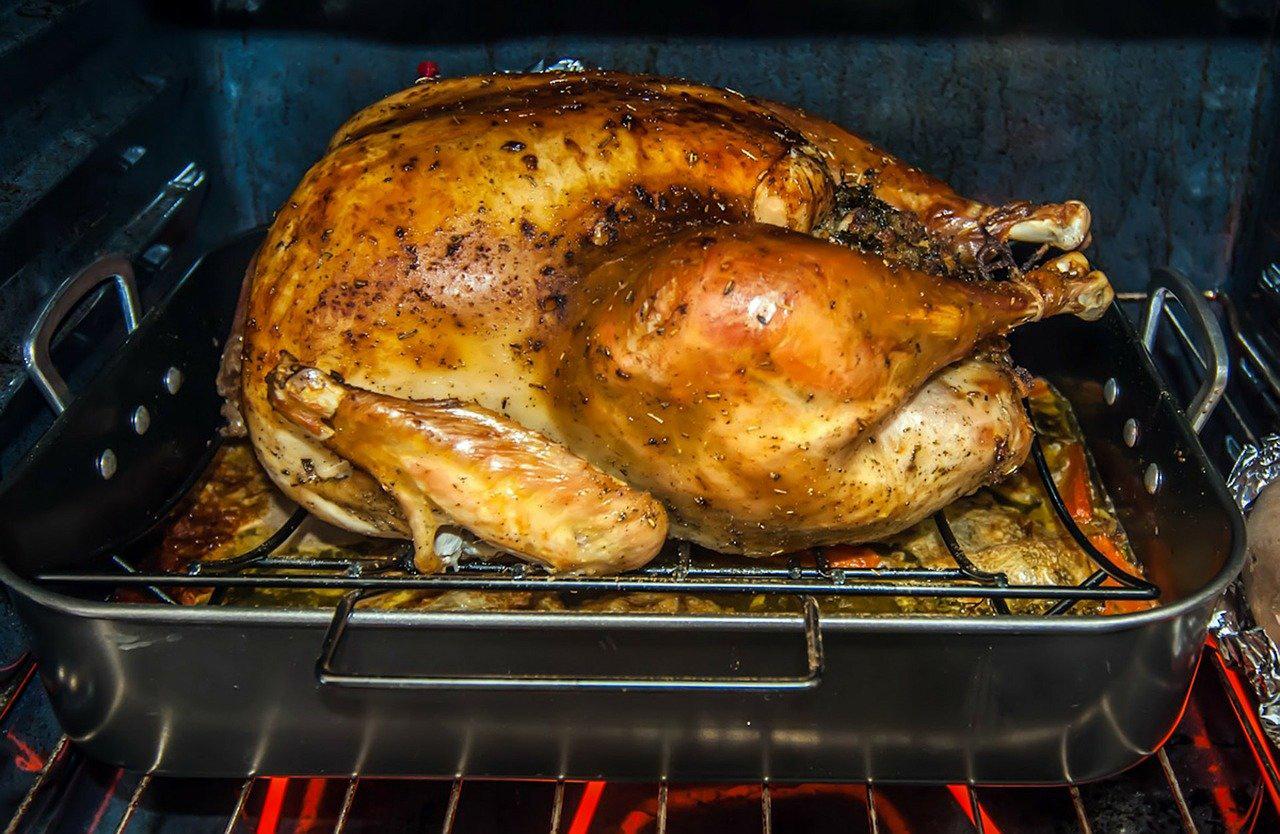 (Public Domain Pictures / Pixabay)
Several years ago, it became quite the "in" thing to brine your Thanksgiving turkey. I read article after article about it. I didn't really think it could make a difference but I gave it a try. I was amazed at the results; it was truly the best turkey I had ever made.
—Sara Reddington
Ingredients
Serves 12-14
4 quarts very cold water
1 cup coarse (kosher), or sea, salt
3 tablespoons granulated sugar
1 fresh, or thawed frozen, turkey (16 to 18 pounds)
Combine the water, salt and sugar; stir until the salt is dissolved. Place one large oven-cooking bag (or other large food-safe plastic bag) inside another; place the bags in a shallow roasting pan. Place the turkey in the bag, breast side down.
Carefully pour the salt mixture over the turkey inside the bag. Secure the inner bag tightly over the turkey; secure the outer bag tightly as well. Refrigerate the turkey in the brine for 12 to 18 hours. Remove the turkey from the brine; rinse well. Pat the turkey dry with paper towels. (The turkey can be refrigerated until ready to cook for up to 24 hours). 
Preheat the oven to 325°F. Turn the wings back to hold the neck skin against the back of the turkey. Place the turkey, breast side up, in a shallow roasting pan.
Bake until a meat thermometer inserted in the thigh reaches 165°F, 3 to 3 and 1/2 hours. Loosely cover the breast and tops of drumsticks with aluminum foil if they begin to get too brown. Let the turkey stand 15 minutes before carving.
Reprinted with permission from "Chicago Cooks" edited by Carol Mighton Haddix, Agate Surrey, 2007.
---
(for an 18-20 pound turkey)
Ingredients
2 pounds either mild or hot Italian sausage (casing removed)
1 tablespoon olive oil
3/4 cup coarsely chopped fresh flat leaf parsley
1 cup chopped carrots
4 medium cloves garlic finely chopped
3 medium chopped cooking onions
4 to 5 ribs chopped celery
1 teaspoon sea salt
1 teaspoon freshly ground black pepper
2 teaspoon dried sage
1/2 teaspoon dried thyme
1 cup freshly grated Parmigiano Reggiano
2 loaves Italian bread, 1 pound each (crusts removed and cut into 3/4-inch cubes)
2 cups low sodium chicken broth or more as needed
1 stick butter (1/4 pound)
Add 1 tablespoon olive oil to a large skillet over medium heat, add sausage meat, and saute for about 8 minutes breaking up meat with wooden spoon until beginning to brown. 
Transfer to a large mixing bowl with a slotted spoon.
Wipe out pan and add butter, heat over medium heat until foamy. Add all vegetables except chopped parsley, stirring occasionally for (12 to 15 minutes).
Add to bowl containing cooked sausage. Add salt, pepper, parsley, sage and thyme. Mix well.
Heat oven to 325 degrees.
While vegetables are cooking, lightly grease two rimmed baking sheets with butter. Add cubed bread, bake for 30 minutes, stirring twice.
Add to cooked sausage and vegetables along with grated cheese and chicken broth. Mix well so that all ingredients are moistened.
Add extra broth if the mixture seams a little dry.
Fill turkey cavity and bake the stuffed bird for between 4 1/4 to 4 1/2 hours at 325 degrees.
Using a digital meat thermometer test stuffing in the cavity, should be at least 165 degrees F.   
---
Sage and Garlic Mashed Potatoes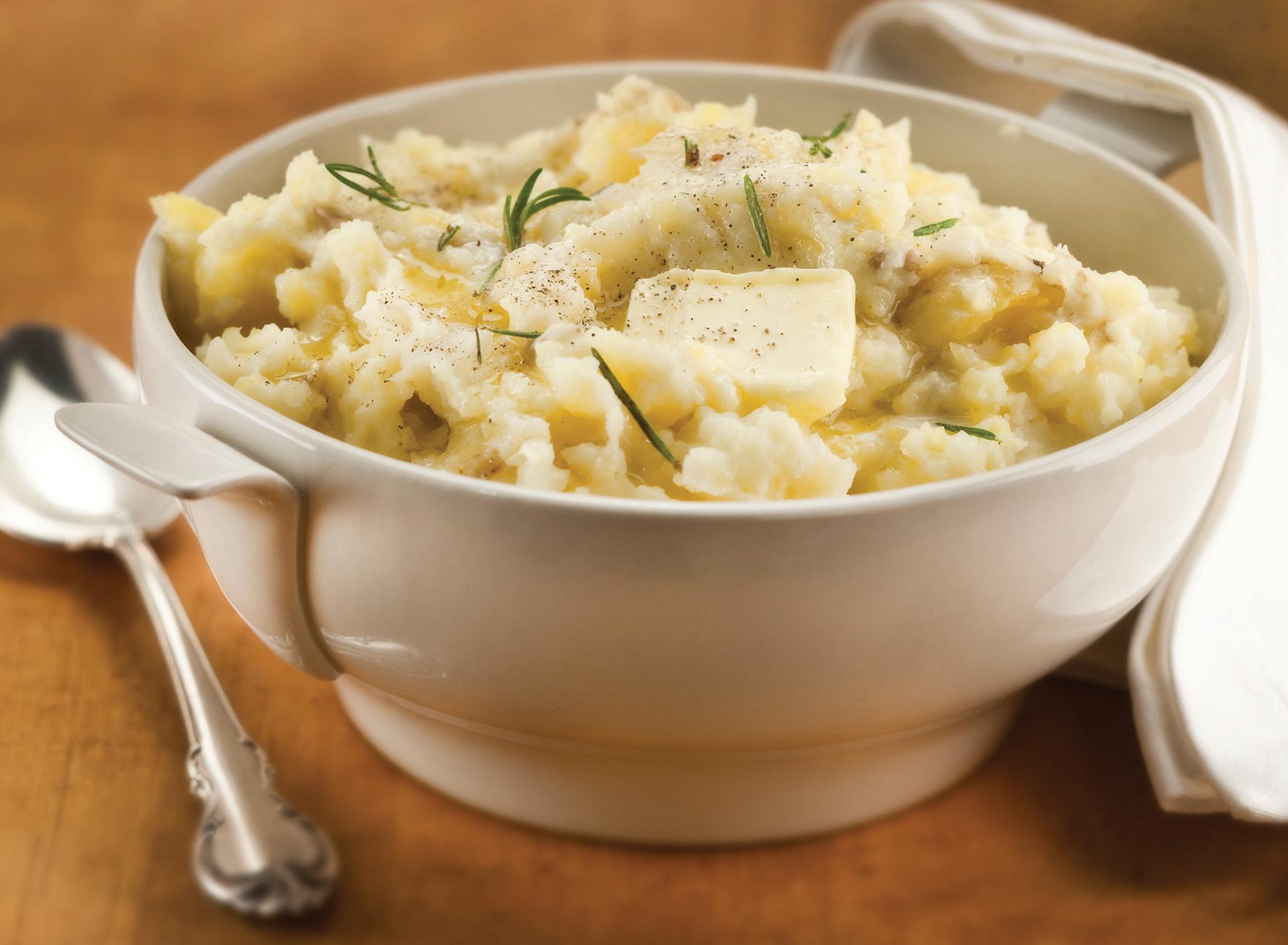 Photo © Bill Hogan, courtesy of the Chicago Tribune and Agate Publishing
Prep: 20 minutes
Cook: 30 minutes
Makes: 8 to 10 servings
No matter what we're cooking, we always use the freshest ingredients possible. That means real potatoes in the mash and fresh garlic and herbs throughout.
We're always looking for more ways to boost flavor. Lately we've been adding whole spices and chunks of garlic to the rice cooker for flavorful rice without calories. So we're taking the same approach with our mashed potatoes by adding garlic and herbs to the cooking water. The results are amazing.
You can peel the potatoes if you wish; I enjoy the look and flavor of the skins. A combination of golden potatoes and russets yield great flavor and texture.
Ingredients
6 or 8 sprigs fresh sage
1 or 2 sprigs fresh rosemary
1 1/2 pounds (about 6 medium) Yukon gold potatoes, scrubbed, cut into 2-inch chunks
1 1/2 pounds (about 3 medium) russet baking potatoes, scrubbed, cut into 2-inch chunks
4 to 6 large cloves garlic, peeled, roughly chopped
2 1/2teaspoons salt
1/2 cup each: skim milk, half-and-half
1/2 cup (1 stick) unsalted butter, softened
Freshly ground black pepper
Separate sage and rosemary leaves from stems. Slice leaves finely; set aside. Tie stems together with kitchen string.
Put potatoes, garlic and herb stems into a large pot. Add cold water to cover by 1 inch. Add 1 ½ teaspoons salt. Heat to a boil; simmer gently with lid slightly askew. Cook, checking potatoes occasionally with a knife, until tender, 15 to 20 minutes. Drain well. Discard herb stems.
Return the potatoes and garlic to the pot. Make a well in the center; pour in the milk and half-and-half. Set the heat to medium. When the milk starts to boil, reduce the heat to low; start mashing vigorously using a potato masher. Add about three-fourths of the soft butter; continue mashing until the mixture is fairly smooth. Season to taste, usually about 1 teaspoon salt and 1/2 teaspoon pepper. Remove from heat.
Meanwhile, melt remaining butter in small, nonstick skillet. Add herb leaves; saute until crisped, about 1 minute. Pile hot potatoes into a heated serving dish. Spoon sage butter over potatoes.
Nutrition information per serving (for 10 servings): 226 calories, 11 g fat, 7 g saturated fat, 29 mg cholesterol, 28 g carbohydrates, 4 g protein, 437 mg sodium, 2 g fiber
Holiday Side Dish Boosts:
Use the freshest ingredients  you can find: The results are worth it. Look for time-saving fresh ingredients such as bags of trimmed fresh green beans, diced root vegetables and squash.
Use unsalted butter. It tastes sweeter and fresher and allows the cook to adjust salt to taste.
Splurge on fresh herbs. Fresh sage in the stuffing and chives in the mashed potatoes prove worth the expense and effort.
A mixture of russet and golden potatoes yields light, fluffy mashed potatoes that have a rich color and flavor.
To keep mashed potatoes warm, put a piece of plastic wrap directly over the surface. Cover the pot and wrap it in a heavy towel. Potatoes will stay warm about 30 minutes.
Green beans (as well as broccoli, carrots and cauliflower) can be blanched (cooked in boiling water) up to two days in advance; rinse with cold water to stop the cooking. When cool, shake them dry and store in a container in the refrigerator. Then season or sauce shortly before serving.
Reprinted with permission from "Dinner at Home" by JeanMarie Brownson, Agate Surrey, 2015.
---
Serves 6-8
Ingredients
1 pound cranberries
1 cup raisins
1 2/3 cups sugar
1 tablespoon cinnamon
1 1/2 teaspoons fresh ginger, minced
1/4 teaspoon cloves
1 cup water
1 cup onion, chopped
1 medium Granny Smith apple, peeled, cored, chopped
1/2 cup celery, chopped
Combine cranberries, raisins, sugar, cinnamon, ginger, cloves and water, and cook in a saucepan on medium-low heat for 15-20 minutes. Stirring occasionally.
Add onion, apple and celery, and cook for an additional 15 minutes until the mixture thickens.
Cool and refrigerate. 
---
I've cooked many large-format Thanksgiving dinners, and while they taste great (if I do say so myself) they haven't always been the most attractive of presentations. A few years back I adapted a recipe for a stuffed pumpkin that manages to look as good as it tastes without too much effort on my part – and it can be prepared the night before. It's easy to adapt for vegetarians, too – just saute the aromatics in olive oil instead.
—Erica Gunderson
Ingredients
1 medium kabocha squash, approximately 3 pounds
1/2 pound bacon, diced
5 garlic cloves, minced
2 cups kale, sliced into thin ribbons
3 shallots, diced
2 cups day old French bread, torn into 1/2-inch pieces
1 cup gruyere or Emmenthal cheese, cut into small chunks
1/2 cup heavy cream
Thyme sprigs
Brown bacon pieces in large frying pan until crisp and remove from pan with slotted spoon, leaving drippings in the pan. Add diced shallots and garlic and saute until soft and translucent. Add kale and cook until wilted. Salt and pepper generously and place mixture in a large bowl.
Cut off top of kabocha and scoop out seeds and stringy fibers.
Add bread cubes and cheese to kale mixture and toss until well mixed. Fill cavity of squash with mixture, pressing gently. Pour in cream to fill and top with sprigs of thyme. Replace top and place squash in baking dish (I use a deep round baker to keep the whole thing from collapsing, which has never happened but you never know.) Refrigerate several hours or overnight.
Bake in a 425-degree oven for 90 minutes. Remove top and bake another 20 minutes, until squash is easily pierced with a fork and top is nicely browned. To serve, remove top and use two spoons to scoop flesh from inside of squash and mix into bread mixture.
---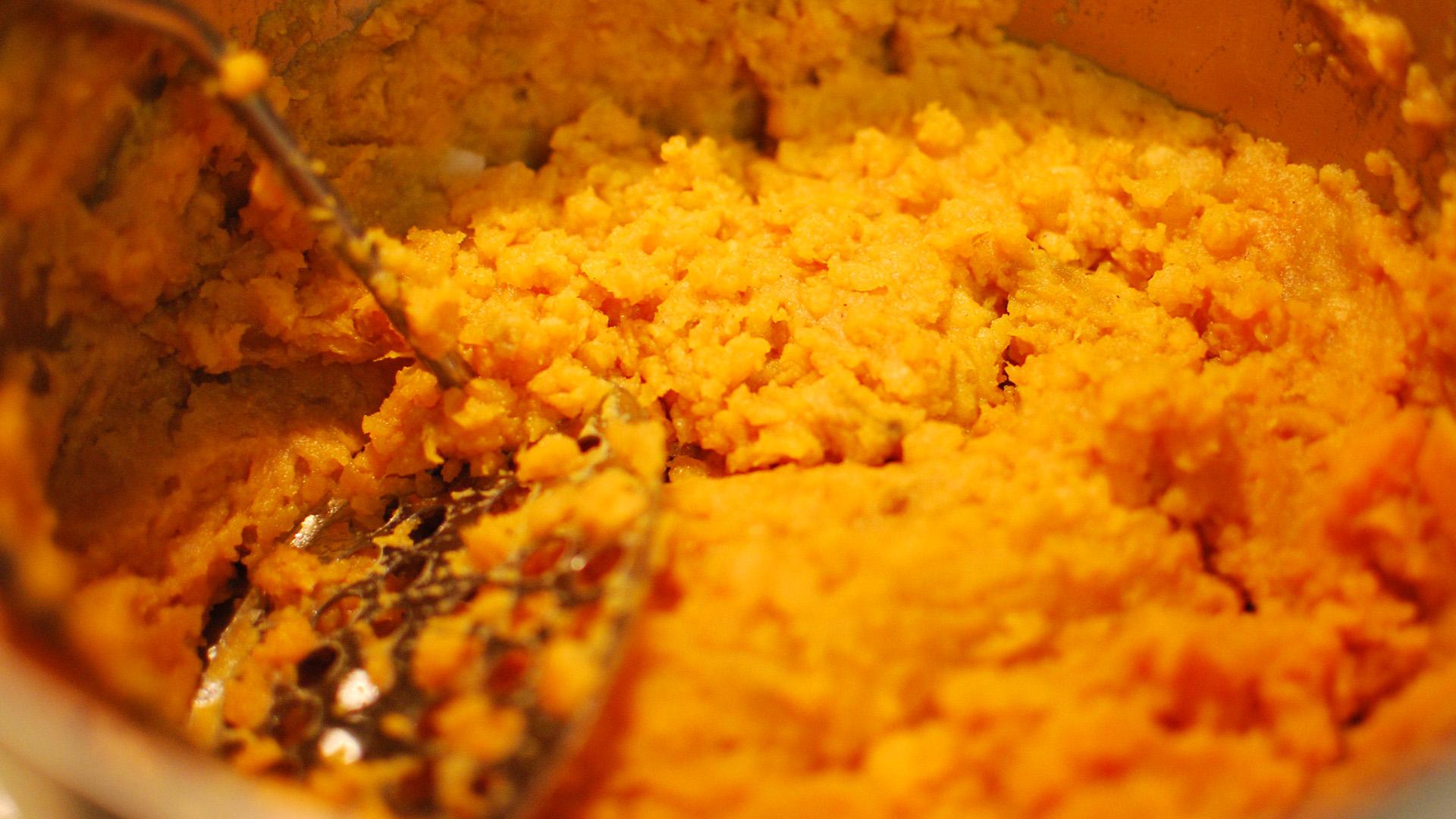 (slgckgc / Flickr)
Serves 4
Ingredients
2 pounds sweet potatoes, peeled, quartered lengthwise, and cut crosswise into 1/4-inch-thick slices. Cutting the sweet potatoes into slices of even thickness is important in getting them to cook at the same rate. A potato masher will yield slightly lumpy sweet potatoes; a food mill will make a perfectly smooth puree.
4 tablespoons unsalted butter, cut into 4 pieces
2 tablespoons heavy cream
1 teaspoon sugar
1/2 teaspoon salt
Pinch pepper
Timeline
10 minutes to peel and cut sweet potatoes
35 to 45 minutes to cook sweet potatoes (mostly hands-off)
5 minutes to mash and season sweet potatoes
Essential Tools
Large saucepan with tight-fitting lid
Potato masher (if you don't mind a few small lumps, and you shouldn't), ricer, or food mill
Combine sweet potatoes, butter, cream, sugar and salt in large saucepan and cook, covered, over low heat, stirring occasionally, until potatoes fall apart when poked with fork, 35 to 45 minutes.
Off heat, mash sweet potatoes in saucepan with potato masher. (Alternatively, you can you use ricer or food mill to press or mill potatoes into warmed serving bowl.) Stir in pepper; serve immediately.
Variations:
Maple-Orange Mashed Sweet Potatoes: Stir in 2 tablespoons maple syrup and 1/2 teaspoon grated orange zest along with pepper just before serving.
Indian-Spiced Mashed Sweet Potatoes with Raisins and Cashews: Substitute dark brown sugar for granulated sugar and add 3/4 teaspoon garam masala to saucepan along with sweet potatoes in step 1. Stir 1/4 cup golden raisins and 1/4 cup roasted unsalted cashews, chopped coarse, into mashed sweet potatoes along with pepper just before serving.
Garlic Mashed Sweet Potatoes with Coconut: Substitute 1/2 cup coconut milk for butter and cream and add 1/4 teaspoon red pepper flakes and 1 small minced garlic clove to saucepan along with sweet potatoes in step 1. Stir in 1 tablespoon minced fresh cilantro along with pepper just before serving.
Note: This recipe can be doubled if you use a Dutch oven and increase the cooking time to about 1 1/4 hours. Sweet potatoes take well to potent seasonings, such as smoked paprika, grated fresh ginger, and chipotle chile in adobo sauce. For best results, add these ingredients to the pot at the outset.
---
Prep time: 1 hour
Serves: 4 to 6
One of the most famous dishes of the Lowcountry and an absolute delight when prepared with fresh ingredients and a little bit of care, she-crab soup is a recipe we save for special occasions, never having put it on the regular menu. It's that good, and that special.
She-crab soup's origins are almost certainly tied to Scottish settlers, who brought with them a taste for partan bree, a simple soup of crab, milk, and rice. In the fabulously wealthy climes of Charleston, this basic porridge took on more and more sumptuous and decadent forms, incorporating the unusually rich roe of the female crab, cream, butter, and sherry or Madeira wine.
These days, many lackluster restaurants offer she-crab soup in forms that are hardly accurate representations of this historic dish. Particularly lazy kitchens will use roux to thicken the soup rather than a puree of rice porridge, ignoring the affinity crab and rice have for one another and also adding an unnecessarily rich thickener while crabmeat and dairy are already sufficiently rich.
I like to go the extra mile when making she-crab soup and use Carolina Gold rice, but you can use any medium- or long-grain rice for this recipe, although Arborio or carnaroli rice is a better option if you don't have Carolina Gold. Carolina Gold rice has a starchy texture that is unusually fine and will make a silky puree. Arborio and carnaroli are even starchier and will make an even smoother puree, but they lack the great pure grain flavor of Carolina Gold. Aromatic rice such as basmati, jasmine, or even Charleston Gold add delicious flavor contributions but make a less refined puree. I've always found Carolina Gold to offer the best balance, and with respect to the Carolina Rice Kitchen, it's undoubtedly the most historically accurate rice to use.
Other sloppy recipes call for gobs of heavy cream or, even worse, commercially processed soup bases. With crab, milk, and a little butter, believe me, it's rich enough.
Truly accurate versions of she-crab soup will include the roe of the crabs used to make the soup, so if you're lucky enough to score some female crabs with roe, simply use the roe as part of the crabmeat called for in the recipe, still going for a total of 8 ounces of crab.
As far as wine goes, I usually reach for dry Madeiras because I think they help lighten the flavor more than sherry does, but you should feel free to use sherry if you prefer, or if that's what you have on hand.
Equipment needed: 2-quart or larger saucepan, long-handled wooden spoon, blender
Ingredients
2 tablespoons (¼ stick) unsalted butter
1 cup yellow onion, finely chopped
1/2 cup celery, finely chopped
1 teaspoon Spanish paprika
1/4 teaspoon cayenne pepper
1/2 cup Carolina Gold rice
2 bay leaves
4 cups whole milk, divided
8 ounces cooked lump crabmeat
1/4 cup dry Madeira or sherry
1 tablespoon kosher salt
1 tablespoon freshly squeezed lemon juice
In a 2-quart or larger saucepan, melt the butter over medium-high heat until foaming. Add the onions and celery, and sauté, stirring constantly with a wooden spoon, until the vegetables are translucent and aromatic. Add the paprika and cayenne pepper, and sauté another half minute, until the aroma of the spices is released. Add the rice, bay leaves, and 1 cup of the milk, and reduce the heat to medium.
Stirring regularly, bring to a boil and continue to cook as the rice swells and cooks through. As the rice absorbs the milk, continue to add more milk ½ cup at a time to maintain the consistency of runny oatmeal, adding more milk as the porridge becomes too thick, and returning to a boil. Continue to stir often and well as this combination will have a tendency to scorch; stirring will also help release the starches on the grains of rice and create a creamier texture.
Once all the milk is incorporated, continue to heat at a low boil until the rice is cooked so well it is mushy when pinched between your fingers. Add the crabmeat, wine, and salt, and return to a low boil for 1 minute, stirring often. Stir in the lemon juice.
Remove from the heat and allow to cool for 15 to 20 minutes. Remove the bay leaves. With the lid of your blender tightly in place, puree in batches, starting first on low speed and gradually increasing the speed to blend to the desired consistency. Some folks like this with a little texture, or you can puree longer for a silky puree. Serve at once with buttered toast and a garnish of fresh lemon and herbs.
---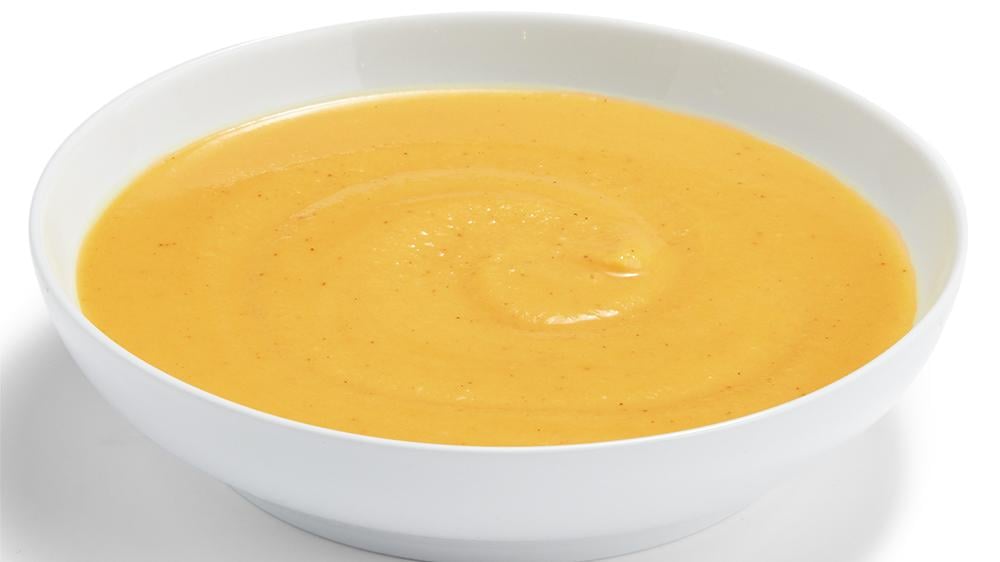 (Credit: Whole Foods Market)
For years, I've made a spicy version of this classic butternut squash soup to start a Thanksgiving dinner that I otherwise have very little to do with (save from eating and cleaning up afterwards). Here's why I love it: it's vegetarian (a bonus on a meat-centric holiday) and it's a gorgeous color that warms up the table. Whole Foods offers a few twists on its classic recipe. My favorite (and admittedly, the only one I've tried) is the Thai-style version.
—Rebecca Palmore
Ingredients
2 tablespoons extra-virgin olive oil
1 carrot diced
1 celery stalk diced
1 onion diced
4 cups cubed butternut squash fresh or frozen
1/2 teaspoon chopped fresh thyme
4 cups low-sodium chicken broth 1/2 teaspoon fine sea salt
1/2 teaspoon ground black pepper
Heat oil in a large soup pot over medium heat. Add carrot, celery and onion. Cook until vegetables have begun to soften and onion turns translucent, 3 to 4 minutes.
Stir in butternut squash, thyme, chicken broth, salt and pepper. Bring to a boil, reduce heat and simmer until squash is fork-tender, about 30 minutes.
Use an immersion blender to purée soup. Alternatively, let the soup cool slightly and carefully purée in batches in an upright blender.
Three twists:
Apple, Gorgonzola and Almond Butternut Soup: Stir 1 cup unsweetened applesauce into the puréed soup. Garnish each serving with crumbled Gorgonzola cheese, toasted almonds, a few slices of thinly sliced apple and a small sprig of fresh thyme.
Thai-style Butternut Soup: Stir a tablespoon of red curry paste and 2 teaspoons chopped fresh ginger into carrot, celery and onion mixture. Add 1/2 cup coconut milk with broth. Purée soup and garnish each serving with toasted coconut flakes and chopped fresh cilantro.
Southwestern-style Butternut Soup: Add a tablespoon chopped chipotles in adobo sauce to carrot, celery and onion mixture. Garnish soup with crumbled queso fresco, toasted pumpkin seeds and chopped fresh cilantro.
---
Crust Ingredients
1 1/2 cups graham cracker crumbs
2 tablespoons sugar
1/3 cup melted butter (unsalted)
In a 9-inch springform pan, blend the crumbs and sugar. Add the melted butter and mix thoroughly. Press the crumbs firmly on the bottom of the pan and set aside.
Cheesecake Ingredients
1 1/2 pounds cream cheese, room temperature
1 cup sugar
3 eggs, extra large
1 cup solid pack pumpkin
2 teaspoon pumpkin pie spice
Beat the cream cheese in a mixer, or with a hand mixer, or in a food processor. Add the sugar and mix well. Be sure to scrape the bowl several times. 
Add the eggs, one at a time and beat until smooth. Scrape bowl again.
Add the pumpkin and pie spice and mix well. 
Pour into prepared springform pan.
Bake at 425 degrees for 10 minutes. Then lower the heat to 250 and bake for 40-50 minutes more.
Remove from oven and let cool until you can handle it comfortably.
Put in refrigerator and chill overnight.
Serve with slightly sweetened whipped cream. Enjoy!
P.S. Double the recipe and freeze one for Christmas—if it lasts that long!
---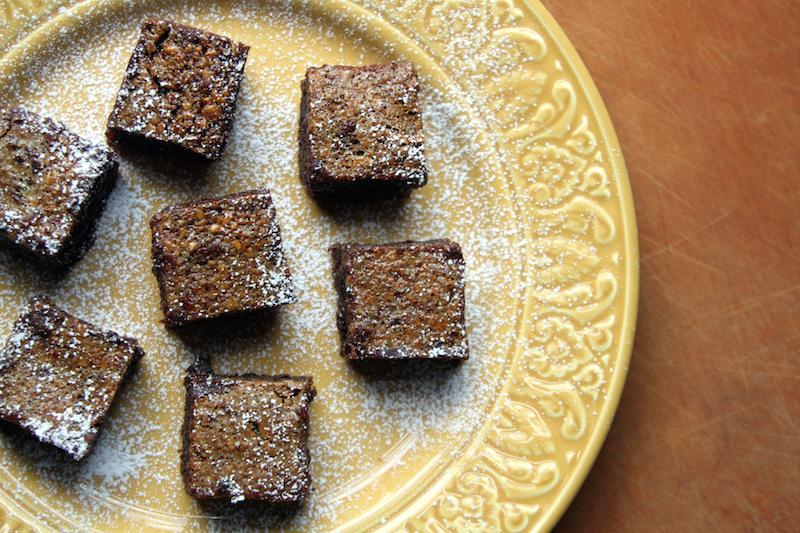 Pecan Pie Bars
Servings: 32 2-inch bars
Ingredients
9 ounces (about 2 cups) pecan halves
One 9-ounce bag pretzel rods
1 pound (4 stick) unsalted butter (divided use), plus extra for buttering the pan
1/2 cup sugar
8 ounces semisweet or bittersweet chocolate, chopped into pieces not larger than 1/4-inch
3/4 cup (about 4 1/2 ounces) Mexican chocolate, finely chopped, (like the widely available Ibarra brand)
3 tablespoons flour
6 large eggs
1 1/2 cups firmly packed dark brown sugar
1 1/2 cups corn syrup, preferably dark (or use a mixture of corn syrup and molasses, sorghum, Steens cane syrup or most any of the other rich-flavored syrups that are on the market)
1 tablespoon pure vanilla extract, preferably Mexican vanilla
Powdered sugar, for garnish
Toast the pecans and prepare the crumb crust. In a 325 degree oven, toast the pecans on a rimmed baking sheet until noticeably darker and toasty smelling, about 10 minutes. Let the pecans cool to lukewarm (but keep the oven heated), then coarsely chop them by hand—1/4 to 1/2-inch pieces makes luxurious-looking bars. Scrape into a large bowl.
Use a food processor to chop the pretzels into fairly fine crumbs. (You should have 2 cups of crumbs.) In a small saucepan over medium heat or in a microwave at 50% power, melt 2 sticks of the butter. Scrape into the processor, along with the 1/2 cup sugar. Pulse until everything is combined. Butter the bottom and sides of two 8 x 8-inch baking pans. Cut a piece of parchment to fit the bottom of each pan, then press them firmly in place. Butter the parchment paper. Divide the crumb mixture between the two pans and pat into an even layer covering the bottom completely.
Make the filling. To the pecans, add the 2 chocolates and the flour. Stir to combine, then divide evenly between the 2 pans. In your small saucepan or microwave, melt the remaining 2 sticks of the butter. In the bowl of an electric mixer, combine the eggs, brown sugar, corn syrup and vanilla, and beat at medium-low speed (if your mixer has a choice, use the flat beater). Slowly add the melted butter, mixing until the batter looks smooth. Divide the batter between the two pans, pouring it slowly and evenly over the surface to ensure even distribution of the chocolate and pecans through the batter.
Bake, cool and serve the bars. Slide into the oven and bake for 45 to 55 minutes, until the center has just set. Let cool to room temperature. Cover and refrigerate until firm for easy cutting. Cut into 2-inch squares. Keep them stored in the refrigerator until just before serving. Transfer to a serving platter, dust with powdered sugar, carry to your guests and await the ooo's and aah's.
---
Pumpkin Chocolate Chip Cookies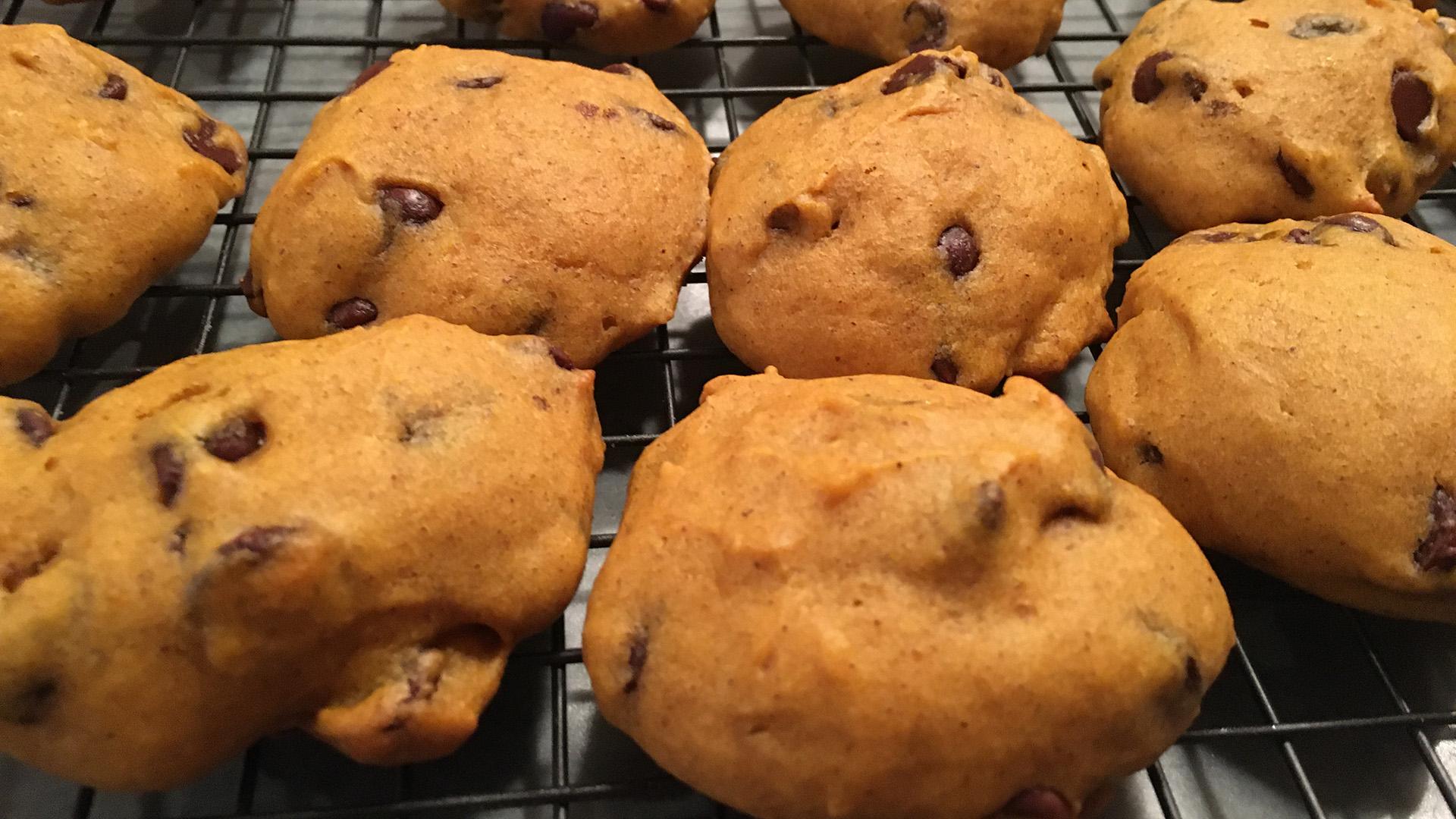 Several years ago, a roommate introduced me to these cookies at a "friendsgiving." Having mastered baking traditional chocolate chip cookies, this recipe puts a seasonal twist on a classic recipe.
—Kristen Thometz
Ingredients
1 cup canned pumpkin
1 cup white sugar
1/2 cup vegetable oil
1 egg
2 cups all-purpose flour
2 teaspoons baking powder
2 teaspoons ground cinnamon
1/2 teaspoon salt
1 teaspoon baking soda
1 teaspoon milk
1 tablespoon vanilla extract
2 cups semisweet chocolate chips
Combine pumpkin, sugar, vegetable oil and egg. Dissolve the baking soda with the milk and stir in. In a separate bowl, stir together flour, baking powder, ground cinnamon and salt. Add flour mixture to pumpkin mixture and mix well.
Add vanilla and chocolate chips.
Drop by spoonful on greased cookie sheet.
Bake at 350 degrees for 10 minutes or until lightly brown and firm.
---
Serves 4; vegan and gluten free
Commercial chili powder is a mixture of dried spices: oregano, garlic, ground cumin, and red chili, usually with added salt. These are the basic flavor elements of the many varieties of the popular stew called chili that may or may not contain beans. I often make a vegan chili from dried, soaked adzuki beans, which cook quickly, sometimes adding sautéed shiitake mushrooms for their meaty texture. You can serve this as a one-dish meal, letting guests add chopped tomatoes, onions, and shredded cheese as they wish. Warm corn tortillas are also a good accompaniment.
Ingredients
1 tablespoon extra-virgin olive oil
1 large yellow onion, diced
1/2 teaspoon sea salt
2 garlic cloves, pressed and allowed to sit for 10 minutes
1 jalapeno pepper, seeded and minced
1 red bell pepper, seeded and diced
1 teaspoon dried oregano
2 teaspoons ground cumin
2 teaspoons smoked paprika
1/8 teaspoon cayenne pepper, or more to taste
1/4 teaspoon ground allspice
1/2 pound lean ground turkey or crumbled tempeh
1 (14.5-ounce) can diced tomatoes with their juice
1 (15-ounce) can black beans, rinsed and drained
1/4 teaspoon lime juice
2 tablespoons chopped fresh cilantro leaves
In a soup pot, heat the oil over medium heat. Add the onions and a pinch of salt and sauté for 3 minutes, until translucent. Add the garlic, jalapeno, red pepper, oregano, and spices and sauté for another minute.
Add the turkey and 1/4 teaspoon of the salt. Break up the meat with a wooden spoon and let it brown, about 3 minutes. If pan is dry or the spices stick, pour in a little juice from the tomatoes to deglaze.
Add the tomatoes, beans, and another pinch of salt. Stir to combine. Bring the chili to a simmer, then lower heat, cover, and simmer for 20 minutes, stirring occasionally. Remove the lid and simmer for 10 minutes more, stirring occasionally. Add the lime juice and a generous pinch of salt, to taste.
Ladle the chili into 4 bowls and garnish with cilantro and your favorite accompaniments.
Recipe Reprinted Courtesy Little, Brown and Company. Copyright © 2015 by Andrew Weil, MD
---
Persian Turkey Sliders with Yogurt-Tahini Sauce
Serves 8; gluten free
The Middle Eastern spice mixture transforms what could be a bland turkey experience into something really tasty, and the yogurt-tahini sauce takes it over the top. The key to a tender burger—one that doesn't resemble a hockey puck—is using a light hand when combining the turkey with the other ingredients.
Slider Ingredients
3 garlic cloves, pressed and allowed to sit for 10 minutes
1/2 cup finely chopped onion
2 tablespoons coarsely chopped fresh flat-leaf parsley leaves
1 teaspoon ground cumin
1/2 teaspoon ground coriander
1/2 teaspoon sea salt
1/8 teaspoon ground cinnamon
1/8 teaspoon cayenne pepper
1 pound ground dark turkey meat
1 tablespoon grapeseed oil
8 lettuce leaves
8 slices tomato
4 whole-wheat pita pockets, halved (optional)
Yogurt-Tahini Sauce Ingredients
1/4 cup plain Greek yogurt
2 tablespoons tahini
1 teaspoon grated lemon zest
1 to 2 tablespoons lemon juice
1/8 teaspoon sea salt
Pinch of cayenne pepper
1/4 cup peeled, seeded, and finely chopped cucumber
1 tablespoon finely chopped fresh spearmint
Put the garlic, onion, parsley, cumin, coriander, salt, cinnamon, and cayenne in a large bowl and stir to combine. Add the turkey and gently mix with your hands or a spatula until well combined. Shape the mixture into 8 patties (each about the size of your palm).
To make the sauce, whisk together the yogurt, tahini, lemon zest, lemon juice, salt, and cayenne in a bowl. Stir in 1 to 2 teaspoons of water, as needed, to achieve a spoonable consistency. Fold in the cucumber and spearmint.
Heat a grill pan over medium heat. Brush with the grapeseed oil, then put the patties in the pan and cook until browned on both sides, about 3 minutes per side. Add 1 tablespoon of water, cover, and cook for 3 more minutes, or until an instant-read thermometer registers 165° F. Alternatively, heat a skillet over medium heat, add just enough oil to coat the skillet, then put the patties in the skillet and cook until browned on both sides, about 3 minutes on each side. Decrease the heat to medium-low, add 1 tablespoon of water, cover, and cook for 3 minutes more.
Transfer the sliders to plates and serve with a generous dollop of yogurt-tahini sauce, lettuce leaves, tomatoes, and warmed pita, if desired.
Recipe Reprinted Courtesy Little, Brown and Company. Copyright © 2015 by Andrew Weil, MD
---