Ina Pinkney has been feeding Chicagoans her signature brand of breakfast since opening her first restaurant in 1991. She closed up shop two years ago, but Pinkney wanted to share some of her favorite recipes in a book, along with stories from her life and how they inform her cooking. As a result, "Ina's Kitchen: Memories and Recipes from the Breakfast Queen" is part cookbook and part memoir.
Ina Pinkney joins "Chicago Tonight" to talk about her life and her food.

"Never grieve until the day you have to."
–Ina Pinkney
---
Ina Pinkney has been making our stomachs happy since 1980, when she started a special order bakery. She opened her first of three restaurants, "Ina's Kitchen," in 1991. Her most recent venture, "Ina's," had a devoted group of diners for a dozen years until Pinkney retired at the end of 2013. Regulars lauded her for the delicious desserts, her signature take on breakfast food and an inviting atmosphere.
Her life hasn't been without its share of turbulence – a childhood bout of polio, parents who disapproved of her interracial marriage – but Pinkney's book mixes stories from her life, the lessons she's learned and the food she loves to cook. On the book's closing pages, Pinkney writes the last of several "Recipes for Life" sprinkled throughout the book: "Never grieve until the day you have to." That mix of optimism and pragmatism shows up throughout the pages of "Ina's Kitchen," which was released last month after a self-published run in 2013.
Pinkney says since her customers became her "family of choice," she wanted to leave her favorite recipes to them after closing her restaurant, and wanted them to see "who I was and where I learned my lessons from."
"When a little tiny one who I fed became a grown up and brought in their tiny one, it was overwhelming and so beautiful to me to know that I had fed them with love and care and nourishment and nurturing, and that they continued the tradition of coming into the restaurant," Pinkney said. "Lots of little kids came in at the very end, and they loved seeing my picture on the cover and being able to say, Ina, you're going to come home with me. And you know, I cried every time."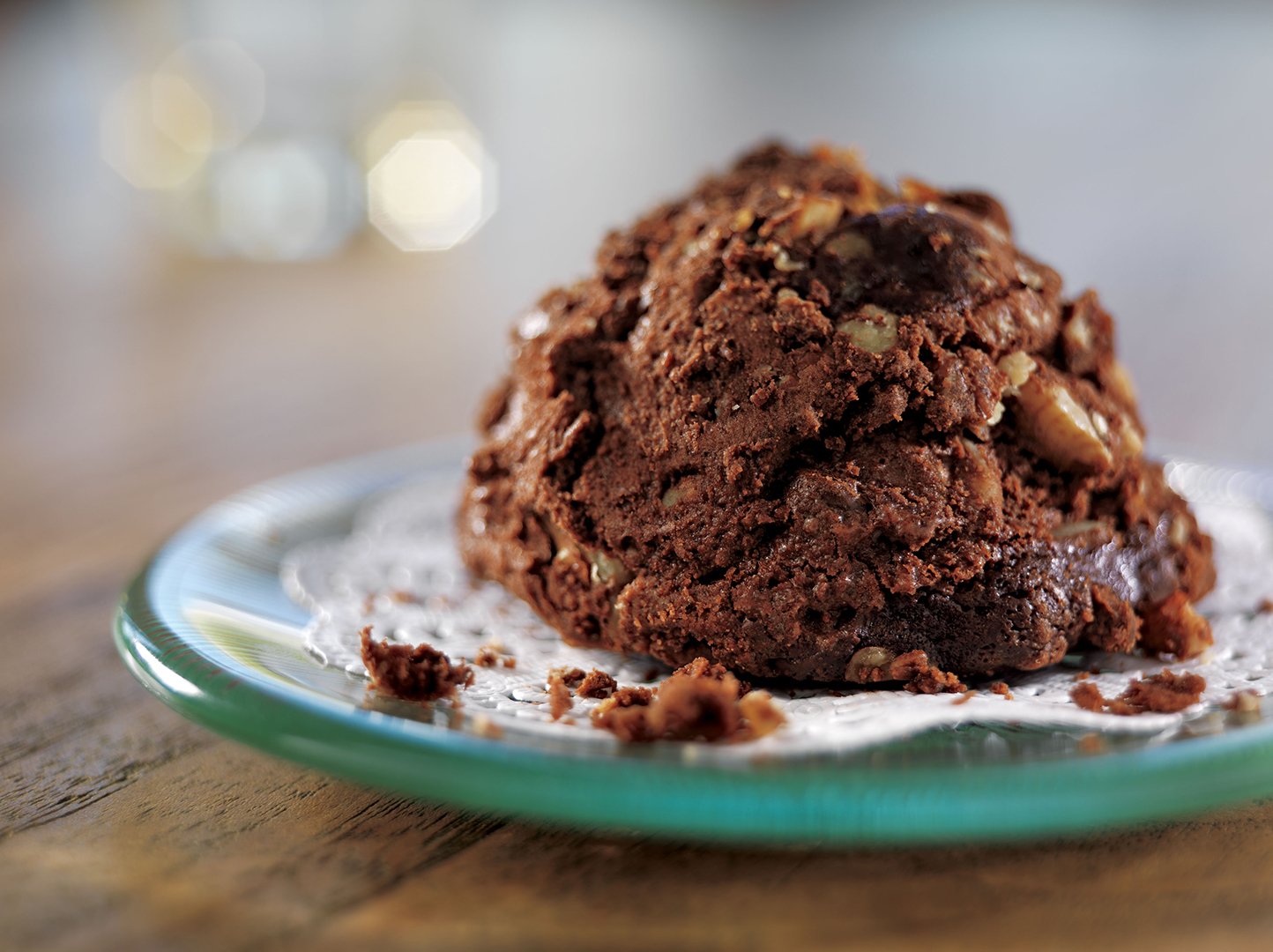 Ina's Chocolate Blobbs (Stephen Hamilton)
Pinkney says she always shared her recipes with customers who asked. "I was never one of those chefs who leaves out a key ingredient or withholds a recipe. The only one I did not reveal until the book was chocolate blobbs, which was a cookie-brownie I created in the '80s that was life changing for some people! It was the only one I held back. I don't know why, but when it came time to write the book, there was no question but that it would have a prominent place in there."
Pinkney's also the subject of the new documentary "Breakfast at Ina's," which is being screened at the Chicago International Film Festival this Thursday and Friday. The film tracks the final month of Ina's restaurant before it closes. Watch the film's trailer, below.
Breakfast at Ina's Movie Trailer from Daisy May Films on Vimeo.
---
Read an excerpt from "Ina's Kitchen."
"Ina's Kitchen" (Stephen Hamilton)

Every recipe I write is a short story with a happy ending.

I wish I had had a mother or grandmother who had carefully written down heirloom recipes that I would later treasure. But they both hated to cook!

My Aunt Susie was an instinctive cook with a remarkable palate who never thought to document her lasagna or any of her other dishes, made over and over to get the taste 'just right.'

I suppose musicians see their lives as musical notes on lined paper, artists as colors on a palate, and engineers as a schematic. Mine is a recipe. It has evolved, changed and had adjustments made to it. I've tried over and over to 'get it just right' and when it was finally perfect, I made notes on it so I could replicate and share it. It's the same with my recipes for breakfast.

Ask people about breakfast and they'll tell you it's their favorite meal. Ask them what they eat at home for breakfast and they'll hesitate, look embarrassed and tell you they eat Pop-Tarts, energy bars, diet cola or juice.

Ask them about eating breakfast in a restaurant, however, and they'll light up and tell an entirely different story about steel cut oatmeal, baked french toast and waffles!

What is it about that specific meal eaten in a restaurant? It has the aura of a special occasion, out of the ordinary routine and what you do on vacation.

There is a lot of mediocre food served at breakfast and I have a theory about that.

At home, when you attempt this meal, you're in the kitchen making each part separately and bringing dish after dish to the table, going back for the next items one by one until you sit down to your cold eggs.

Sitting at a table in a restaurant, the juice is cold, the coffee steaming, and all the food is served together, hot. People accept poor quality as a trade-off for 
all that.

So what happens if you take the reason for eating out and add superb food and service to the experience? You get INA'S.

After over 30 years in the food business, I am now considered the 'family cook' for thousands of families.

Weddings, births, family celebrations and even deaths have become part of our legacy. Children I fed years ago are now having children and we eagerly await their 'First Pancake Day.'

Ina's Heavenly Hots (Stephen Hamilton)

People bring memories of their visits to INA'S, assured that the Heavenly Hots they have today will be exactly the same as they were in 1991. (They tell me it's like hearing a favorite song on the radio. You know the words and music and still love hearing it played every time!) We have great admiration for the new and innovative, but we respect consistency and tradition even more.

The stories of my life, which lead to these recipes,
 are all, in essence, happy ones. I have overcome paralytic polio, danced with Fred Astaire, fed Julia Child, skied on a glacier and gone skydiving. And now I write this book.

These stories live in my heart and I will tell them from that place. Some will make you laugh, some will inspire, some will make you wonder, but all of them will have a happy ending.

Now YOU become MY family, to whom I leave my recipes for life and breakfast.

Reprinted with permission from Ina's Kitchen by Ina Pinkney, Agate Midway, 2015.