Dr. Andrew Weil is a Harvard-trained medical doctor and botanist. He's a clinical professor of medicine at the University of Arizona and director of its Center for Integrative Medicine. 
He's also the author of 15 best-selling books that have sold more than 10 million copies. His newest is "Fast Food, Good Food: More than 150 Quick and Easy Ways to Put Healthy, Delicious Food on the Table."
Weil joins "Chicago Tonight" to talk about his new book and integrative medicine. Below, some highlights from our conversation.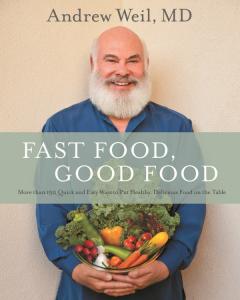 On his new cookbook
"I myself eat fish and vegetables, so I'm a pesco-vegetarian but I don't tell people to become vegetarians. I think it is, however, useful to reduce consumption of animal products and the cookbook reflects that. There are meat dishes in the cookbook and there are meat dishes in the restaurants that I'm involved with, but this is more of a special occasion food rather than something you eat at every meal."
On including a recipe for brownies in his cookbook
"Chocolate is a health food. It's actually got greater antioxidant activity than either red wine or green tea. So I think having dark chocolate in a diet on a regular basis is a good thing."
On foods that contribute to inflammation
"It is all of the refined, processed and manufactured foods that are out there. Everything  in the middle of the supermarkets. It's got the wrong kinds of fats, wrong kinds of carbohydrates and not enough of the protective elements found mostly in fruits, vegetables, herbs and spices."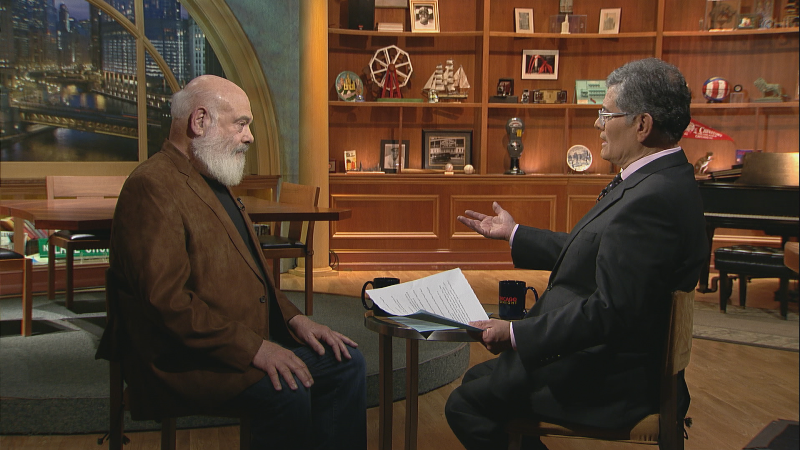 Dr. Andrew Weil on the "Chicago Tonight" set with Phil Ponce.
On integrative medicine
"Many people think of this as the combination of conventional and alternative medicine, but really it's a very robust movement now. It's medicine that is focused on the body's natural healing ability that looks at people as whole persons not just physical bodies, that looks at all aspects of lifestyle and really makes use of all available therapies that aren't going to cause harm and show reasonable evidence of efficacy."
On conflicts between his training in conventional medicine and botany
"Through my studies of botany, I became extremely interested in medicinal plants, and it was a real shock to go to medical school and see that people really had no knowledge of the natural sources of drugs. And it seemed to me that medicine had become disconnected from nature, and that's something that I've been trying to repair."
On scrutiny he receives from the conventional medical establishment
"First of all, there's a great deal that's done in conventional medicine that does not have a good evidence base behind it. In addition, all of the physicians that I trained are trained to prepare treatment plans using evidence as published in the scientific literature. So I don't think that's a valid complaint, and many of the people that make that charge are really just unaware of the evidence that's out there. For example, often all of herbal medicine is rejected, and really there's no knowledge of the thousands and thousands of published studies demonstrating the safety and efficacy of many of these products."
---
Recipes from "Fast Food, Good Food: More than 150 Quick and Easy Ways to Put Healthy, Delicious Food on the Table," below.
Andy's Anytime Tofu Scramble with Salsa Cruda

Serves 4, V, GF*

Andy's Anytime Tofu Scramble with Salsa Cruda (Dr. Andrew Weil)

This is a good breakfast dish and can also be a clean-out-the-refrigerator meal, since you can add any vegetables you have on hand. Turmeric gives an appealing color and cumin a rich flavor. It's fun to scoop the scramble up in warm, soft corn tortillas, but feel free to omit them and just dig in.

1. Preheat the oven to 350°F.

2. In a large skillet, heat the oil over medium-high heat. Add the onion and diced pepper and saute until the onion is translucent, about 2 minutes. Stir in the garlic, and saute for 30 seconds more. Add the tofu, then add the turmeric, cumin, salt, and cayenne and cook for 3 more minutes, stirring occasionally.

3. Place the tortillas on a cookie sheet and bake for 5 minutes until warmed through. (Or wrap the tortillas in a tea towel and heat them in the microwave for 45 seconds.)

4. Serve the scramble with the warm tortillas, sliced avocados, and salsa.

Recipe Reprinted Courtesy Little, Brown and Company. Copyright © 2015 by Andrew Weil, MD.

---

Stir-Fried Sweet Potato Noodles with Prawns and Vegetables

Serves 4, V*, GF

Stir-fried Sweet Potato Noodles with Prawns and Vegetables (Dr. Andrew Weil)

This recipe is based on a popular vegetarian dish in Korea prepared with chewy, transparent noodles made from sweet potato starch. These are gluten-free and lower in glycemic load than most pasta. The dried noodles are readily available online and in Asian grocery stores. Here they are quickly reconstituted in hot water, rinsed, mixed with a bit of toasted sesame oil, then added to stir-fried vegetables and a flavorful sauce. Koreans enjoy this both hot and cold as a side dish, but you can turn it into a more substantial main course by adding seafood or tofu. (Note: muscovado sugar is an unrefined brown sugar that's readily available at markets or online.)

8 ounces dried Korean sweet potato noodles
2 teaspoons toasted sesame oil
¼ cup low-sodium soy sauce
1 tablespoon (packed) muscovado sugar
1 tablespoon grapeseed oil
1 large carrot, peeled and cut in 2-inch matchsticks
1 onion, thinly sliced
¼ teaspoon freshly ground black pepper or crushed red pepper flakes to taste
Pinch of sea salt
8 ounces shiitake, stemmed and thinly sliced
2 garlic cloves, pressed and allowed to sit for 10 minutes
6 ounces raw peeled and deveined prawns or baked pressed tofu, sliced (optional)
6 ounces baby spinach
3 scallions, white and light green parts only, thinly sliced
1 tablespoon toasted sesame seeds

1. Bring a large pot of water to a boil. Add the noodles, stir to separate them, and cook for about 4 to 5 minutes. Drain in a colander and rinse under cold water. Using scissors, cut the noodles into 6- to 8-inch lengths. With the noodles still in the colander, drizzle with the sesame oil and toss to coat. Set aside.

2. In a small bowl, mix the soy sauce and sugar together until the sugar dissolves. Set aside.

3. Heat the grapeseed oil in a large nonstick skillet over medium heat. Add the carrots, onions, black pepper, and a pinch of salt. Cook, stirring occasionally, until the onion has softened, about 4 minutes. Add the mushrooms and garlic (and prawns or tofu) and cook, stirring occasionally, until the mushrooms are cooked through, about 5 minutes. Add the noodles and soy sauce mixture and toss until heated through, about 2 minutes. Add the spinach and, using tongs, toss to combine. Cook until the spinach is wilted, about 1 minute more.

4. Transfer to a serving platter and sprinkle with the scallions and sesame seeds. Serve hot or at room temperature.

FAST FOOD, GOOD FOOD More Than 150 Quick and Easy Ways to Put Healthy, Delicious Foods on the Table courtesy Little, Brown and Company. Copyright © 2015 by Andrew Weil, MD.

---

Ridiculously Good Triple Chocolate Brownies

Makes 16, VEG, GF

Triple Chocolate Brownies (Dr. Andrew Weil)

These brownies are really fudgy. They have no gluten and are made with olive oil instead of butter, although you would never know it by tasting them. High-quality chocolate is a must here; use only one with a 68 to 72 percent cacao content. (Note that cacao content is the amount of pure cocoa bean in a chocolate product; the higher the percentage, the more chocolate, which also means more antioxidants and less sugar.) The finishing pinch of fleur de sel takes these brownies over the top.

2⁄3 cup almond flour
2 tablespoons natural unsweetened cocoa powder
1/2 teaspoon ground cinnamon
1/2 teaspoon baking soda
1⁄8 teaspoon sea salt
8 ounces chopped dark chocolate
1⁄3 cup extra-virgin olive oil
2 large eggs
2⁄3 cup evaporated cane sugar
1 teaspoon vanilla extract
2 tablespoons cocoa nibs
Pinch of fleur de sel or fine sea salt

1. Preheat the oven to 350°F and lightly oil an 8-by-8-inch baking pan.

2. Put the almond flour, cocoa powder, cinnamon, baking soda, and salt in a bowl and stir to combine.

3. Put half of the chocolate in a heatproof bowl and set the bowl over a saucepan of simmering water. Heat, stirring often, just until the chocolate is melted and smooth. Remove from the heat and whisk in the olive oil.

4. Crack the eggs into a large bowl and whisk until frothy. Slowly add the sugar, whisking all the while, and continue whisking until the mixture is smooth. Add the vanilla extract, then gradually add the chocolate, whisking vigorously all the while, and continue whisking until smooth and glossy.

5. Add the flour mixture and stir until just combined. Stir in the remaining chocolate and the cocoa nibs. Scrape the mixture into the prepared pan and smooth the top with a spatula.

6. Bake for 15 minutes, then sprinkle with a pinch of fleur de sel. Continue to bake for another 10 minutes or until a toothpick inserted in the center comes out clean. Let cool to room temperature in the pan before cutting. Brownies that don't get eaten right away can be stored in the freezer in a zip-top bag for up to a month.

FAST FOOD, GOOD FOOD More Than 150 Quick and Easy Ways to Put Healthy, Delicious Foods on the Table courtesy Little, Brown and Company. Copyright © 2015 by Andrew Weil, MD.