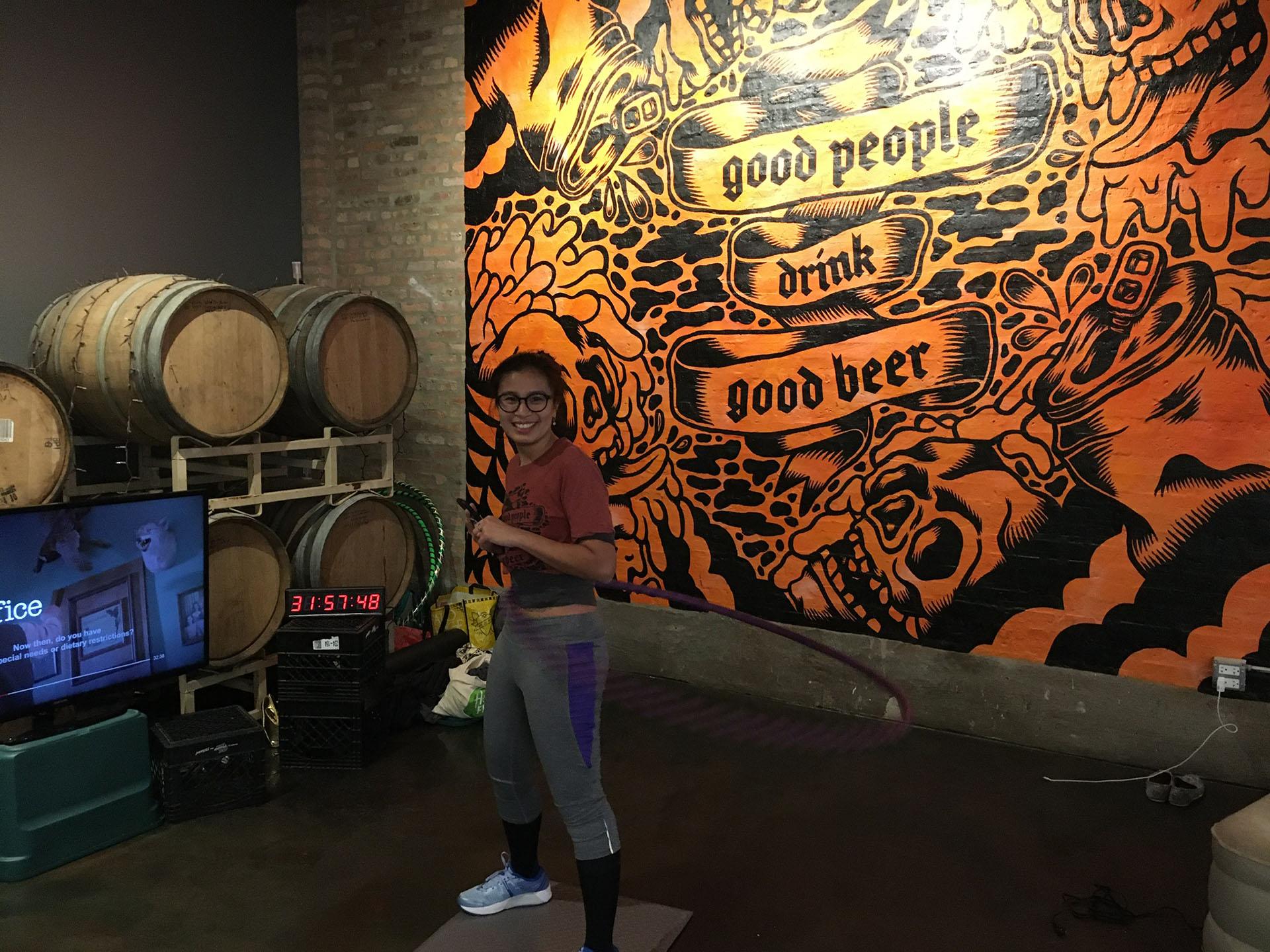 Wicker Park resident Jenny Doan hula-hoops at District Brew Yards. (Kristen Thometz / WTTW News)
UPDATE: New World Record for Hula-Hooping Set by Jenny Doan in Chicago
Wicker Park resident Jenny Doan began hula-hooping at 7 a.m. Tuesday in an attempt to break the Guinness World Record for the longest marathon hula-hooping session. The current record – 74 hours and 54 minutes – was set in 2009.
Doan is aiming for 100 hours and using the challenge as an opportunity to raise funds for Mental Health America.
By Wednesday afternoon, she had surpassed the 31-hour mark and had only slept for 1 hour and 40 minutes.
"It's been a roller coaster," Doan said. "It's been good. It's been tiring."
Doan has received a lot of support from people stopping by District Brew Yards, her challenge site. "A lot of fresh faces have been coming so they've been keeping me company," she said.
Nighttime is the hardest part. "Overnight when it gets really quiet and cold, it's difficult to stay motivated," she said. She fills a lot of that time watching episodes of "The Office," which she has already seen in its entirety.
Below, watch a livestream of Doan.
Watch live video from jennyhoops on www.twitch.tv
---
Fortunately, Doan has friends she can turn to in Australia, where she grew up, which is 14 hours ahead of Chicago. While she's been updating them about the challenge, she hasn't told her parents – and they're not on social media – because they would worry about her, which in turn would cause her some stress. She'll tell them when she's finished.
"They'll be surprised and not surprised. It's within my normal behavior," said Doan, who has previously bicycled across 21 countries by herself, covering 8,700 miles in 11 months.
Doan expects to surpass the current World Record at 10 a.m. Friday. "There'll be a big cheers and weight off my shoulders. I'm looking forward to that moment," she said.
But she won't stop there. She plans to continue till 11 a.m. Saturday when she's expected to reach 100 hours.
Does she plan on having a big celebration then?
"I'll just want to lay down. (This is) a lot of work and cumulative fatigue. But with enough people supporting me here and online and all over the palce, it's been really uplifting," she said. "So when I start to feel tired, someone will give me a thumbs up and I think I can keep going."
In the meantime, Doan will continue her attempt at District Brew Yards, 417 N. Ashland Ave. She needs a few volunteers to serve as timekeepers throughout her attempt, per Guinness rules. Get more information and sign up details here.
To make a donation or watch Doan via livestream, visit her Tiltify page.
Contact Kristen Thometz: @kristenthometz | (773) 509-5452 |  [email protected]
---
Related stories:
World Record Attempt: Chicagoan Jenny Doan to Hula-Hoop for 100 Hours
Lightfoot's New Plan to Address Mental Health Care
Parkinson's Disease Not Slowing Down Runner's Marathon Goal
Comedian Damon Williams Stands Up for Hometown of Chicago
---