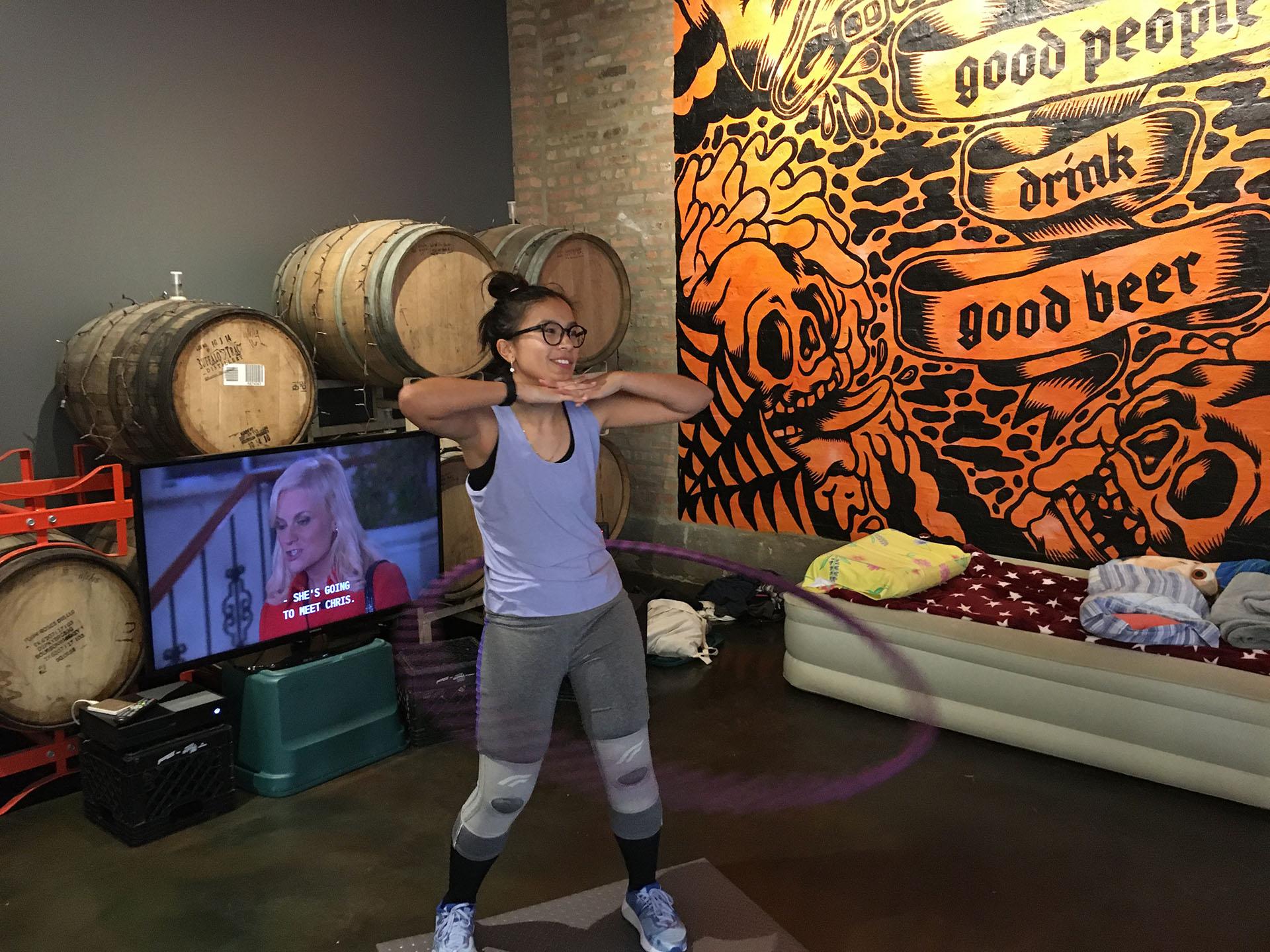 Wicker Park resident Jenny Doan poses for a picture Saturday Nov. 23 as she nears the end of her Guinness World Record attempt for longest marathon hula-hooping session. (Kristen Thometz / WTTW News)
Flanked by a dozen or so supporters with hundreds more watching online, Wicker Park resident Jenny Doan smiled as Queen's "We are the Champions" played Saturday morning as she completed her Guinness World Record attempt for longest marathon hula-hooping session, clocking in at 100 hours.
As the timer on the clock went off, Doan threw down her hoop and raised her arms above her head in triumph as the crowd cheered, posing for a picture with the clock before crashing on her inflatable mattress at District Brew Yards in West Town, where the hula-hooping challenge had been underway since 7 a.m. Tuesday.
"I'm so relieved," Doan said, laying on the mattress while clutching a stuffed animal. "It would've been a giant waste of time if I had failed. This is the best possible story."
Wicker Park resident Jenny Doan completes her 100-hour marathon hula-hooping session listening to Queen's "We are the Champions." pic.twitter.com/5m2nujmvhC

— Kristen Thometz (@KristenThometz) November 23, 2019
---
But Doan did falter during her attempt. At around the 58-hour, 24-minute mark, Doan's hoop fell to the ground, which according to Guinness rules would mean the end of her attempt.
"I was in shock and started swearing," Doan said. "I was paranoid that I was disqualified." She says she went through the Guinness rules again and determined she could count that incident as one of the breaks she had earned. (Per Guinness rules, five minutes of break are earned for every hour spent hula-hooping.)
WTTW News reached out to Guinness for clarification on the incident and is awaiting comment. If Guinness determines she was disqualified at that time, Doan said she would not try another attempt.
Chris Vellucci, who lives with Doan, said the record was only part of her goal. "The biggest reason she's doing this is to raise money for Mental Health America," he said. As of noon Saturday, Doan had raised nearly $4,500 for the organization.
Among the supporters cheering Doan on was Oak Park resident Kelley Kitley, who was named social worker of the year by Mental Health America. Kitley says she's grateful for Doan's commitment to raising awareness and funds for mental health. "It's a great opportunity to break the stigma and silence of mental health," said Kitley, who brought her daughter Emma to watch Doan complete her challenge.
"It's so exciting when people challenge themselves to do things that seem unimaginable," said Kitley. "And it's great to see a community of people to come together for this cause."
Fellow hula-hooper Ana Skolnik, of Lakeview, said she appreciates the attention Doan has brought to the hula-hooping community. "Hula-hooping feels like life for me, but I forget that it's unusual for people," Skolnik said. "Having this buzz around hula-hooping gets people to know us."
As for Doan, she's looking forward to sleeping and thankful for all of her supporters. She hopes they take her message to heart about following their dreams like she did. "If you're authentic, people will get behind you. … I was pretty honest the whole time about what I was doing," she said. "People see that."
As for next steps, Vellucci says it'll take some time to compile all the video footage and timekeeping logs to send to Guinness. Once those records are submitted, Vellucci says it'll take Guinness 15 weeks to review the material.
Contact Kristen Thometz: @kristenthometz | (773) 509-5452 |  [email protected]
---
Related stories:
New World Record for Hula-Hooping Set by Jenny Doan in Chicago
World Record Attempt: 31 Hours In, Hula-Hooper is Sore But Optimistic
World Record Attempt: Chicagoan Jenny Doan to Hula-Hoop for 100 Hours
Lightfoot's New Plan to Address Mental Health Care
Parkinson's Disease Not Slowing Down Runner's Marathon Goal
---