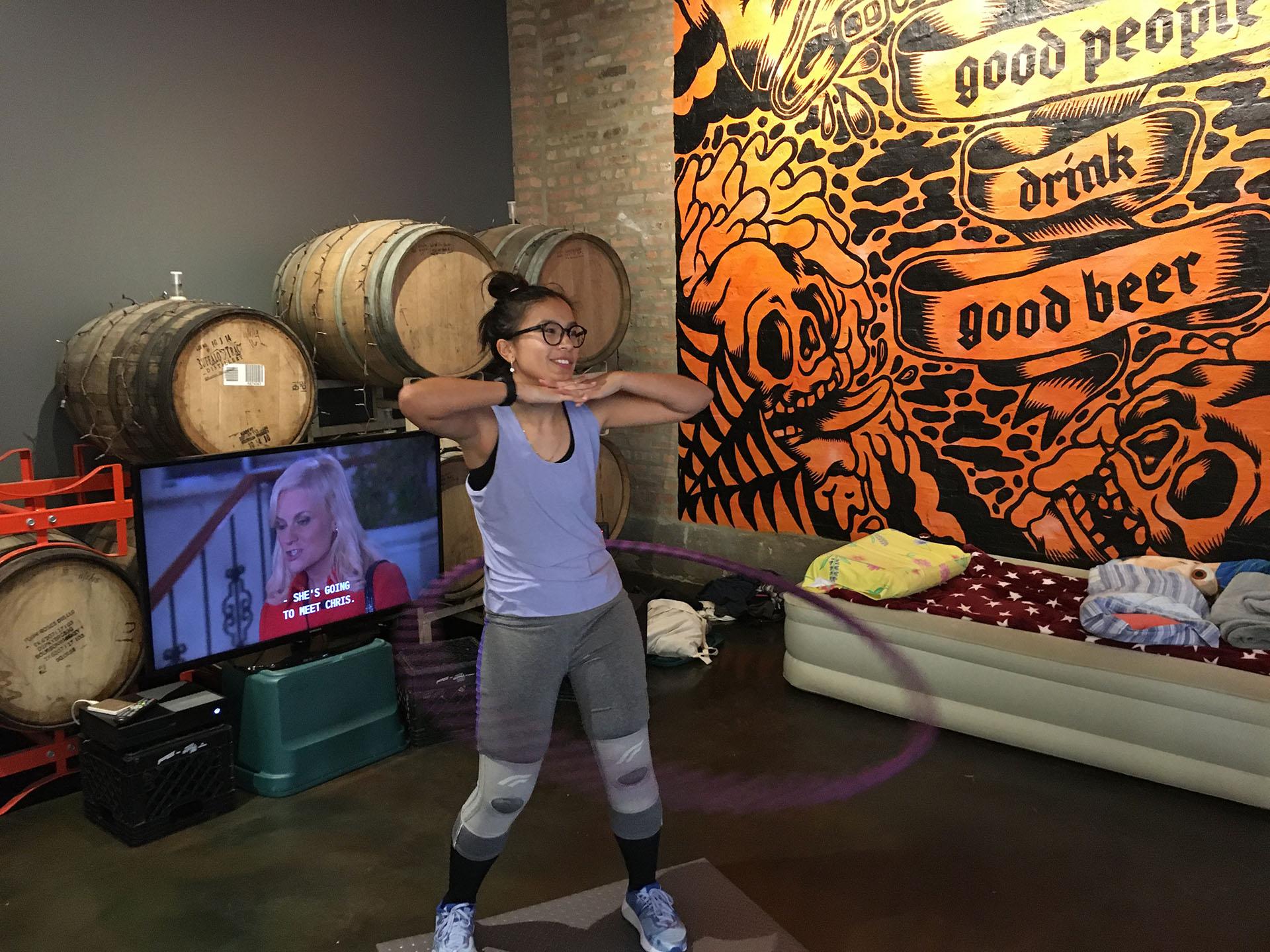 Wicker Park resident Jenny Doan poses for a picture Saturday, Nov. 23, 2019, as she nears the end of her Guinness World Record attempt for longest marathon hula-hooping session. (Kristen Thometz / WTTW News)
Wicker Park resident Jenny Doan, 29, is officially a Guinness World Record holder after setting the new record last fall for longest marathon hula-hooping session: 100 hours.
"It's a big relief," Doan said of the certification by Guinness. "It's all done. It's mine now. It's a relief to have that wrapped up and not have to worry about another marathon hula hoop session."
Doan, who works as an analyst for Uber Freight and is originally from Perth, Australia, broke the previous record of 74 hours and 54 minutes set in 2009 by Aaron Hibbs in Columbus, Ohio.
As soon as she saw her name on the Guinness World Record website, she shared the news widely with friends and family, including her parents back in Australia.
"They were beaming because in their mind they were so afraid of me going to the U.S. without having any friends or family here," Doan said. "They were elated it all panned it out. … They were incredibly proud that I'd settled into Chicago and I'm having fun."
During her five-day attempt to break that record, Doan faltered in her attempt when her hula hoop fell to the ground at around the 58-hour, 24-minute mark, which, according to Guinness rules, would've meant the end of her attempt. "In that instance, I was able to count it as a break and log it as any other break," Doan said. "I was relieved I was able to do that (because) for a moment I was not sure if it could count as something else."
But setting a new record was only part of her goal. Doan used her attempt as a means to raise funds for Mental Health America, a national nonprofit whose mission is to improve the mental health of all Americans. Through her attempt, she was able to raise $4,900.
Even with a Guinness World Record to her name, Doan says she's not content to rest on her laurels. She has her sights set on a pair of titles: most consecutive stairs climbed while hula hooping and hula hooping upside down.
Doan hopes to complete both challenges by the end of this year.  
Contact Kristen Thometz: @kristenthometz | (773) 509-5452 |  [email protected]
---