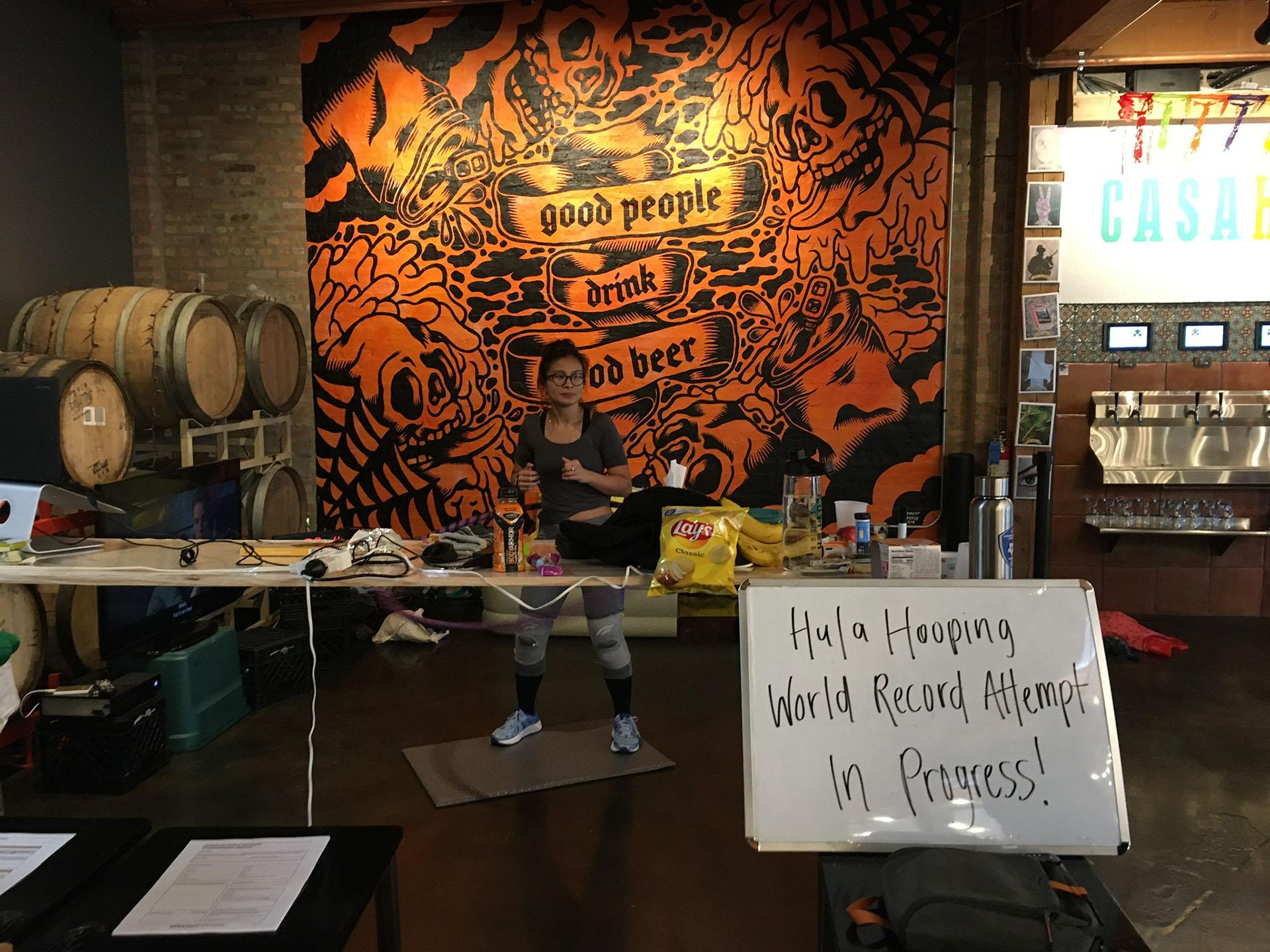 Wicker Park resident Jenny Doan hula-hoops Friday, Nov. 22 at District Brew Yards as she continues her attempt to set a new Guinness World Record for longest marathon hula-hooping session. Her goal is 100 hours. (Kristen Thometz / WTTW News)
Rick Astley's "Never Gonna Give You Up" blared through the sunlit District Brew Yards on Friday morning as Wicker Park resident Jenny Doan made history, breaking the current Guinness World Record for longest marathon hula-hooping session.
Doan surpassed the current record – 74 hours and 54 minutes – just before 10 a.m. Friday. But she's not giving up until she reaches her personal goal of 100 hours.
"I've got 25 more hours," Doan said, giving a thumbs up to the 200 people watching her online.
Wicker Park resident Jenny Doan breaks the current Guinness World record in marathon hula-hooping. And she says she's not giving up till she reaches 100 hours. https://t.co/amYkDYcosx pic.twitter.com/gqODTLQRqe

— Kristen Thometz (@KristenThometz) November 22, 2019
---
Since starting the attempt at 7 a.m. Tuesday, Doan says she's only slept three hours – per official Guinness rules, she's allowed to bank five minues of break time for every hour she completes.
"It might be a placebo but I feel less pain," she said shortly after breaking the record, though hers will remain an unofficial title until it's verified by Guinness.
Earlier, at the 67-hour mark, she was in quite a bit of pain due to lactic acid buildup in her legs, which led to knee stiffness. "It was a terrible ripple effect," she said.
But that didn't stop her. During her next 5-minute break, Doan sat in a chair while supporters rubbed her legs to aid recovery. Knee braces and compression socks are also helping, she said.
Below, watch a livestream of Doan.
Watch live video from jennyhoops on www.twitch.tv
---
The attempt is about more than endurance. Doan is using the challenge to raise funds for Mental Health America, a national nonprofit whose mission is to improve the mental health of all Americans.
To keep her motivated and distracted from the pain, Doan has been listening to what she calls "terrible music." At 3 a.m. Friday she started listening to the band Taking Back Sunday and followed that up with Blink 182. "The music brings me back to parts of my life without pain," she said. The rising sun also gave her momentum to keep going, she said.
But Friday night crowds loom at the bar where she's set up, and Doan is hopeful they'll give her the space she needs to keep going.
Doan is hula-hooping at District Brew Yards, 417 N. Ashland Ave. To make a donation or watch her livestream, visit her Tiltify page.
Contact Kristen Thometz: @kristenthometz | (773) 509-5452 |  [email protected]
---
Related stories:
World Record Attempt: 31 Hours In, Hula-Hooper is Sore But Optimistic
World Record Attempt: Chicagoan Jenny Doan to Hula-Hoop for 100 Hours
Lightfoot's New Plan to Address Mental Health Care
Parkinson's Disease Not Slowing Down Runner's Marathon Goal
---