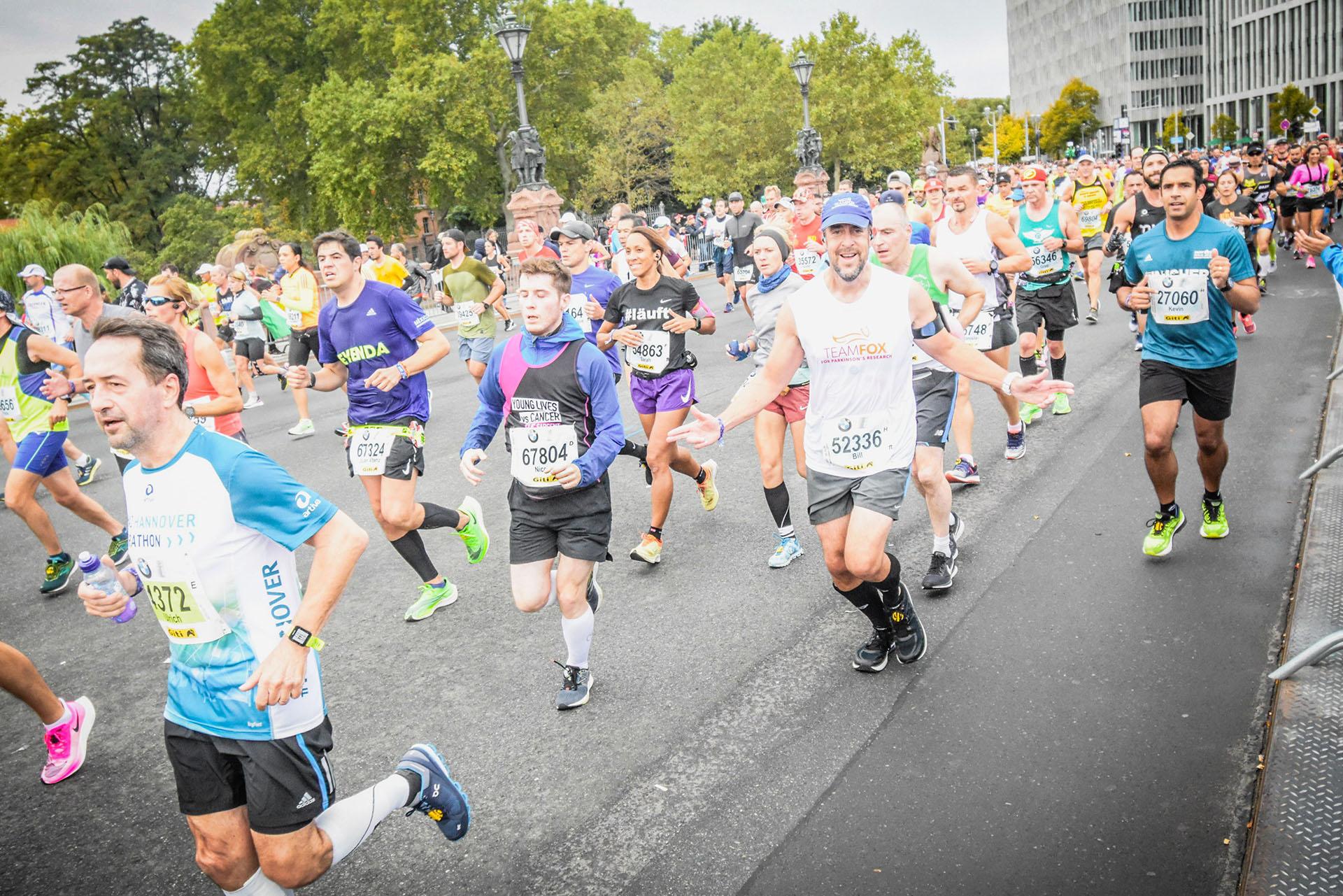 Wilmette resident Bill Bucklew, in the Team Fox tank top above, ran in the Berlin marathon on Sept. 29, 2019. Bucklew, who was diagnosed with Parkinson's disease at age 43, will run in the Chicago marathon on Sunday, Oct. 13. (Courtesy of Bill Bucklew)
Bill Bucklew says he has a difficult time running because of Parkinson's disease. The progressive neurological disorder can include symptoms like unexpected muscle cramping in his right leg.
"I describe it as a kind of peg leg when it's bad and uncontrolled," he said. "It does show up sometimes unexpectedly and there's not much I can do about it."
But that's not stopping the 49-year-old from lacing up for the Chicago Marathon this weekend.
This will be the fifth time the Wilmette resident has competed in the race, which draws an estimated 45,000 runners. And it's his third marathon this year.
But he won't stop there. Bucklew's goal is to complete all six of the world's largest marathons in a single year: Boston, Berlin, Chicago, New York, Tokyo and London.
Bucklew, who was diagnosed with Parkinson's at age 43, says he was looking for a new challenge to raise awareness and funds for the degenerative disease after completing a 2,503-mile trek across the country last year. "I wanted to see if I could do them all in a row," he said.
That includes three races in six weeks – no small task for any runner: Berlin on Sept. 29, Chicago on Oct. 13 and New York City on Nov. 3.
"That's tight sequence timing. It's a challenge that encourages me to train harder," he said.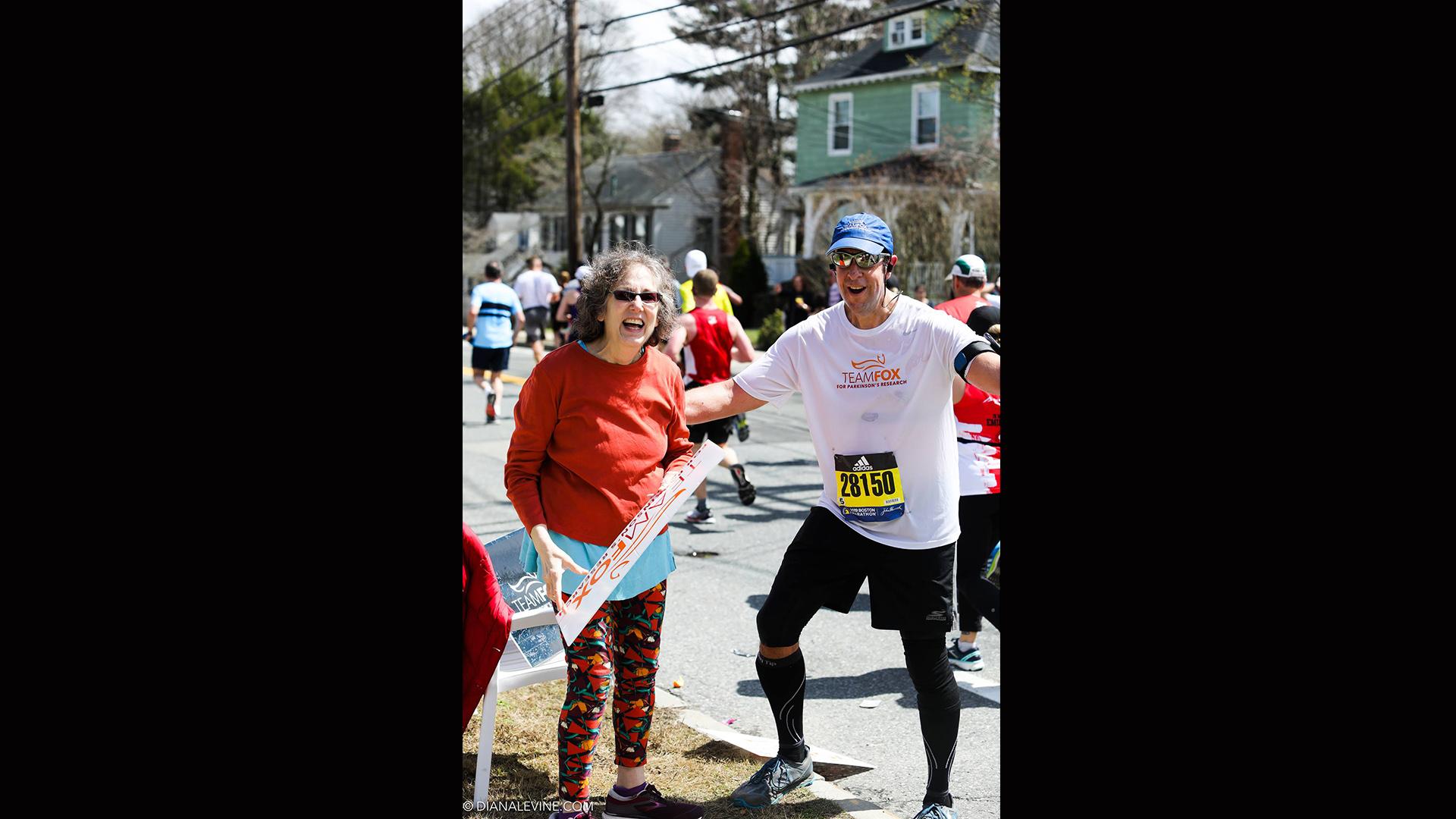 Bill Bucklew, right, poses for a picture with a supporter during the Boston Marathon on April 15, 2019. (Courtesy of Bill Bucklew)
But training has been difficult this year. Over the summer, Bucklew changed his routine from running to swimming because of knee pain. "I had to stop running because my knee was so bad. I barely finished (the) Boston (Marathon)," he said. "During the summer, I swam every day and my symptoms seemed to be getting worse."
In mid-August, Bucklew was able to return to running – just six weeks before the Berlin Marathon. "(You) have six hours to finish a marathon. … I was getting concerned that I might not be able to finish in the time I needed to," he said.
Usually, when he runs marathons, Bucklew alternates between running and walking 3-4 miles at a time. But in Berlin last month, he ran all 26.2 miles. "That's the first time since I've been diagnosed that I've been able to do that," he said.
As he prepares for the Chicago Marathon, Bucklew hopes he can serve as an inspiration to others. "I didn't know if I'd finish the Berlin (Marathon) in six hours and I finished well under five," he said. "In nature, we've evolved over time to overcome challenges. … With this disease, you have to continue to problem solve and learn new things. If you give up and accept it, you'll never find out what you're capable of."
Following the Chicago marathon, Bucklew will run marathons in New York (Nov. 3), Tokyo (March 2, 2020) and London (April 26, 2020). He hopes this year to raise $50,000 for Team Fox, the community fundraising program at the Michael J. Fox Foundation.
"I don't know if I can do it," Bucklew said of running all six marathons. "But I'm doing everything I can to train for them."
Contact Kristen Thometz: @kristenthometz | (773) 509-5452 |  [email protected] 
---
Related stories:
UIC Researchers Aim to Detect Brain Disease Earlier with $1.4M Grant
Wilmette Man Completes Walk Across US for Parkinson's Disease
Wilmette Man Walking Across US for Parkinson's Disease
Study: High-Intensity Exercise Delays Parkinson's Disease Progression
---