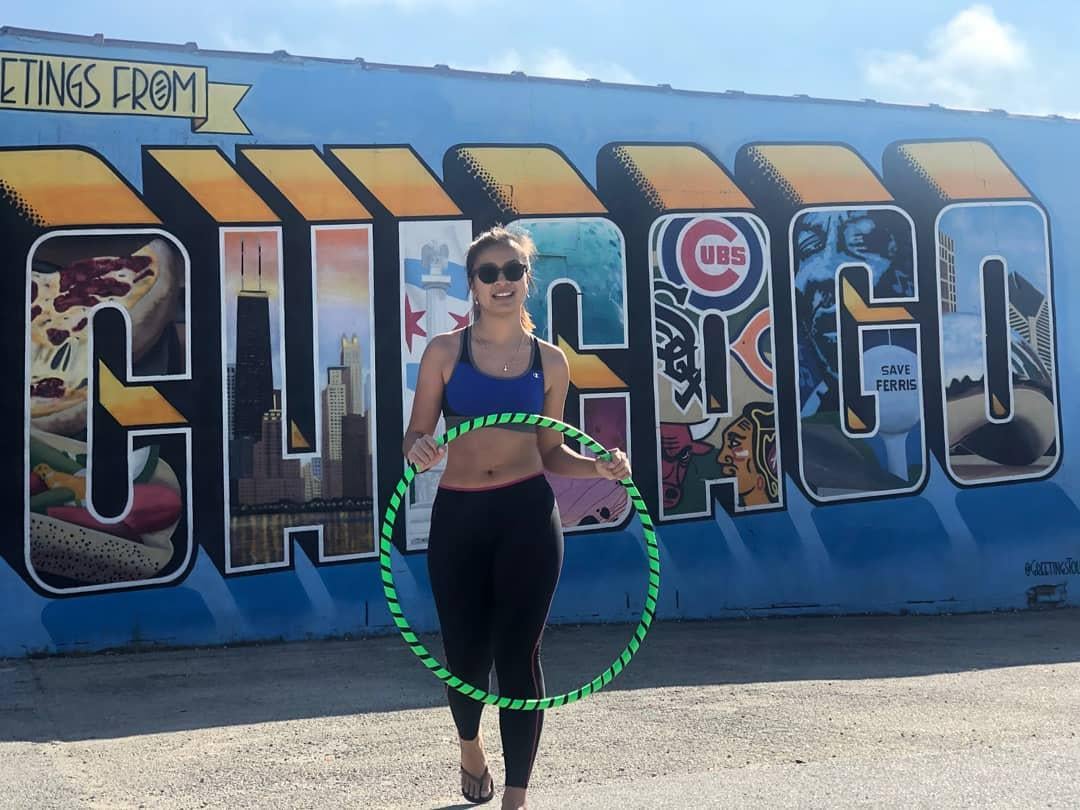 Jenny Doan (Courtesy of Jenny Doan)
UPDATE: New World Record for Hula-Hooping Set by Jenny Doan in Chicago
Next week, Wicker Park resident Jenny Doan plans to hula-hoop for 100 hours. Yes, you read that right: hula-hooping. For more than four days.
"I always enjoy the expressions on people's faces when I tell them," said Doan, 29, who plans to start the challenge Tuesday in an attempt to break the Guinness World Record for the longest marathon hula-hooping session. The current record – 74 hours and 54 minutes – was set in 2009 by Aaron Hibbs in Columbus, Ohio.
Why 100 hours and not, say, 74 hours and 55 minutes?
"Part of it is the spirit of the event, going as hard as you can go … and always upping the game for the next person," Doan said, laughing. "It just seemed like a nice round number. It's a century and something no one can take away from you."
Doan, who works as an analyst for Uber Freight and is originally from Perth, Australia, flirted with the idea of attempting to break that record five years ago. "At the time, it seemed silly, or crazy or pointless," she said. "But deep down in my heart, I knew I wanted to do it."
Below, watch a livestream of Doan.
Watch live video from jennyhoops on www.twitch.tv
---
Her attempt is about more than the record. She's using it as a fundraiser for Mental Health America, a national nonprofit whose mission is to improve the mental health of all Americans.
Doan says she struggled with depression after her sister died. "Fifteen years ago, it was hard putting on a brave face," she said. With professional help, Doan says she was able to get better. "I want people to know that these things can happen and if you ask for help, there are people out there to help."
Over the summer, she decided it was time. "I set a date to do it before I turn 30," she said. "It seemed like a good excuse to make me put it down on paper and to have a roster and schedule."
And so training began. Doan practices with five hoops of different sizes and weights during the week, focusing on cardio and interval trainings. On weekends, she goes for endurance.
What about bathroom breaks?
Guinness allows for five minutes of break time for every hour spent hula-hooping. She's already weaning herself off coffee to try to keep those bathroom breaks to a minimum – and avoid caffeine withdrawal symptoms during her world record attempt. "Once I'm finished, it'll be nice to have a cappuccino or latte and indulge in it," she said. 
As for meals, Doan plans to eat starchy foods and basic carbs throughout the day, like bananas, chips and muesli bars. She burns an estimated 200 calories an hour when she hula-hoops. 
There are a few official Guinness rules to keep in mind. 
A competitor must revolve the hula-hoop between their shoulders and hips. If the hoop goes out of range – above their shoulders or below their knees – the attempt ends immediately. If it goes below their hips, the competitor has 30 seconds to get the hoop back above their hips without using their hands or arms.
Doan will use a 42-inch hula-hoop that weighs about a pound. (Per Guinness rules, she has a spare she can use in case the hoop bends or breaks.) 
She plans to hula-hoop for roughly 10 hours at a time and bank her breaks, so she can take a 10- to 20-minute break at the end of the day and sleep for one-and-a-half hours wearing a pair of recovery boots meant to push lactic acid out from her legs.
"For marathon hula-hooping, you have to be good at it, and there's a component of sheer resilience and grit," Doan said. But she's determined and motivated to go as long as she can.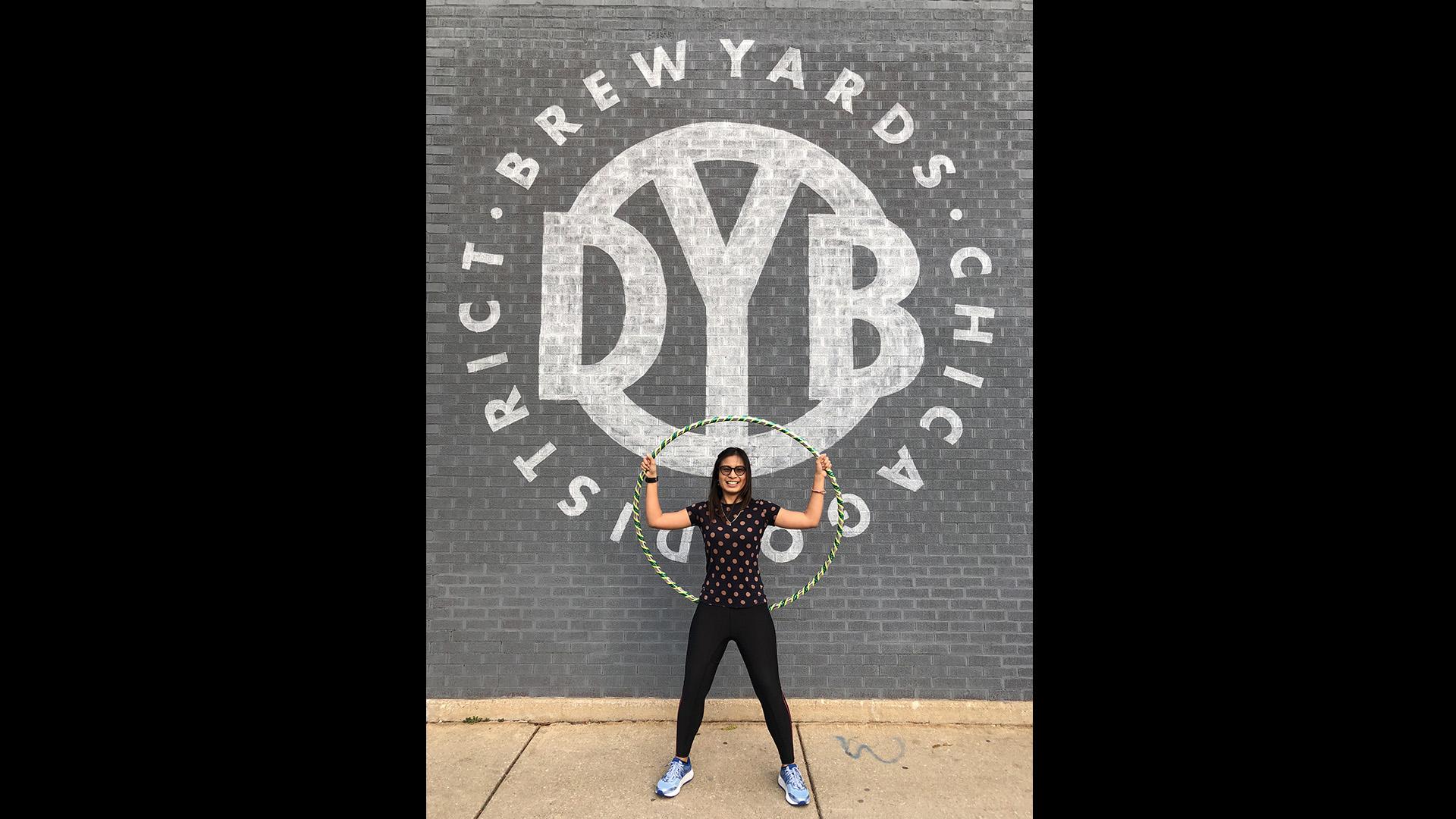 Jenny Doan will hula-hoop at District Brew Yards during her Guinness World Record attempt. (Courtesy of District Brew Yards)
She hopes her attempt will inspire people to follow their dreams – even if they seem silly. "If there is something you want to do, don't worry about whether people think it is stupid," she said. "Not everything has to be about money and prestige, it can just be fun or crazy or challenging."
Doan will begin her attempt at 7 a.m. Tuesday, Nov. 19 at District Brew Yards, 417 N. Ashland Ave., where she'll be throughout the entirety of this challenge. Per Guinness rules, Doan is seeking volunteers to serve as timekeepers throughout her attempt. Get more information and sign up details here.
To make a donation or watch Doan via livestream, visit her Tiltify page.
Doan plans to hit the 100-hour mark at 11 a.m. Saturday, Nov. 23. For more information about the event, visit the District Brew Yards Facebook page.
Contact Kristen Thometz: @kristenthometz | (773) 509-5452 |  [email protected]
---
Related stories:
Lightfoot's New Plan to Address Mental Health Care
Parkinson's Disease Not Slowing Down Runner's Marathon Goal
Comedian Damon Williams Stands Up for Hometown of Chicago
---