The first wave of Polish immigration to Chicago was in the 1860s. Since then, Chicago has long been home to one of the largest Polish populations outside of Europe.
Polish Americans have not only helped shape the city; they've also helped influence the political development of Poland itself.
Local historian Dominic Pacyga tells that story the new book "American Warsaw: The Rise, Fall, and Rebirth of Polish Chicago."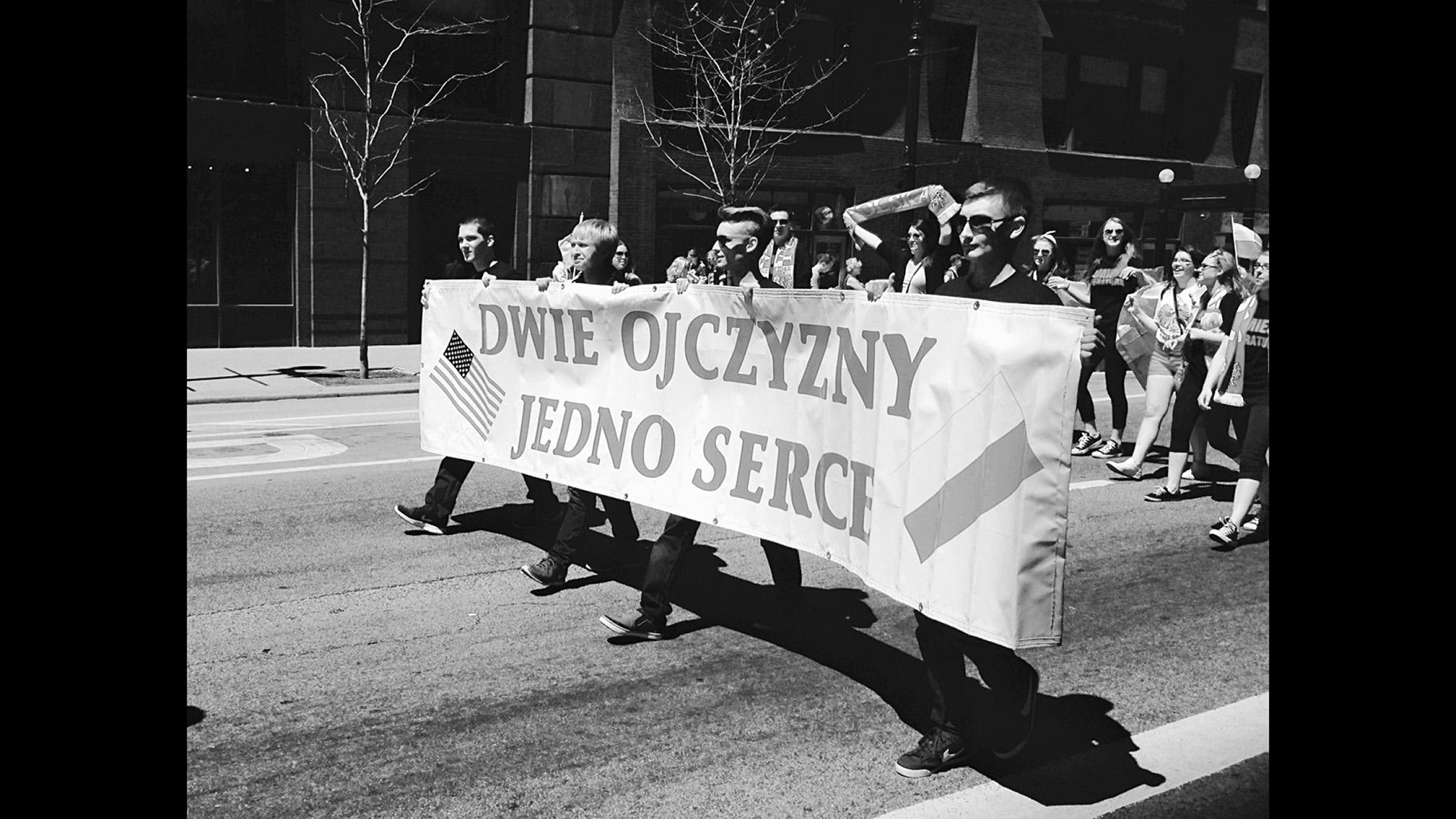 Polish Constitution Day Parade in Chicago's Loop, May 2, 2015. The banner reads, in English, "Two homelands, one heart," expressing the dual nature of Polonia. (Photograph by Dominic Pacyga)
Pacyga, professor emeritus of history at Columbia College of Chicago, joins us in discussion.
Below, an excerpt from "American Warsaw."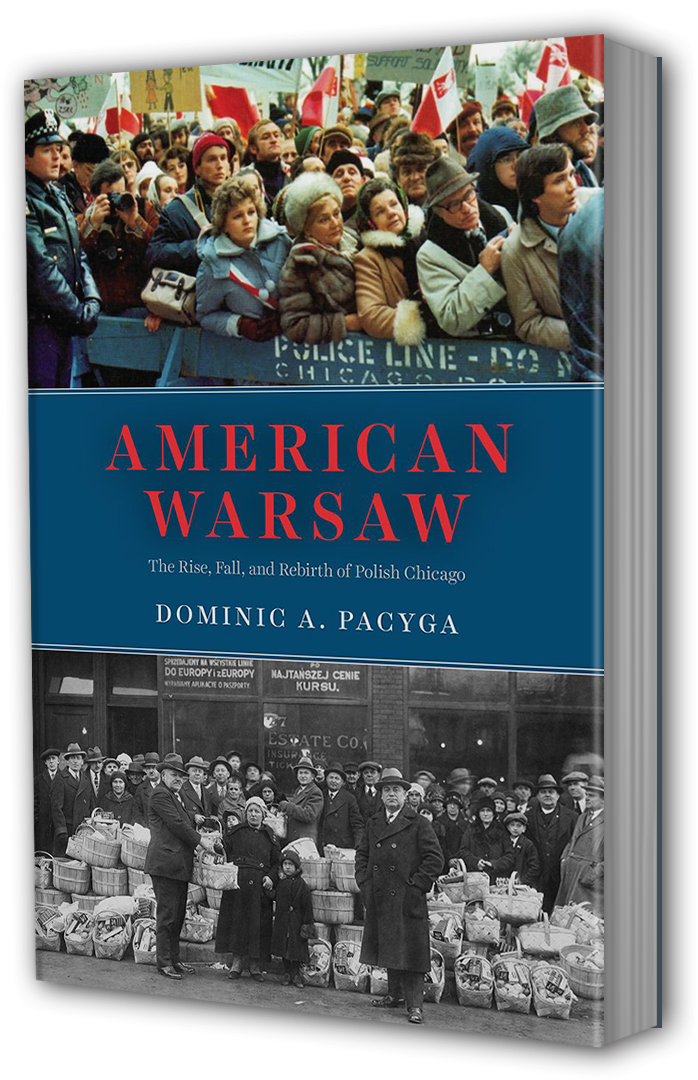 Scratch a Chicagoan, and you may very well find a Polish connection. Polish Americans are everywhere. The city often proclaims itself as Poland's second city, with only Warsaw containing a larger Polish population. And as mythical as this claim may be—and it is a myth—there is some truth to it, as many Chicagoans know the difference between kielbasa and pierogi and have a few other Polish words in their vocabulary. Yet most real Poles will tell you that Chicago, with its vast ethnic and racial diversity and its capitalist mores, is hardly a Polish city. Nonetheless, there is something Polish about it because Polish immigrants and their descendants have left their mark on the city by the lake. More than fifty wholly Polish or Polish-dominated Catholic parishes, along with numerous Polish National Catholic churches, have dotted the landscape. In addition, Polish businesspeople, politicians, educators, and even mobsters have joined the ranks of Chicago's elite. Several Polish Catholic high schools educated the city's children across the North, South, and West Sides. Polish nuns taught generations of Chicago's children, not all of them Catholic or of Polish descent. Labor unions benefited from Polish membership and dues. Professional sports teams often went out of their way to include names such as Piet, Ostrowski, Kluzewski, Paciorek, Konerko, Pierzynski, Grabowski, and Ditka. The city's radio waves shook with the sound of polkas and with the religious preaching of Father Justin's Rosary Hour, as well as with the comedy of Bruno "Junior" Zieliński. Later television and radio programs hosted by Bob Lewandowski and others also shaped the local media. Polish could often be heard on the streets of the city—even if it was the mongrelized version known as Po Chicagosku. In the post-1945 era, Warsaw was the first of Chicago's many international sister cities.
Chicago has had a long and fruitful relationship with Poland and with what might be better called the Polish lands. Poles appeared in the frontier settlement of Chicago as early as the 1830s. The formative migration, however, began some twenty years later and culminated with the creation of St. Stanislaus Kostka Parish in 1867. Over the next sixty years, Chicago's Polonia expanded across the cityscape. Polish immigrants originally flocked to at least five distinct Chicago neighborhoods, which housed heavy industry, attracting the so-called new immigrants from southern and eastern Europe. Poles came in large numbers to work on factory, packinghouse, and steel mill floors during the huge economic migration they called Za Chlebem, or the migration for bread. This vast movement lasted from just before America's Civil War until the mid-1920s, when congressional fiat basically ended migration from the "Other" Europe. This, however, would not be the last movement of Poles to Chicago.
Afterward, at least three later migrations reshaped and invigorated Chicago's Polonia. The migration of displaced persons after World War Two, the small immigration during the Communist years, and the so-called Solidarity exodus all shaped the city. Polish Chicago has also long been marked by both a return migration to Poland and a movement to other places across the world, creating a web of information and economic ties. Indeed, since the year 2000, many Poles have returned to Poland or migrated to other parts of the European Union.
***
Historians and sociologists have long pointed out that ethnicity is often a choice. It may not seem that way to someone born into a strong and vital ethnic community, but individuals decide where their loyalties lie. One can choose to be a Pole, a Polish American, or simply an American. In cities like Chicago, ethnicity often revolved around music, food, and famous people, all of which acted as symbols of group unity. Chicago's Polonia used all of these to maintain group loyalty or at least a semblance of it. Of course, one can ignore one's ethnic background, and over time intermarriage certainly watered down ethnic identification, but a sense of Polskość has persisted over the generations in Chicago and in other Polonia centers. Sometimes this sense of Polish ethnicity runs deep in individuals, at other times it is only slight. Many of Chicago's Poles have maintained a vibrant sense of Polskość. To an extent, this is because of Chicago's special place in the worldwide Polish diaspora.
Through most of its history, Chicago has been the location of the largest "Polonia," a term depicting a Polish diasporic community. It housed and still houses the headquarters of all major Polish American institutions. Chicago's Polish-language newspapers had an impact well beyond the city's borders. In villages in Poland, Chicago seemed synonymous with the United States. The city's Polish leadership shaped much of the response of American Polonia to events in Europe. Here stood a Polish city, even if not a truly Polish city, that held the promise of the diaspora that it might come to the aid of a nation that had lost its independence and was dismembered, Chicago became Poland "elsewhere."
***
In some 150 years, Chicago's Poles had made the leap from the peasantry to the working class and then finally the American middle class. In 1900, few would have predicted that by the dawn of the twenty-first century Polonia would have moved from the impoverished inner city to leafy suburbia. Today, as Chicago is slowly being eclipsed by other Polish immigrant centers, particularly New York and London, the city remains at the heart of the Polish American experience. Polish Chicago remains a vibrant and somewhat contentious community, now undergoing yet more change as it finds itself in a postindustrial global city.
Adapted with permission from American Warsaw: The Rise, Fall, and Rebirth of Polish Chicago by Dominic A. Pacyga published by The University of Chicago Press. © 2019 The University of Chicago. All rights reserved.
---
Note: This story will be updated with video.
---
Related stories:
Dominic Pacyga Shares History of Chicago's Stockyards in 'Slaughterhouse'
Ask Geoffrey: What's the 'Polish Cathedral' Architectural Style?
'Memory Unearthed' Shines Light on a Dark Chapter of WWII
---