A show of historical photographs shines light on a dark chapter of World War II.
When the Nazis made a ghetto in the central Polish city of Lodz, one man trapped inside took thousands of pictures. He had an official capacity as an ID photographer, but he risked his life to take other photos that documented the truth.
---
TRANSCRIPT
Paris Schutz: At the Illinois Holocaust Museum, there are unexpected snapshots of happy couples, families and people trying to live normal lives in traumatic situations.
There are propaganda photographs, showing the lie that everything was all right in the Lodz ghetto, where Jews were working in leather and mattress factories for the German war effort.
And there are secretly taken photos that reveal the terrifying reality.
The pictures were taken by this man, Henryk Ross.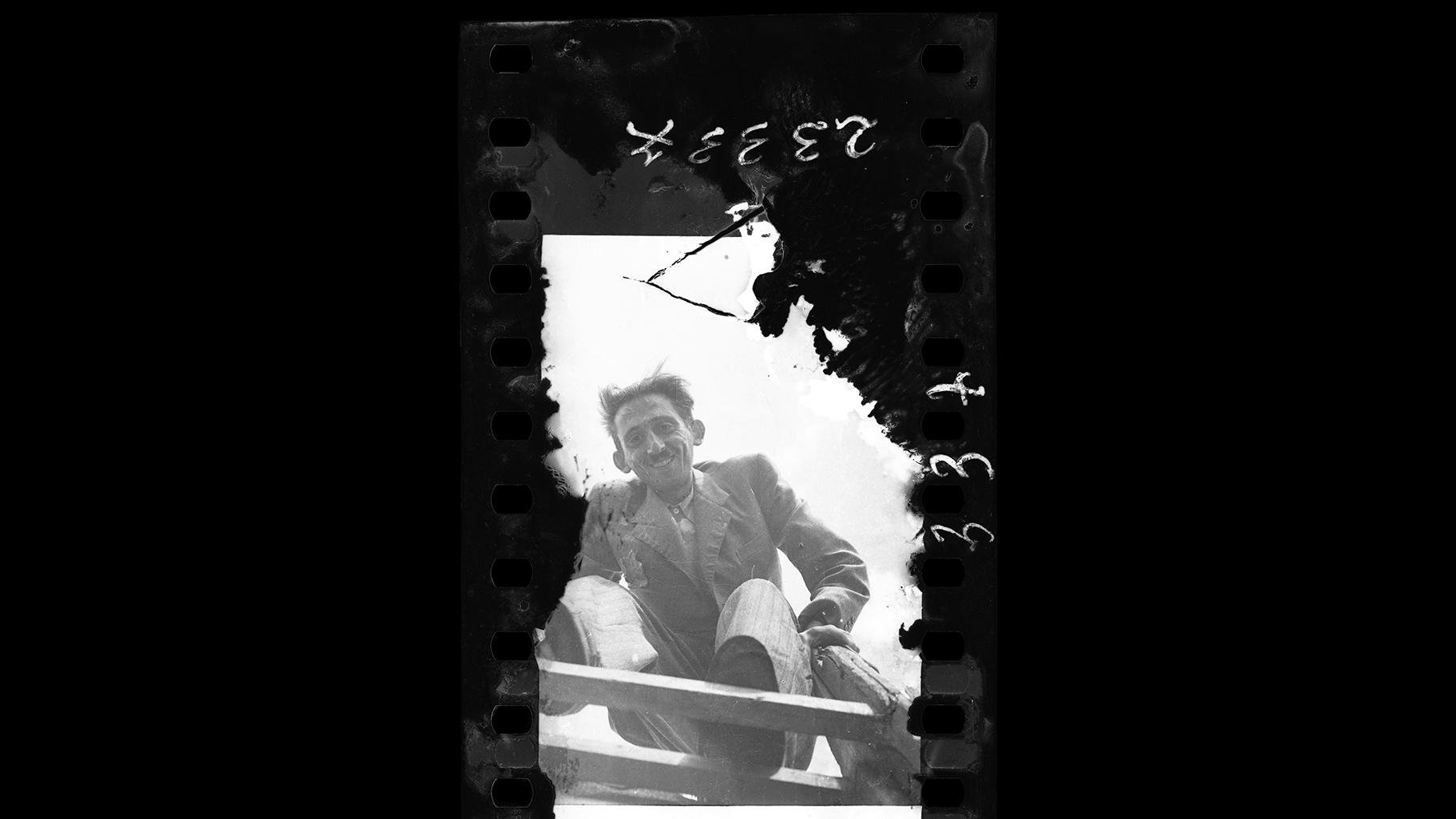 Self-portrait of Henryk Ross standing on top of a ladder, 1940-1944. (Courtesy of the Art Gallery of Ontario, Gift of the Archive of Modern Conflict)
Maia-Mari Sutnik, curator, Art Gallery of Ontario: He was officially as a statistics photographer, he photographed identification photos for people, he was able to stockpile films from there, and he had to do official photography for the German propaganda because of course the goal was to show that Lodz ghetto was in fact a profitable undertaking.
Arielle Weininger, Illinois Holocaust Museum: There are many images about the Holocaust that many of us know, many of the liberation camp images. It is maybe confusing to people to see that there are dinner parties and dances, but these are also in the earlier years of the Lodz ghetto. But people needed to continue living. And so there had marriages, and they had babies and they had celebrations. These are expressions of hope and resilience. He gave people dignity in the portraiture that he took of them and the people smiled back. They wanted to be seen as happy thriving people in that moment and time.
Schutz: In the Lodz ghetto, 160,000 Jews were segregated and isolated. The numbers swelled to more than 200,000 including Roma people.
Sutnik: All the Jews were rounded up, they had to move out of their own homes, were allowed to take maybe a suitcase or just a few possessions. And there was a huge sign outside that warned people that this is Jews only, that you couldn't enter the ghetto.
Schutz: As the situation became increasingly dire, Henryk Ross and his wife documented the deprivation – and the deportations to death camps.
When the ghetto was almost completely liquidated, he buried his negatives.
Weininger: He and his wife Stephania were chosen to be a part of the crew that stayed in the ghetto, cleaned up the ghetto, and that is how he survived.
Schutz: Near the end of the war he returned and unearthed his archive. Half of the 6,000 images were destroyed, others were badly damaged.
In 1961 Ross testified at the trial of Adolf Eichmann, and his photographs were entered into the record. Ross said the pictures showed "a record of our tragedy … a historical record of our martyrdom."
This touring exhibition came from the Art Gallery of Ontario.
It concludes with a collage of images the photographer made many years later, when he tried to process his experience. It is a puzzle of memory.
Sutnik: It's a good puzzle to have in the end because it shows the artist trying to grapple with his own past and what he lived through.
Weininger: It took him all those years to deal with that trauma.
Sutnik: These are very complicated stories on how people survived.
---
More on this story
Henryk Ross died in 1991 in Israel. The exhibition of his photographs is called "Memory Unearthed." It runs through Jan. 12, 2020 at the Illinois Holocaust Museum and Education in Skokie.
Note: This story was first published on Oct. 1, 2019. It has been updated.
---
Related stories:
As a Young Man, He Traveled with 'Railroad Tramps' and Documented Their Lives
Mobile Museum Stops in Chicago to Preserve Family Histories
Vivian Maier Photos, Artifacts Donated to University of Chicago
---