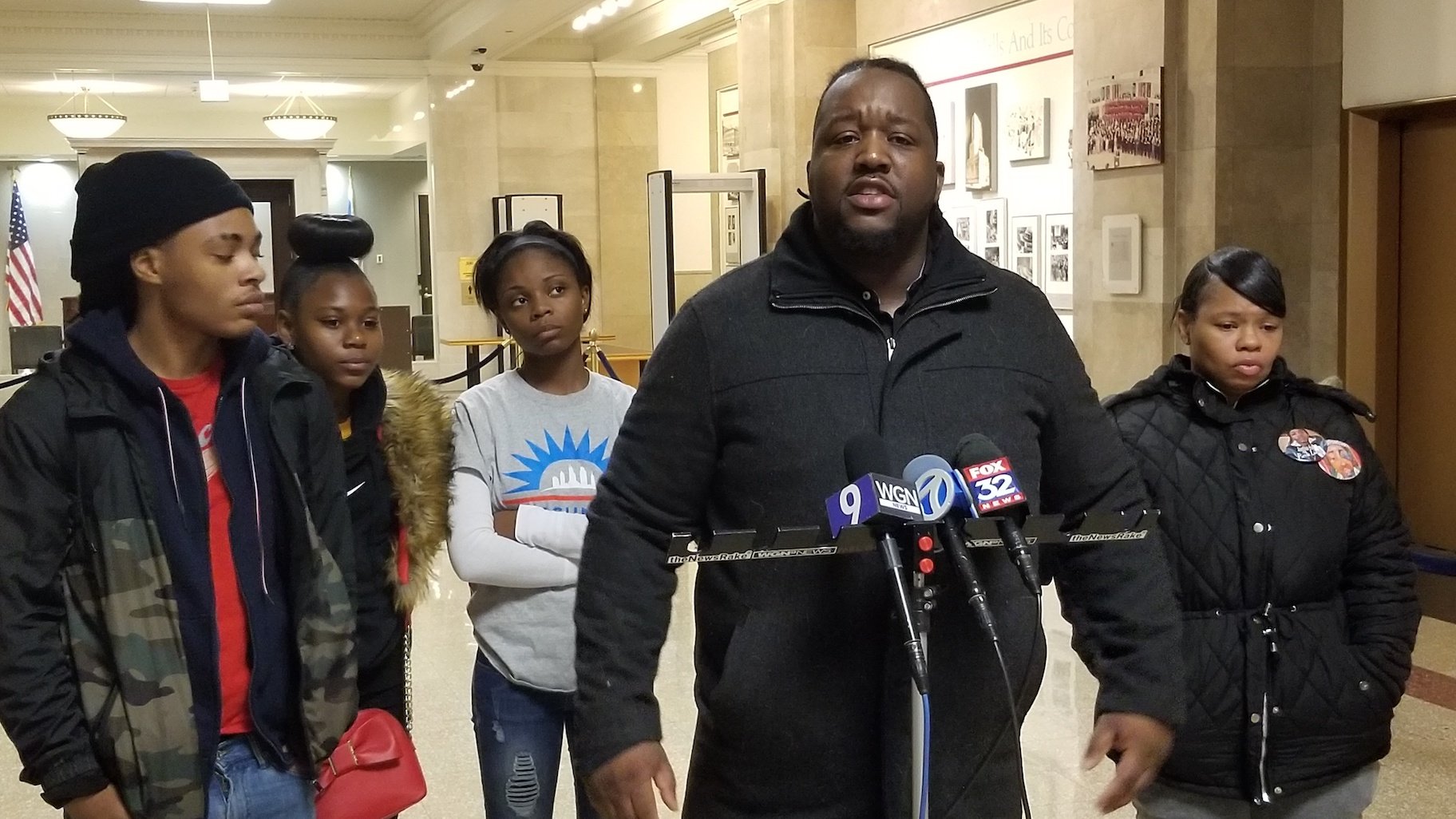 Martinez Sutton, center, speaks at City Hall on Thursday, Nov. 14, 2019 about the killing of his sister Rekia Boyd by former Chicago police Detective Dante Servin in 2012. (Matt Masterson / WTTW News)
Former Chicago police Detective Dante Servin is asking to have any record of his criminal trial expunged, nearly six years to the day since he was charged in the 2012 shooting death of 22-year-old Rekia Boyd.
Servin, 51, was charged in 2013 with involuntary manslaughter but found not guilty at trial in 2015.
"I'm looking for closure," Servin testified in court Thursday, "to put this behind me."
Cook County Judge LeRoy Martin Jr. withheld judgment on that petition. He will announce his ruling at a hearing next Tuesday.
The request is being challenged by the Cook County State's Attorney's Office.
Servin was off duty on March 21, 2012 when he heard a report of a noise complaint and responded to Douglas Park on the city's West Side. Boyd and three others were leaving that area when they crossed paths with Servin, who was sitting inside his vehicle in an alley near Albany Avenue and 15th Place.
Following a verbal altercation between the parties, Servin – who was still inside his vehicle – fired multiple shots over his left shoulder at the group, striking one man in the hand and Boyd in the back of the head, killing her.
Servin claimed he fired the shots in self-defense after a man pulled a gun from his waistband. No such firearm was ever recovered.
Local activist groups and Boyd's family on Thursday spoke out against the expungement and argued the former detective should also be stripped of his Chicago Police Department pension.
"This is painful," Boyd's brother Martinez Sutton told reporters Thursday morning inside City Hall before Servin's hearing. "First you let him go, now you paying him a reward for a good job done and then you're about to expunge it from his record so he can possibly do it again."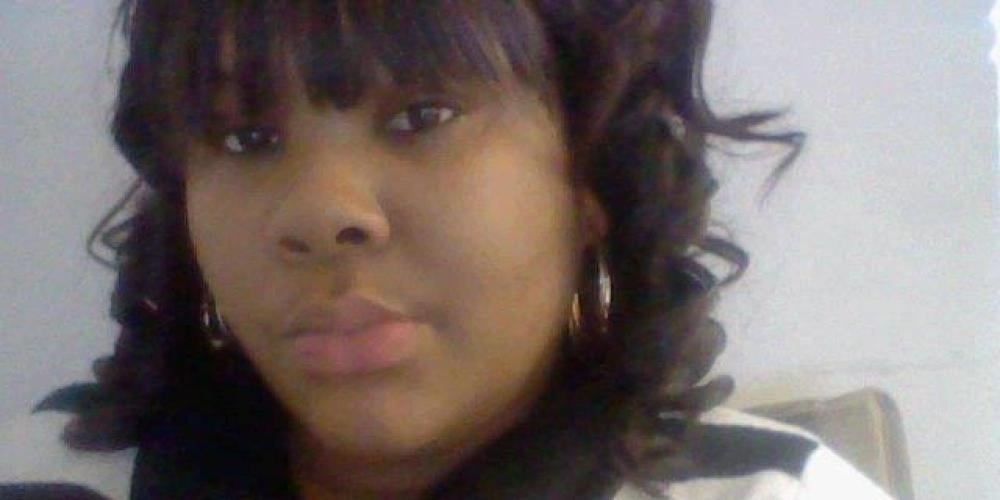 Rekia Boyd A year after the shooting, the city agreed to pay Boyd's family $4.5 million as part of a wrongful death settlement.
Servin was charged in November 2013 with involuntary manslaughter, reckless discharge of a firearm and reckless conduct stemming from the shooting. But Cook County Judge Dennis Porter abruptly ended Servin's bench trial in April 2015 with a directed finding of not guilty.
Porter ruled that Servin had not "recklessly" pointed or discharged his weapon; rather those were intentional acts that should have been charged as first-degree murder rather than involuntary manslaughter.
The judge could not convict Servin of a charge greater than the one he was facing, and because the evidence presented did not fit the involuntary manslaughter charge, Porter found the detective not guilty.
"The absence of any evidence of reckless conduct renders it unnecessary for this court to consider whether the defendant was justified in his actions," Porter wrote in his ruling. "Indeed, it would be improper to permit the trial to continue given the total failure of proof on the issue of recklessness."
Martin granted a petition similar to Servin's last month when he expunged the criminal record of another former CPD detective, David March, who was charged with covering up the 2014 murder of Laquan McDonald by Officer Jason Van Dyke. Like Servin, March and two others were also acquitted on all charges in a bench trial.
But Martin appeared uneasy with making a rush judgment after an hourlong hearing Thursday, saying he wanted more time to review the transcript of Porter's ruling. Martin specifically noted that just because Servin was found not guilty at trial, that doesn't make him innocent and doesn't by itself entitle him to an expungement.
Legal experts have argued Servin was undercharged by Cook County prosecutors, but still called his acquittal a "miscarriage of justice."
Then-Mayor Rahm Emanuel and then-Police Superintendent Garry McCarthy both recommended Servin be fired for the shooting.
But in May 2016, just days before a scheduled hearing with the Chicago Police Board to determine his fate, Servin resigned from the police department. In doing so, he was able to maintain his police pension.
"I resigned under extreme duress against my wishes," he said Thursday, adding that being an officer was his childhood dream. "I never imagined that scenario unfolding."
Servin testified he's been diagnosed with PTSD after the shooting and has dealt with depression and anxiety. Asked why he was seeking an expungement, he said he's unemployed and wants to get this "negative blemish" off his record as he continues searching for a job.
Assistant State's Attorney Christa Bowden argued the public and any future employers have a right to know about the case.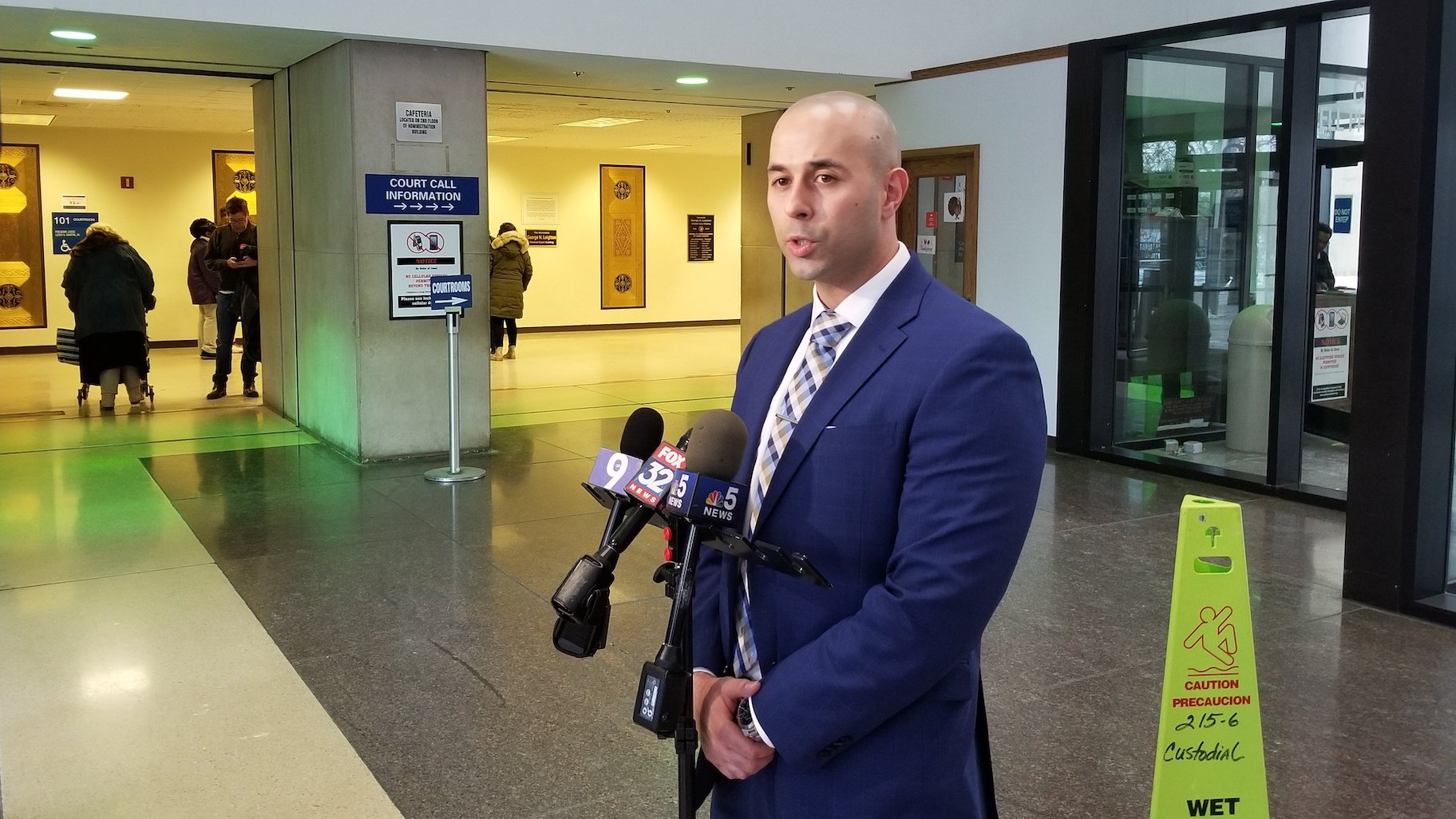 Dante Servin's attorney Matt Fakhoury speaks with reporters Thursday, Nov. 14, 2019 inside the Cook County Criminal Courts Building. (Matt Masterson / WTTW News)
Servin's attorney Matt Fakhoury called multiple character witnesses Thursday, who testified that Servin was a model officer and person who has never been arrested or charged for any other crime in his life. Servin also said Thursday he'd never fired his weapon at any other point in his 25-year career.
But Sutton, Boyd's brother, called Servin's push for an expungement a "terrible slap in the face" to the family.
"I feel like they believe it's a game, a big joke and they waiting for the families to be silent," he said. "Even if I was silent, Rekia's death has planted so many seeds that you're gonna hear voices forever from all over."
Contact Matt Masterson: @ByMattMasterson | [email protected] | (773) 509-5431
---
Related stories:
What's Next After the Dante Servin Verdict?
Aftermath of Rekia Boyd Verdict
Chicago Police Release Bodycam Footage of Officer-Involved Shooting
1 Year After Van Dyke Conviction, How is Chicago Handling Police Misconduct?
Jason Van Dyke Sentenced to 7 Years in Prison
---