Former Chicago police Detective Dante Servin, right, exits the Leighton Criminal Court Building following his expungement hearing Tuesday, Nov. 19, 2019. (Matt Masterson / WTTW News)
Family and supporters of Rekia Boyd erupted into applause inside a Cook County courtroom Tuesday after a judge denied a request from Dante Servin, the former Chicago police detective who was charged and acquitted in her killing, to expunge any record of his criminal case from the public's view.
In announcing his decision Tuesday, Judge LeRoy K. Martin Jr. said that just because Servin was found not guilty of involuntary manslaughter, that "does not make one innocent." He based his ruling on the evidence prosecutors presented in the case in 2015, and the fact that the trial judge felt those facts better aligned with first-degree murder.
"So based upon the strength of that evidence, based upon the findings that that court made – and candidly, hearing nothing else about it – I don't believe it prudent to grant Mr. Servin's request," Martin said.
That decision prompted applause from the courtroom gallery before Martin and a court bailiff ordered them to stop.
Servin, 51, testified last week at a hearing that he's been unable to find steady work since resigning as an officer in 2016. He sought expungement, he said, because he wants a "fresh start" and the chance to provide for his family. But Cook County prosecutors had objected to that move, arguing that the public has a right to know about the case.
Servin was off duty on March 21, 2012 when he heard a report of a noise complaint and responded to Douglas Park on the city's West Side. Boyd, 22, and three others were leaving that area when they crossed paths with Servin, who was sitting inside his vehicle in an alley near Albany Avenue and 15th Place.
Following a verbal altercation between the parties, Servin – who was still inside his vehicle – fired multiple shots over his left shoulder at the group, striking one man in the hand and Boyd in the back of the head, killing her.
Servin was charged in November 2013 with involuntary manslaughter, reckless discharge of a firearm and reckless conduct stemming from the shooting. But Cook County Judge Dennis Porter ended Servin's bench trial in April 2015 with a directed finding of not guilty before the defense even put on its case.
Porter ruled that Servin had not "recklessly" pointed or discharged his weapon, but instead found those were intentional acts that should have led to a charge of first-degree murder instead of involuntary manslaughter.
But Porter couldn't convict Servin of a charge greater than the one he was facing, and because the evidence presented did not fit the involuntary manslaughter charge, the judge found the detective not guilty.
Martin leaned heavily on Porter's ruling, even reading off portions of it in court Tuesday, including a line in which Porter found that the evidence in the case was "virtually uncontroverted and the state has proven the above elements beyond a reasonable doubt."
Even as the case will remain on the public record, Martin said that Servin can still show potential employers that he was found not guilty at trial.
"Mr. Servin has this judgment that says he's not guilty," Martin said. "At the end of the day a judge, the court determined he was not guilty."
Servin's attorney Matt Fakhoury said his client was "vindicated" at trial and should be allowed to remove this "negative blemish" from his record. Fakhoury called multiple character witnesses who testified last week that Servin was a model officer and person who has never been arrested or charged for any other crime in his life.
Following Martin's ruling, Fakhoury asked the judge to at least seal the records – a request that was also denied.
Fakhoury said he and his client were "disappointed" in the judge's decision, but left the door open to file a motion to reconsider and, eventually, an appeal.
"We understand the judge's decision," he said, "and we're gonna have to live with it for now at least."
Martin repeatedly expressed that he heard nothing during last week's hearing in defense of Servin's actions the night he shot Boyd. But Fakhoury pointed out that his client was never even asked to put on a defense at trial.
"We don't feel we need to present a defense at an expungement hearing when he didn't need to present a defense in the criminal trial," he said.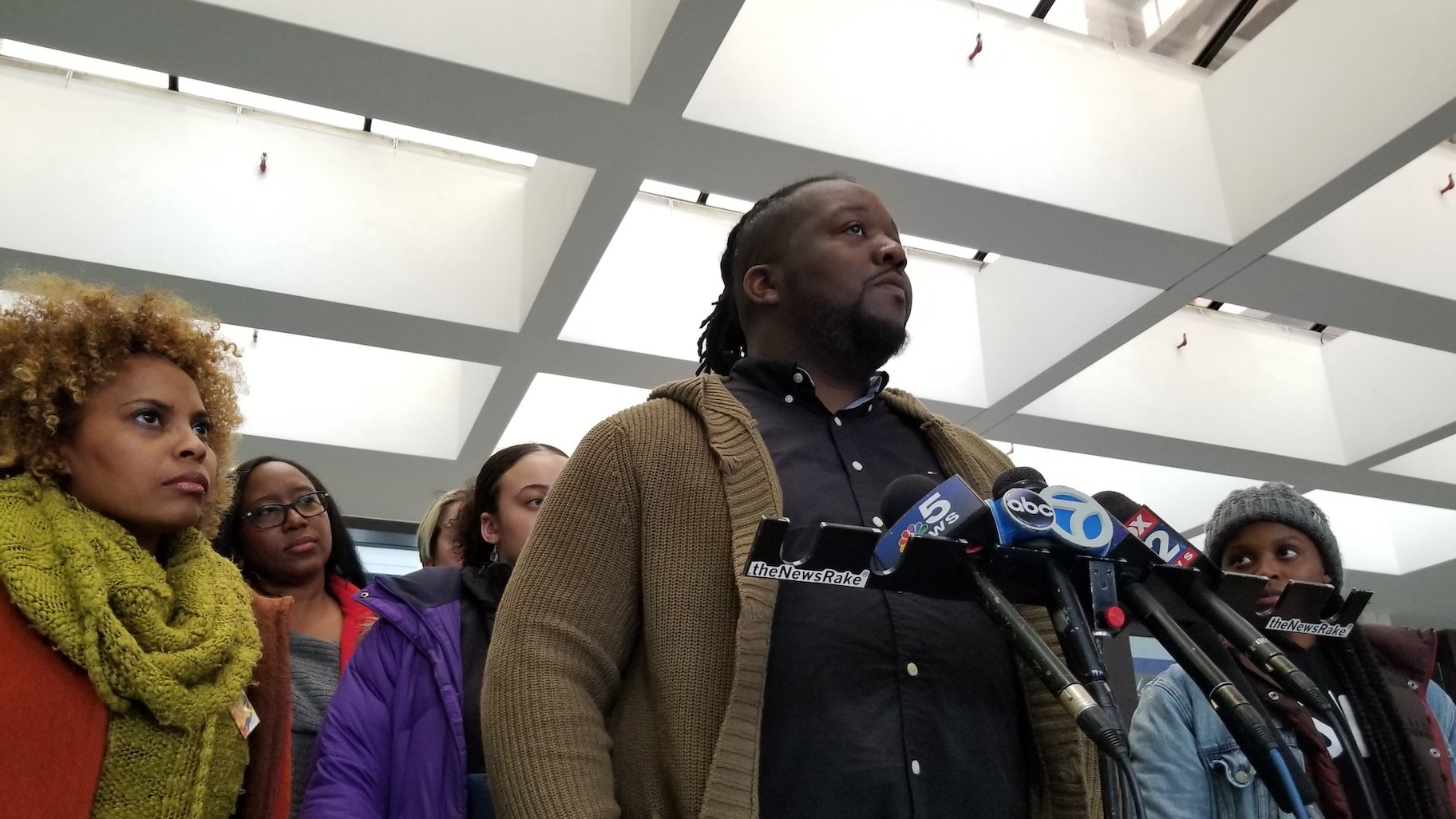 Rekia Boyd's brother Martinez Sutton speaks with reporters following the hearing Tuesday, Nov. 19, 2019. (Matt Masterson / WTTW News)
Boyd's brother Martinez Sutton and local activist groups pushed back against the move, saying that not only should the expungement have been denied, but that Servin should also lose his police department pension.
Sutton said the judge's ruling may make his mother and family a little happy, but he called Tuesday an emotional day.
"So yes I have mixed emotions about it," he said, "because the killer of my sister is still walking free, still able to take care of his family while I get to go visit Rekia at a graveyard where it's cold, lonely. I'll never be able to see her again."
Contact Matt Masterson: @ByMattMasterson | [email protected] | (773) 509-5431
---
Related stories:
Ex-Chicago Detective Acquitted in Rekia Boyd Killing Wants Court Records Expunged
What's Next After the Dante Servin Verdict?
Aftermath of Rekia Boyd Verdict
Chicago Police Release Bodycam Footage of Officer-Involved Shooting
1 Year After Van Dyke Conviction, How is Chicago Handling Police Misconduct?
Jason Van Dyke Sentenced to 7 Years in Prison
---