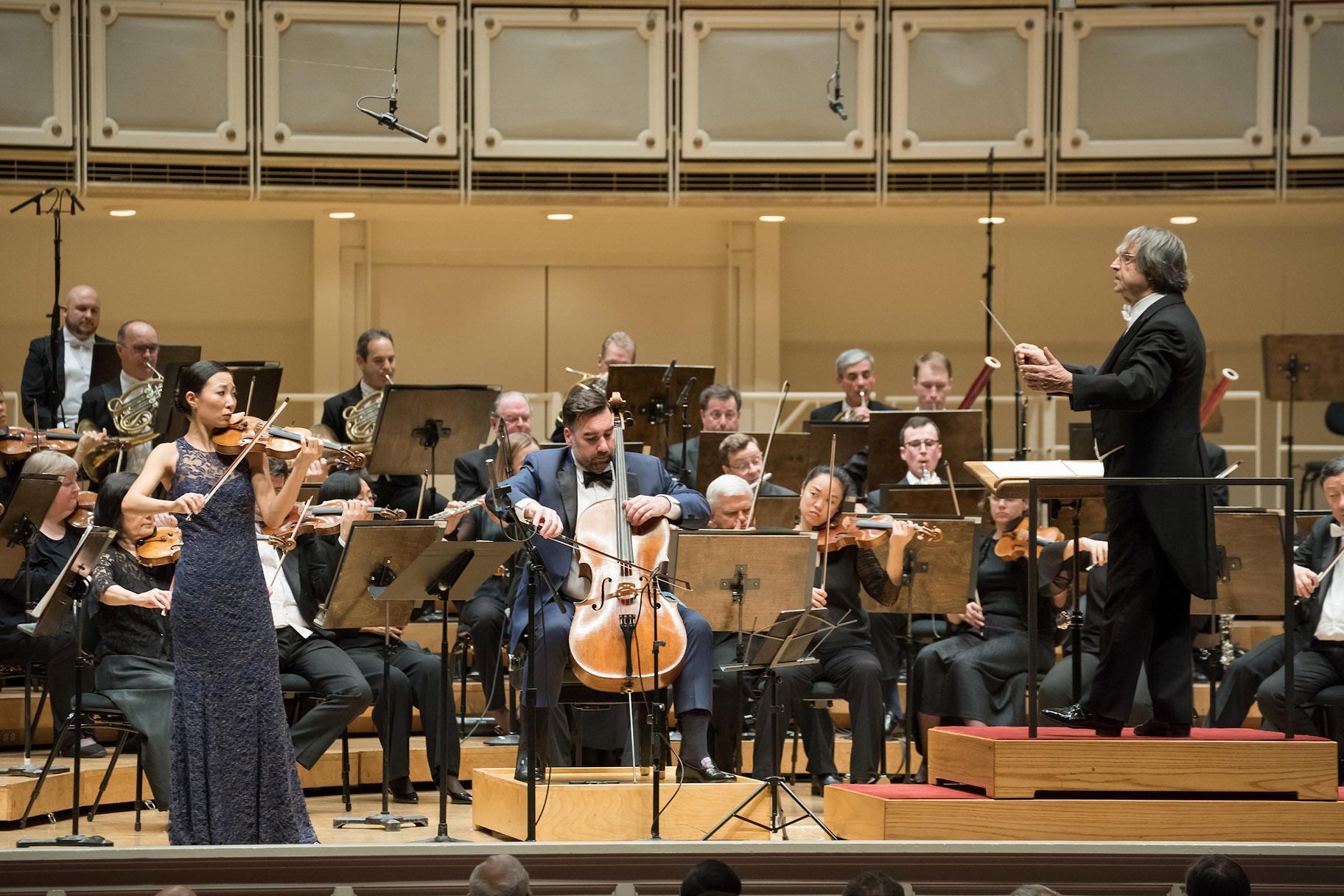 Zell Music Director Riccardo Muti (right) leads the Chicago Symphony Orchestra and Associate Concertmaster Stephanie Jeong (far left) and Assistant Principal Cello Kenneth Olsen (center) in the Brahms Double Concerto at Symphony Center on Nov. 7, 2019. (Credit: Anne Ryan)
What happens when a conductor steeped in the Italian tradition takes hold of three works by quite different 19th century German Romantic composers? The answer could be heard Thursday evening as Maestro Riccardo Muti led the Chicago Symphony Orchestra in works by Wagner, Brahms and Schumann.
Wagner – perhaps the most Teutonic, and unquestionably the most ferociously dramatic of the three composers – came first by way of a wonderfully evocative performance of the overture to his opera "The Flying Dutchman."
In its entirety that opera runs more than two hours as it spins the quasi-mythical tale of a mariner condemned to sail the unforgiving seas for eternity as punishment for his arrogance. His only hope for redemption is the undying love of a good woman who, as it happens, ends up tragically dead. Here, in just the 11 minutes of the overture, there is the full sense of stormy seas (complete with horns and timpani), a briefly tranquil wind, a sudden eruption into tumultuous gale forces (with racing passages for the violins), and a heartbreaking lyrical finale. It was enough to tell the entire story. Less is more in some ways. And Wagner has rarely sounded more human.
The concert's centerpiece, Brahms' "Concerto for Violin and Cello in A Minor," put two of the CSO's own outstanding musicians in the spotlight – violinist Stephanie Jeong, associate concertmaster, tireless workhorse (and elegantly understated fashionista to boot), and assistant principal cellist Kenneth Olsen. And while I doubt the male and female "casting" of these soloists was intentional (they are simply sublime artists), what emerged in this performance was something like a running operatic conversation between a married couple – at times loving and in powerful synchrony, and at other times decidedly tension-filled and confrontational. Sometimes the two played separately, sometimes they answered each other, and sometimes they overlapped.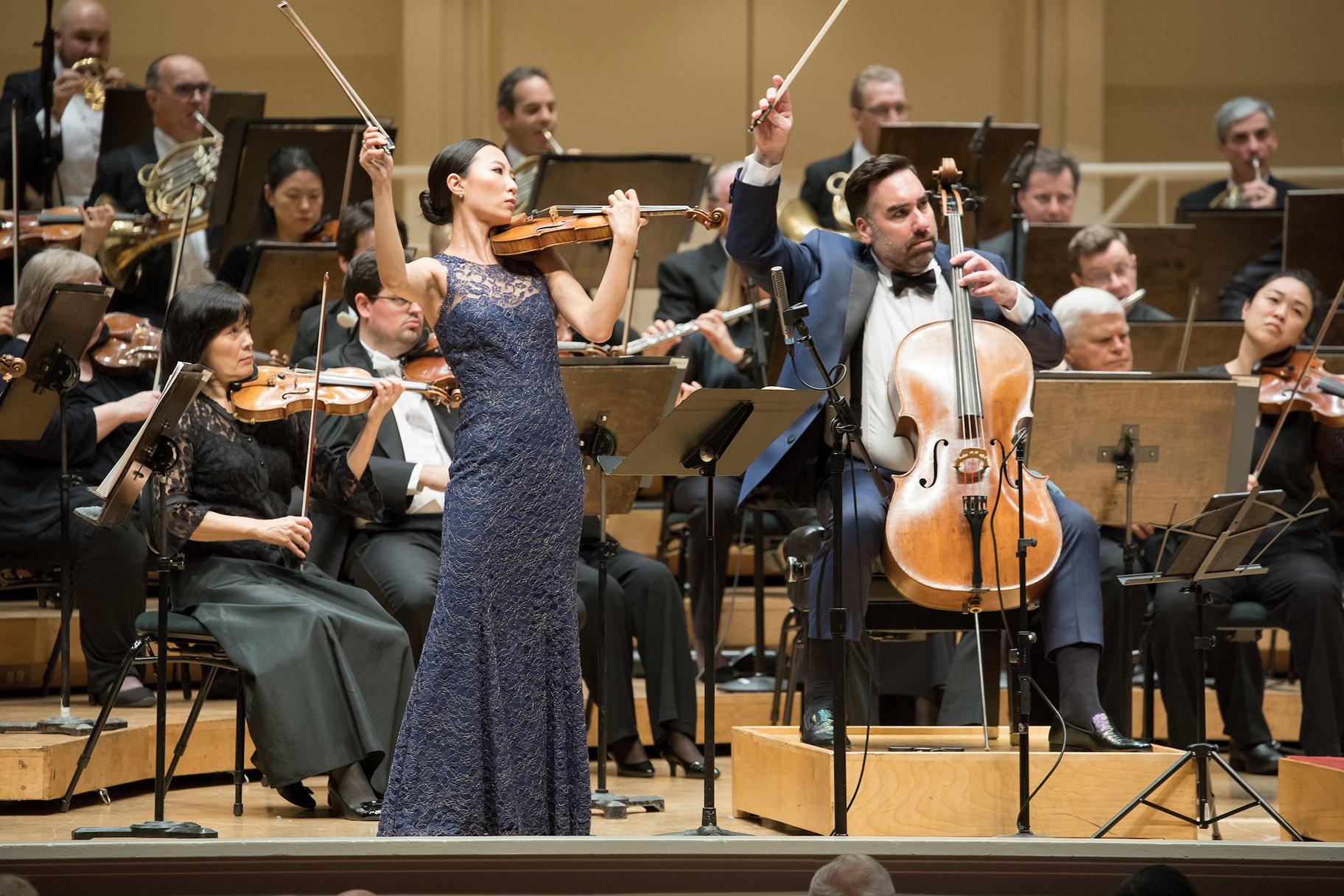 Associate Concertmaster Stephanie Jeong (left) and Assistant Principal Cello Kenneth Olsen (left) perform the Brahms Double Concerto with the Chicago Symphony Orchestra at Symphony Center on Nov. 7, 2019. (Credit: Anne Ryan)
Of course Brahms is a master at weaving the most beautiful melodic motifs throughout his work, and Muti and the orchestra gave full voice to them, tapping into the composer's alternately buoyant and frenzied romantic spirit. And few can match Brahms's urgency and drive when it comes time to draw the orchestra into a wildly rhythmic dance theme that sets every section of the orchestra – from French horns and flutes to strings – into motion. But here, too, Muti finds a way to make it less beer garden exuberance than lyrical fire.
The concert's second half was devoted to Robert Schumann's sprawling "Symphony No. 3 in E-Flat Major (Rhenish)," and in a sense its mood shifts circled back to Wagner's Overture. (According to a program note, the mentally unstable composer, who paid homage to the Rhine River in this 1850 symphony, attempted suicide by jumping into that very same river four years later.)
The symphony begins with a big, lush, romantic fullness and confidence, and the heat of the horns. It then shifts into a more gently singing movement, full of sweetness and warmth – one that is not particularly interesting, yet carries you along on its easy beauty to a lovely, briefly stated conclusion. The winds sound a more introspective, light yet velvety sound in the third movement. The fourth movement is more solemn and mournfully troubled, and ends with a memorable series of sustained moans.
The mood of the work's final movement shifts to a more celebratory spirit, with moments of instant tumult (think of Schumann as a man suffering from manic-depression). The horns follow suit – beautifully muted at first and then rushing to a great finale and a sense of wholeness.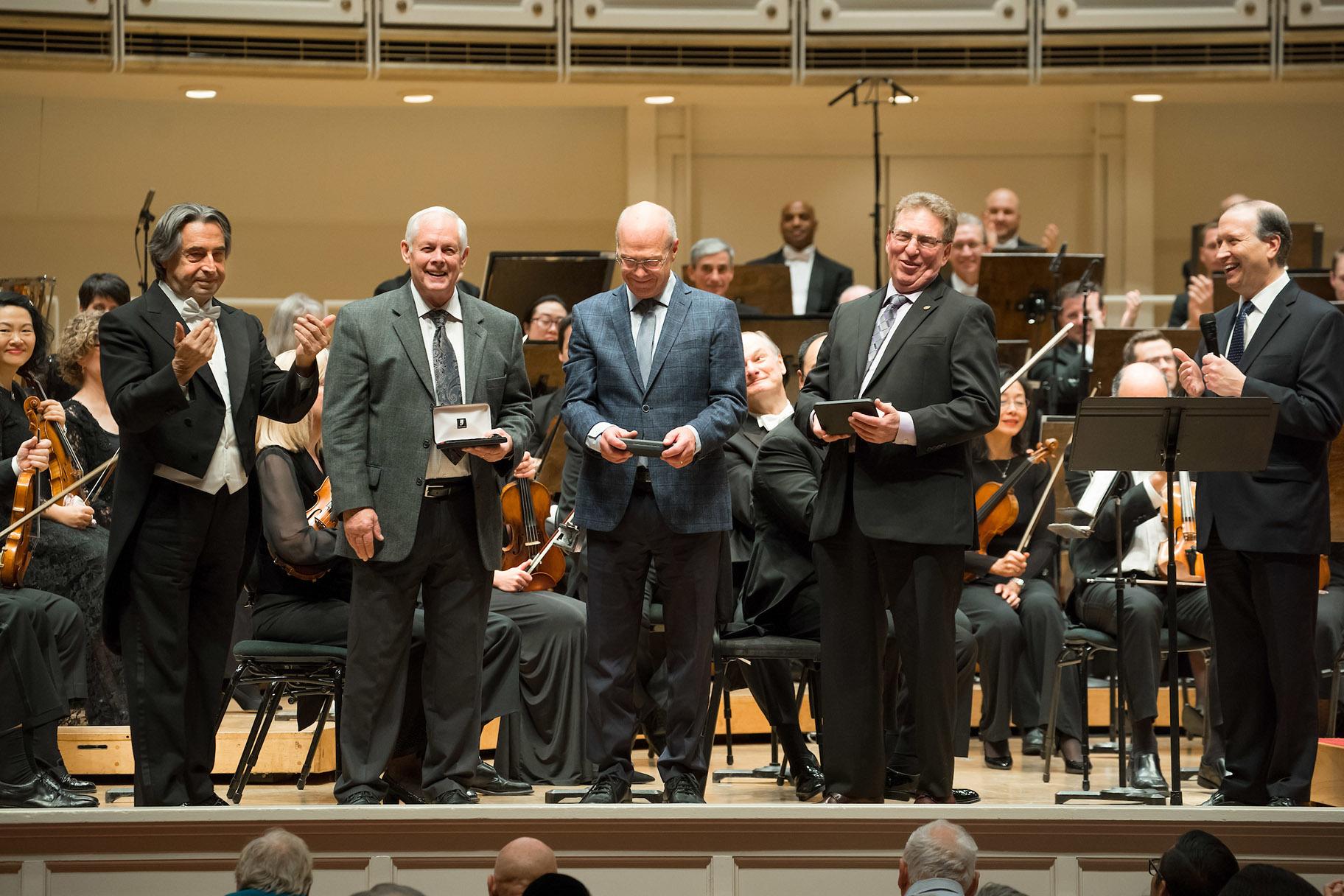 Zell Music Director Riccardo Muti (left) and Chicago Symphony Orchestra President Jeff Alexander (far right) present Theodore Thomas Medallions to recognize retiring musicians of the CSO, Roger Cline, bass, John Bartholomew, viola, and Daniel Orbach, viola at Symphony Center on Nov. 7, 2019. (Credit: Anne Ryan)
A special ceremony took place on the Symphony Center stage on Thursday evening as three of the orchestra's musicians – bass player Roger Cline (who has been with the CSO for 45 years), violist John Bartholomew (39 years) and violist Daniel Orbach (31 years) – received Theodore Thomas Medallions on the occasion of their retirement. (Thomas founded the CSO in 1891 and was its first music director.) Jeff Alexander, president of the Chicago Symphony Orchestra Association, delivered an entertaining bio of each man, and noted how many concerts they had played over the years, and how many people they had reached through recordings and, more recently, on the internet. Then all three musicians were warmly hugged and playfully teased by Maestro Muti as he handed out the medallions.
This concert will be repeated at 8 p.m. on Nov. 9 and at 7:30 p.m. on Nov. 12 at Symphony Center, 220 S. Michigan Ave. For tickets ($36-$225) call (312) 294-3000 or visit www.cso.org. Running time is one hour and 50 minutes with one intermission.
---
Note: The CSO and Maestro Muti will travel to New York next week for two concerts at Carnegie Hall. The program on Nov. 15 (a reprise of one performed this past May in Chicago) will include Respighi's "Pines of Rome," Bizet's "Roma," and Berlioz's "La Mort de Cleopatre," a dramatic soliloquy sung by mezzo-soprano Joyce DiDonato. The program on Nov. 16 will be a reprise of the all-Prokofiev public concert played at Lane Tech High School in September.
In January the orchestra will head to Europe for concerts in Vienna, Paris and Naples. On Feb. 6, 7 and 8, Muti and the CSO, along with the Chicago Symphony Chorus and opera singers Anita Rachvelishvili, Piero Pretti and Luca Salsi, will be back at Symphony Center for concert performances of Mascagni's "Cavalleria Rusticana." Then it's off for a tour in Florida. And of course there will be much more to come.
Follow Hedy Weiss on Twitter: @HedyWeissCritic
---
A Breathtaking Rendering of Beethoven, and a Richly Sonic New 'Dream'
Hedy Weiss Reviews 'A Doll's House,' 'I'm Lenny Bruce' and More
Tapping Into the Blistering Tragedy of 'I'm Lenny Bruce'
---