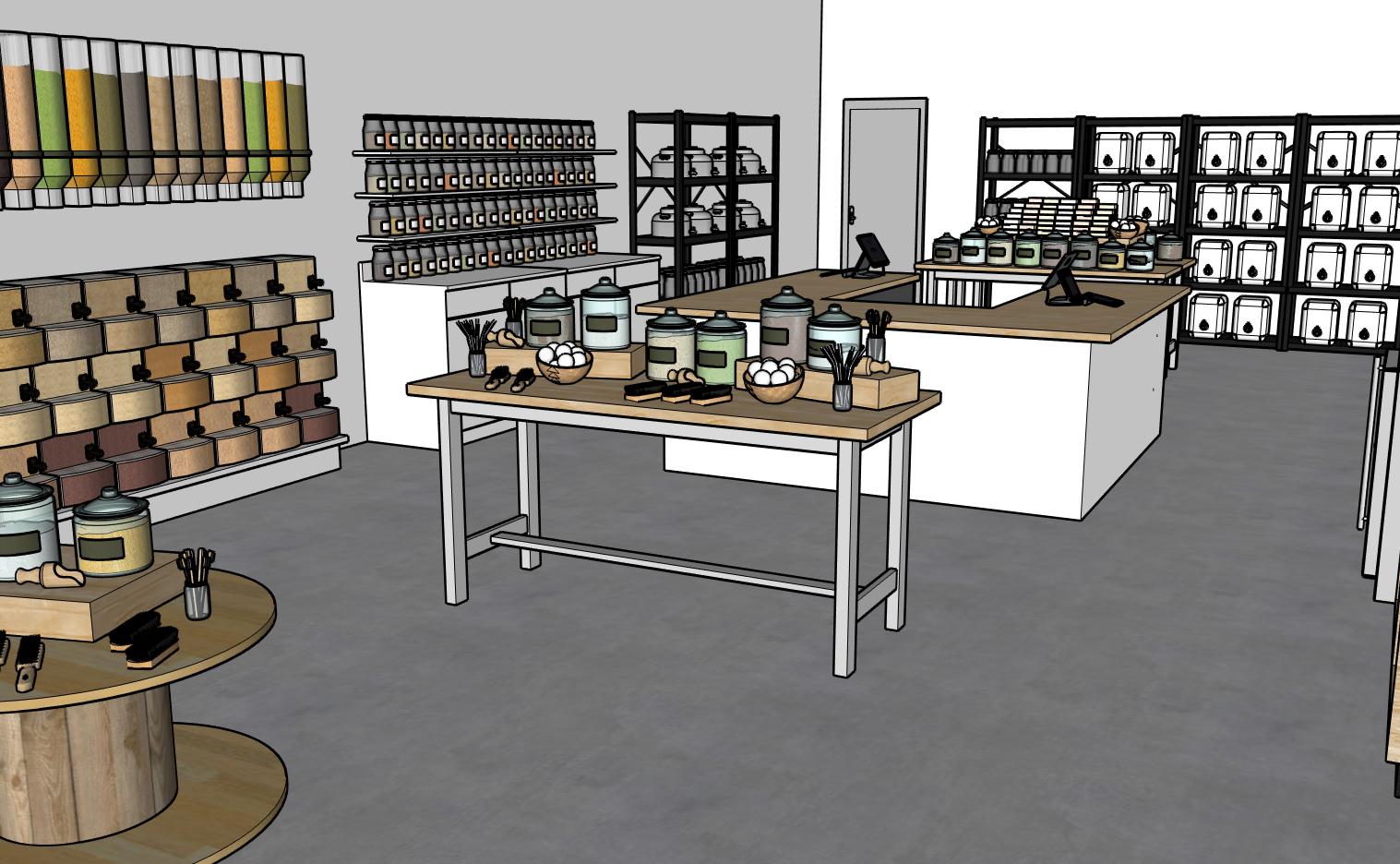 Rendering of the proposed Chicago zero-waste marketplace called Zaste. (Courtesy of Zaste)
Pilsen resident Hailey Kurtz is committed to a zero-waste lifestyle, reducing trash of all kinds from food to plastics. She composts and shops as sustainably as possible, bringing her own bags and containers to stores.
But she finds herself visiting multiple stores to buy in bulk and find package-free items. "I questioned if this was really more sustainable overall," Kurtz said. "I had in my head that it would be great if there was one place I could go and get all of these needs covered in one trip rather than going here for this and there for that."
To meet those needs, Kurtz, 27, plans to open a store with her sister, Sydney, 24, called Zaste. "It'll be a sustainable marketplace with package-free options," Kurtz said. "We welcome customers to bring their own containers – or BYOC – to fill up with products."
Don't have a ready supply of reusable containers? No problem. Shoppers can use one of Zaste's by putting down a deposit that's returned once they bring back the container. Goods available for purchase will include dried foods, bread, cleaning supplies, personal care items and produce. Prices will be based on weight, so you only pay for what you need.
Kurtz acknowledges that some stores already allow customers to purchase select items in bulk, but with Zaste she hopes to provide a broader range, including things she has found challenging to buy without packaging such as berries, mushrooms, tofu and hummus. Eventually, she'd like to also sell dairy and meat. She has plans to offer kombucha on tap and a nut butter machine that will allow patrons to make their own mixes.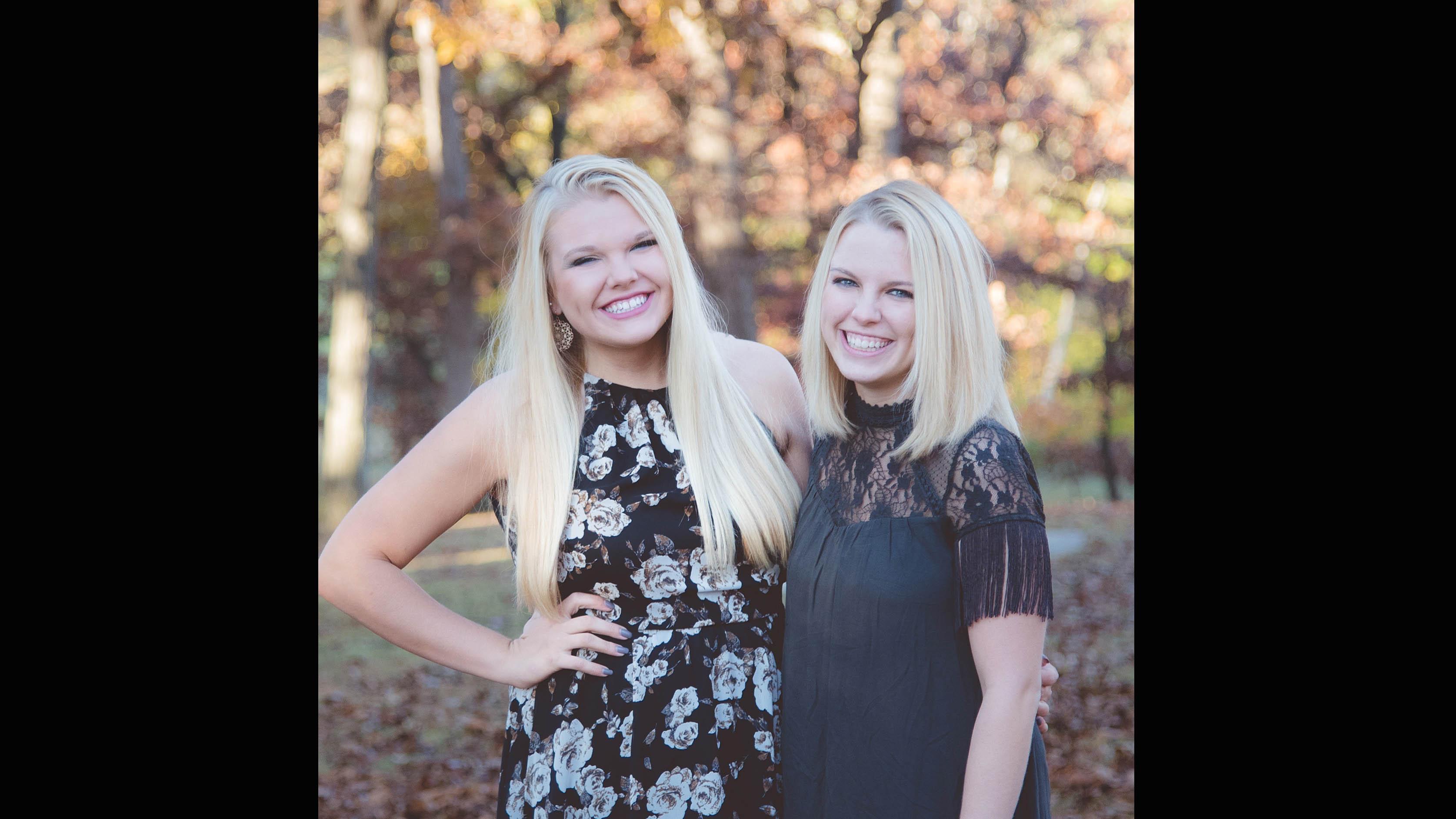 Sydney (left) and Hailey Kurtz plan to open a zero-waste marketplace in Chicago by spring 2020. (Courtesy of Hailey Kurtz)
To achieve their goal of opening Zaste, the Kurtz sisters have launched a crowdfunding campaign that seeks to raise $100,000 by Nov. 24. The campaign includes an itemized list of expenditures from inventory ($39,176) to permits and licenses ($1,832) to equipment ($7,367) and a website and domain ($288). Hailey Kurtz also plans to apply for a small business loan. She says she won't draw a salary from Zaste until the store is profitable (she plans to support herself by continuing to work as a freelance graphic designer).
Kurtz hopes to open the store by spring 2020. A location has not yet been decided but Kurtz would like to open in Pilsen or West Town because, she says, those communities aren't as well served by health food stores as are other areas in the city. "I live in Pilsen and we have traditional grocery stores but no health food grocery stores," Kurtz said.
"We really do see ourselves as a health food marketplace because we plan to have all organic when possible, locally sourced, good wholesome food," she said. "We kind of view it as a big indoors farmers market."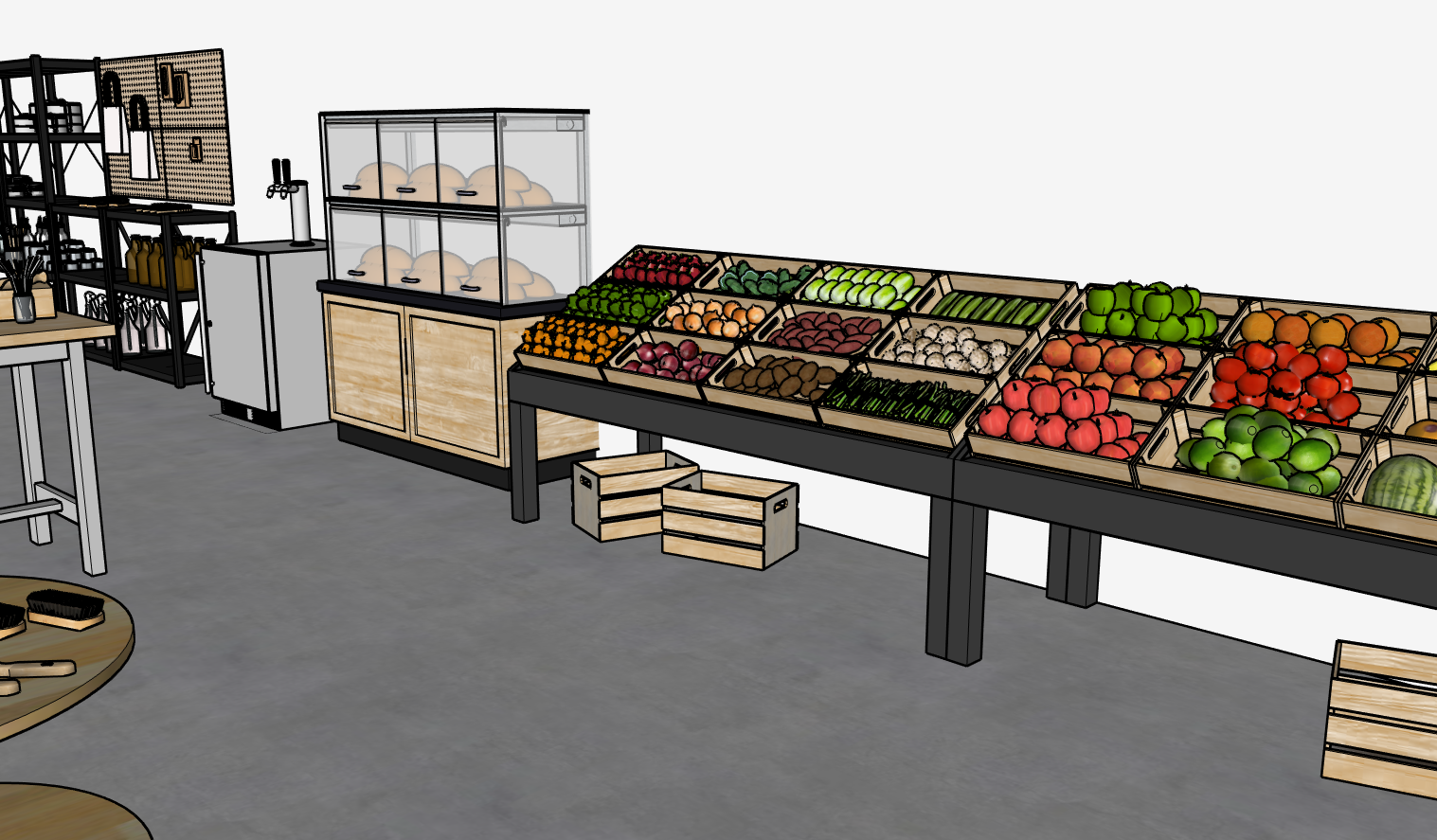 Rendering of the proposed Chicago zero-waste marketplace called Zaste. (Courtesy of Zaste)
To ensure affordability, Zaste will work with Local Foods, a Chicago-based food distributor that connects stores with local farmers, according to Kurtz. She also plans to accept Supplemental Nutrition Assistance Program (SNAP) and WIC. "We completely believe that healthy food shouldn't be a privilege only for people who can afford it," she said.
With Zaste, the Kurtz sisters hope to make low-waste living accessible, reduce the use of single-use plastics, and be a resource for those committed to that lifestyle.
If you are interested in the zero-waste lifestyle, start small, such as bringing reusable produce bags to the store or using a refillable water bottle, says Kurtz. "(Zero-waste) starts with small changes. No one goes into it full force," she said. "Once you get used to those changes, it kind of makes you want to try more – at least that's how it was for me. It all starts with little steps."
Contact Kristen Thometz: @kristenthometz | (773) 509-5452 |  [email protected]
---
Related stories:
How Scientists Are Turning Plastic Trash into High-Quality Liquids
Zero-Waste Advocate Shares Strategies for Reducing Trash
Imperfect to Deliver 'Ugly' Fruits, Vegetables to Chicagoans
---