On a crisp spring morning in Avondale, Stephanie Katsaros and her neighbor Christina Schliech are talking trash. Katsaros and Schliech share an aspiration to live zero-waste – reducing trash of all kinds, from food to plastics to disposable diapers – to the bare minimum through reuse, repair, or responsible recycling. They're hoping to get the rest of the neighborhood on board with reducing their waste, too, and frequently share strategies and ideas on how best to accomplish that, both in person and in online neighborhood groups.
Katsaros has even made sustainability her business – literally. Her consulting firm, Bright Beat, works with businesses to reduce their environmental footprint – like at the Good Food Expo, where food industry stakeholders share sustainable products and practices.
Exhibitor John Hamilton of the sustainable food service product company Onyx Products says, "It's important because we need to divert waste from landfills into compost and recycling, and if you don't purchase the right products, if you don't implement and use the right products you can't do that."
K.C. Kye, founder and CEO of K-Mama Sauce, says that events like the Good Food Expo, where exhibitors are required to use sustainable products, help him improve his own business practices. "For me, working with recycling and compost, food to waste type of projects allows me to think about those things in my business."
Katsaros notes that a third of the food produced for human consumption goes uneaten. "That's not just the food, it's also the water that's put into the ground to grow the food, the feed that was grown and fed to the animals, all the transportation that it takes to get to the distribution point. It's such an environmental footprint to get the food through and then when it goes uneaten, all of those resources are also wasted," she said.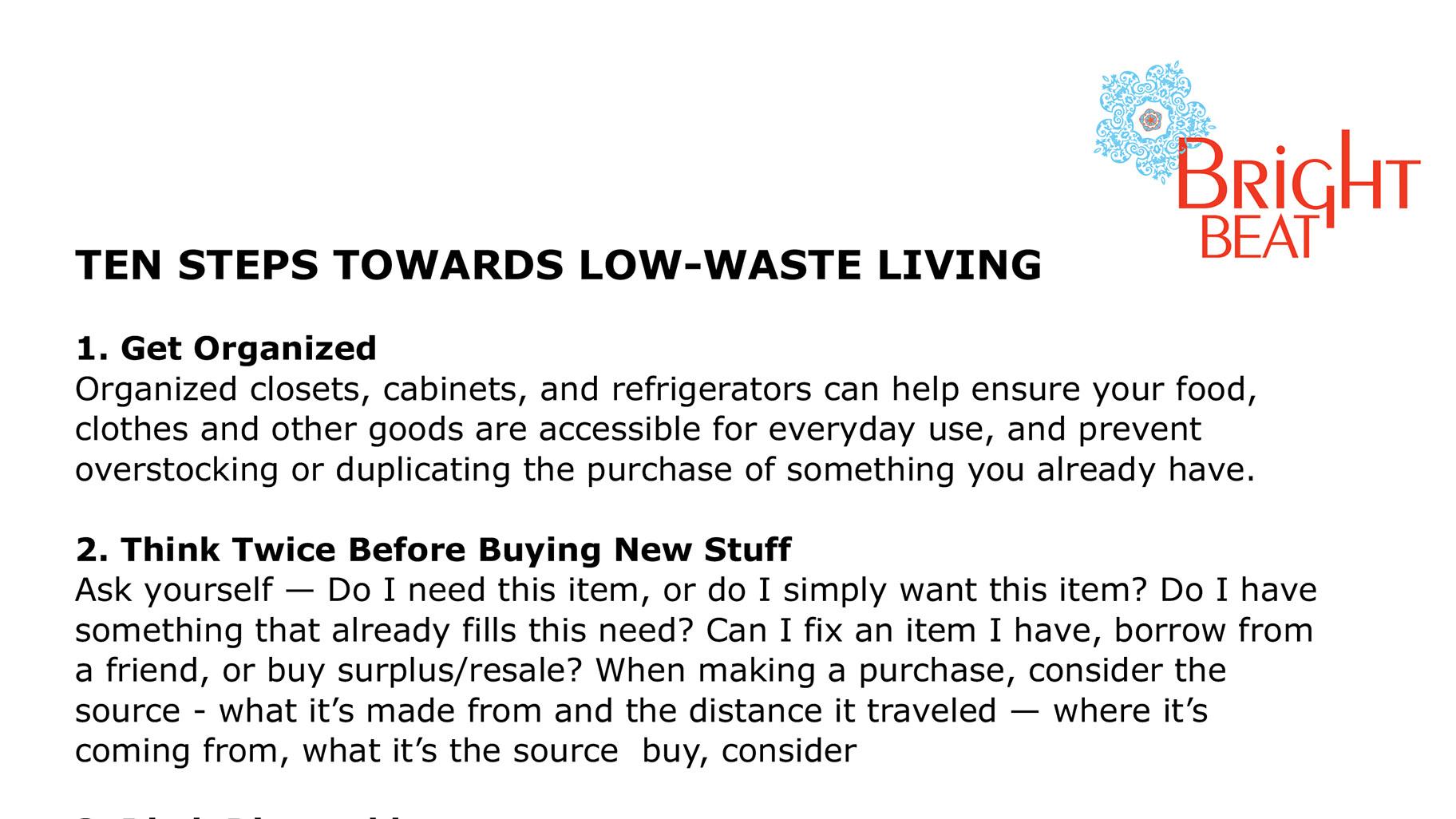 More: Stephanie Katsaros shares some of her best tips for low-waste living. One way people can reduce that footprint is supporting businesses that also walk the walk. Katsaros does much of her shopping at the Dill Pickle Food Co-Op in Logan Square, where they minimize food waste through carefully managing and monitoring stock, sending spoiled produce to be composted, and donating unsold food items or using it up themselves. Owner coordinator Ally Young says that when food is nearing the point that it must be discarded, "the first priority is to get that food into people who can use it, so we partner with the Northwest Food Partners Network to distribute that to a network of local pantries. The food that's not donated, which is very little, we have those pickups just about every day, is open for our staff to grab, and we also use some of that in our deli department as well, particularly for the daily soups that we make."
Chicago sustainability advocate Stephanie Katsaros
Back at home, Katsaros has developed her own strategies to make it easier to live low-waste that she says anyone can adopt -- from composting food scraps at home or through a compost pickup service to reusing old containers and buying in bulk to bypass packaging waste all the way down to where you put your recycling bins. "It's required by city ordinance that every box store, grocery store, convenience store all have a spot for you to throw away your used bags. Not everyone knows that if it's any film plastic you can put it in there. So we strategically place where the plastic bags go right by the garbage can. If it's right there it's easy to remember."
Even the refrigerator helps make sure food gets eaten instead of thrown away. Katsaros says she chose a model in which, among other features, there's nowhere for food to hide and get overlooked. "When it's more visible, you're less likely to leave it sitting there."
Beyond the kitchen, there's also the stuff of everyday life – including everything that comes with having a child, like Katsaros' daughter Zoe. "When someone has a baby everybody wants to give them stuff, because they love them and they love the child, but also, I've learned, they want to get rid of that stuff because they have too much stuff! Eighty to 90 percent of coats, shoes, toys, clothes, gear that we have was handed down."
It's because of the uncertain future children like Zoe will face that Katsaros believes we all should do what we can to reduce waste in our homes and communities. "It's scary to think about where we're headed as a society and as a planet. It's depressing even when you look at the climate crisis that we're in. The pace at which we need to mitigate problems is potentially faster than we have the capacity to do it. It's overwhelming to even ponder what this world is going to look like when my 2-year-old daughter is grown, let alone my grandchildren. So I feel compelled to do what I can to make things not-worse. If I can make them better I feel really good."
---
Related stories:
Recycling 101: How Clean Do My Containers Need To Be?
Chicago Zoos Want You to Recycle Old Cellphones to Save Gorillas
Study: Chicago Not Only City in Illinois Struggling to Boost Recycling Rate
Chicago Recycling, By the Numbers
---