Tip back a cold Casa Humilde cerveza and you'll get a taste of Mexican foodways in every sip – from prickly pear to pepina.
"I think that the coolest thing when we release a beer is seeing our generation react to it," said Casa Humilde co-owner Jose Lopez. "We get so many people, all kinds of people age wise where they relate to it so much — the lime, the hibiscus, it just brings it back to the summer, it brings us back to all of our summers."
"When people try our beer, we want to help them bring back their memories, because a lot of the ingredients we use are from our memories," said Javier Lopez. "Like maiz – maiz is such an important ingredient in our culture. So we use maiz."
Those flavors – the flavors of a childhood spent playing soccer on the streets of Hermosa and summers spent with family in Durango – form the foundation of Casa Humilde Cerveceria. The craft brewery is headed up by Chicago brothers Jose and Javier Lopez – but back before they were brewers, the brothers say they simply enjoyed craft beer.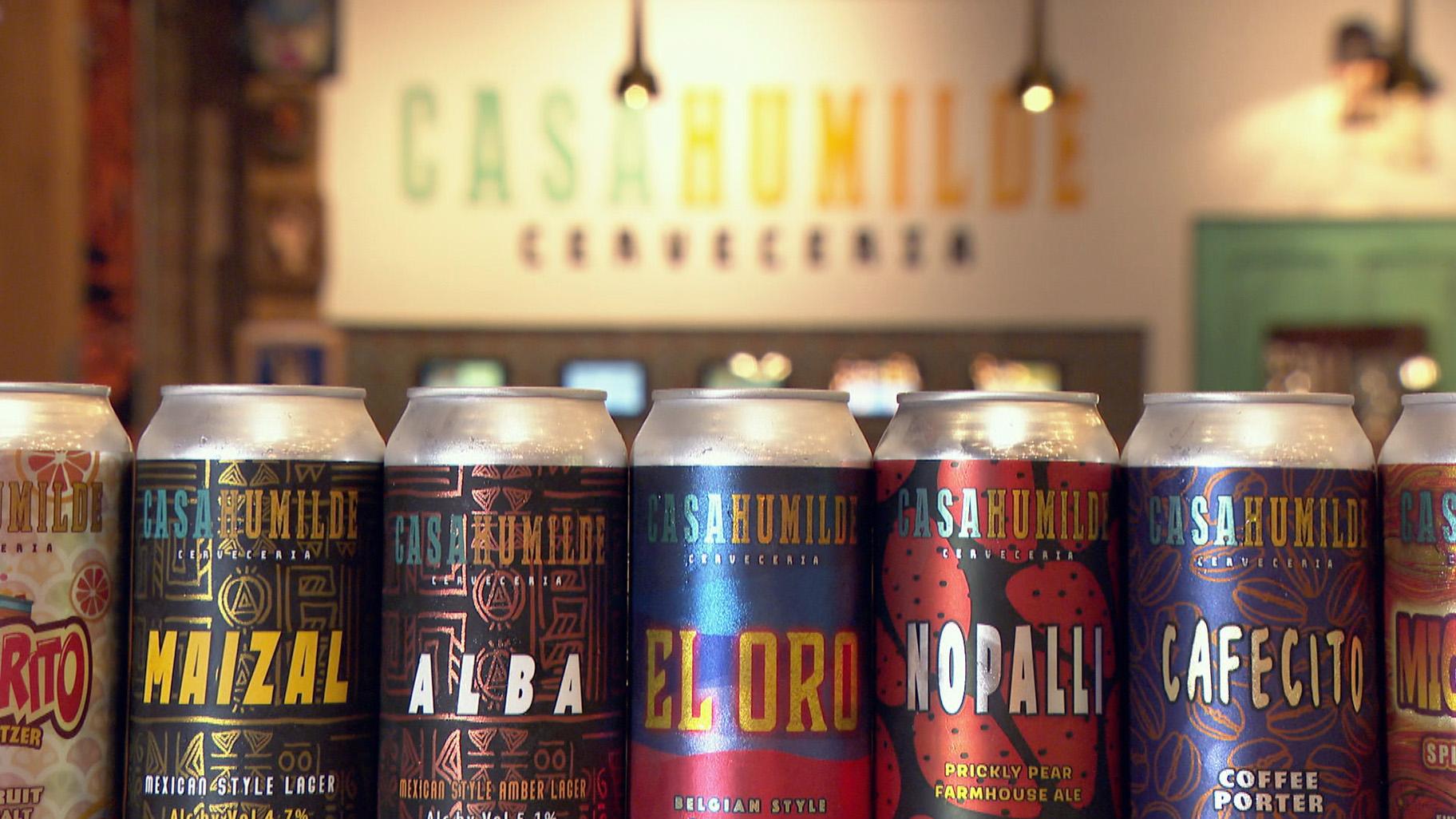 (WTTW News)
"Javier kind of got me into craft beer, he was drinking craft beer before me," Jose said. "He would have at his house just fridges full of craft beer, like sometimes he would have no milk, no eggs, but just a fridge full of so many stouts and IPAs.
In the summer of 2015, the brothers turned their shared obsession into a business. Jose Lopez had been working as a musician for a decade when he suggested to his brother that they try out homebrewing.
"I told him [get] $600 and get a stovetop kit … glass carboys, we'll do it on the stove," Jose said. "But that turned into well over $30,000 in equipment."
"Our second-floor apartment, we pretty much did everything there, our living room kind of turned into a mini brewery," Javier said.
"Once we saw everything it takes and what's possible, we kind of went all in," Jose said.
After a few years of homebrewing, the Lopez brothers realized their beers had taken on a manifestly Mexican identity, and their original name, Auxiliary Brewing — a reference to Jose's former music career – no longer seemed to fit.
"The name didn't really … relate to anything from our culture. It doesn't communicate to the consumer, to our customers, what we wanted," said Javier.
They say a rebrand to Casa Humilde better reflected their flavors and their family's values.
"Our upbringing from our parents, our grandmother taught us to just be humble, to help people, to not expect nothing in return, just give your best," said Javier. "And part of it is we started brewing at home too."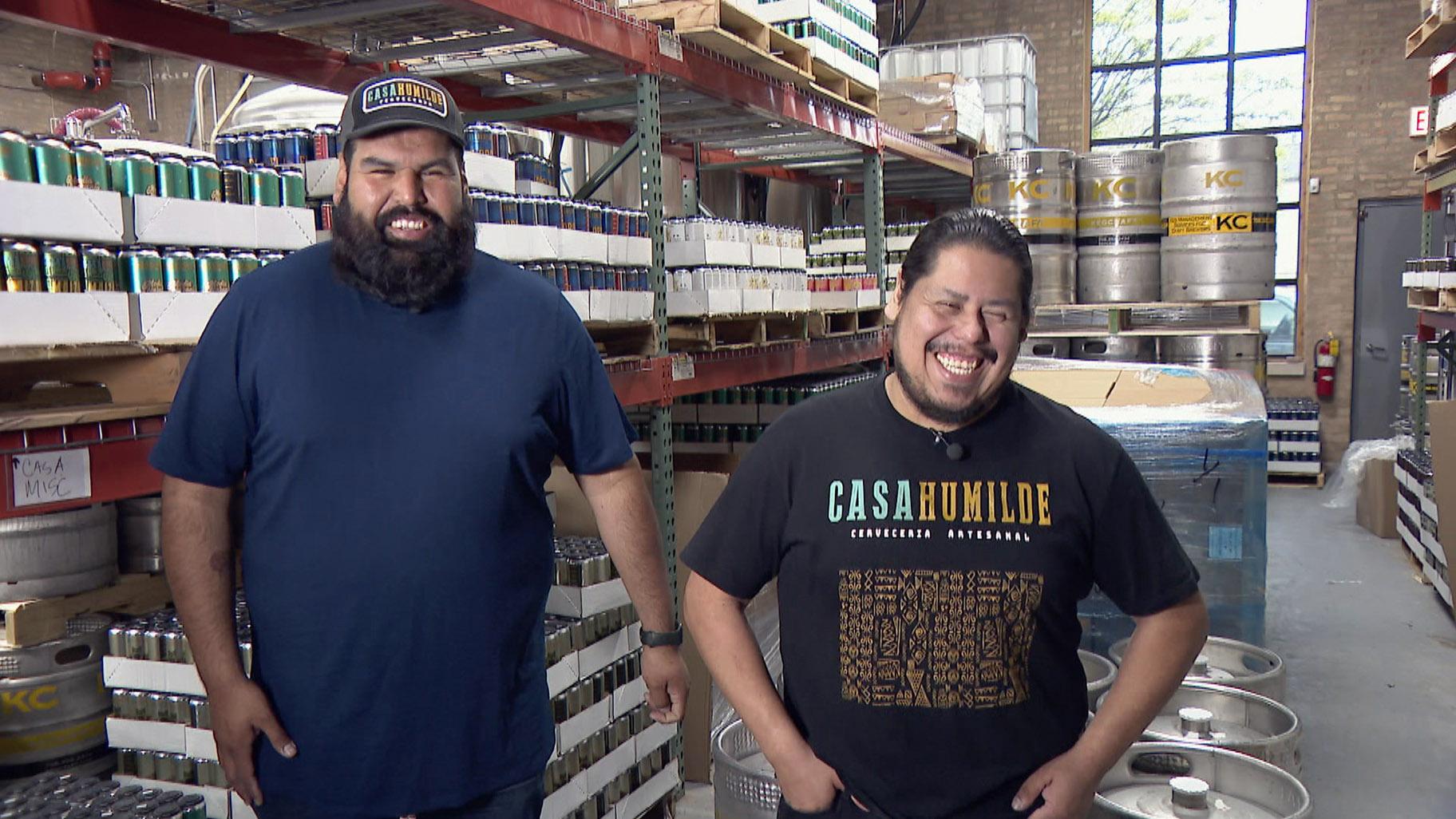 (WTTW News)
In 2019, the Lopez brothers moved to District Brew Yards, a shared brewing space where beer lovers can sample Casa Humilde's flagship brews as well as some more experimental flavors, like horchata stout.
"It did very well for us. People really enjoyed it," said Jose. "Strong beer, about 8%, but it delivers the full flavor of horchata in it."
Now, they're introducing their beers to people from all over the city, broadening the ideas of what cerveza can be.
"With our culture, a lot of people are used to drinking Tecate and Modelo, all these beers," Jose said. "That's one of the things we're most proud of, where we can introduce the macro beer drinkers to other styles, other beers."
"And getting people to experience a whole different world," added Javier.
The Lopez brothers aren't stopping at beer – they recently began roasting their own coffee using beans from Mexico under the Casa Humilde label, and have plans to expand into importing maiz and chocolate.
And if you'd like to enjoy some Mexican sounds along with your Mexican beer, Casa Humilde is hosting a music and beer festival, appropriately named Casa Humilde Fest, at Rancho Los Guzman, July 3 in Joliet.
---