After dozens of hurdles, the controversial Lincoln Yards project and related $1.3 billion TIF is a done deal. That's because a state court judge threw out a lawsuit attempting to stop it. But while that project moves forward, another piece of industrial property right next to Lincoln Yards is about to become the next front in the battle over redevelopment, the environment and the discrepancies between the North and South sides.
General Iron Industries is a scrap metal recycling company that has operated along the north branch of the Chicago River near Cortland Street and Clybourn Avenue for more than 60 years. It shreds and recycles 750,000 tons of metal each year, much of it from cars, trucks and buses. General Iron says it performs a valuable environmental service for the city.
"This material that goes through the metal shredder here ends up being used in manufacturing new products like autos and products we use every day," said company spokesperson Randall Samborn. "It saves energy and natural resources in that process while avoiding putting all this material in landfills."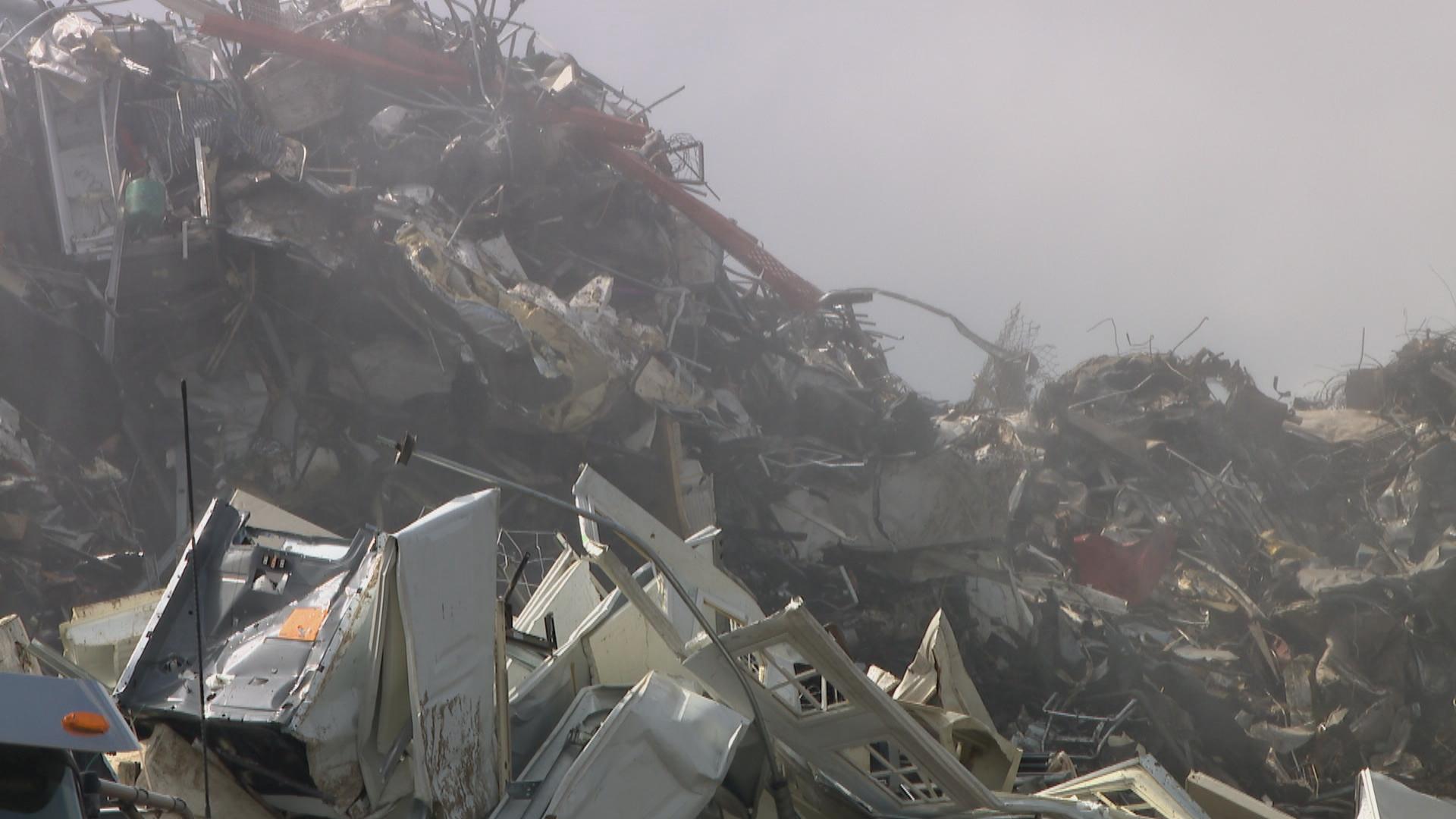 (WTTW News)
General Iron is the last vestige of an industrial past, tucked between the tony neighborhoods of Lincoln Park and Bucktown, abutting the new Lincoln Yards development. It's had a contentious relationship with some of its neighbors, who have complained about air pollution from dust and particulate matter winding up in streets, porches and backyards.
This weekend, 2nd Ward Ald. Brian Hopkins collected "fluff," which he says is a toxic tumbleweed of carcinogenic substances emitted from General Iron.
"It's a health hazard to the neighborhood, and even though improvements have been made, if you're emitting less toxic materials than before, is it glass half full or half empty? You're still emitting toxic materials," Hopkins said.
Last week, the Lightfoot administration finalized a deal long in the works for General Iron to close up shop by the end of next year. And it imposes strict new environmental regulations on the company. Earlier this summer, it installed a $2 million regenerative thermal oxidizer, which it says reduces the emission of volatile organic compounds by 98%, and instead lets out water vapor. General Iron says it's in compliance with all EPA standards of particulate matter and lead emissions, but the company says no system is 100% fail-safe.
"Obviously we can't control all of the dust, so some dust leaves," Samborn said. "But dust is not the same as what the other concerns are like particular matter and metal products and volatile organic compounds, and those we have under control and meet or exceed EPA requirements."
Hopkins says the city can shut the plant down any time if it falls out of compliance. Hopkins and Lincoln Park Ald. Michele Smith, 43rd Ward, say they won't be sad to see the plant go. Smith says the city missed out on a prime opportunity to turn the newly vacant site of the former Finkl Steele plant into a public park when developer Sterling Bay won approval to build the massive Lincoln Yards development there. But she says the city has a second chance with the General Iron site.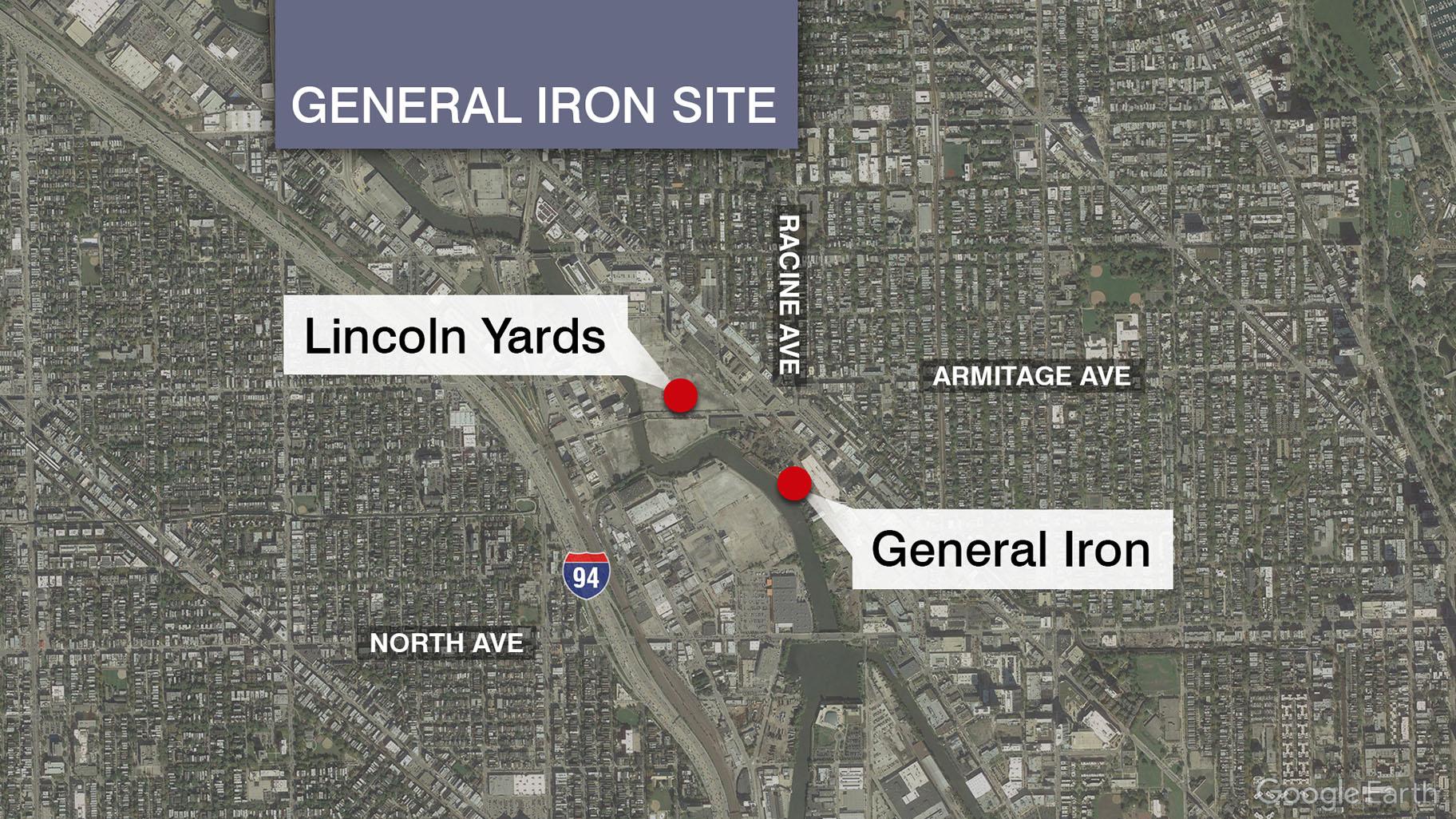 (WTTW News)
"The city has to choose," Smith said. "Do we want more relentless development in one of the most congested areas of the city, or do we want to use our city resources to create a true public benefit, this 24-acre North Branch park preserve."
General Iron is being sold to RMG, another Chicago recycler. The company's owners say they are working to sell the land, which could be worth between $100 million to $200 million. The General Iron facility will follow the fate of Finkl Steel and move to the South Side, near 116th Street and Burley Avenue along the Calumet River.
The plant will there be located at a recycling facility already owned by RMG. It's set back about a quarter of a mile from the nearest road. The company is vowing a state-of-the-art facility where all the metal shredding is done indoors.
"What's on Clyborn is not coming to the 10th Ward," Ald. Susan Sadlowski Garza said. "RMG is going to be making an existing facility better."
Garza says she approves of the company's move into her Southeast Side ward, even though the area has faced a glut of environmental problems from other industrial plants.
"Am I happy its coming here? I'm happy we got the restrictions that we need to make sure our residents are safe," she said.
But that's not good enough for some residents, like Peggy Salazar who leads the Southeast Environmental Task Force. She says the move follows a familiar pattern: while the North Side gets showered with TIF projects and new parks, the South Side gets the scraps.
(WTTW News)
"Don't send us a company that nobody else wants," Garza said. "It's clear that Alderman Hopkins didn't have confidence in them being able to do it, otherwise he would've allowed them to stay."
But General Iron and RMG say the new site is tailor-made for their recycling facility, thousands of feet from any residential area and an investment in a neighborhood that sorely needs it.
The city could use the new $1.3 billion TIF district to help pay for the purchase of the General Iron land. Smith says that the city could choose to seize the property and pay fair market value for it, avoiding a costly bidding war, if it decides to go that route.
Follow Paris Schutz on Twitter: @paschutz
---
Related stories:
EPA Consent Order Requires General Iron to Reduce Air Pollution
'We Don't Want Your Trash': Residents Protest General Iron's Move to Southeast Side
EPA Plans $1.3M Cleanup of Manganese-Contaminated Soil on Southeast Side
---