Brilliant artwork made from glass is lighting up a historic Chicago home.
Louis Comfort Tiffany led an all-star team of artists and designers who could create almost anything out of glass. Tiffany and Company made lamps, jewelry, mosaics – and also artwork of a spiritual nature.
We explore "Eternal Light."
TRANSCRIPT
Brandis Friedman: Radiant stained glass glows inside a 19th century Chicago mansion.
These sacred scenes decorated U.S. churches and synagogues of the late 19th and early 20th centuries.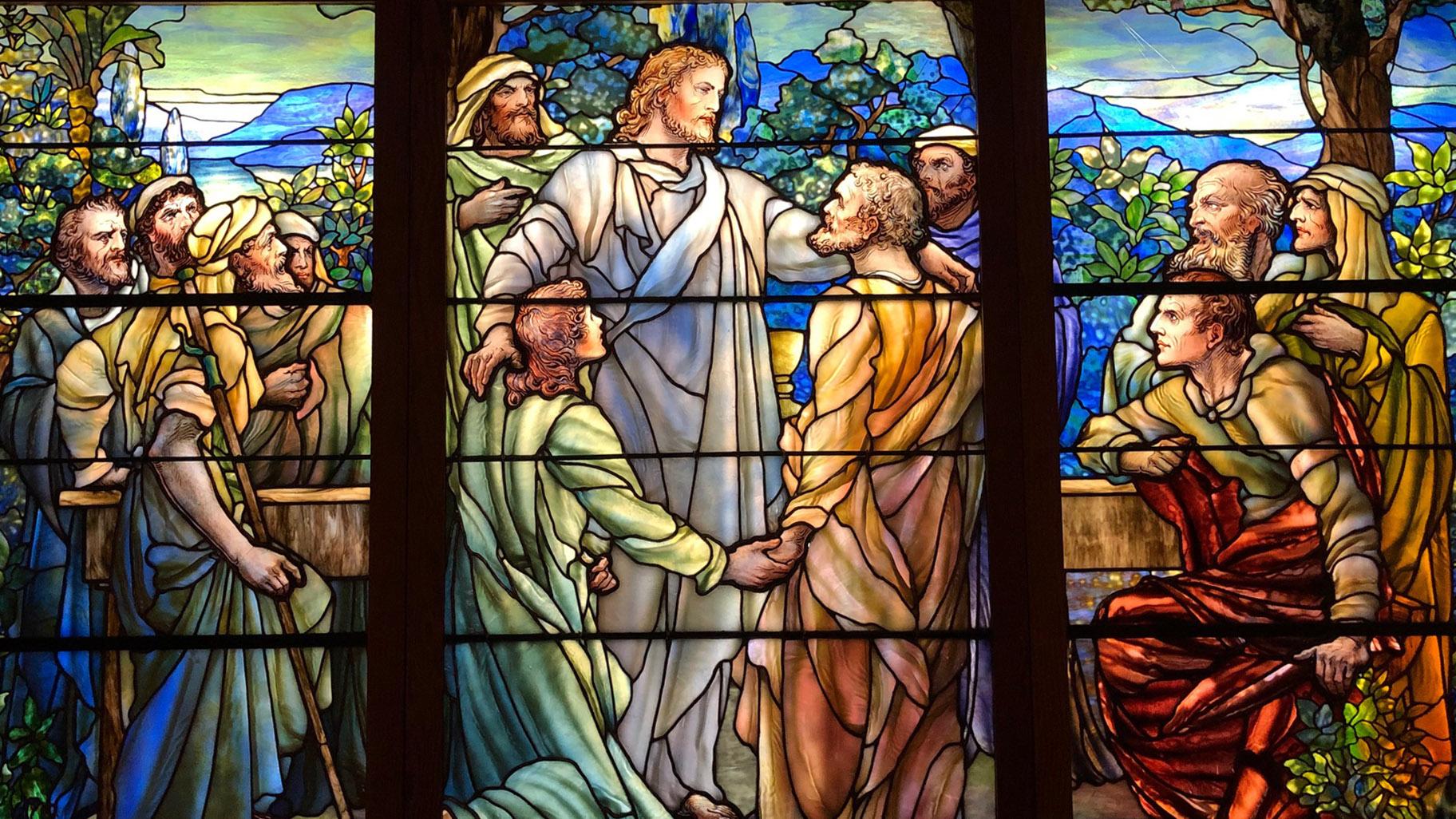 A Tiffany and Company window on display as part of the "Eternal Light" exhibition at the Driehaus Museum in Chicago. (Marc Vitali / WTTW News)
Richard Townsend, Driehaus Museum: "Eternal Light, the Sacred Stained Glass Windows of Louis Comfort Tiffany" is the very first exhibition to focus solely on the religious windows.
Friedman: The luminous artwork is on view at the Driehaus Museum.
Originally the Nickerson House, it was built on the Near North Side in 1883 for Samuel Nickerson, a banker and one of the founders of the Art Institute of Chicago.
It was an era called The Gilded Age.
Townsend: The Gilded Age, with its super abundance of wealth, the rise of this industrial class, the emergence of the United States as a world power – all these things led to this extraordinary expansion, economically, socially and new buildings and new businesses and new places of worship.
Friedman: Works on loan from the Metropolitan Museum of Art in New York show how the works were planned.
Townsend: We have preparatory drawings by Tiffany and his studio for the windows in the exhibition. These drawings have been reunited with their windows for the very first time in over 100 years since the windows were created.
Friedman: The works were made from separate pieces of glass.
Visitors are not allowed to touch these masterful windows, but they can get a feel for their texture at a separate display.
Townsend: It's really remarkable to look at these stained glass windows, especially now that we're seeing it in this raking light. You see the texture of the glass.
Tiffany paints with glass. Here you see how he takes up to three panes of glass – could be differently colored, textured, etc. – to build up. And it's called plated glass – meaning they're plating them one on top of the other right here to create that sense of depth. It's remarkable artistry.
Friedman: Also on view: an altar cross that promoted Tiffany and Company at Chicago's World's Fair in 1893.
Townsend: We're looking at old material in a new light, looking at these beautiful objects but looking at them as signs and evidence of manifestations of social and economic change.
---
More on this story
The exhibition "Eternal Light, the Sacred Stained Glass Windows of Louis Comfort Tiffany" is on view at the Driehaus Museum through March 8, 2020.
Note: This story was originally published Sept. 16, 2019.
---
Related stories:
Revisiting Farnsworth House, a Masterpiece of Modern Architecture
'Caution Freedom' Shines Light on Artwork Too Provocative for Putin
Restoring Artwork and Treasures at a Chicago Conservation Lab
---