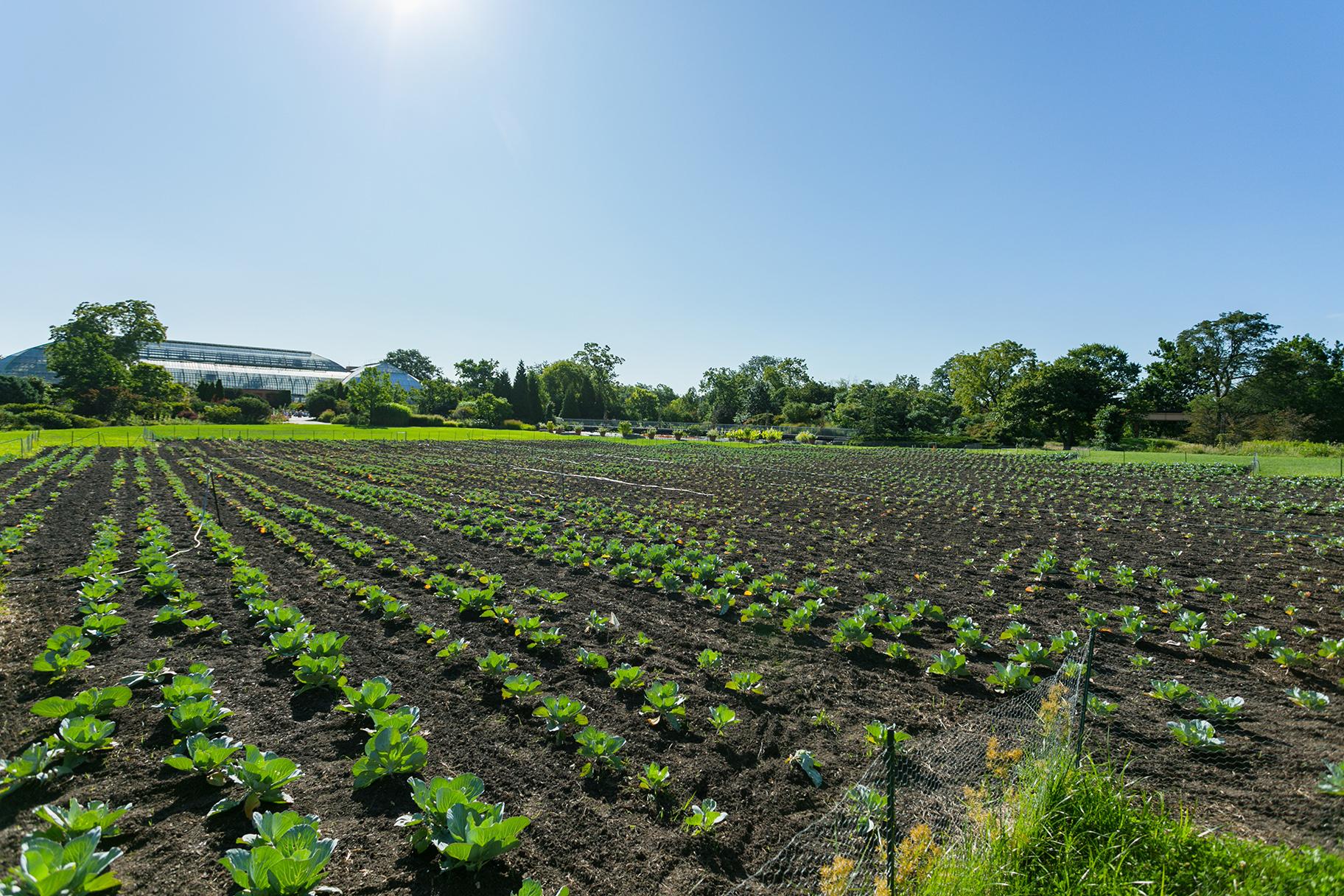 A field with 10,000 cabbages in one of the Garfield Park Conservatory's outdoor gardens is the centerpiece of a new "living exhibit" as part of the Chicago Architecture Biennial. (Brian Kinyon / Chicago Park District)
A pair of Danish architects hope to make a statement with a new "living exhibit" opening next week in Garfield Park featuring lots and lots of cabbages – 10,000 of them, to be exact.
The recently sprouted cabbages occupy one of the outdoor gardens at the Garfield Park Conservatory, whose 111-year-old greenhouse was designed by Danish landscape architect Jens Jensen.
Paying tribute to their countryman, architects Karen Gamborg Knudsen and Kasper Magnussen commissioned the cabbage patch project for the upcoming Chicago Architecture Biennial, which starts Sept. 19.
For centuries, cabbages have been a staple crop grown by many cultures, including the Danes, said Ellen Braae, chairman of the Danish Arts Foundation's Committee for Architecture, which selected the project as the first official Danish contribution to the Biennial.
Cabbages are inexpensive to grow and thrive in Denmark's climate, given that the plants can still develop when temperatures drop below freezing, Braae said.
For many years, cabbage has not been seen as exotic or interesting compared to other foods, Braae said. But cabbages are experiencing a sort of rebirth with the new Nordic cuisine movement, she said, which has incorporated local, natural and seasonal foods into dishes in Denmark and other Nordic countries.
With the cabbage patch in Garfield Park, Braae said the Danish team hopes to spur Chicagoans to think about how community spaces are used and who has access to them.
"It touches into discussions about food production and how we do that in those open places that we share," she said. "And then it has all these sort of social dimensions. How it can engage children? How can it be a platform for how we prepare our food, for how we grow our food? So in that sense it has a huge resonance."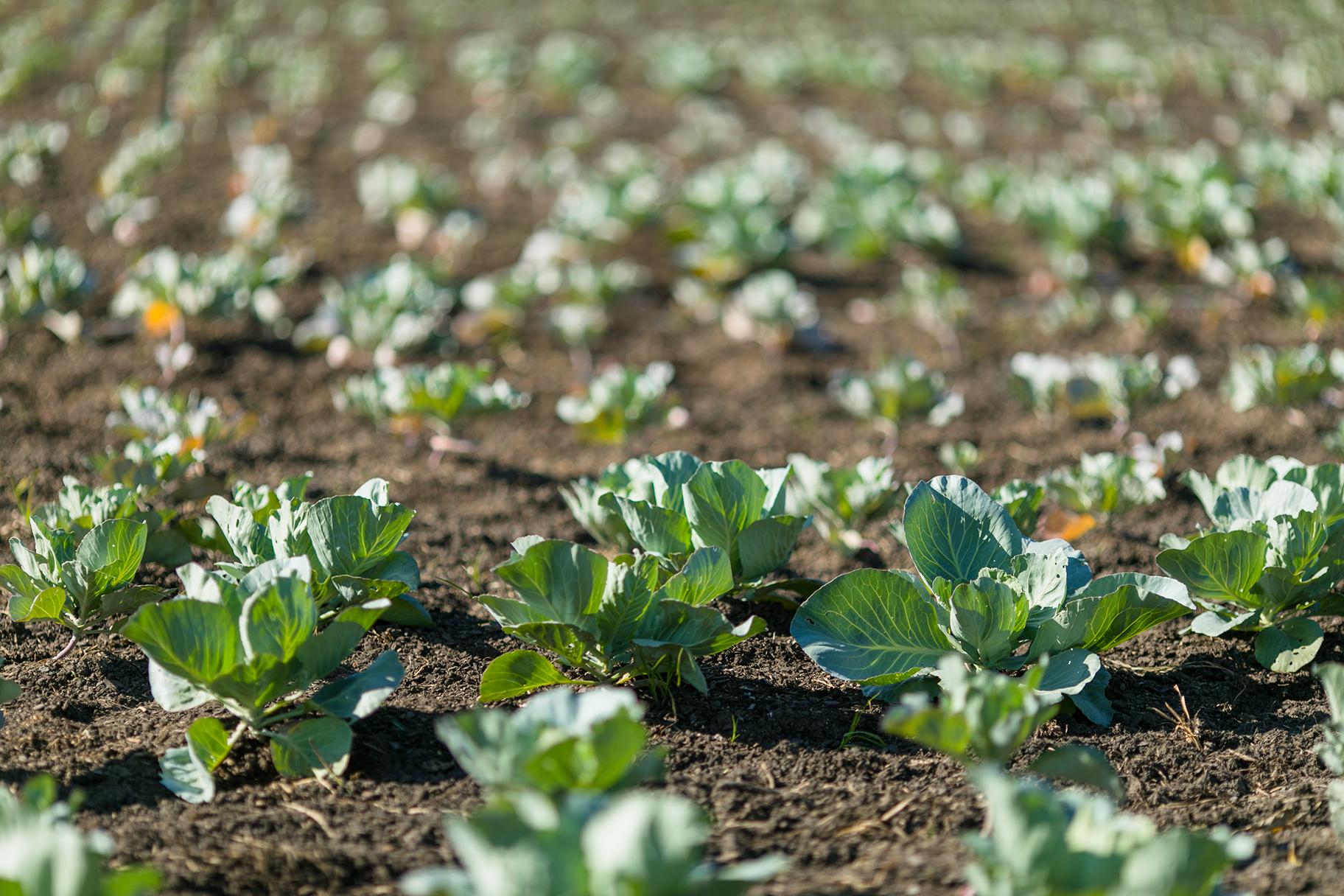 Cabbages are inexpensive to grow and thrive in Denmark's changing climate. (Brian Kinyon / Chicago Park District)
The exhibit officially opens Saturday, Sept. 21 during Garfield Park Conservatory's eighth annual Harvest Day, a fall celebration that offers visitors a chance to meet urban goats, chickens and bees; play "veggie bingo" and lawn games; sample fresh local foods; and learn about worm bin composting.
Members of the Danish Arts Foundation will give tours of the cabbage patch, and visitors will be able to harvest cabbages. The event will also include cooking demonstrations by chef Bill Kim of Urbanbelly.
Another component of the exhibit will be an "outdoor kitchen" offering additional cooking demonstrations by local chefs throughout the life of the exhibit, which will stay open through Jan. 5, the last day of the Chicago Architecture Biennial. The events will give residents the chance to harvest, prepare and eat cabbage grown on-site, according to the Chicago Park District.
A group of chefs will also create a "cultural cookbook" to help introduce the vegetable to new consumers and give people ideas for how to incorporate cabbages into new dishes.
"By placing a cabbage field and a kitchen in a botanical garden, we want to create a sensuous experience and evoke a transformation where the cabbage grows and is harvested, studied, cooked and served," said the Danish architects Knudsen and Magnussen in a statement.
For more information about the cabbage patch exhibit, visit the Garfield Park Conservatory's website.
Contact Alex Ruppenthal: @arupp | (773) 509-5623 | [email protected]
---
Related stories:
Globe-Trotting Local Curator to Lead Next Chicago Architecture Biennial
Pritzker Signs Bill Redefining 'Local Foods' in Illinois
Illinois Lawmakers Override Rauner to Enact Urban Agriculture Law
---