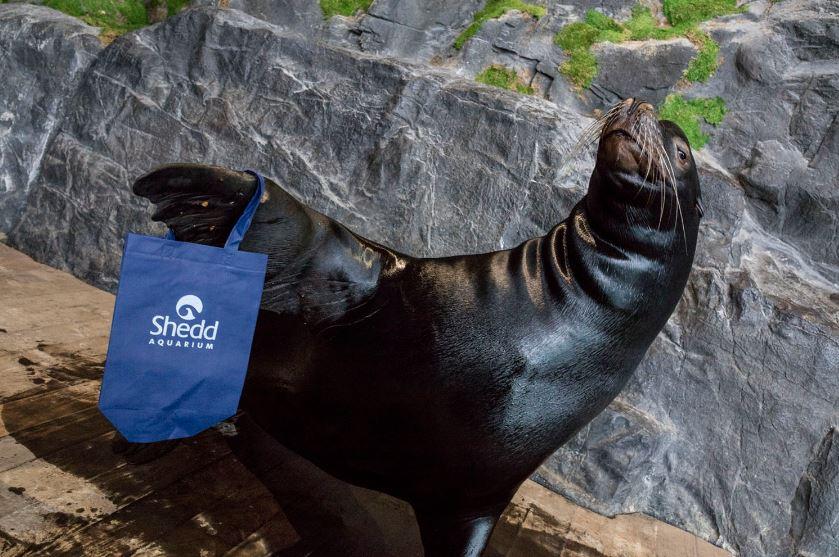 Ty, a sea lion at Shedd Aquarium, pictured with a reusable bag during Shedd's Earth Week celebration in 2018. (Courtesy Shedd Aquarium)
Ty, an 18-year-old California sea lion who had been living at Shedd Aquarium since 2005, died earlier this week following health complications from acute liver failure, the aquarium announced.
Shedd's animal caretakers and veterinarians began monitoring Ty around the clock last week after noticing an uncharacteristic decline in his appetite. Despite the medical intervention, Ty died Monday evening. Initial bloodwork and necropsy results confirmed he was suffering from acute liver failure, according to a post on the aquarium's blog.
"Over the last 14 years, Ty touched more than 25 million guests through his charismatic presence and incredible abilities, including his reverberating roar, which could be heard throughout the Abbott Oceanarium," Shedd wrote on the blog.
Ty was part of the U.S. Navy's Marine Mammal Program until 2005, when officials discovered a cataract in one of his eyes, leading to the equivalent of a medical discharge.
Once at Shedd, Ty bonded with the aquarium's other sea lions and was the first adult sea lion to be introduced to Cruz, a blind sea lion who had been rescued before arriving at Shedd. Ty and Cruz were often found sleeping huddled next to each other.
Ty weighed about 500 pounds and consumed 31 pounds of food each day. According to Shedd staff, herring was his favorite food, and he also enjoyed capelin and squid. Ty also liked playing with ice and unflavored gelatin, sometimes with a fish inside.
Ty became known for offering a "kiss" on the cheek to Shedd's guests, often snorting while doing so, according to the aquarium.
"His passing is heartbreaking to our team, which loved and cared for him since he joined the Shedd family," said Madelynn Hettiger, manager of sea lions and birds of prey, in the blog post. "We are so grateful for what we learned by working with him and for being able to teach millions of people about him – guests who might otherwise never be able to see these animals in the wild."
Contact Alex Ruppenthal: @arupp | (773) 509-5623 | [email protected]
---
Related stories:
---