In this July 26, 2017 file photo, Illinois House Speaker Michael Madigan speaks at a news conference at the state capitol in Springfield, Illinois. (Justin Fowler / The State Journal-Register via AP, File)
A long-awaited report on sexual harassment in the Illinois House has House Speaker Michael Madigan (D-Chicago) on the hot seat.
The report was commissioned by the state and produced by former state Inspector General Maggie Hickey. It outlines a culture of fear, intimidation and bullying under Madigan's fired former chief of staff Tim Mapes.
"Mapes commonly threatened people's jobs or reminded them that they were dispensable," the report concludes. "People believed that Mr. Mapes attempted to motivate workers through fear and that a few other supervisors throughout the years emulated this practice."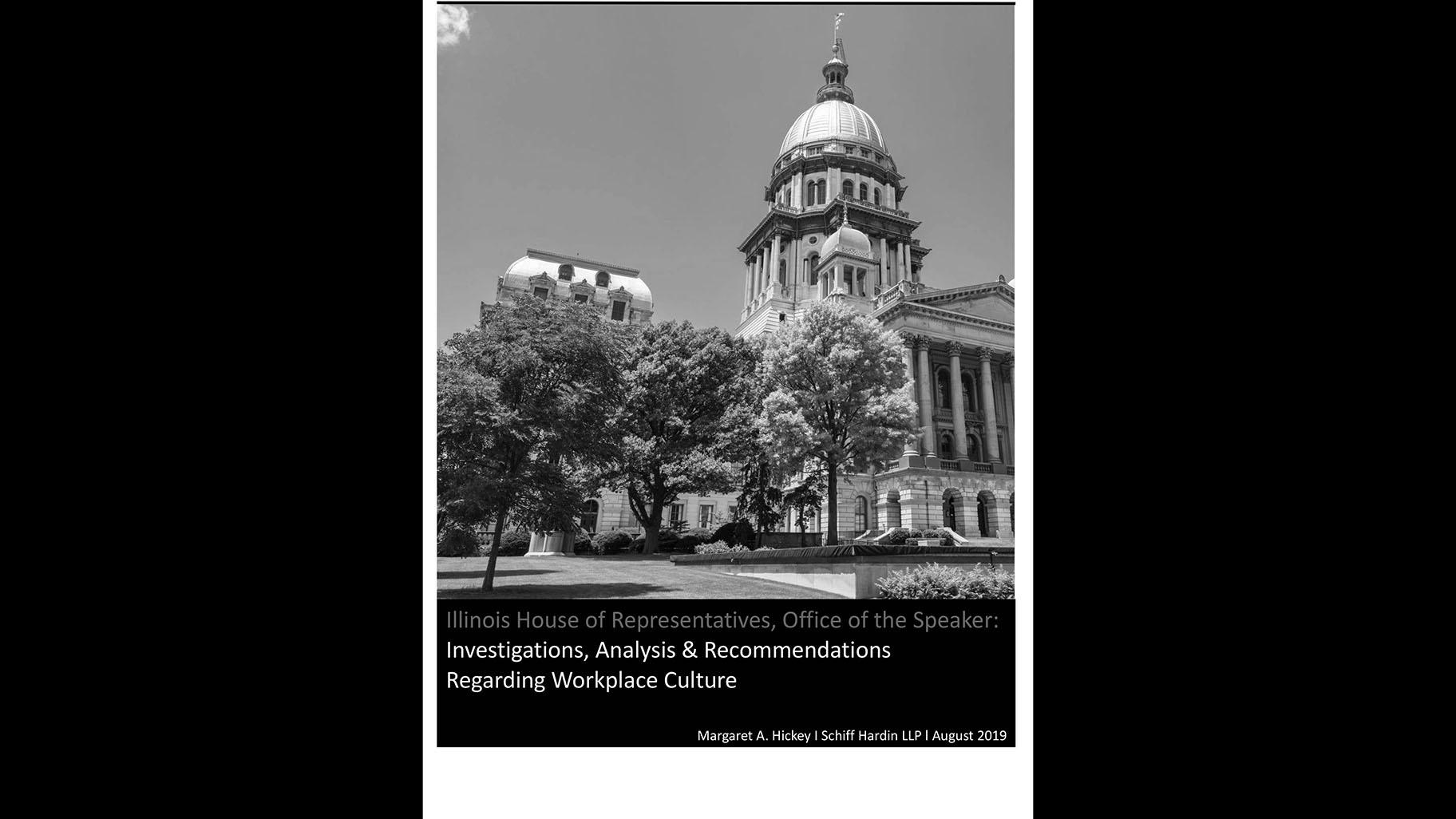 Document: Read the full report According to the report, women experienced inappropriate sexual behavior and did not feel they could safely come forward because of the atmosphere created by Mapes, who resigned last year after longtime employee Sherri Garrett accused him of harassment. The report found Garrett's claims credible. Mapes had multiple roles under Madigan that gave him extraordinary power, including serving as his chief of staff since 1992, as well as clerk of the House and executive director of the Democratic Party of Illinois. The report goes on to say that some employees believe the culture has improved since Mapes' firing and the subsequent installment of Jessica Basham as chief of staff, but that others remain skeptical.
The report could not substantiate allegations of retaliation made by state Rep. Kelly Cassidy (D-Chicago), nor could it substantiate sexual harassment allegations made against former state Rep. Lou Lang (D-Skokie).
Madigan says he's made changes, and vows to do more.
"I take responsibility for not doing enough previously to prevent issues in my office, and continue to believe that we, collectively, need to do more in the Capitol to improve our workplace culture and protect the women and men who work here who want to make a difference in the world," he said in a statement that accompanied the report's release.
The trouble for Madigan began in early 2018, when a former political staffer, Alaina Hampton, came forward with allegations that a top Madigan lieutenant, Kevin Quinn, had repeatedly sexually harassed her. She also alleged that Madigan's political organization retaliated against her for coming forward. Quinn was immediately fired, but was reported to have received multiple checks of $10,000 from ComEd lobbyists with strong ties to Madigan. Those checks are reportedly under federal investigation.
Hickey is also leading up the team that will monitor and enforce the Chicago Police Department's federal consent decree, and was commissioned in the past by Chicago Public Schools to investigate rampant sexual abuse of students.
Follow Paris Schutz on Twitter: @paschutz
---
Related stories:
New Report Highlights Harassment in Illinois Politics
New Anti-Harassment Panel Addresses Barriers for Women in Politics
New CPS Office to Investigate, Prevent Sexual Harassment Among Students
---