Chicago police Officer John Rivera, 23, apparently realized a dangerous situation was unfolding before him moments before he was fatally shot inside his vehicle after a night out with friends in River North earlier this year.
Jack Hightower, Rivera's friend and a fellow CPD officer, was with him the night he was killed. He testified Wednesday that just seconds before the shooting, Rivera asked him if he had his service weapon on him as two men approached his car.
"John turned and asked if I had my gun on me," he testified.
Seconds later, a volley of shots rang out at the corner of Clark and Huron streets that left Rivera dead and another man severely injured in the early morning hours of March 23.
Hightower's testimony came Wednesday in the trial of Jovan Battle, the first of three men to go to trial for Rivera's killing, who is acting as his own attorney as he faces a first-degree murder charge. Jaquan Washington and the alleged gunman Menelik Jackson are also charged, but have not yet gone to trial.
Battle, 32, never fired any shots at Rivera's car, nor was he carrying a firearm. But Cook County prosecutors allege he pointed out the vehicle to Jackson in a case of mistaken identity.
Washington and Jackson were allegedly seeking to shoot a group of Hispanic men they'd fought with about an hour earlier. Battle, a homeless man who happened to be in a doorway nearby, wanted to assist the two men because he believed they were members of the Gangster Disciples gang like himself.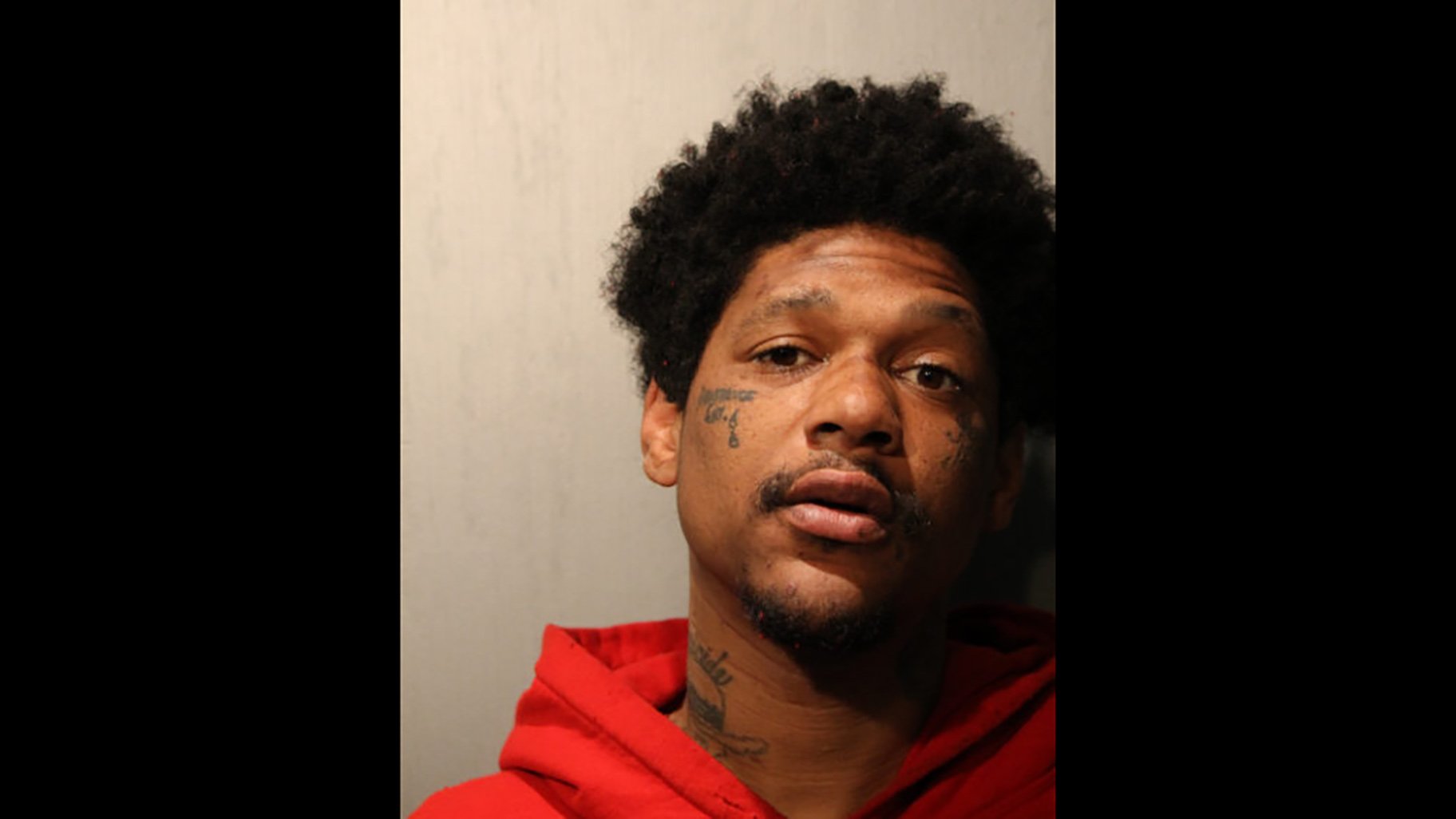 Jovan Battle (Chicago Police Department)
Surveillance footage from the area shows two men approach Rivera's vehicle just before 3:30 a.m. Battle has identified himself on the video; prosecutors believe Jackson is the second man. Battle next points at the car with a bottle before the man believed to be Jackson walks up to the driver's side door and opens fire.
Hightower didn't see anything unusual as he walked with Rivera, Rivera's girlfriend and another male friend from a nearby bar to the car, he testified Wednesday. But he quickly took notice of the two men approaching them after Rivera asked about his gun.
Chicago police officers are allowed to carry their weapons with them while off duty. But Hightower said they didn't have them that night because they knew they'd be drinking.
Seconds before the shooting, Hightower heard someone outside the car say "blow that b**ch." He testified he quickly called 911 and performed CPR on Rivera, who was not responsive after being struck in the face, back and shoulder.
Battle, who is handling his defense entirely on his own, claimed Hightower was not being truthful in his initial description of the offenders to responding police officers. He sought to introduce body camera footage from one officer that Battle believed would show a discrepancy between Hightower's initial statement and his testimony Wednesday.
Cook County Judge Dennis Porter cautioned him against doing so, but allowed him to carry on.
"I think you may be digging yourself a bigger hole," Porter said.
"That's alright," Battle replied, "I'll dig a hole as big as I want to dig it."
Contact Matt Masterson: @ByMattMasterson | [email protected] | (773) 509-5431
---
Related stories:
Man Charged in Officer's Killing Claims He's a 'Victim' Because He Tried to Help
Third Man Charged in Fatal Shooting of Off-Duty Chicago Officer
Police: Gunman in Officer's Murder Sought to Kill 'First Hispanic Man' He Found
2 Charged in Fatal Shooting of Off-Duty Chicago Police Officer
---