There's a new urban garden on Chicago's North Side – and for some, it's more than a garden.
"It's become a beacon for native people, for people who are looking for healing and a way to connect back to nature," said 17-year-old Adrien Pochel, interim co-president of the Chi-Nations Youth Council (CNYC) who is Oji-Cree.
It's called the First Nations Garden and it sits on the corner of Pulaski Road and Wilson Avenue in the Albany Park neighborhood. The garden was created by the American Indian Center (AIC) and CNYC in partnership with the city of Chicago.
The garden's purpose is twofold: to serve as a healing space for Chicago's native community, and as a teaching and learning hub for non-native people.
"We want everybody in Chicago to be able to come to this garden and learn about native people, and not just native people but the land that is Chicago," said Pochel's aunt, Janie Pochel, a lead adviser with the CNYC who is Oji-Cree.
The garden was established in November 2018 through a ceremonial "land acknowledgment." That's an expression of gratitude used by tribal communities that recognizes native people as traditional stewards over a plot of land. 
The ceremony for the First Nations Garden came on the heels of the City Council passing a resolution brought forward by Ald. Carlos Ramirez-Rosa (35th Ward), whose ward is home to the garden.
Ramirez-Rosa worked with AIC and CNYC to draft a resolution that would recognize Chicago as an indigenous landscape. According to the resolution, the city sits on the ancestral homeland of dozens of tribes and is currently home to more than 75,000 American Indians known as "urban Indians."
"Oftentimes when we think about the history of the United States, we tell ourselves a story of either a land that was devoid of habitation or a land that was cleared for habitation, as settlers and Europeans colonized the land," said Ramirez-Rosa. "The reality is that native people have been in the Chicagoland area for thousands of years and they continue to be here with a vibrant culture."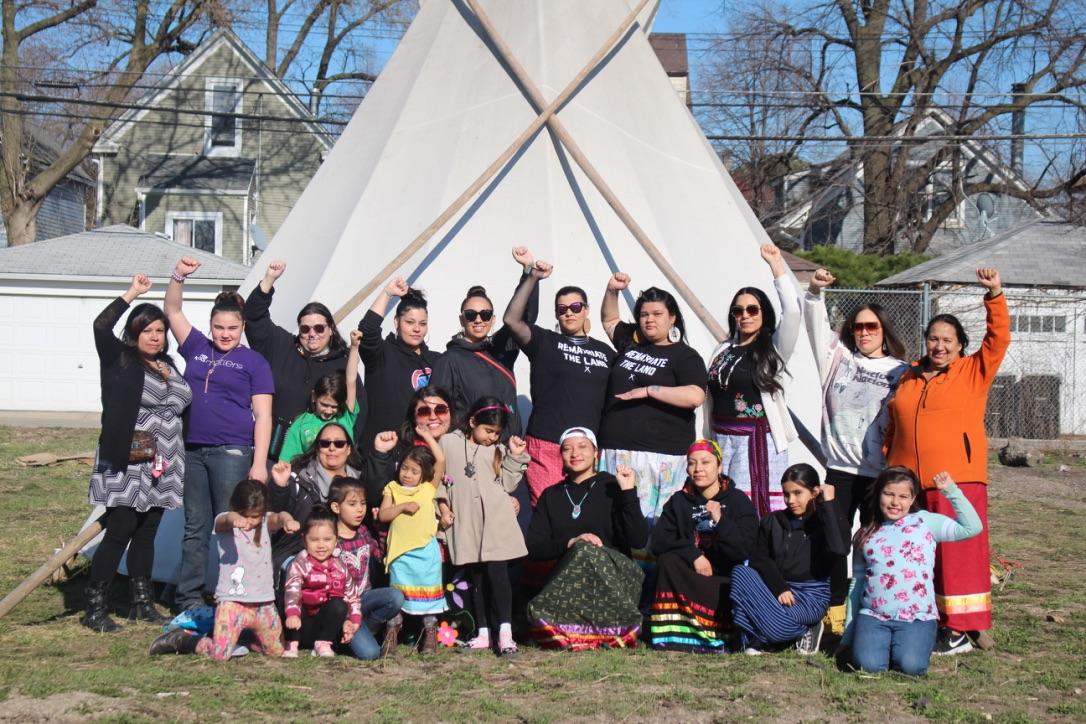 (Courtesy of Chi-Nations Youth Council)
In fact, Chicago is home to the largest population of Native Americans in the Midwest, and the second largest east of the Mississippi River, according to a recent report by the Institute for Research on Race and Public Policy at the University of Illinois at Chicago.
Different elements of the garden, which officially opened to the community in the spring, represent native culture that's a combination of traditions and customs of more than 100 tribes in the city. For example, organizers said recently planted sunflowers help rid the soil of toxins that come from urban settings; a fire pit serves as a gathering space for the community; and traditional native structures like the wigwam and tepee host activities and storytelling all year long.
"So many times we are forgotten, we are left out of history, and we're just glossed over," said Heather Miller, executive director of the AIC and a member with the Wyandotte Nation of Oklahoma.
"Having an actual physical space to build things like a longhouse, to build a garden, to grow our traditional plants helps reduce that element of invisibility and helps bring more light and more education to the native people that call the city home as well as important issues that we are facing here in the city," she said.
The Institute for Research on Race and Public Policy at the University of Illinois at Chicago details some of those issues in its report, "Adversity and Resiliency for Chicago's First: The State of Racial Justice for American Indian Chicagoans."
Among the report's findings: Chicago's Native Americans are rent-burdened; the wage increase associated with a college degree is lower for Native Americans than for all other race groups in Chicago; and women's rates of incarceration in Illinois are higher for Native Americans than for women in all other racial and ethnic groups.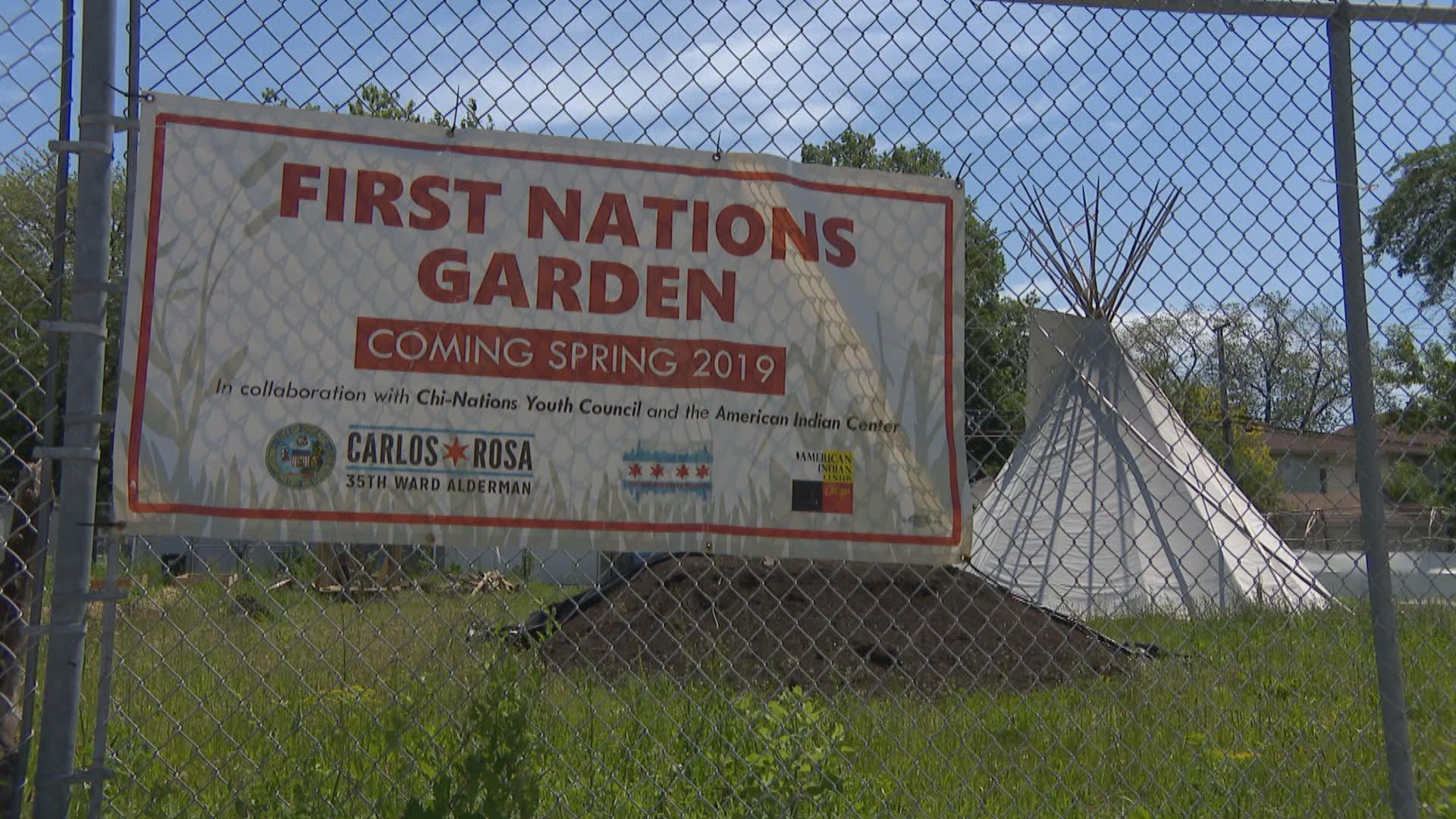 "A primary purpose [of the report] is to also shed light that there is a native community here in Chicago and to bring attention to some of the challenges that the community faces," said Angela Walden, a research assistant professor at UIC's Department of Medicine and a featured expert in the report.
In addition to recognizing those struggles, Walden, a member of the Cherokee Nation, said it's important to remember what native people bring to the table, and she said the First Nations Garden is a prime example of just that. 
"This is a really great example of youth in the community reclaiming a space of land and indigenizing it," she said. "I think just to drive by and see traditional structures in that space in a city, is pretty unique."
More on this story
Heather Miller, executive director of the American Indian Center, said organizers with the garden have added new plants since we first published this story in June, and they're working towards adding a new cover to the wigwam so they can conduct storytelling sessions in the fall. 
Note: This story was originally published June 18, 2019. It has been updated.
---
Related stories:
Field Museum Begins 3-Year Renovation of Native American Hall
'Native American Woven Arts' Explores Methods, Meaning Behind Artistry
Urban Farming Program Marks 10,000 Customers Served
---