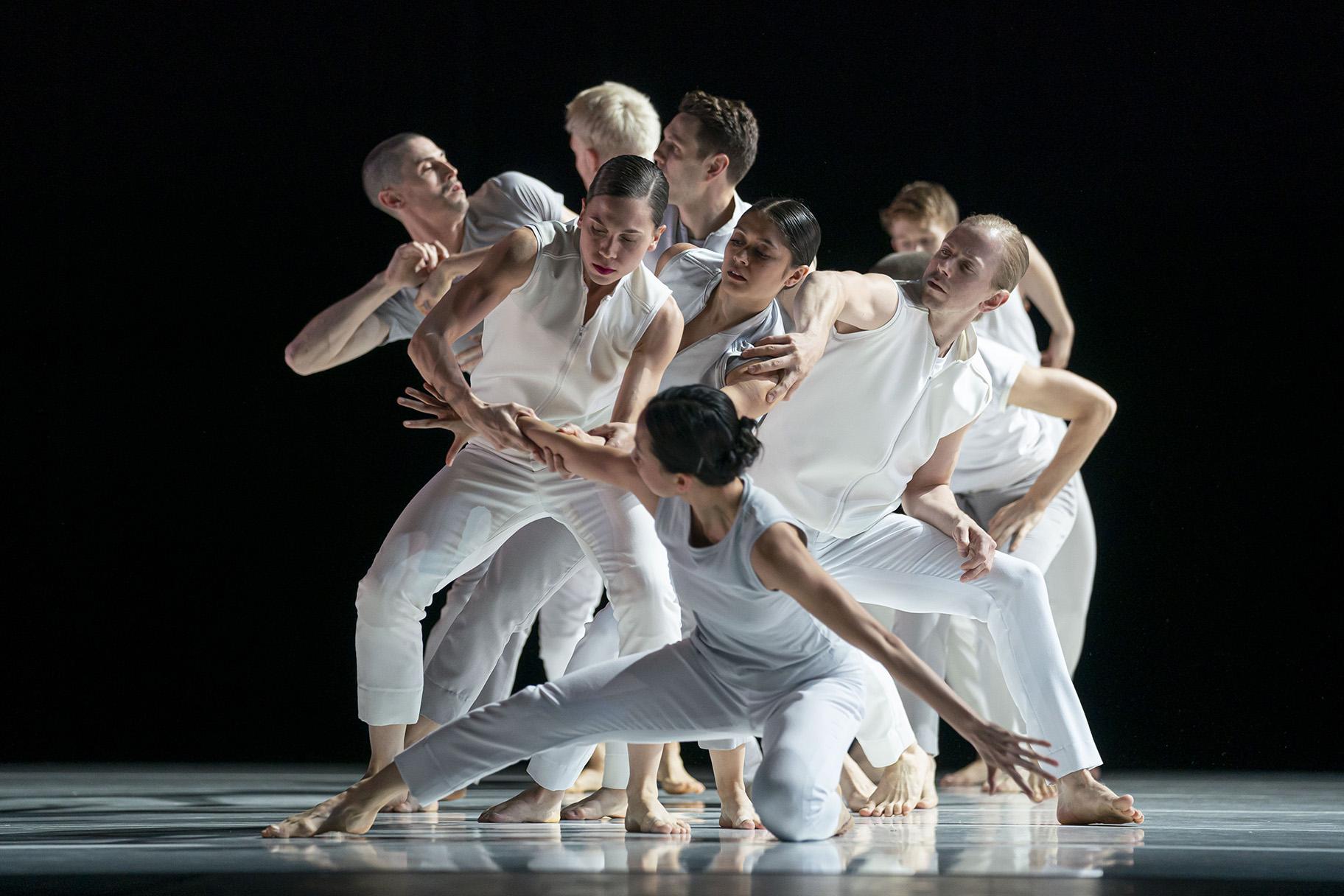 Hubbard Street Dance Chicago in "The Loss of Place" by Brian Brooks. (Photo by Todd Rosenberg)
The titles of the four pieces on Hubbard Street Dance Chicago's Summer Series program – at the Harris Theater for Music and Dance for a brief weekend run – provide a telling suggestion of the psychologically probing works being performed with the company's trademark blend of uncanny fluidity, plasticity, control and ensemble perfection.
To start there is "The Loss of Place," a work for 12 dancers by Brian Brooks, choreographer in residence at the Harris Theater, that suggests, in the most abstract terms, the tension between a sense of belonging and disenfranchisement. It is followed by "A Picture of You Falling" and "The Other You" – two masterpieces by Canadian choreographer Crystal Pite that easily mark her as the Samuel Beckett of theatrical contemporary dance. And finally there is "Out of Your Mind," a probing work for 16 dancers by Hubbard Street's longtime resident choreographer Alejandro Cerrudo, that explores the nature of being and spiritual transcendence.
Brooks' "The Loss of Place," set to Jerome Begin's sonically intriguing score for string quartet and drum machine, opens with an empty black stage that is soon populated by a group of dancers in white unitards who form a horizontal line that quickly and almost magically collapses to the floor with flawless organic ease. From there it is on to a more chaotic but continually flowing series of groupings and ungroupings in complex circular and linear patterns, with the constant alignment and realignment and tension and release among the dancers suggesting both connection, and alienation and disconnection.
At certain times the sound suggests dripping water; at others a violin creates a propulsive energy. There is a constant restlessness, with alternating sequences of frenzy and surrender, and a sense that no one feels quite "at home" for very long. Gradually, they all leave the stage so that it returns to the same state of darkness and emptiness it had at the start. Throughout, the interconnection of the dancers was exceptional, but a bit of a trim by Brooks might have made the work stronger.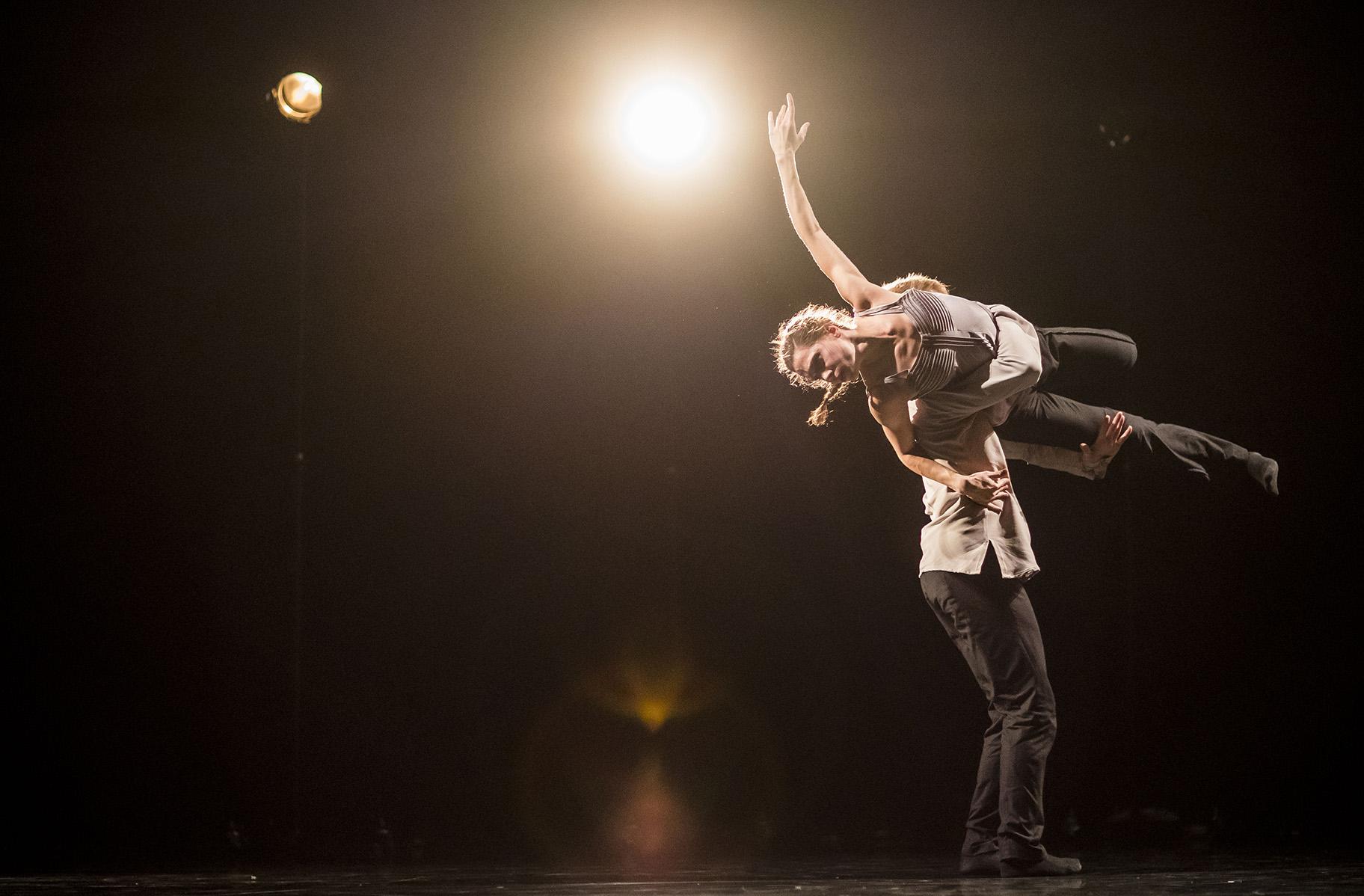 Hubbard Street Dancers Jacqueline Burnett and Elliot Hammans in "A Picture of You Falling" by Crystal Pite. (Photo by Todd Rosenberg)
Pite's two phenomenal duets are unlike anything you will experience, with far more than a touch of sheer genius evident in both their conception and performance. No description can do full justice to them; they must be seen. Just ask anyone in the audience that gave them rousing standing ovations at Thursday night's opening.
"A Picture of You Falling" is a startling, uniquely evoked exploration of the many stages of a love affair and its demise, with a fascinating sound score by Owen Bolton, haunting taped narration by the British actress-dancer Kate Strong, and stunning lighting by Robert Sondergaard. It was danced with absolute brilliance by Craig D. Black Jr. and Ana Lopez, who will repeat their performances on Sunday (with Jacqueline Burnett and Elliot Hammans assuming the roles on Saturday).
It begins at what might be either the distraught and lonely preface to, or end of the affair, with Black in a bizarrely tormented state that turns him into a neurotic, marionette-like being whose fabulously disjointed moves are meticulously synced with fractured sound. "This is a picture of you falling," says the voice. And you have to ask: Is he falling apart as the result of the breakup of a love affair, or is this how he numbly went about his daily rituals before falling in love?
Lopez is a more shadowy figure at first. But she is mesmerizing as she seizes hold of the spotlight and dances out her memories of the time the two spent together in a seaside room. When they finally do dance together, the push-pull of their relationship is palpable. And the result is nothing less than breathtaking.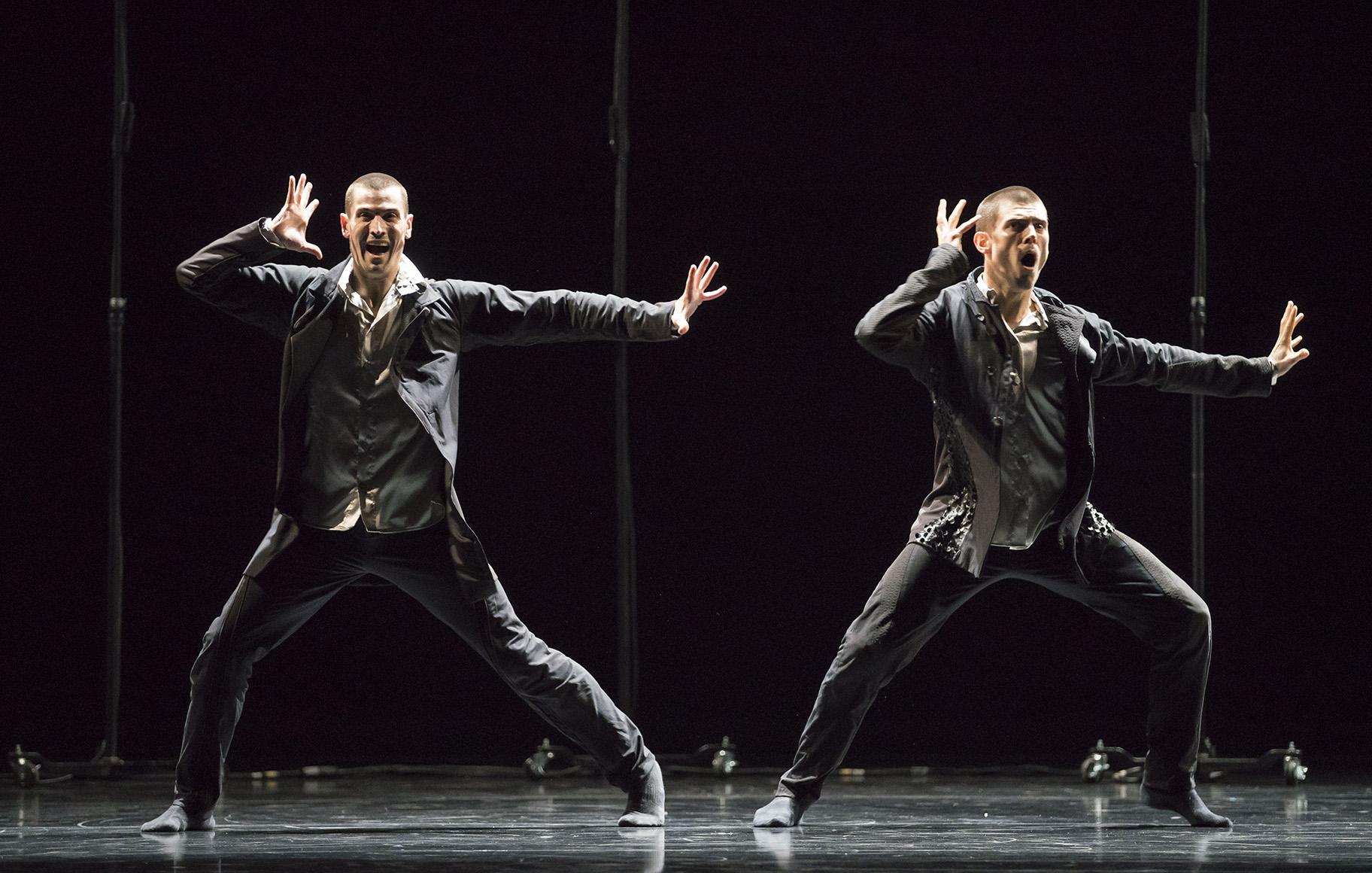 Hubbard Street Dancers Michael Gross and Andrew Murdock in "The Other You" by Crystal Pite. (Photo by Todd Rosenberg)
In "The Other You," Pite gives us something akin to Beckett's "Waiting for Godot" and "Endgame," as two men (extraordinary dancing and acting by Michael Gross and Andrew Murdock) are locked in a relationship of connection, disconnection, manipulation and cruelty. Are they the two sides of a single man at war with himself? Or are they locked in a power-grabbing relationship that becomes wholly dysfunctional? You decide. Either way, their mock-mirror encounter and pugilistic interplay is riveting, with Beltin's sound design and the dreamy sound of Beethoven's "Moonlight Sonata" underscoring the shifting moods.
Finally, Cerrudo's "Out of Your Mind," which is awash in echoes of the 1960s (but perhaps essential for right now) as it channels Alan Watts, the British-American philosopher who introduced Eastern philosophy to the West.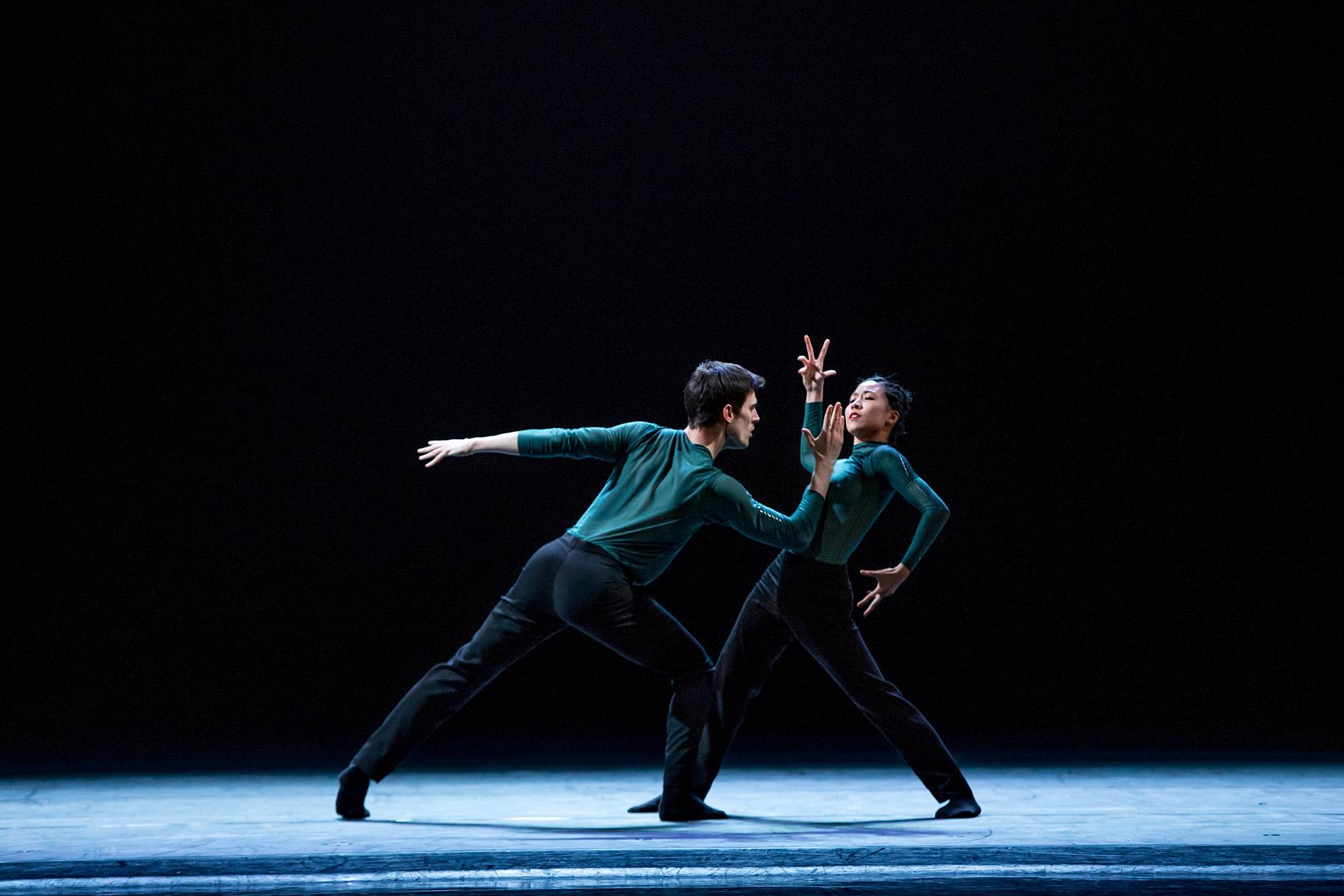 Hubbard Street Dancers Michael Gross and Connie Shiau in "Out of Your Mind" by Alejandro Cerrudo. (Photo by Cheryl Mann)
In a sense, the work, created just before Brooks' "The Loss of Place," brings the program full-circle choreographically as a large ensemble in teal-colored tops and black leggings forms a horizontal line across the stage, and moves in waves of simultaneous motion as well as fractured groupings. But here we get the words of Watts musing on the possibility of fulfilling all one's wishes in a series of self-directed dreams that involve increasingly adventurous exploits. Gradually, various combinations of dancers enact the possibilities, backed by a score that ranges from the music of Blond:ish, Keith Kenniff and Greg Haines to silence.
The excellent dancers included Black, Burnett, Gross, Hammans, Murdock, Lopez, Rena Butler, Alicia Delgadillo, Kellie Epperheimer, Alysia Johnson, Myles Lavallee, Adrienne Lipson, Florian Lochner, David Schultz, Kevin J. Shannon and Connie Shiau.
And the takeaway? Let go of competition and all the deadening earthly distractions and you might just wake up one day to discover … well, I won't divulge that here.
Repeat performances of the Hubbard Street Dance Company are Saturday (June 8) at 8 p.m. and Sunday (June 9) at 3 p.m. at the Harris Theater for Music and Dance, 205 E. Randolph St. For tickets ($25-$110) call (312) 334-7777 or visit hubbardstreetdance.com. Running time is two hours with two intermissions.
---
Note: Hubbard Street's 2019-2020 season at the Harris Theater will include: The Fall Series (Nov. 7, 9 and 10), with a world premiere by Kyle Abraham, a reprise of Crystal Pite's "Grace Engine," and a world premiere by Hubbard Street dancer and Choreographic Fellow Rena Butler; the Spring Series (March 12, 14 and 15, 2020), featuring Israeli choreographer Ohad Naharin's full-length "Decadance/Chicago"; and the Summer Series (May 14, 16 and 17, 2020), with a world premiere by Robyn Mineko Williams, an excerpt from Peter Chu's 2017 work, "Space, In Perspective," and "Windless Hold," created for Hubbard Street in 2019 by Osnel Delgado, artistic director of Cuba's Malpaso Dance Company.
Follow Hedy Weiss on Twitter: @HedyWeissCritic
---
Related stories:
Bob Fosse's 'Riff Brothers' Dance Partner Gives Old Routine New Life
'Volta' Performer With Local Roots Tumbles Back to Chicago
Chicago's Hubbard Street Meets Cuba's Malpaso for Ingenious Mashup
---