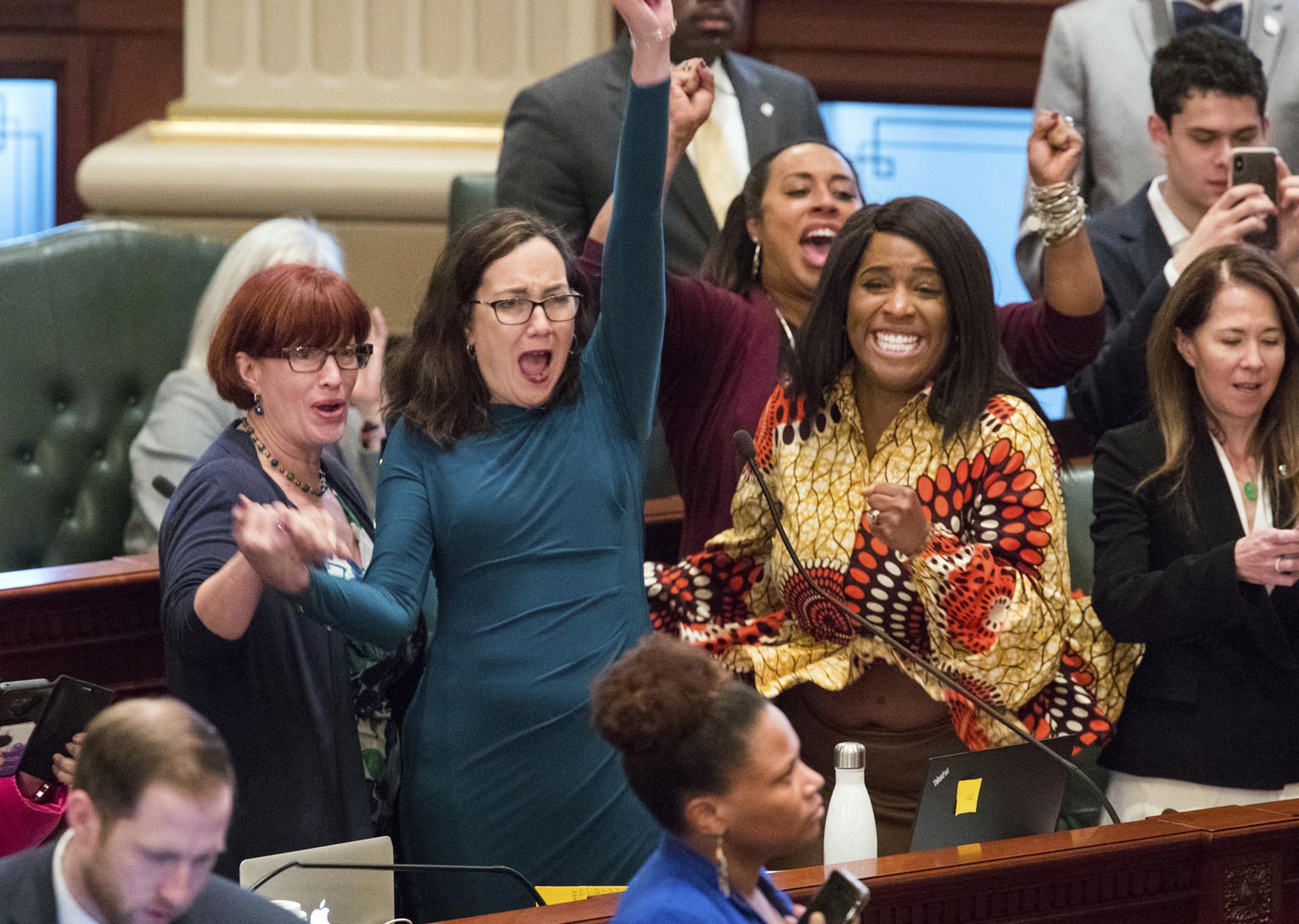 Illinois state Rep. Kelly Cassidy, D-Chicago, throws her fist in the air as she celebrates with Illinois state Sen. Heather Steans, D-Chicago, left, and Rep. Jehan Gordon-Booth, D-Peoria, as they watch the final votes come in for their bill to legalize recreational marijuana use in the Illinois House chambers Friday, May 31, 2019. The 66-47 vote sends the bill to Gov. J.B. Pritzker who indicated he will sign it. (Ted Schurter / The State Journal-Register via AP)
Some six months from now, when Illinois residents ring in the New Year, they need not settle for a swig of champagne.
They'll be legally able to toke up.
Illinois representatives Friday voted 66-47 to legalize the sale and use of recreational marijuana.  
Gov. J.B. Pritzker, who tweeted "this will have a transformational impact on our state, creating opportunity in the communities that need it most and giving so many a second chance," is expected to sign the measure into law.
The measure passed the House – after a marathon, 3.5-hour debate – on what was to have been the General Assembly's final day of the legislative session.
Instead, immediately after the vote, Deputy Majority Leader Art Turner announced that due to the "volume of workload" the House would not adjourn Friday after all, and would meet at least through Sunday.
Illinois has yet to pass a budget ahead of the new fiscal year, which begins July 1.
A 1,581-page potential $40.6 billion budget (Senate Bill 262) framework was first filed midmorning Friday, along with an accompanying budget implementation package (Senate Bill 1814) and revenue package (Senate Bill 689).
The budget ostensibly covers costs associated with a tentative agreement reached by Pritkzer and AFSCME Council 31, which covers some 40,000 state employees.
Neither side disclosed the terms of the union's likely new contract with the state, as union members will first get to review and vote to ratify the terms.
AFSCME's last contract expired in 2015, but union leaders and former Republican Gov. Bruce Rauner were at such loggerheads they were unable to reach an agreement during his entire term.
Rauner had sought a pay freeze, to require state employees to pay more for their health insurance, and to extend the workweek from 37.5 to 40 hours before kicking into overtime.
Pritzker, a Democrat who was boosted to the governor's office with help from unions, goes out of his way to tout his belief in the labor movement.
The cozy relationship is reflected in a statement from AFSCME Director Roberta Lynch, who said, "This agreement reflects a fresh start for public service workers in state government … for four years, union members did their jobs and served their communities despite Bruce Rauner's chaos, hostility and constant attacks. In the Pritzker administration, AFSCME members have an employer who understands the importance of their work, respects their rights and is a constructive partner in the collective bargaining process."
Pritzker has also made passing a massive public works program a priority, and a huge package of proposed road and buildings projects was also made public for the first time Friday (Senate Bill 690 and House Bill 3096) which would be paid for by a doubling of the tax on gasoline and massive expansion of gambling, including casinos in Chicago and five other communities.
Cigarette smokers will also take a hit: They're set to have to pay a $1 a pack increase.
The political landscape alters some after the clock strikes midnight: Come June 1, a three-fifths majority will be needed in order for a measure to take effect in 2019 – meaning that legislators need to move quickly to get controversial measures passed Friday.
Per the state constitution, "a bill passed after May 31 shall not become effective prior to June 1 of the next calendar year unless the General Assembly by the vote of three-fifths of the members elected to each house provides for an earlier effective date."
Still, there are enough Democrats in both chambers of the General Assembly that, should all Democratic legislators unite, they can wait and meet that supermajority threshold with members to spare.
Legislative committees began debating the various budget and money-raising packages on Friday afternoon.
"With less than 12 hours to go, the Democrats are expecting the General Assembly to pass seven never-before-seen bills that spend more than $80 billion dollars. Illinois taxpayers deserve better," Republican Rep. Tom Demmer of Dixon said in a statement. "We asked for a balanced budget that addresses our unpaid bills and pension liability, and we advocated for meaningful pro-jobs reforms that our state so desperately needs. Earlier this week, there was an agreement on a path forward to address all of the issues before us. Unfortunately, Democrats withheld information, added additional taxes and rejected any attempts to grow our economy."
Unlike the spending plan Pritzker originally proposed in February, the package will not be propped up by a statewide tax on plastic bags. The plan calls for continuing a tax credit that goes to donors of a private-school scholarship fund, which the governor had hoped to eliminate.
Despite the passage of the marijuana bill, lead budget negotiators say the proposed budget does not count on pot revenue.
Under House Bill 1438, Illinois residents will be able to legally have 30 grams of marijuana; visitors could legally have half that.
Illinois government will determine which businesses will be able to legally grow and sell cannabis, though municipalities could reject the operations within their boundaries. Priority will be given to interests with at least partial minority ownership. The measure also lays out a path for expunging criminal records for drug crimes up to 500 grams, with virtual automatic clemency granted to those with convictions on possession of 30 grams or less.
"Decades of prohibition hasn't stopped use, prohibition hasn't made us safer. Prohibition hasn't built communities – in fact it has destroyed them. Prohibition hasn't created jobs, in fact it has prevented people from finding work. Ending prohibition will allow us to bring this out of the shadows. Impose reasonable and thoughtful regulation and bring assurance of a tested and safer product," said sponsoring Rep. Kelly Cassidy, D-Chicago.
But not all African American legislators were satisfied that the measure will bring trust justice to minority communities.
"We are still being used. Our community is still being used for people to make a profit and to get rich and to give nothing back to the community," said Rep. Mary Flowers, D-Chicago.
Follow Amanda Vinicky on Twitter: @AmandaVinicky
---
Related stories:
With a Full Slate, Time is Running Out for Illinois Lawmakers
Illinois on the Precipice of Legalizing Marijuana
Illinois House Passes Expansive Abortion Rights Bill
Democrats Put Graduated Income Tax Question to Voters
---