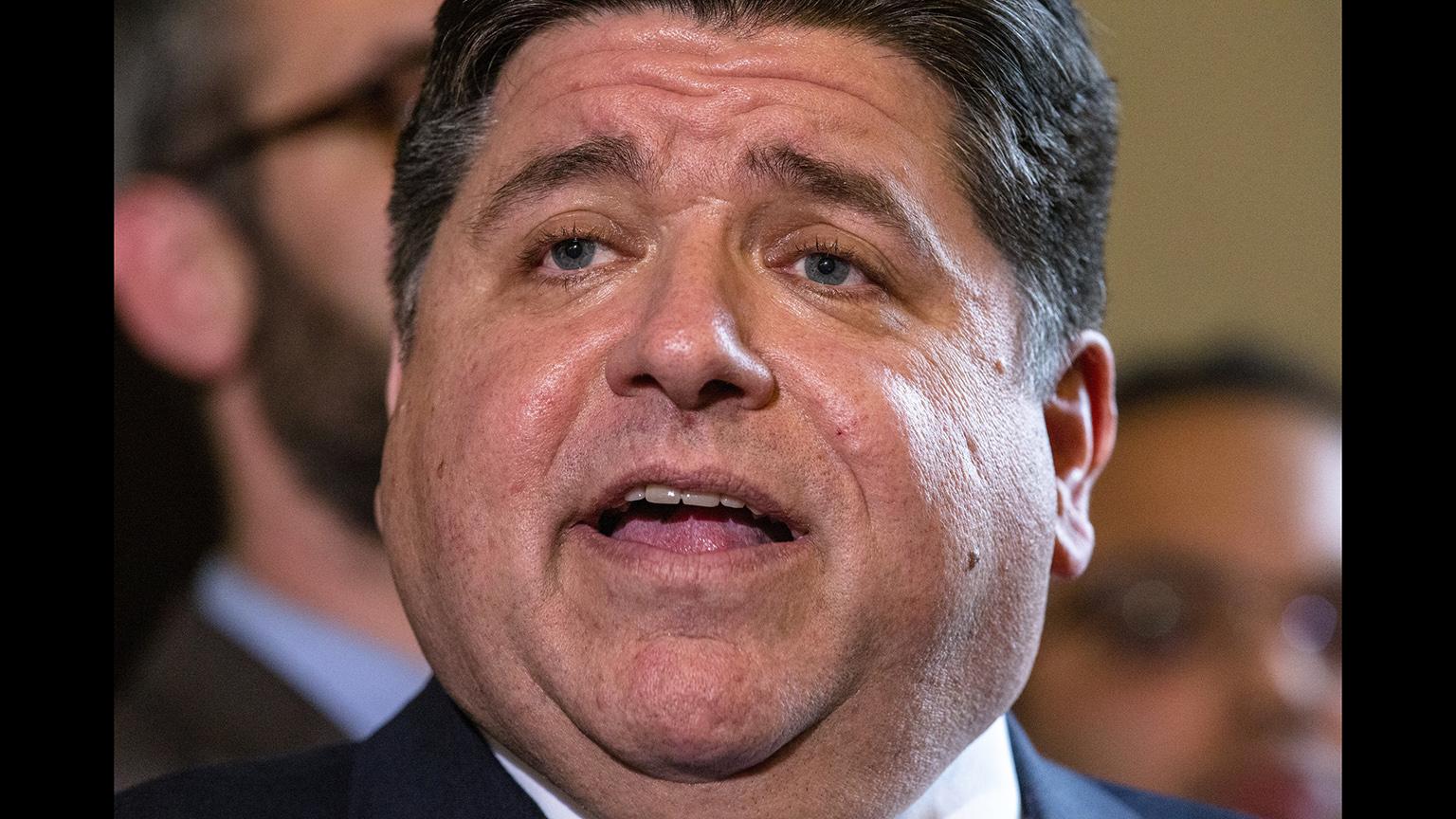 In this file photo, Gov. J.B. Pritzker answers questions about Senate Bill 1, a bill to raise the state's minimum wage to 5 an hour by 2025, after it passed the Illinois Senate on Thursday, Feb. 7, 2019. (Justin L. Fowler / The State Journal-Register via AP)
During a whirlwind week in Springfield – extended with a weekend overtime session – Illinois lawmakers voted for a host of measures that left rookie Gov. J.B. Pritzker claiming triumph for the progressive agenda he'd promised.
They voted to approve a $40 billion budget that will send more money to schools, plus another $45 billion in infrastructure projects.
Pritzker and most lawmakers describe it as a balanced budget, though that's nearly impossible to back up at this stage – the budget is comprised of thousands of line items, spread across thousands of pages and was publicly filed on Friday, just hours before they started voting on it; the backlog of unpaid bills is currently $6.6 billion.
They also voted to legalize marijuana and sports betting, to extend protections for women who chose to have abortions, and to guarantee teachers statewide a minimum salary of at least $32,000 starting next fall.
They voted to give Chicago a casino larger than most of those in Las Vegas, and to put new casinos in Waukegan, the south suburbs and Rockford as well.
They voted to give voters the option in 2020 of amending the state constitution so that income can be taxed as a graduated, rather than a flat rate, and decided that should voters agree to the change, the lowest-income residents would pay a rate of 4.75% while the wealthiest individuals who earn upwards of $750,000 would pay a rate of 7.99%.
They voted to double the tax on gasoline, from 19 to 38 cents a gallon, to increase by $1 a pack the tax on cigarettes, to raise the annual vehicle registration fee.
"Today the people of Illinois can be proud that we're putting state government back on the side of working families. They can be proud that we're restoring fiscal responsibility after many years of crisis and deficits," Pritzker said Sunday at a press conference in his ceremonial office in the capitol, upon the Senate's adjournment.
Whether Illinois residents view Pritzker's progressive platform with admiration or disdain, there's no question he was successful in getting it through.
As Pritzker spoke, he was buttressed by bright signs toting his accomplishments, including a checklist with the most significant items.
A group of Democratic senators surrounded him, as did the chamber's top Republican, Senate Minority Leader Bill Brady of Bloomington – a sign of renewed bipartisan cooperation following years of tumult the past few years, when then-Gov. Bruce Rauner's ideological and political war with unions and House Speaker Michael Madigan left Illinois' already-tattered budget in still worse shape.
In his closing remarks Saturday, Madigan called the session "historic" for having passed so many monumental measures, some of which – like gambling expansion – had stalled year after year.
"It helps to start with a super-duper majority in both chambers, that kind of helps," Senate President John Cullerton said after reports asked why so much got done in Pritzker's short five-month tenure.
Democrats hold significant supermajorities in the Senate and the House, enough that the Senate's 40 Democrats outnumber the 19 Republicans two to one, while the House ratio is a lopsided 74 to 44.
Cullerton also attributed the packed session to Pritzker's personality; the privately wealthy governor has taken to hosting frequently cocktail parties at the executive mansion in Springfield on session days.
"He just really got along. He's just really a nice guy and that helps," Cullerton said. "And he got along personally with Republican leaders as well as us. ... And keep in mind he's new, he'd never done this before. So he did a great job."
Pent-up demand for action, and for cooperation, on the heels of the Rauner-era impasse helped, as did a desire built up in the past decade for state funding for ribbon-cutting-worthy projects like repairing dilapidated schools, roads and bridges.
Republicans weren't on board for all of it, and as a party fought the graduated income tax rate movement, abortion expansion bill, and statewide minimum wage increase.
But they got on board with budget and infrastructure packages – including the revenue hikes that will pay for them – after Democrats threatened to take out funding for capital projects in GOP-represented districts, and after Democrats agreed to make reforms long-sought by business interests.
"We started this session with an ambitious agenda, and there were skeptics. They said it couldn't be done. They said that Springfield doesn't move that quickly, our challenges are too large and our government is too dysfunctional," Pritzker said. "But what the skeptics failed to realize is that no obstacle can dwarf the transformative power of a state government and legislature that stands up for working families." 
Still, Pritzker, who campaigned on a gun control platform, was unable to claim complete victory.
A measure intended to keep guns from criminals by requiring fingerprinting of gun license applicants stalled.
Lawmakers are set to be rewarded for their collective work. The budget they approved includes money to increase their salaries by $1,600, even after senators had attempted to take that funding out of the spending plan. The 2.4% salary hike, should Pritzker sign it into law, would be their first cost-of-living increase since 2008.           
Do they deserve it?
"I'll tell you what my constituents think … they would say no," Sen. Dale Righter, R-Mattoon, said. "If we think we deserve one, then stand up and say it. Don't try to slip it through, in the last hours of session or on a Sunday afternoon because that's what people resent."
Pritzker could use his veto pen to reduce that line in the budget, without jeopardizing the rest of the spending plan, but gave no indication that he would do so.
Follow Amanda Vinicky on Twitter: @AmandaVinicky
---
Related stories:
Lawmakers Vote for Chicago Casino, Plus Gas and Cigarette Taxes
The Week in Review: Legal Pot Advances, Ald. Burke Indicted
Illinois Welcomes Weed, Waits on a Budget with Another Extended Session
With a Full Slate, Time is Running Out for Illinois Lawmakers
Illinois House Passes Expansive Abortion Rights Bill
---