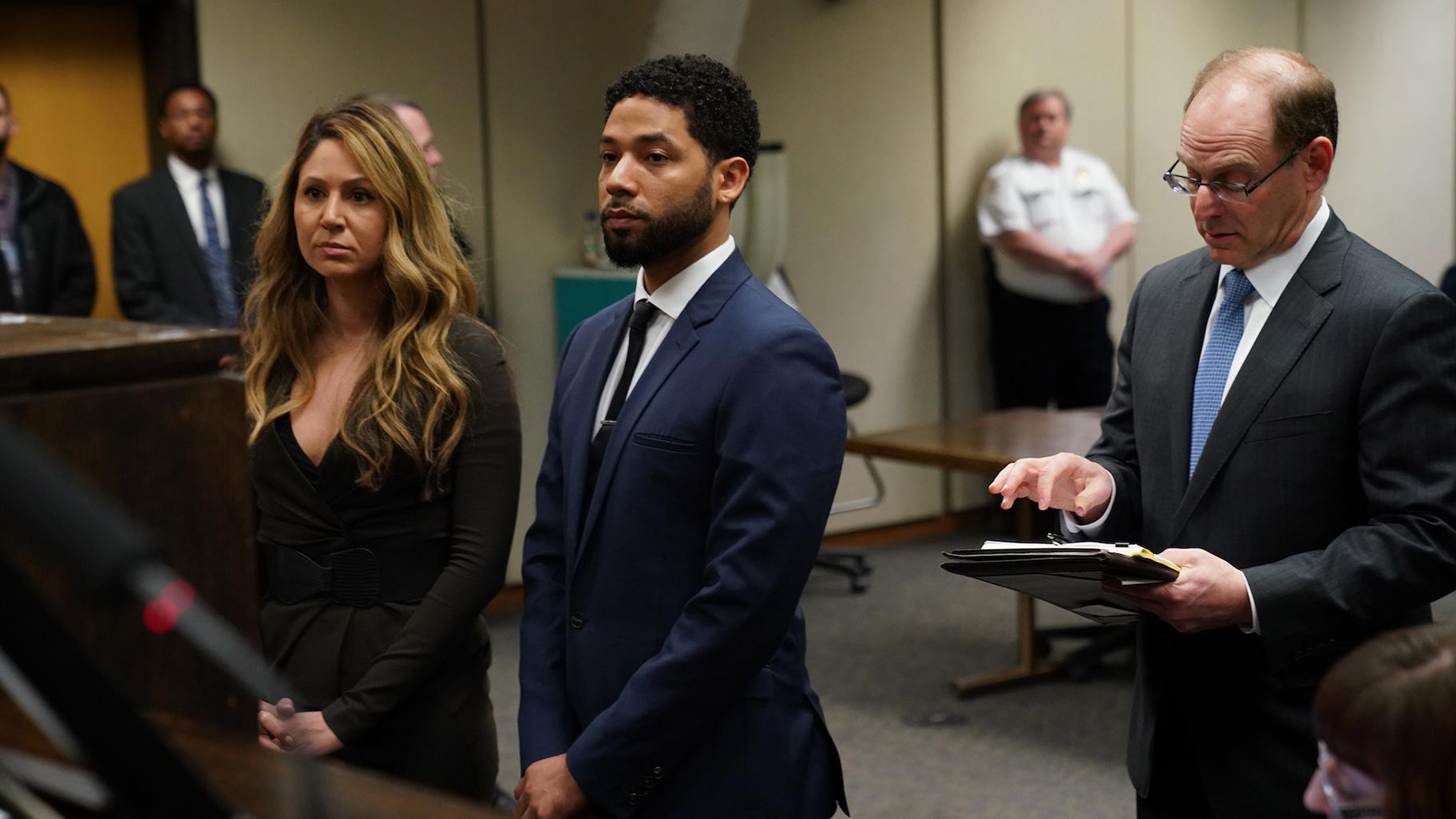 Jussie Smollett appears at a hearing for judge assignment with his attorney Tina Glandian, left, at the Leighton Criminal Court Building on Thursday, March 14, 2019. (E. Jason Wambsgans / Pool / Chicago Tribune)
A Cook County judge will decide next month whether a special prosecutor is needed to review the handling of the Jussie Smollett case by the state's attorney's office.
Judge Michael Toomin set a June 21 ruling date for his decision on a petition brought by former appellate Judge Sheila O'Brien, who believes the case should've been turned over to a special prosecutor once Cook County State's Attorney Kim Foxx recused herself earlier this year. 
At a hearing Friday morning, O'Brien argued that Foxx used a "magic word" in February – "recused" – when she stepped away from the high-profile prosecution. That should have triggered the appointment of a special prosecutor from outside Foxx's office, O'Brien said. 
Instead, Foxx assigned the case to her top assistant, Joseph Magats, who dismissed more than a dozen felony disorderly conduct charges against Smollett in March.
Foxx has said that after she spoke with Smollett's family, she asked Chicago Police Superintendent Eddie Johnson to turn the investigation over to the FBI due to an abundance of leaks coming from the police department. At the time, the actor was still considered the victim of a racist and homophobic attack. Police later concluded Smollett had orchestrated that January attack on himself and he was charged with disorderly conduct for filing a false police report.
But those charges were later dropped in exchange for Smollett forfeiting his $10,000 bond payment and doing 16 hours of community service.
Assistant State's Attorney Cathy McNeil-Stein on Friday said Foxx never filed a formal notice of recusal, and instead used that term in an informal sense, meaning she would be "walling herself off" from the case while it was handled by Magats.
O'Brien contends that decision "created a mess."
"She chose to say one thing and do another," she said. "That is problematic."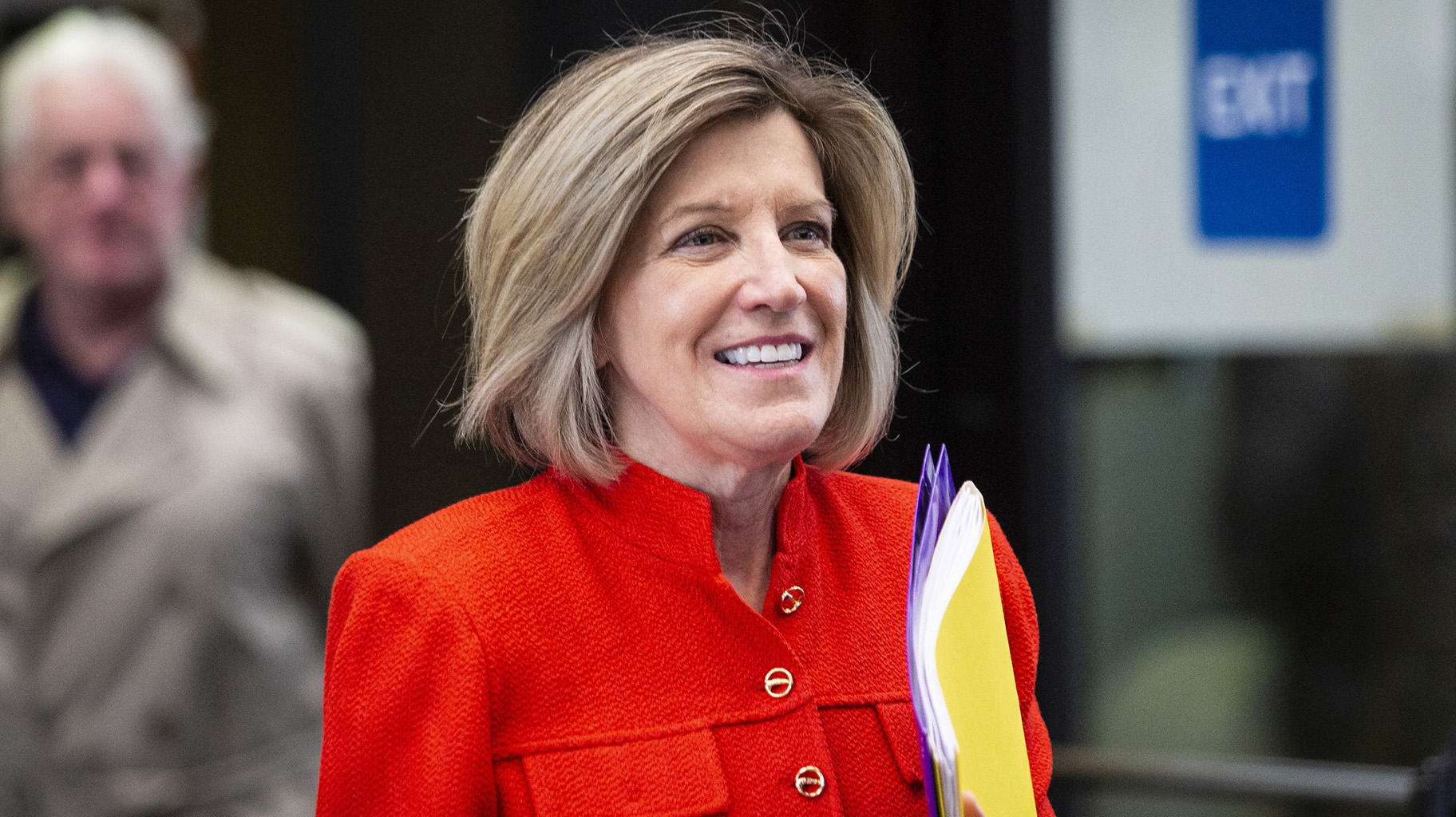 Former state appeals court Judge Sheila O'Brien walks out of the Leighton Criminal Courthouse in Chicago after a hearing about appointing a special prosecutor to investigate the Cook County state's attorney's office handling of "Empire" actor Jussie Smollett's case, Thursday, May 2, 2019. (Ashlee Rezin / Chicago Sun-Times via AP)
An investigation of the prosecution is already underway by Cook County's inspector general. McNeil-Stein said a request for a special prosecutor would be more appropriate if and when the inspector finds any instance of wrongdoing in the case, which she doesn't expect to occur.
Foxx has faced constant criticism for her handling of the case, including calls for her resignation.
Along with setting a ruling date, Toomin also denied four separate motions brought by O'Brien during the two-hour hearing Friday morning, including requests for discovery and to reconsider bringing in an out-of-county judge to hear her case.
O'Brien also asked the judge to disqualify the state's attorney's office from representing Foxx on this matter, claiming she should have to pay for her own attorneys out of pocket.
McNeil-Stein called that request "frivolous," saying elected officials are eligible for representation from her office.
She accused O'Brien of "grandstanding" for the media instead of presenting actual case law behind her arguments. "She's not even looking at you when she's speaking," McNeil-Stein told the judge. "She's looking at the media."
O'Brien claimed she was instead speaking toward her personal court reporter who was transcribing the hearing. She also insisted, while speaking to reporters in the courthouse lobby, that she's not using her petition as a springboard toward any elected position and isn't seeking any additional media attention.
"I have no desire to run for anything ever again," she said. "My family, my friends, the laundry and Netflix. I'm telling you that's what I want my life to be."
Toomin said he will issue a written decision on the 21st.
Contact Matt Masterson: @ByMattMasterson | [email protected] | (773) 509-5431
---
Related stories:
Read: Chicago Police Release First Wave of Jussie Smollett Documents
Read the Newly Released Jussie Smollett Case File
Judge Orders Jussie Smollett Case File to be Unsealed
Recusal Request Derails Hearing on Special Prosecutor in Smollett Case
Foxx Opposes Special Prosecutor in Smollett Case
2 Major Cases Add Up to Big Doubts About Chicago Prosecutor
Confused by Jussie Smollett Case? Here's What You Need to Know.
---