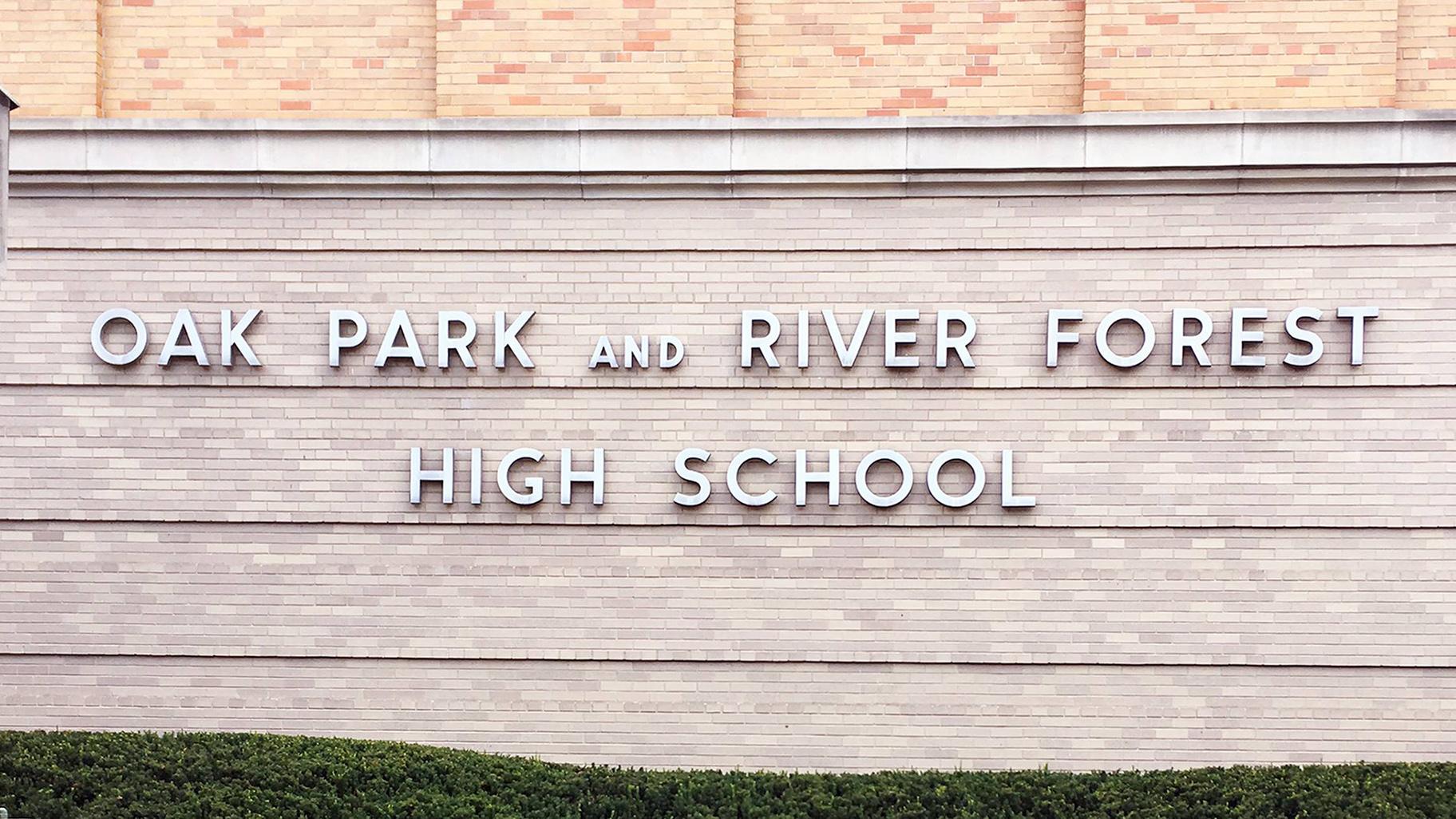 Oak Park and River Forest High School (OPRF / Facebook)
A suburban high school that's faced controversies involving students and racism in recent months will spend more than $50,000 to reprint its annual yearbooks after several photos of students making a hand gesture that's become associated with white nationalism were included in the original printing.
At a special meeting Monday evening, the Oak Park and River Forest (OPRF) Board of Education voted to spend nearly $54,000 to reprint the yearbooks, according to a letter from district Superintendent Joylynn Pruitt-Adams to students and parents.
The original yearbook, titled "Tabula," contained 18 photos of students making an upside-down "OK" gesture with their hands. Pruitt-Adams said that gesture is sometimes tied to a prank known as the "circle game," but it has also become increasingly associated with white nationalists.
"I want to be clear that we are not making any presumptions about students' intent using the gesture," Pruitt-Adams wrote in the letter. "Regardless of intent, there is a real and negative impact. Many students, not only our students of color, experience this gesture as a symbol of White supremacy. Potentially subjecting our students to this trauma is simply not acceptable."
The photos in question were shot in mid-October and involved "students of various races, ethnicities, genders and grades" who participated in various OPRF clubs and teams.
Pruitt-Adams said the district is on the "leading edge" of addressing this issue, and believes that as the hand gesture becomes more associated with white nationalism, the photos could haved subjected students to "potentially a lifetime of questions or penalty from colleges, employers, etc.," if published.
A similar incident earlier this month involving a Chicago Cubs fan who made the same gesture on a television broadcast outraged club President Theo Epstein, who called it "truly disgusting" and banned the fan from Wrigley Field.
The gunman who killed more than 50 people this year in the mosque shootings in Christchurch, New Zealand, also flashed the "OK" gesture during a court appearance in May.
OPRF was the setting of the 2018 Starz docuseries "America To Me," which examined issues of race and class by following students and staff from the school. But last fall a 14-year-old student was arrested and charged after allegedly sharing an image of a swastika with several classmates electronically during a school assembly.
In the weeks prior to that incident, graffiti messages that read "Death to blacks and muslims," "All n-----s need to die" and "Gas the Jews" were found written on school property. That drew a rebuke from Oak Park and River Forest community leaders, who called the incidents "troubling" and promised an increased police presence on the school's campus.
Located in the west suburbs, the high school has more than 3,400 students, more than half of whom are white, according to district data.
OPRF administrators had already announced last week they would not be distributing the original yearbooks to students after they became aware of the issue. The school considered simply putting stickers over the photos in question, but instead opted to replace them completely with "straight-forward group shots."
The district estimates it will take three to four weeks to reprint and distribute the new yearbooks.
"While not all agree with the district's decision to reprint the yearbook, we feel confident that once students are holding the final 'Tabula' in their hands, it will truly represent 'Those Things That are Best,'" said Pruitt-Adams, referencing the high school's motto.
Contact Matt Masterson: @ByMattMasterson | [email protected] | (773) 509-5431
---
Related stories:
Responding to Hate Speech in Schools
Oak Park and River Forest Teen Charged With Sending Swastika to Classmates
Swastika Image Sent to Oak Park and River Forest High School Students
Man Charged With Hate Crime For Allegedly Drawing Swastikas on Buena Park Homes