Students attending a "Tradition of Excellence" assembly last week at Oak Park and River Forest High School got an unexpected surprise on their phones when an image of a swastika was sent electronically using Apple's AirDrop function.
A 14-year-old student at the school was charged Monday with dissemination of obscene material after allegedly sending the anti-Semitic message, and faced a judge Wednesday.
This wasn't the first hate incident at the school, which includes a diverse student body. According to OPRF demographics, 54 percent of students at the school are white, 23 percent are black, 11 percent are Hispanic, 9 percent multiracial and 3 percent Asian.
A week ago, racist and anti-Semitic graffiti was found in a girls' bathroom at the school. Written in black marker: "All n-----s need to die," along with a swastika, "white power," "death to blacks and Muslims" and "gas the Jews."
On Nov. 2, hateful speech was scrawled outside on a school shed, this time targeting an outspoken teacher, and signed with swastikas and the words "white power." That teacher, Anthony Clark, organized a march Sunday to bring everyone together to denounce hate.
But OPRF isn't alone. A number of incidents at other schools in the area and around the country have recently made headlines.
Evanston's Lincolnwood Elementary School principal Max Weinberg sent a letter to parents last month expressing concern about students using "hate-filled language" at school, saying, "hatred is not welcome in our community."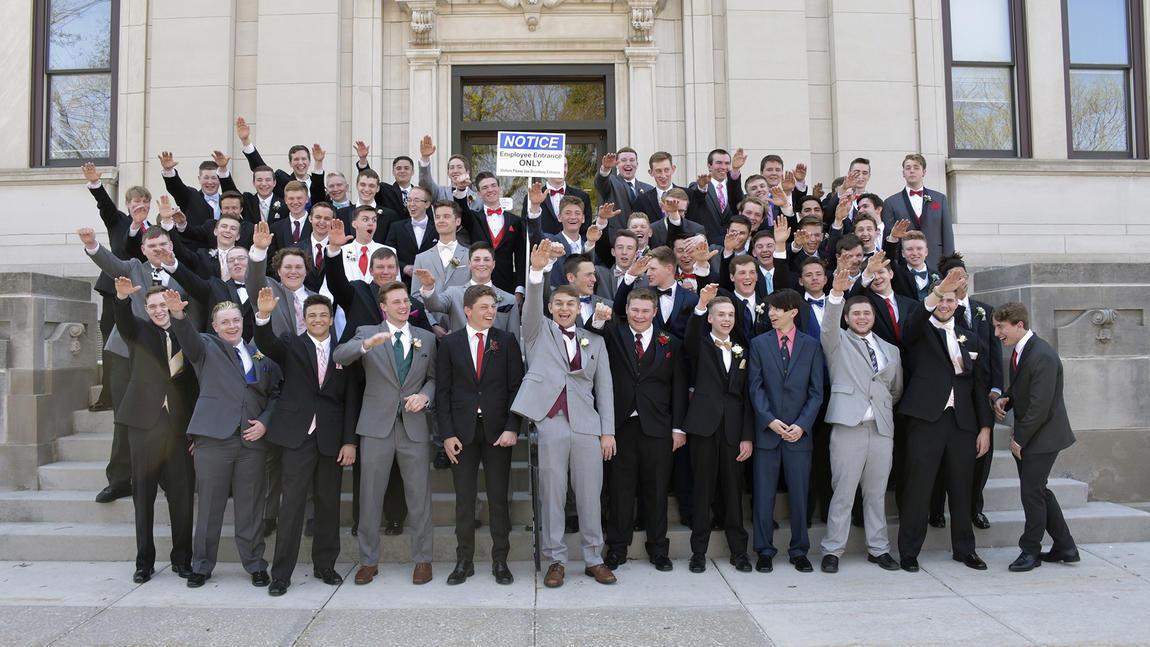 (Courtesy Peter Gust)
This week, a newly surfaced picture with about three dozen high school boys posing with an apparent Nazi salute has triggered an investigation in Wisconsin.
And on Wednesday at Trinity High School, a swastika was found carved in a bathroom.
Clark joins us to talk about the incidents at Oak Park and River Forest High School and what's being done to help and heal that community. Also joining us in discussion: Superintendent Joylynn Pruitt-Adams.
---
Related stories:
Oak Park and River Forest Teen Charged With Sending Swastika to Classmates
Swastika Image Sent to Oak Park and River Forest High School Students
Man Charged With Hate Crime For Allegedly Drawing Swastikas on Buena Park Homes