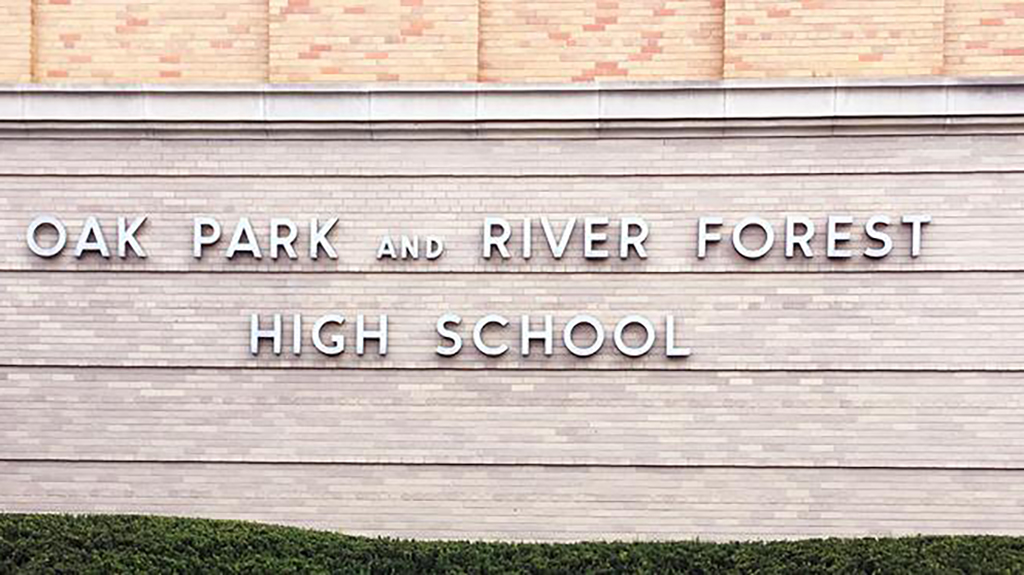 Oak Park and River Forest High School (OPRF / Facebook)
A 14-year-old student at Oak Park and River Forest High School is facing a criminal charge after allegedly sending classmates an image of a Swastika over their phones last week.
The Oak Park Village Police on Monday announced the teen has been charged with dissemination of obscene material after allegedly sending the image to students using Apple's AirDrop function.
The teen's name and gender were not revealed, but police say they are expected to appear in Cook County Juvenile Court on Wednesday.
The image was sent during an assembly inside the school's auditorium Friday morning. OPRF spokeswoman Karin Sullivan said someone inside the auditorium had sent the image and by Friday afternoon, the school believed it had identified the perpetrator.
The west suburban school has dealt with a rash of incidents involving racist and anti-Semitic messages in recent weeks. Before the Swastika was sent last week, graffiti messages that included statements such as "Death to blacks and muslims," "All n-----s need to die," and "Gas the Jews," were found written on school property.
Oak Park Mayor Anan Abu-Taleb and River Forest Village President Catherine Adduci issued a joint message last week calling the incidents "troubling" and promising an increased police presence around their communities.
"Together, our priority is ensuring our communities remain a safe place, including our educational institutions and places of worship," they said in the statement. "By working together as neighbors and communities, we are confident that these incidents will be resolved and their long-term impact minimized."
In light of these incidents, the school will see more officers on campus this week. School leaders have also set up an anonymous tip line for students to use if they feel threatened.
 In a letter to parents Sunday, OPRF Superintendent Joylynn Pruitt-Adams said the safety of students and staff are her "number one priority."
"We recognize that as a district, we have much work to do," she said. "We do not have all the answers. But let there be no mistake: We stand behind our students. We are fully committed to working with them and our wider school community to ensure a positive, just, equitable climate and educational experience for all our students."
Contact Matt Masterson: @ByMattMasterson | [email protected] | (773) 509-5431
---
Related stories:
Swastika Image Sent to Oak Park and River Forest High School Students
Man Charged With Hate Crime For Allegedly Drawing Swastikas on Buena Park Homes
FBI: Hate Crimes on Rise for Second Straight Year
---