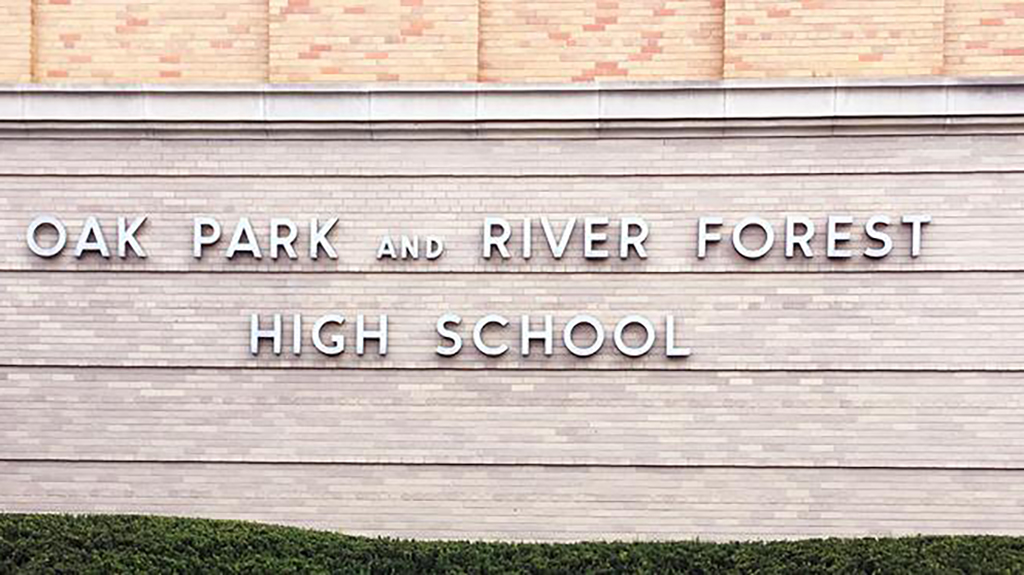 Oak Park and River Forest High School (OPRF / Facebook)
A suburban high school is once again investigating an incident involving an anti-Semitic message sent to students only days after racist messages were found written throughout its campus.
Oak Park and River Forest High School students were reportedly sent an image of a hand-drawn swastika through their phones Friday morning. School administrators informed parents by email that the image appeared on students' devices while they were attending an assembly in an auditorium.
OPRF spokeswoman Karin Sullivan said someone inside the auditorium had sent the image using the AirDrop function of an iPhone or other Apple device, a service that allows Apple devices to instantly share photos and other files with other nearby devices.
By Friday afternoon, the school believed it had identified the perpetrator, as Sullivan informed parents that school officials "believe we have brought this particular matter to closure." However, privacy laws prohibit the school from making public the names of "persons responsible."
This isn't the school's first brush with racist messages found on campus. It's not even the first incident this month.
Last week, the school responded to an earlier incident in which racist and anti-Semitic graffiti was found written around the building – messages that included "Death to blacks and muslims," "All n-----s need to die," "Gas the Jews," "white power" and drawings of swastikas.
School administrators say those messages have been removed and police are investigating the incidents. The school also reviewed security footage from around the west suburban campus as part of its own internal investigation.
"We live in a time where, sadly, safe spaces are targeted," OPRF Board President Jackie Moore and Superintendent Joylynn Pruitt-Adams wrote in a letter last week.
"Our goal for our school community is to do everything possible so that our staff, students, and families are not put in harm's way. In the midst of our anger and sorrow over this hateful act, we remind ourselves that outrage without action will not further our work to be a safe space in our community."
These are among a series of racist messages that have been found in and around the Chicago area in recent weeks.
Earlier this week a swastika was reportedly found drawn on a Jewish student's locker inside Oscar Meyer Magnet School in Lincoln Park. On Friday, a 51-year-old Chicago man was charged with felony hate crimes after allegedly drawing chalk swastikas near homes in the Buena Park neighborhood.
OPRF held a two-hour community conversation Wednesday evening to discuss hate crimes in the community. The school was also the setting of a recent Starz docu-series "America To Me," which examined race and class issues by following students and staff from the school.
The Associated Press contributed to the report.
Contact Matt Masterson: @ByMattMasterson | [email protected] | (773) 509-5431
---
Related stories:
Man Charged With Hate Crime For Allegedly Drawing Swastikas on Buena Park Homes
FBI: Hate Crimes on Rise for Second Straight Year
Is Hate on the Rise in America?
---