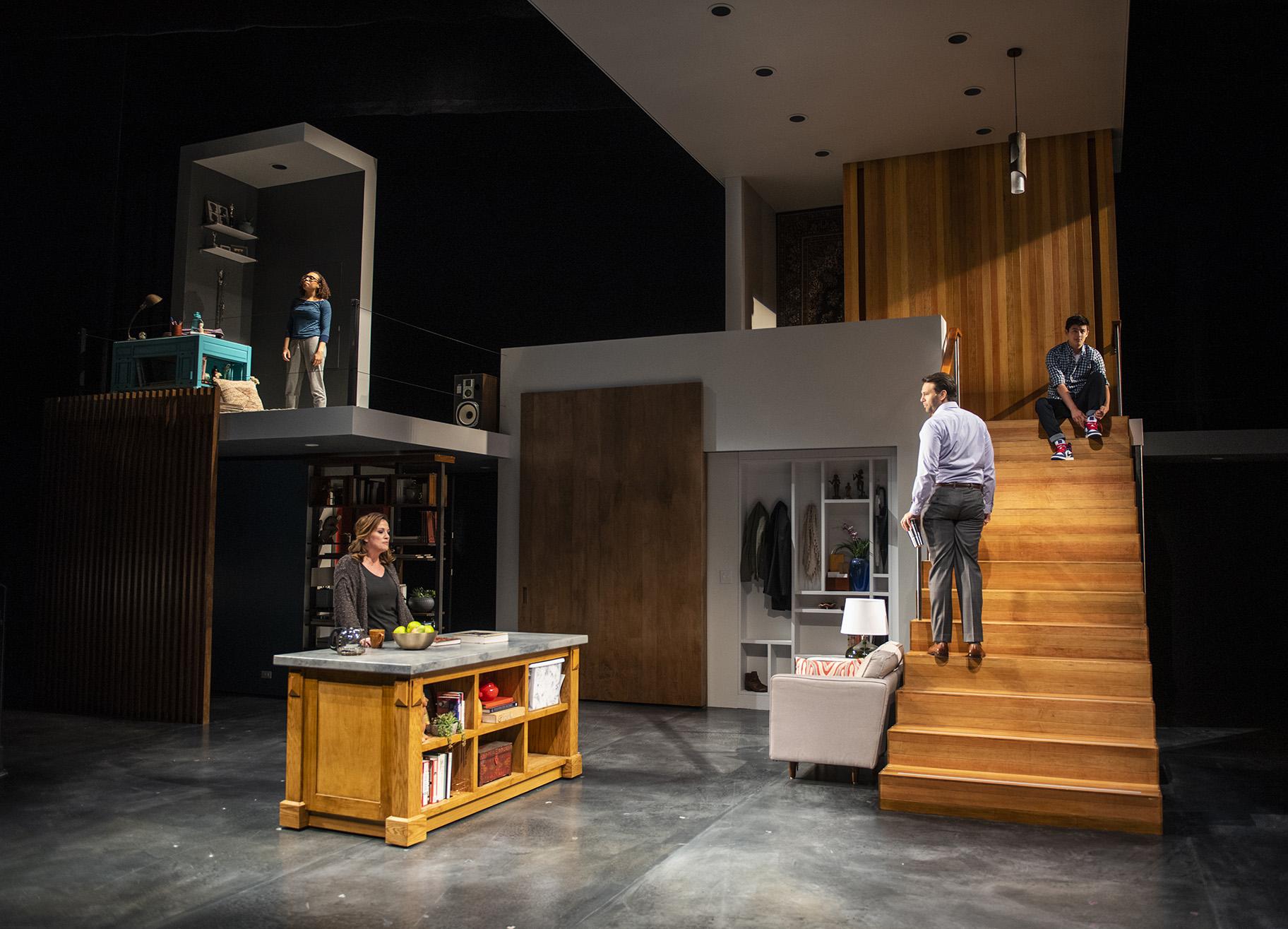 From left: Kyrie Courter, Keely Vasquez, David Schlumpf and Liam Oh in "Next to Normal" at Writers Theatre. (Photo credit: Michael Brosilow)
A confession, right from the start: The Broadway production of "Next to Normal," the 2008 musical by writer-lyricist Brian Yorkey and composer Tom Kitt – about a wife and mother's struggle with bipolar disorder, and its devastating impact on her family – never made its way into my heart. In fact, it left me cold. But director David Cromer has worked his magic on so many different productions during the course of his career – including the Tony Award-winning musical, "The Band's Visit," and unforgettable Chicago productions of "Our Town" and "A Streetcar Named Desire" – that when Writers Theatre announced he would be returning home to direct the Pulitzer Prize-winning show I was wondering if (and how) he might find a way to unlock its hidden virtues and, most crucially, warm it up and make it feel more real.
As it happens, he has done just that, along with the help of superb musical direction by conductor/pianist Andra Velis Simon and her musicians, and an outstanding six-person cast and design team. In addition, this psychologically intense show has found its proper scale and intensity on the Writers stage, which is a far more intimate environment than a Broadway theater.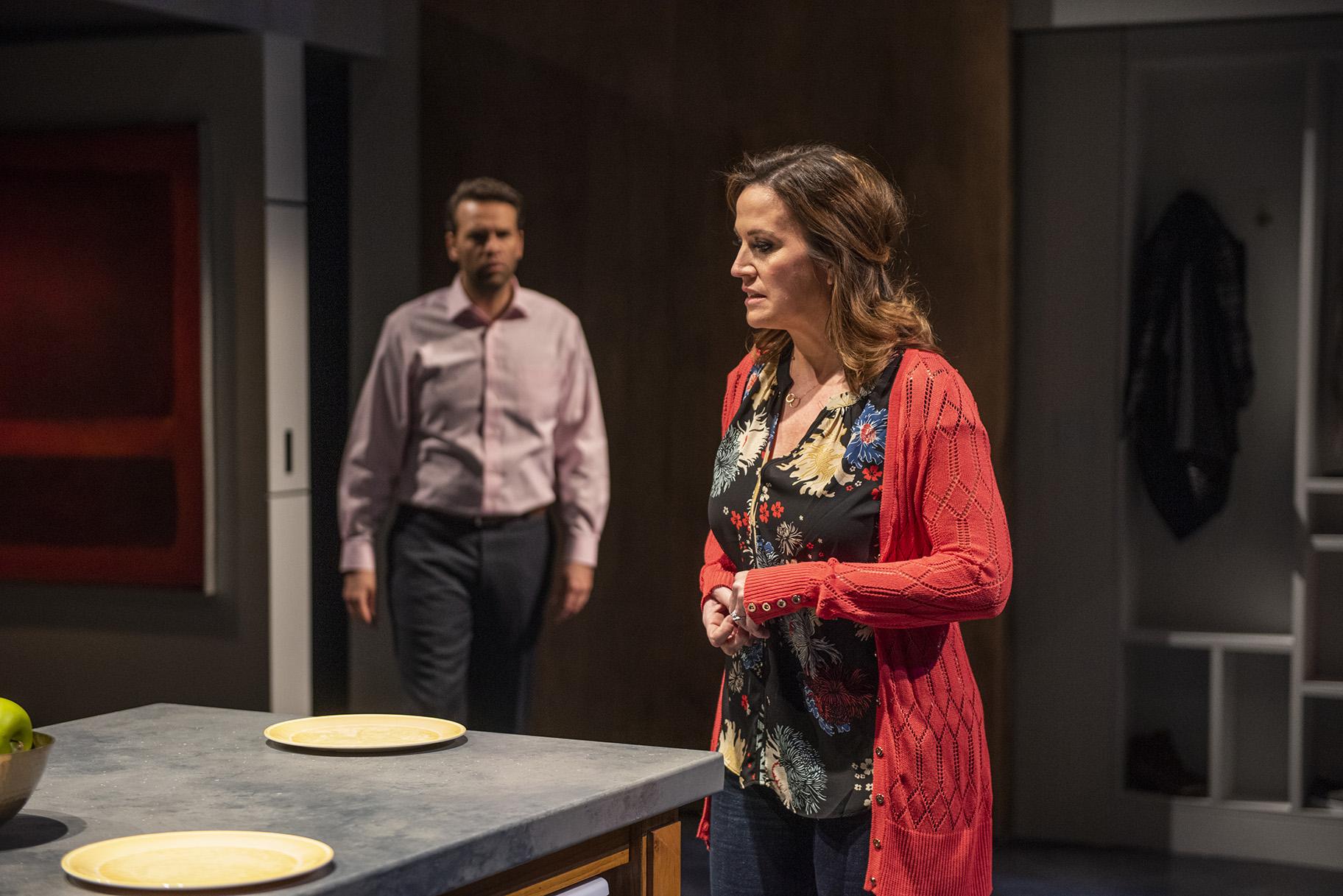 David Schlumpf and Keely Vasquez in "Next to Normal." (Photo credit: Michael Brosilow)
"Next to Normal" remains, like its principal character (and her disorder), unsettling, irritating, frustrating, relentless and more. But Cromer and his actors have tapped into the dark charm and moments of humor in the show with great skill. And the beauty of Kitt's almost entirely sung-through, rock-to-lyrical score emerges here in a fresh and exciting way.
The third show I've seen this week to home in directly on the matter of mental illness and the various pharmaceuticals and forms of therapy used to treat it (the others are "The Mushroom Cure," the excellent one-man show about OCD that runs through June 9, and "Certain Age of a Woman," Margaret Trudeau's four-performance tell-all at The Second City ), "Next to Normal" is set in a reasonably comfortable suburban middle class home (with a notably realistic yet fractured set design by Regina Garcia, and lighting by Keith Parham). The family that lives there is deeply unhappy, although a spoiler alert is in order before any further description of the plot can be revealed.
At the center of the story is Diana Goodman (Keely Vasquez), a woman of about 40 who married Dan (David Schlumpf) when she was far too young, and very soon gave birth to a son, Gabe (Liam Oh), and then a daughter, Natalie (Kyrie Courter).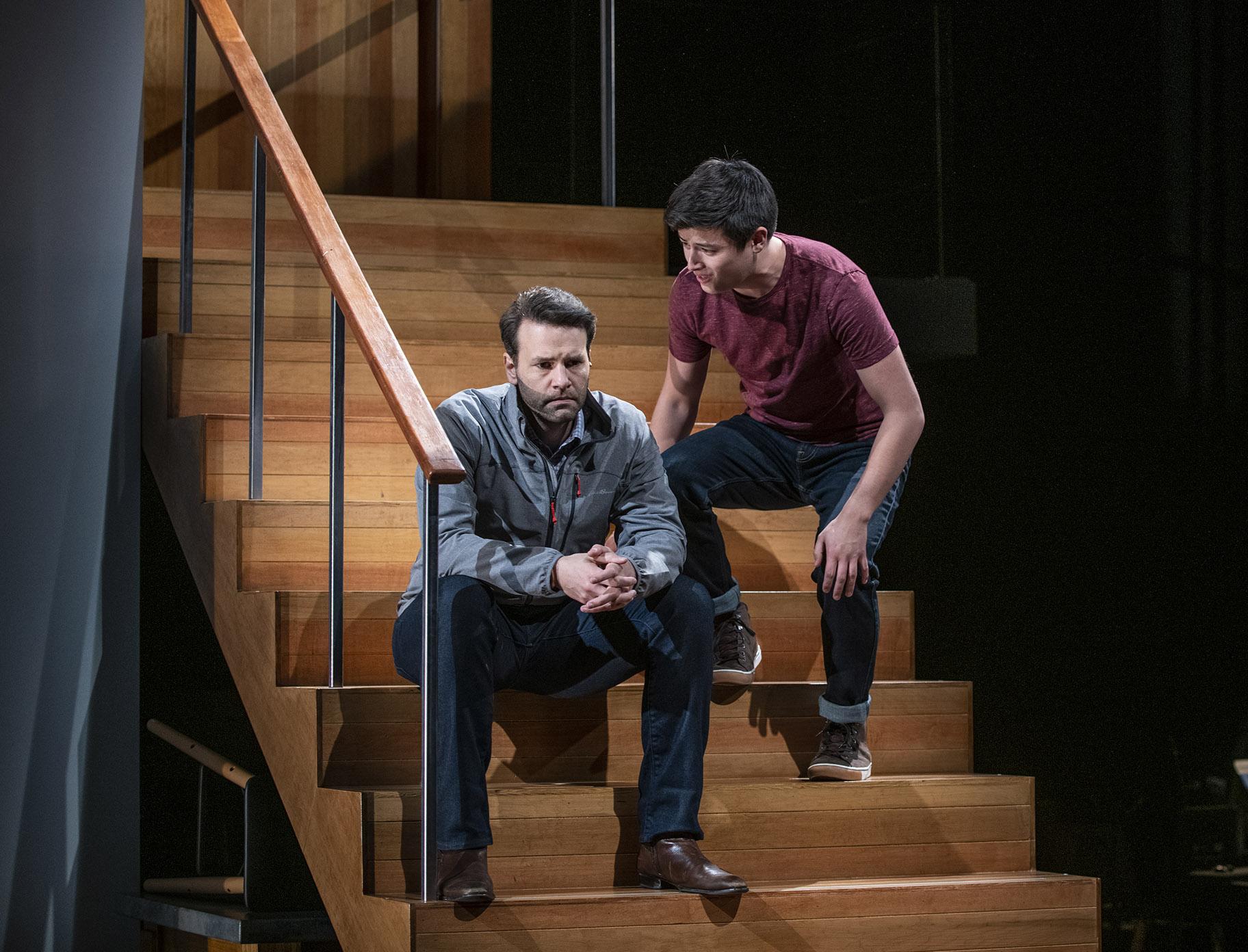 David Schlumpf, left, and Liam Oh in "Next to Normal." (Photo credit: Michael Brosilow)
Gabe is the catalyst for much of what happened next and the principal trigger for Diana's mental breakdown (although her illness might simply have been latent until then). The child died suddenly when he was just eight months old – something we only learn about after making the acquaintance of the fully grown teenage boy who, like his sister, appears to be a smart, sardonic high school kid.
As Gabe proclaims in a crucial song, "I'm Alive." And the truth is, he has never really died in Diana's psyche and his presence in the show – as Diana lives with it – could not be more real. His ever-present being in Diana's mind also makes Natalie – a brainy, sardonic, musically gifted high school student – feel as if no matter how accomplished she might be, she will never be more than "the invisible girl" to her mother, for whom Gabe is the true love object. The situation, not surprisingly, has a deep psychological effect on her development – which becomes very clear when she initially tries to fend off the advances of Henry (Alex Levy), the adorable boy who admires her piano playing (but prefers jazz), and smokes weed.
Meanwhile, Dan, who Diana now finds boring, soldiers on, trying to support the wife who is difficult and erratic, but who he still loves, and attempting to maintain at least the veneer of his family being "next to normal." But when Diana lunges into meltdown mode – slapping together bread and cheese sandwiches on the kitchen floor – reality cannot be avoided. And what follows is a series of encounters with various doctors (all brilliantly played by Gabriel Ruiz), who try everything from massive amounts of medicine, to hypnosis, to the most drastic treatment of all – electro-shock therapy, a side-effect of which can be the loss of memory.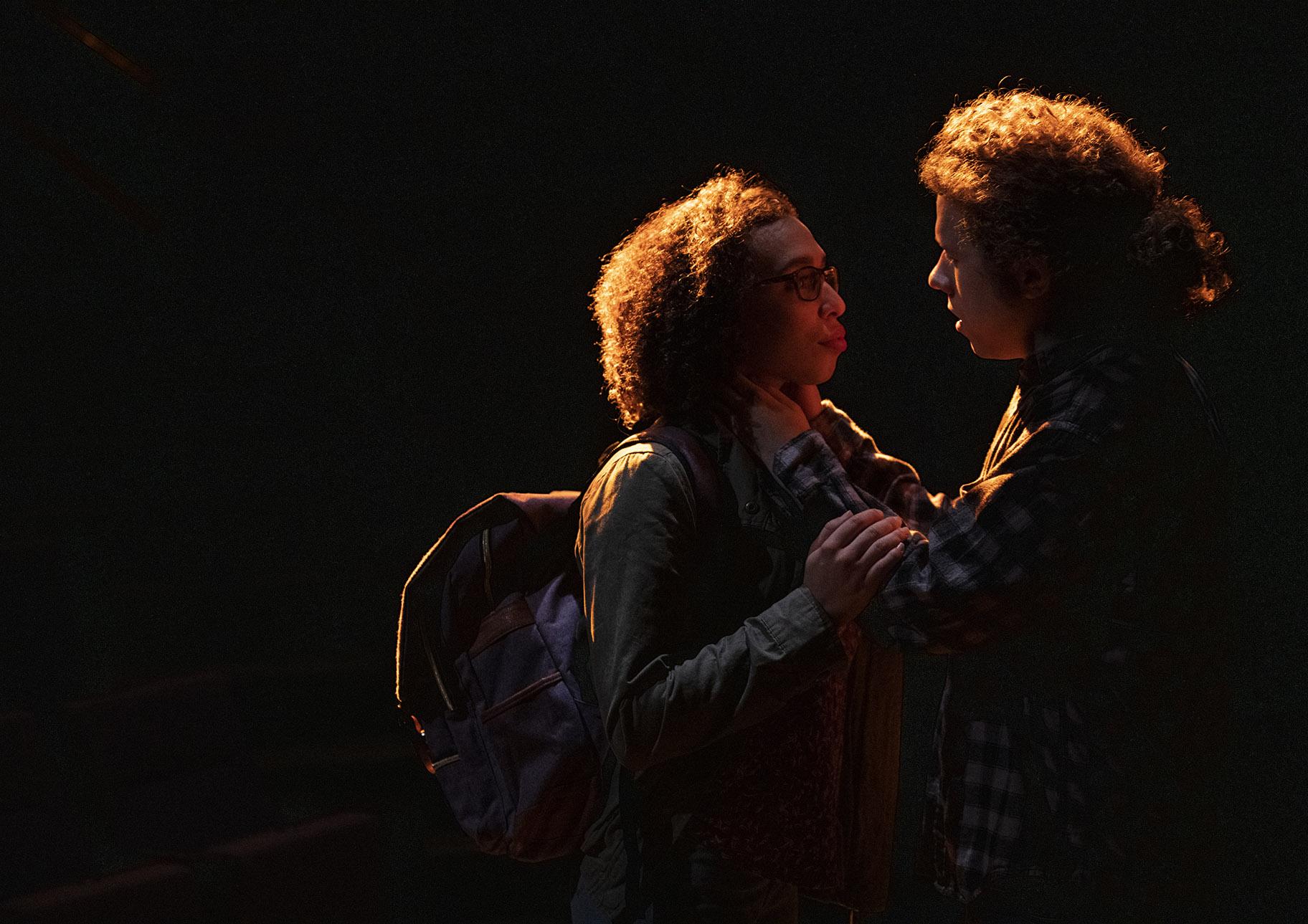 Kyrie Courter and Alex Levy in "Next to Normal." (Photo credit: Michael Brosilow)
The actors are uniformly ideal in their fierce, perfectly tuned performances. Vasquez does a remarkable job of capturing Diana's highs, lows, rage and terror. Even when her character is at her most self-absorbed she generates a certain empathy by means of her total emotional exposure. And Schlumpf brings a believable stoicism to his portrayal of a man who is determined to hang on and do the right thing, while also leaving you ready to applaud the anger he finally expresses in "I Am the One."
And the three younger characters are wholly beguiling. As Natalie, Courter (ideally costumed by designer Rachel Anne Healy), is completely at home and vividly alive on stage. Endlessly watchable as she moves from insightful super-achiever to self-punishing user of dangerous substances who might end up following in the footsteps of her love-withholding mother, she makes you want to cheer for her. And her ever-shifting relationship with the sweetly intrepid Henry (an altogether winning, gently comic turn by Levy), raises the question of whether she has found someone very much like the youthful version of her father. And finally there is Diana's phantom son, Gabe, who Oh brings to life with his beautiful voice, caustic humor and a sense of who he might have become.
The question that has lingered since seeing the production is this: What did Cromer say to his actors that enabled them to find such heart and truth in this story, along with such a sense of rebellion, and how was he able to turn what in other incarnations of the show has felt so chilly and brittle into something with so much heat?
"Next to Normal" runs through June 16 at Writers Theatre, 325 Tudor Court, Glencoe. For tickets ($35-$80) call (847) 242-6000 or visit writerstheatre.org. Running time is 2 hours and 20 minutes with one intermission.
Follow Hedy Weiss on Twitter: @HedyWeissCritic
---
On Chicago Stages, 2 Solo Turns About Mental Illness
Why One Musical Works, and Another Doesn't
Bravura Revival of 'West Side Story' Marks Lyric's Finest Broadway Venture
---