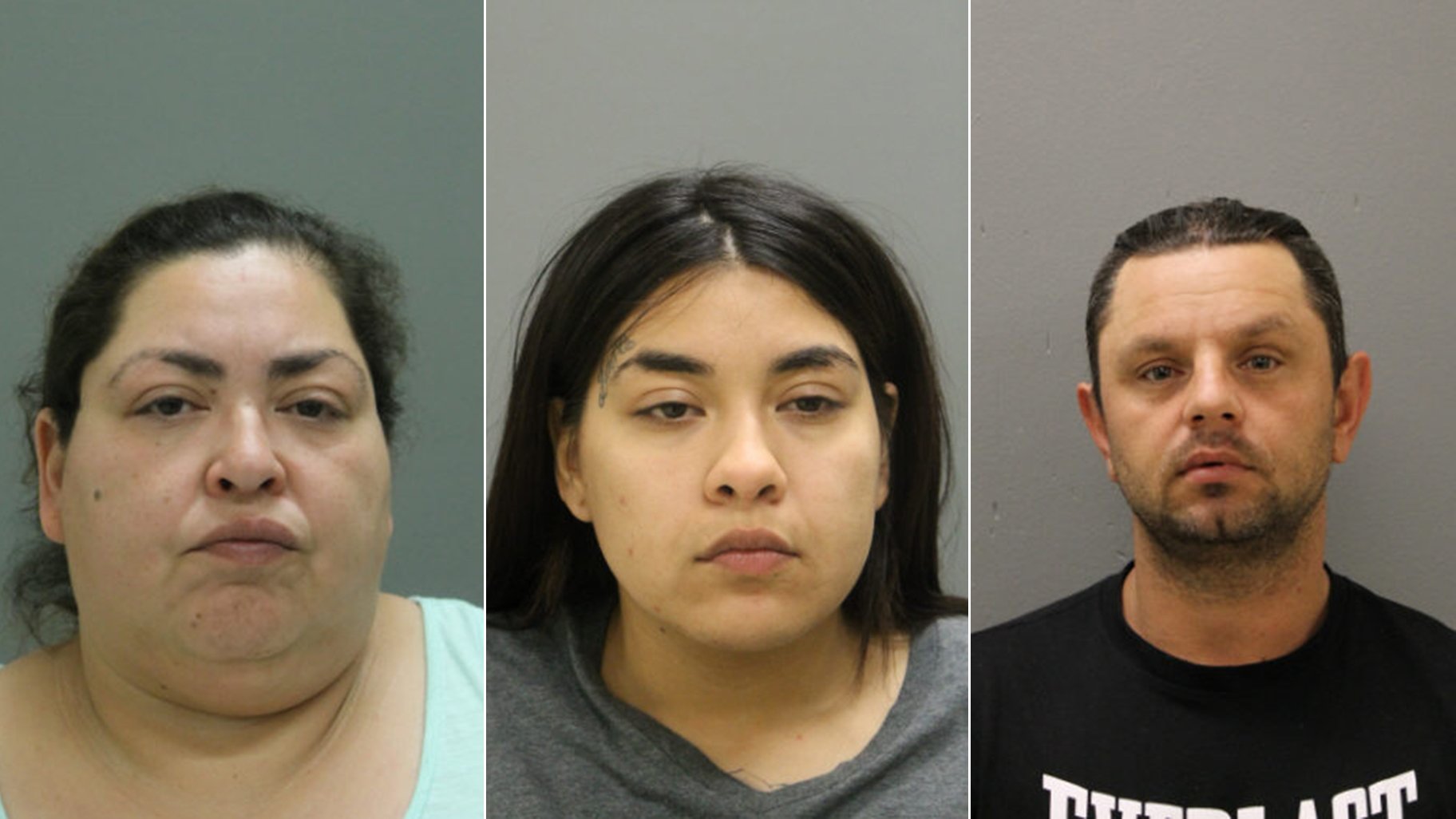 Clarisa Figueroa, left, Desiree Figueroa, center, and Piotr Bobak (Chicago Police Department)
Pregnant teen Marlen Ochoa-Lopez was looking through a photo album of Clarisa Figueroa's children when the 46-year-old mother snuck up behind her, wrapped a cord around her neck, choked her to death and cut the baby from her womb.
That's according to the bond proffer presented by Cook County prosecutors Friday, which outlined the gruesome details of Ochoa-Lopez's death at the hands of Clarisa Figueroa and her 24-year-old daughter Desiree Figueroa.
Cook County Judge Susana Ortiz cited the "brutal and heinous" nature of the crime in denying bond for both Figueroa women at a hearing Friday afternoon. Cook County State's Attorney James Murphy said the women had planned the murder for weeks and carried out their crime in a "cold, calculated and premeditated manner."
Clarisa and Desiree Figueroa are each charged with first-degree murder and aggravated battery. A third defendant, 40-year-old Piotr Bobak, who is charged with helping cover up the murder, was also held without bond.
Ochoa-Lopez's body was found early Wednesday in a trash can behind the Figueroa's Southwest Side house on the 4100 block of W. 77th Place. She had been missing for more than three weeks and her vehicle was found parked nearby.
Police allege she had been lured there by Clarisa Figueroa, who had promised to give her free baby clothes after meeting through a "Help a Mother Out" Facebook group. 
Clarisa Figueroa apparently wanted to raise another child two years after her adult son, Xander, died of natural causes, according to investigators. She had posted what she claimed to be her ultrasound photo online and told family members she was expecting, despite the fact she had previously had her fallopian tubes tied.
Clarisa Figueroa told her daughter on April 1 that she needed help killing a pregnant woman and taking her baby, according to Murphy. Ochoa-Lopez, who was nine months pregnant, was at Figueroa's home that same day, but left without incident and apparently unaware of their plan.
While at the home on April 23, the Figueroa women distracted Ochoa-Lopez with a photo album of Clarisa's son Xander, who had died in 2018 of natural causes, Murphy said. While she was looking through it, Clarisa Figueroa wrapped a cord around Ochoa-Lopez's neck and hands and began choking her.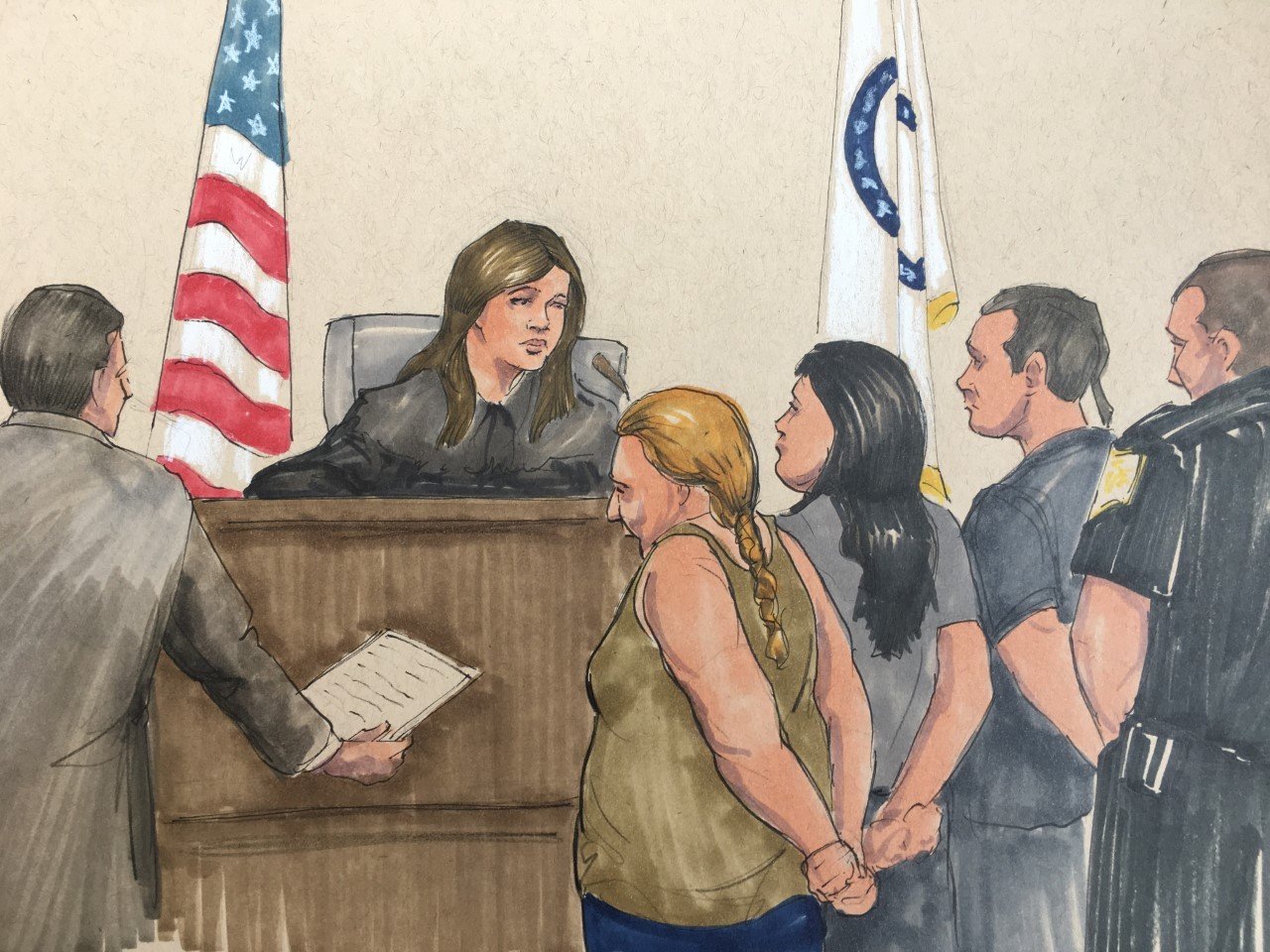 Clarisa Figueroa, center front, appears in court Friday, May 17, 2019 with daughter Desiree Figueroa, right, and Piotr Bobak before Cook County Judge Susana Ortiz. (Sketch by Thomas Gianni)
The teen fought back and was able to get her hand between the cord and her neck, at which point Clarisa Figueroa yelled at her daughter to "(do) your f------ job," according to the proffer. Desiree Figueroa then peeled Ochoa-Lopez's fingers from the cord while her mother climbed on top of the teen and strangled her for four to five minutes until she was dead.
Clarisa Figueroa then took a knife and sliced open Ochoa-Lopez's stomach from side-to-side, prosecutors said, removing the baby, its umbilical cord and the placenta. The women placed Ochoa-Lopez's body inside a large plastic bag and took it to a trash can in their backyard.
Ochoa-Lopez's husband reported her missing a day later. At the same time, Clarisa Figueroa and Bobak began cleaning large amounts of blood from their home. When police officers executed a search warrant at the home earlier this week, Bobak was allegedly found in the backyard cleaning a rug with bleach and a hose.
Ochoa-Lopez was last seen leaving her high school on April 23. After the murder, Clarisa Figueroa called 911 and attempted to pass the baby off as her own, saying he was in distress. When paramedics arrived "the baby wasn't breathing, the baby was blue," a Chicago Fire Department spokesman said.
The baby remains hospitalized with zero brain activity and is not expected to survive.
A break in the investigation came after Clarisa Figueroa set up an online fundraising campaign, according to a spokesperson for Ochoa-Lopez's family. The GoFundMe campaign said that the baby was about to die and money was needed for a funeral. Police then conducted DNA tests to determine that Ochoa-Lopez and her husband, Yiovanni Lopez, were actually the baby's parents.
Murphy said Desiree Figueroa, who is four months pregnant, gave a full videotaped confession admitting to her role in the murder.
All three defendants are due back in court June 3.
The Associated Press contributed to this report. Check back for updates.
Contact Matt Masterson: @ByMattMasterson | [email protected] | (773) 509-5431
---
Related stories:
Pregnant Chicago Woman Slain, Baby Cut From Her Womb
Chicago Police Offer First Look at 2019 Summer Safety Strategies
CPS Teacher Arrested Following Alleged Inappropriate Contact With Student
AJ Freund's Parents Plead Not Guilty in His Beating Death
---