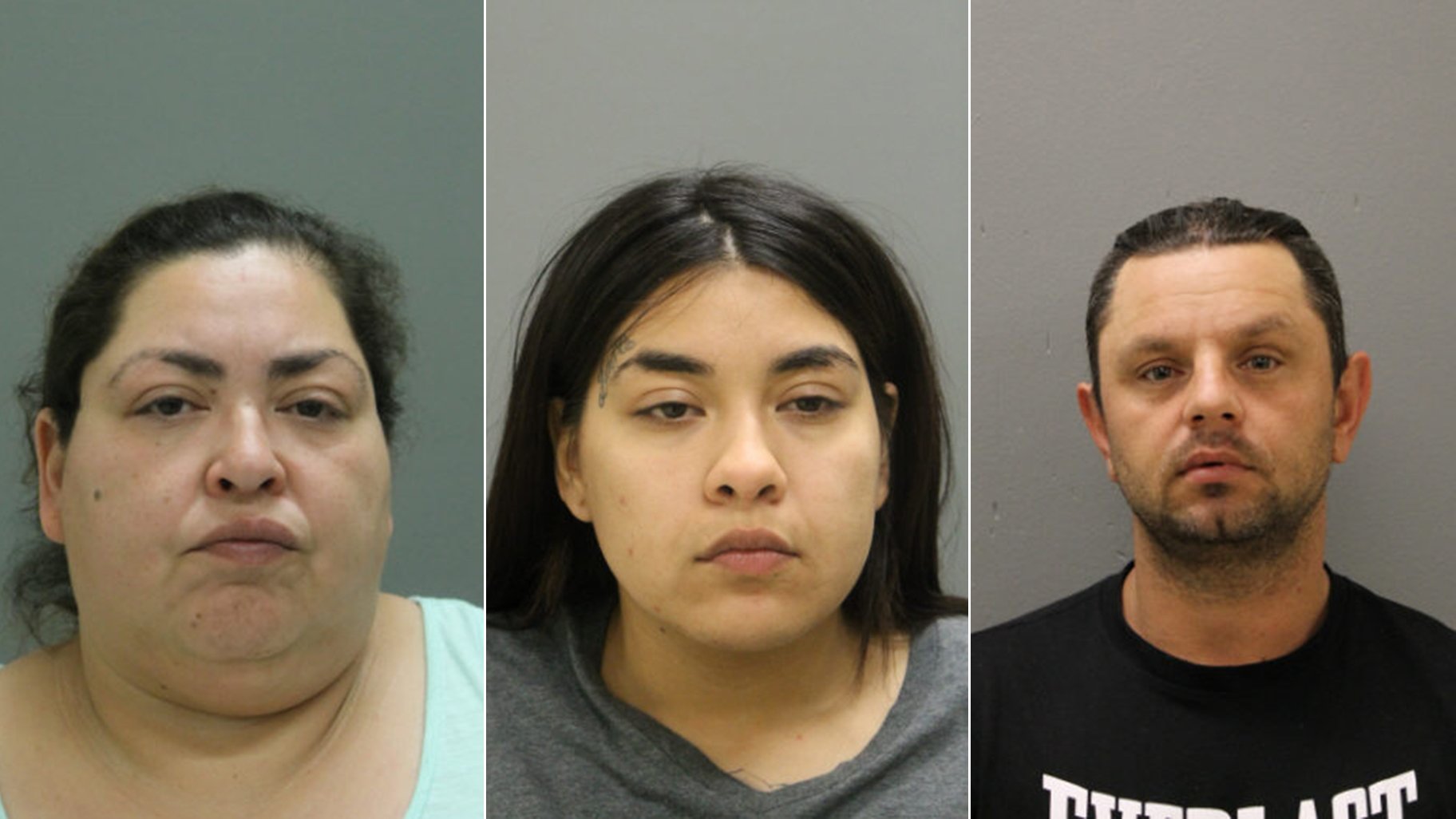 Clarisa Figueroa, left, Desiree Figueroa, center, and Piotr Bobak (Chicago Police Department)
A Cook County judge has rejected a so-called gag order in the case of a mother and daughter who allegedly murdered pregnant teen Marlen Ochoa-Lopez and cut the baby from her womb.
While noting the defendants' right to a fair trial, Judge Peggy Chiampas said she was not ready to restrict public access by granting a defense motion for a decorum order in the high-profile case.
Clarisa Figueroa, 46, and her daughter, Desiree Figueroa, 25, are each charged with first-degree murder in the April killing of Ochoa-Lopez, who was 19. They were indicted on additional murder charges last month after Ochoa-Lopez's baby, Yovanny Jadiel Lopez, also died.
In seeking a decorum order, defense attorneys for both women argued that intense media attention and inflammatory comments made by potential witnesses would prevent the "fair application of justice" in the case.
Chiampas recognized that possible risk, but said Ochoa-Lopez's family is also deserving of participating in a fair and impartial trial. 
"I am very well aware there are high emotions involved in this case," the judge said. "That needs to be tempered by my responsibility under the law … to ensure and balance those rights for all involved."
The defense attorneys had designed their proposed decorum order after a similar order used in R. Kelly's 2008 child porn trial, which was held in the same courthouse. That order also served as the model for the decorum order used in the murder case of former Chicago police Officer Jason Van Dyke.
The order in this case would have restricted public comments from attorneys, witnesses and others involved in the case. Despite her ruling, Chiampas did issue an order banning the distribution of any photos or flyers containing the defendants' faces on courthouse grounds after seeing someone holding posters depicting the Figueroas and the word "guilty" outside the courthouse Tuesday.
"I will not resort to restricting the public's right of access unless I have to," she said, "and I will."
Cook County prosecutors did not oppose the decorum order request.
Clarisa Figueroa's boyfriend, Piotr Bobak, 40, is also charged with helping cover up the murder. All three have been held without bond since their arrests.
The defense attorneys claimed the heightened media attention and efforts by outside parties to involve themselves in the case constitute a "serious and imminent threat" to any fair trial for their clients.
Clarisa Figueroa's attorney said she Googled her client's name recently and found some 624,000 hits with news stories coming from across the globe.
Defense attorney Vernon Schleyer, who represents Desiree Figueroa, pointed to comments from Chicago police officials labeling the defendants' actions as "barbaric" and what he described as "propaganda" spread by Ocho-Lopez's family spokeswoman.
"Multiple people trying to influence the court or the public," he said, "and prevent the fair application of justice."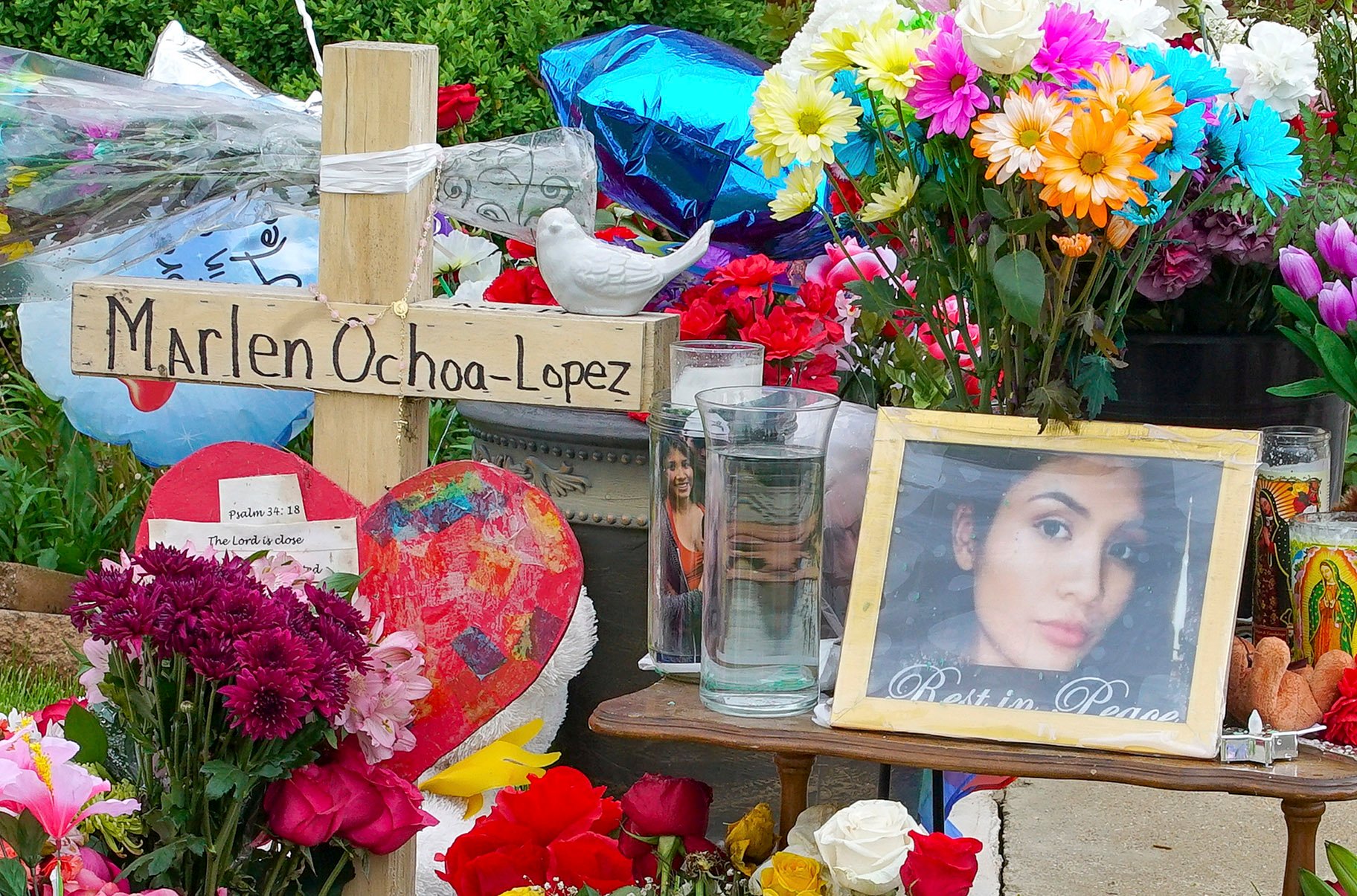 A memorial of flowers, balloons, a cross and photo of Marlen Ochoa-Lopez are displayed on the lawn, Friday, May 17, 2019 in Chicago, outside the home where Ochoa-Lopez was murdered last month. (AP Photo / Teresa Crawford)
Ochoa-Lopez's body was found in May in a trash can behind the Figueroa's Southwest Side house on the 4100 block of W. 77th Place. She had been missing for more than three weeks and her vehicle was found parked nearby.
Police allege she had been lured there by Clarisa Figueroa, who had promised to give her free baby clothes after meeting through a "Help a Mother Out" Facebook group. Once at the house, she allegedly snuck up behind Ochoa-Lopez and strangled her as Desiree Figueroa helped pin the teen down.
Prosecutors say Clarisa Figueroa then used a knife to cut the baby from Ochoa-Lopez before putting her body in a plastic bag and dumping it in a trash can. After the murder, Clarisa Figueroa called 911 and allegedly attempted to pass the baby off as her own, saying he was in distress.
A day later, Clarisa Figueroa and Bobak began cleaning large amounts of blood from their home, according to prosecutors. When police officers executed a search warrant at the home earlier this week, Bobak was allegedly found in the backyard cleaning a rug with bleach and a hose.
The baby was not breathing by the time paramedics arrived. They tried to resuscitate the newborn and took him to Christ Medical Center, where he remained until his death weeks later.
A break in the investigation came after Clarisa Figueroa set up an online fundraising campaign, which said the baby was about to die and money was needed for a funeral. Police then conducted DNA tests on the baby and determined that Ochoa-Lopez and her husband Yovani Lopez were the parents.
All three defendants have pleaded not guilty.
Speaking to reporters after the hearing, Bobak's attorney Hal Garfinkel said the judge's decision was not a surprise at this early juncture in the case. Despite the ruling, he's not yet concerned about finding an unbiased jury should his client go to trial.
"A defense attorney is always sensitive to the issue of having a jury pool tampered (with) by any case where there's such emotional, explosive facts," he said. "But this isn't the first high-profile case that Cook County has had and our judges in this building do everything they can to make sure that there is an untainted jury pool."
The Associated Press contributed to this story.
Contact Matt Masterson: @ByMattMasterson | [email protected] | (773) 509-5431
---
Related stories:
Family: Baby Cut from Slain Chicago Woman's Womb Dies
Women Indicted in Death of Teen Whose Baby was Cut From Womb
Funeral Set for Marlen Ochoa-Lopez
Illinois Not Alerted to Early Clues in Womb-Cutting Case
Bond Denied for 3 in 'Brutal and Heinous' Killing of Marlen Ochoa-Lopez