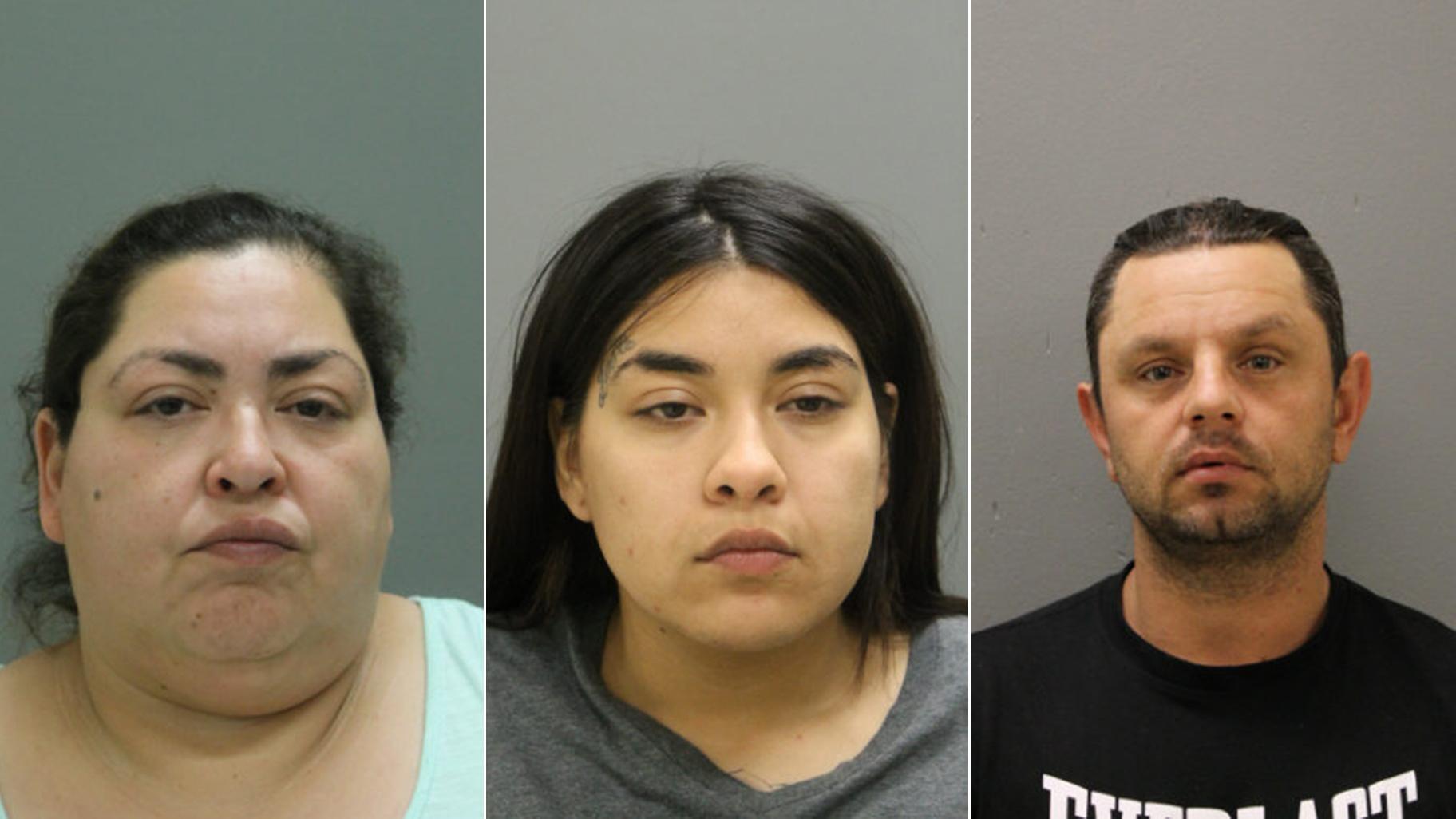 Clarisa Figueroa, left, Desiree Figueroa, center, and Piotr Bobak (Chicago Police Department)
UPDATE: Bond Denied for 3 in 'Brutal and Heinous' Killing of Marlen Ochoa-Lopez
A 46-year-old woman who allegedly lured pregnant teen Marlen Ochoa-Lopez to her Southwest Side home under the guise of giving her baby clothes last month is now one of three people who have been charged in the teen's murder.
Chicago police announced Clarisa Figueroa and her daughter, Desiree, have been charged with killing the 19-year-old expectant mother and cutting her unborn baby from her womb. A third person, Piotr Bobak, 40, has been charged with attempting to cover up their crime.
Ochoa-Lopez's baby survived, but remains in "grave condition."
"Words really cannot express how disgusting and thoroughly disturbing these allegations are," Police Superintendent Eddie Johnson said during a press conference Thursday afternoon.
"And I would like to offer my sincere condolences and prayers to Marlen's family, who instead of celebrating the arrival of a new life into their family, are now mourning Marlen's loss while at the same time caring for a new little baby who remains in grave condition."
Ochoa-Lopez's body was found early Wednesday in a trash can behind the Figueroa's house on the 4100 block of W. 77th Place. She had been missing for more than three weeks and her vehicle was found parked nearby.
Deputy Chief of Detectives Brendan Deenihan said a device used to strangle Ochoa-Lopez was found beside her body, and Desiree Figueroa has admitted to helping her mother murder the teen.
Ochoa-Lopez, who was nine months pregnant, was last seen leaving her high school on April 23, the same day paramedics were called to the home several miles away on the Southwest Side about a newborn with problems breathing.
After killing Ochoa-Lopez and cutting the baby from her womb, Clarisa Figueroa allegedly called 911 and attempted to pass the baby off as her own, saying he was in distress. When paramedics arrived "the baby wasn't breathing, the baby was blue," a Chicago Fire Department spokesman said.
Deenihan said the investigators who found Ochoa-Lopez's body happened upon "a pretty terrible crime scene."
"This is a pretty terrible and horrific case," he said, "and our hearts go out to the family and friends of Marlen."
Clarisa Figueroa initially denied that Ochoa-Lopez had come to her home on the day the teen went missing, according to Deenihan, but admitted she did know her and had met her in the past.
The family of Ochoa-Lopez, a married mother of a 3-year-old son, said a woman on Facebook had lured her to the home by offering a stroller and baby clothes.
A break in the investigation came after Clarisa Figueroa set up an online fundraising campaign, another spokeswoman for Ochoa-Lopez's family said. The GoFundMe campaign said that the baby was about to die and money was needed for a funeral, Sara Walker said.
Police then conducted DNA tests to determine that Ochoa-Lopez and her husband, Yiovanni Lopez, were actually the baby's parents, Walker said.
"At this point, we're fully aware of which direction … this is going," Deenihan said of seeing the DNA results.
All three defendants are expected to appear in bond court Friday afternoon.
The Associated Press contributed to this report.
---
Related stories:
Pregnant Chicago Woman Slain, Baby Cut From Her Womb
Chicago Police Offer First Look at 2019 Summer Safety Strategies
CPS Teacher Arrested Following Alleged Inappropriate Contact With Student
AJ Freund's Parents Plead Not Guilty in His Beating Death
---