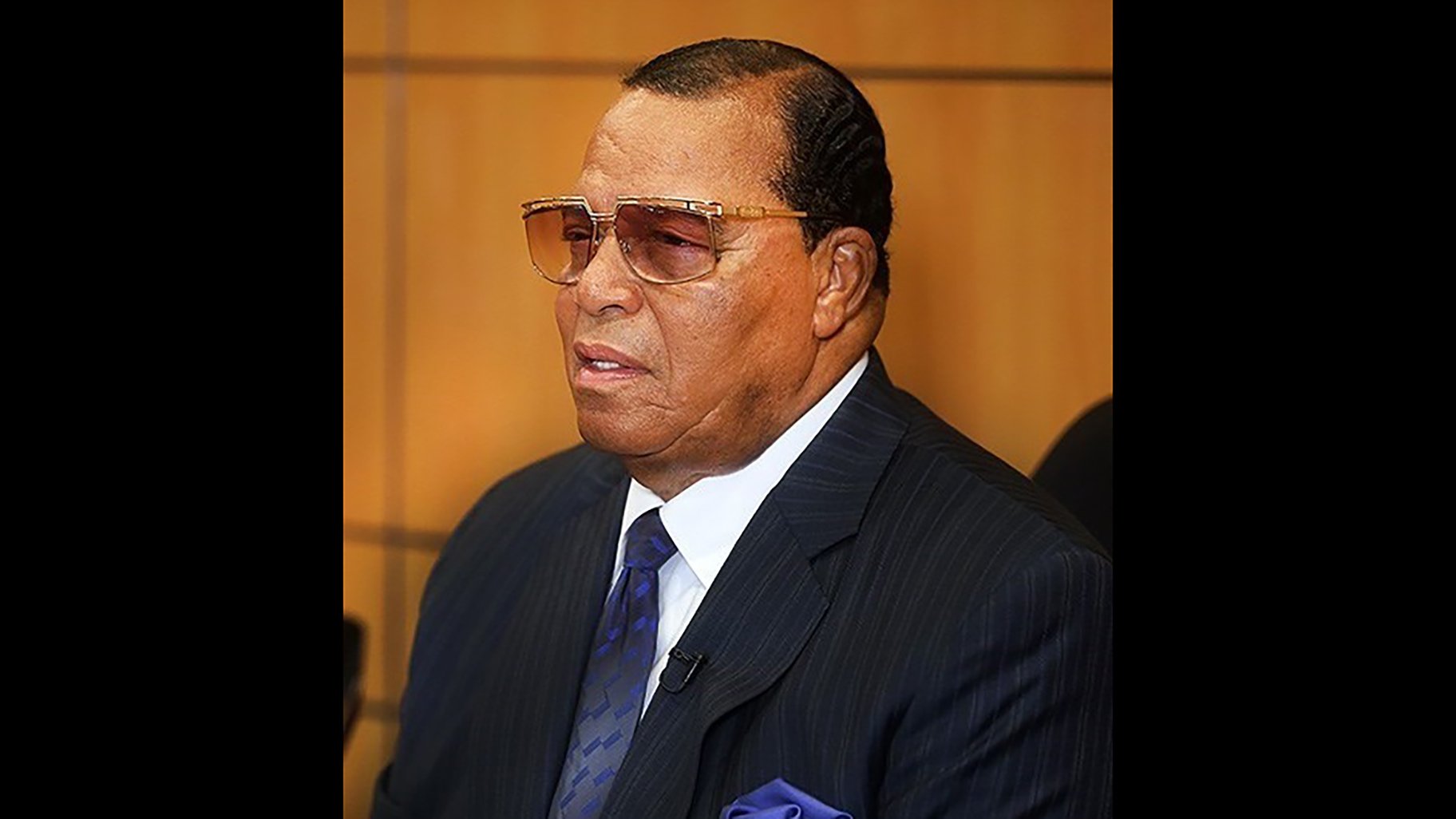 Louis Farrakhan appears during a 2016 press conference in Tehran, Iran. (Wikimedia Commons)
The Rev. Michael Pfleger is opening the doors of his South Side congregation to Louis Farrakhan, days after the controversial minister was banned from Facebook as the social media giant began cracking down on extremists and other "dangerous individuals."
Pfleger invited Farrakhan to speak at St. Sabina Catholic Church in the Auburn Gresham neighborhood Thursday evening, saying the Facebook ban is "not acceptable" when other "racist, violent and hateful comments" are made on the site daily.
"We may have disagreements," Pfleger said of Farrakhan in a video he posted online of his Sunday, May 5 sermon, "but there are consistent threads that we agree on and that is the respect, that is the freedom of speech, that is the prophetic voice, that is the love for one another."
Farrakhan, who leads the black nationalist group the Nation of Islam, was one of several user accounts that were removed from Facebook and Instagram for violating a policy against dangerous individuals and organizations.
Others banned included right-wing personalities such as Paul Nehlen, Milo Yiannopoulos, Paul Joseph Watson, Laura Loomer and Alex Jones' Infowars site, which often posts conspiracy theories.
Decried as censorship by several of those who got the ax, the move signals a renewed effort by the social media giant to remove people and groups promoting objectionable material such as hate, racism and anti-Semitism.
The Southern Poverty Law Center has classified the Nation of Islam as a hate group and Farrakhan himself as an anti-Semite "who routinely accuses Jews of manipulating the U.S. government and controlling the levers of world power."
Likewise, the Anti-Defamation League described the 85-year-old minister as a "notable extremist figure" who has been "railing against Jews, white people and the LGBT community" for decades.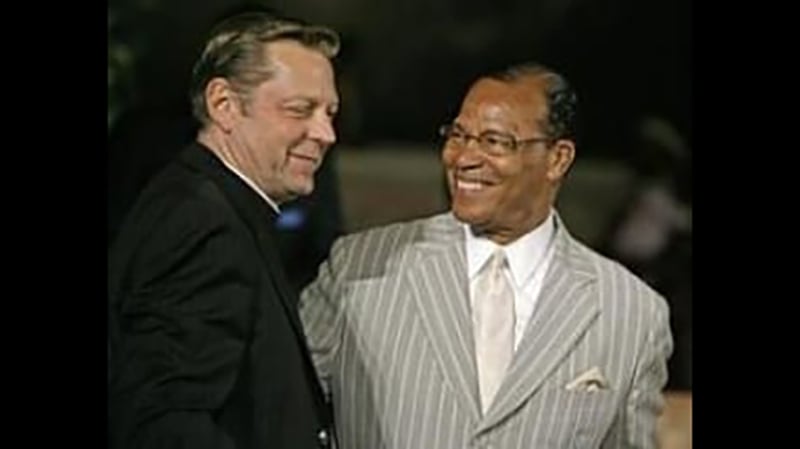 The Rev. Michael Pfleger (left) posted this undated photo of himself with Louis Farrakhan on his Facebook page. (Facebook)
Though he was born in New York City, Farrakhan has owned a mansion in Chicago's Kenwood neighborhood on the South Side for years. Despite the Facebook ban, he maintains an official account on Twitter with more than 330,000 followers.
Dipayan Ghosh, a former Facebook executive and an internet policy expert at Harvard, said the ban isn't as big a step as Facebook appears to be painting it — it's just enforcing its existing policy.
"There will always be more purveyors of hate speech that try to come on these platforms," Ghosh told the Associated Press. "Will advocates have to push year after year just to get (a handful of) individuals off? At this rate it seems likely. And this doesn't address the problem of what happens at the margins."
Last month, Facebook extended its ban on hate speech to prohibit the promotion and support of white nationalism and white separatism. It had previously allowed such material even though it has long banned white supremacists.
Facebook didn't specify what exactly led to the ban, instead issuing a statement saying, "The process for evaluating potential violators is extensive and it is what led us to our decision to remove these accounts today."
On top of Farrakhan's scheduled appearance, the Nation of Islam says it will be holding a rally at St. Sabina on Thursday following what it called an "unprecedented and unwarranted" Facebook ban.
Pfleger also called out Facebook CEO Mark Zuckerberg in a post on the social media site last week, saying Zuckerberg's "hypocrisy and double standards are disgraceful."
"We don't roll over, we fight back," Pfleger said Sunday. "We must not allow our disagreements to separate us from prophetic voices"
Farrakhan is scheduled to speak at 7 p.m. Thursday at St. Sabina Church, 1210 W. 78th Place.
The Associated Press contributed to this report.
Contact Matt Masterson: @ByMattMasterson | [email protected] | (773) 509-5431
---
Related stories:
Banning Alex Jones: A Dangerous Move for Free Speech?
Facebook Flags Ad for Illinois Data Privacy Forum as 'Political'
Valerie Jarrett: Roseanne Barr's Tweet Should be a 'Teaching Moment'
Reports: Facebook Users' Personal Data Exploited to Help Trump's Campaign
---