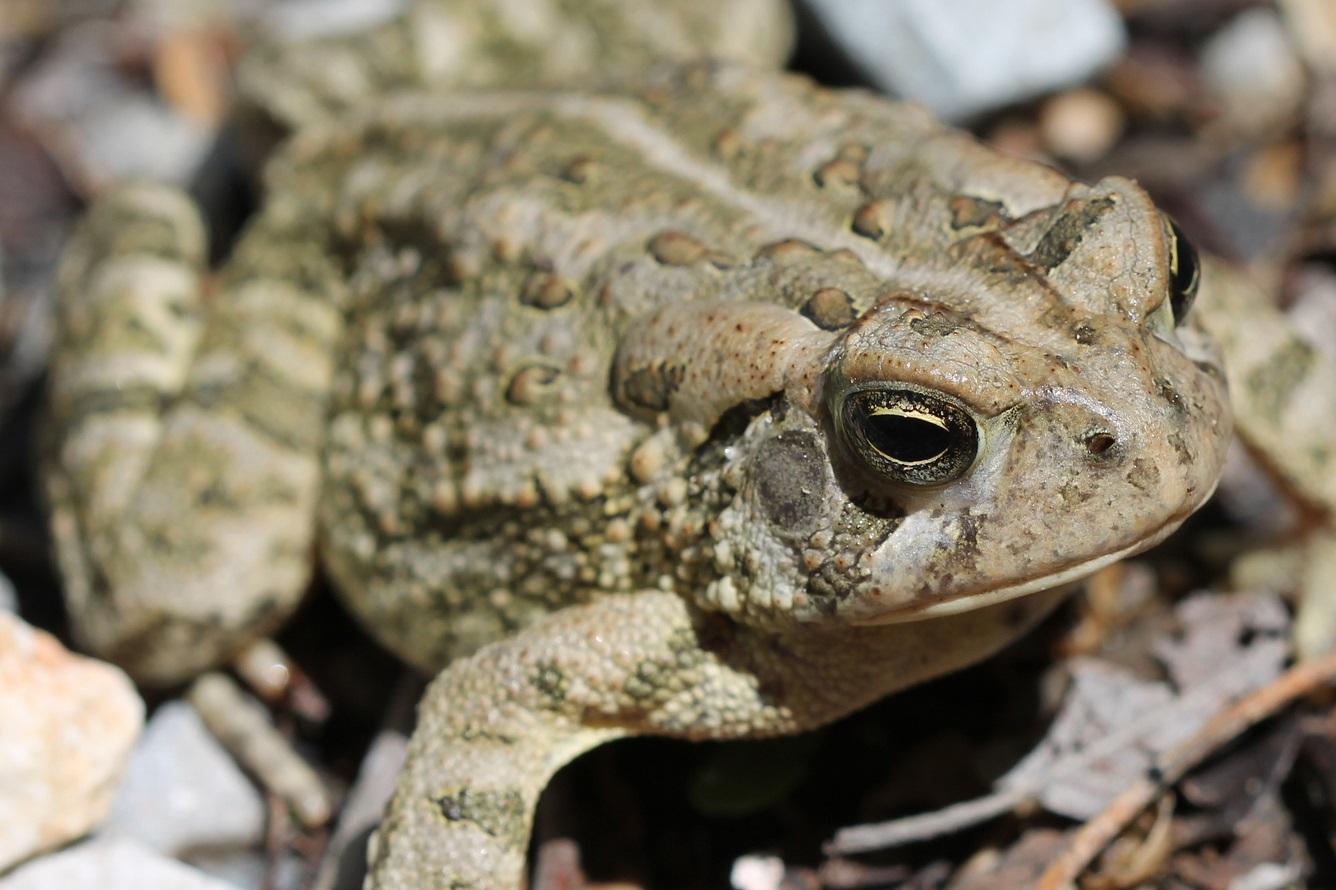 A Fowler's toad (Courtesy Peggy Notebaert Nature Museum)
Amid efforts to restore an area of Chicago marked by black mounds of slag and other remnants of its industrial past, conservationists and volunteers are once again listening for the unique calls of mating frogs on the city's Southeast Side.
This spring marks the first time in at least a decade that a project known as the Calling Frog Survey is deploying experts and citizen scientists to the Lake Calumet area, where shuttered steel factories left behind heaps of toxic waste that continue to take a toll decades later. 
"A lot of these sites were used as dumping grounds, so we can't remediate [them] to this pristine environment," said Stephen Bell, director of Big Marsh Park for the Chicago Park District. "But we can do the best job we can with remediation, and we really aim to reclaim these spaces so that we're helping nature along, so that we're creating an environment where people can access and enjoy these spaces."
Although monitoring has taken place in recent years at Powder Horn Lake, along the Indiana border, it has been more than 10 years since the frog calling survey was conducted near Lake Calumet, said Allison Sacerdote-Velat, curator of herpetology at the Peggy Notebaert Nature Museum, which took over the frog survey in 2014 from Chicago Wilderness, a coalition of environmental and conservation groups. The Field Museum has also been active in the survey. 
By tracking the types, frequency and intensity of frog mating calls, Sacerdote-Velat and other experts hope to gauge the success of conservation efforts in helping to bring back or increase populations of various species – and not just frogs.
Because frogs are highly sensitive to water quality and toxins that affect their skin, their presence in an area can provide insight into the health of other species, Sacerdote-Velat said.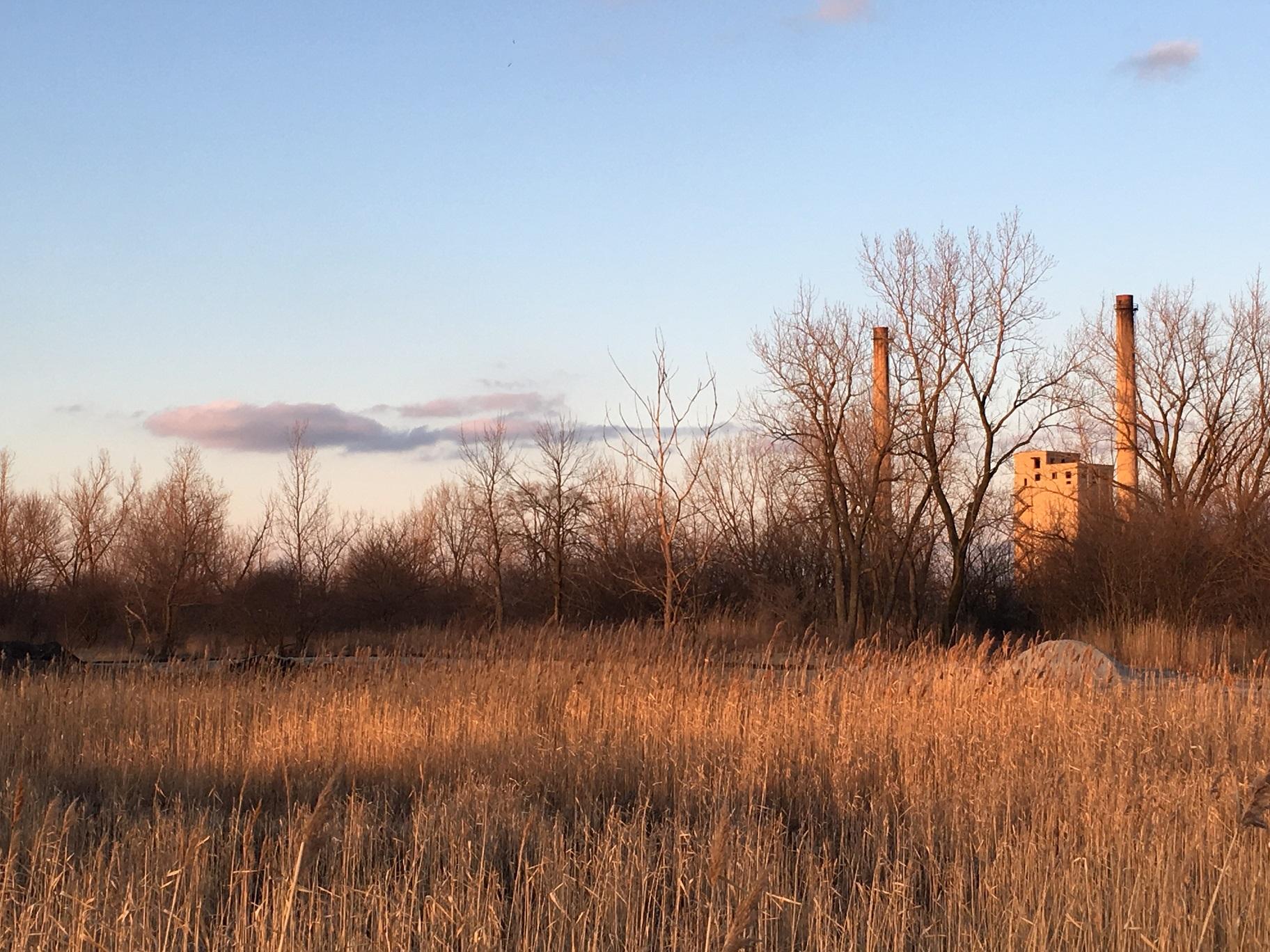 Big Marsh Park at dusk, when monitors record the mating calls of various frog species (Stephen Bell / Chicago Park District)
Since 2000, the project has collected data on frog calls throughout the region, spanning north to south from Lake County to Will County and west to east from Dekalb County to Porter and Lake counties in Indiana. This year, the survey is taking place at 112 sites.
With the project's return to the Lake Calumet region, experts want to begin establishing a baseline of biological data on a handful of frog species, information that as of now is severely lacking, Sacerdote-Velat said.
This spring and summer, a team of about 15 volunteers, including several children, are recording frog calls at two Southeast Side locations: Big Marsh Park, a 278-acre former industrial site acquired by the Park District in 2011 and reopened three years ago as a public park; and Indian Ridge Marsh, a 154-acre native marsh and wet prairie habitat just southeast of Big Marsh.
Next year, Bell said the survey will expand to several other nearby sites, including Hegewisch Marsh Park and Steelworkers Park.
For the frog calling monitors, training begins with an overview of the 13 species of frogs that are found in the Chicago area. Species most commonly found in the region include the chorus frog, bullfrog, green frog, American toad and leopard frog, Sacerdote-Velat said.
During the training sessions, volunteers listen to recordings of the different frog species, which can sound very distinct from one another.
"A chorus frog sounds like dragging your thumb down a comb," Bell said. "There's other sounds that are more like a series of burps or grunts. There's the green frog, it sounds like [plucking] a loosely strung banjo. They're very different sounds."
Monitoring can take place only under certain conditions, with temperatures of 45 degrees or higher and winds of less than 12 miles per hour. Those factors can affect both whether frogs are singing on a given night and the ability of volunteers to hear their calls, Sacerdote-Velat said.
When conditions are right, volunteers set up at about dusk at a series of listening points spaced at least 200 meters apart at Big Marsh Park. At Indian Ridge Marsh, volunteers must listen from the side of the road because of the depth of the water.
Once in place at a listening point, participants are instructed to stand still for about five minutes "because many times frogs or toads will hear you so they stop singing," Bell said. "You have to kind of give them time to reset, and then they'll potentially start singing again."
Various frog species begin singing at different times of the year, with the earliest starting in late February and early March and others throughout spring and even into mid-summer, Bell said.
"It's all courtship," he said. "Similar to in the springtime we see tons of different birds, their plumage gets brighter, the males are displaying, the females are seeking out the males. [With frogs], the males are singing and the females are responding."
This year's frog monitoring on the Southeast Side is intended to serve as a pilot effort, with volunteers going out in teams to record calls. But Sacerdote-Velat said the Nature Museum plans to boost its recruitment of participants within the next year.
"A lot of these spaces, I would refer to them as forgotten spaces, overlooked spaces," Bell said. "And within these spaces, there's incredible pockets of biodiversity. For us, the data would be useful so that we know … are we improving the habitat and seeing more species of frogs?"
For more information about the Calling Frog Survey, or to apply as a volunteer, visit the project's website. 
Contact Alex Ruppenthal: @arupp | [email protected] | (773) 509-5623
---
Related stories:
Chicago Park District Gets $900K for Big Marsh Upgrades