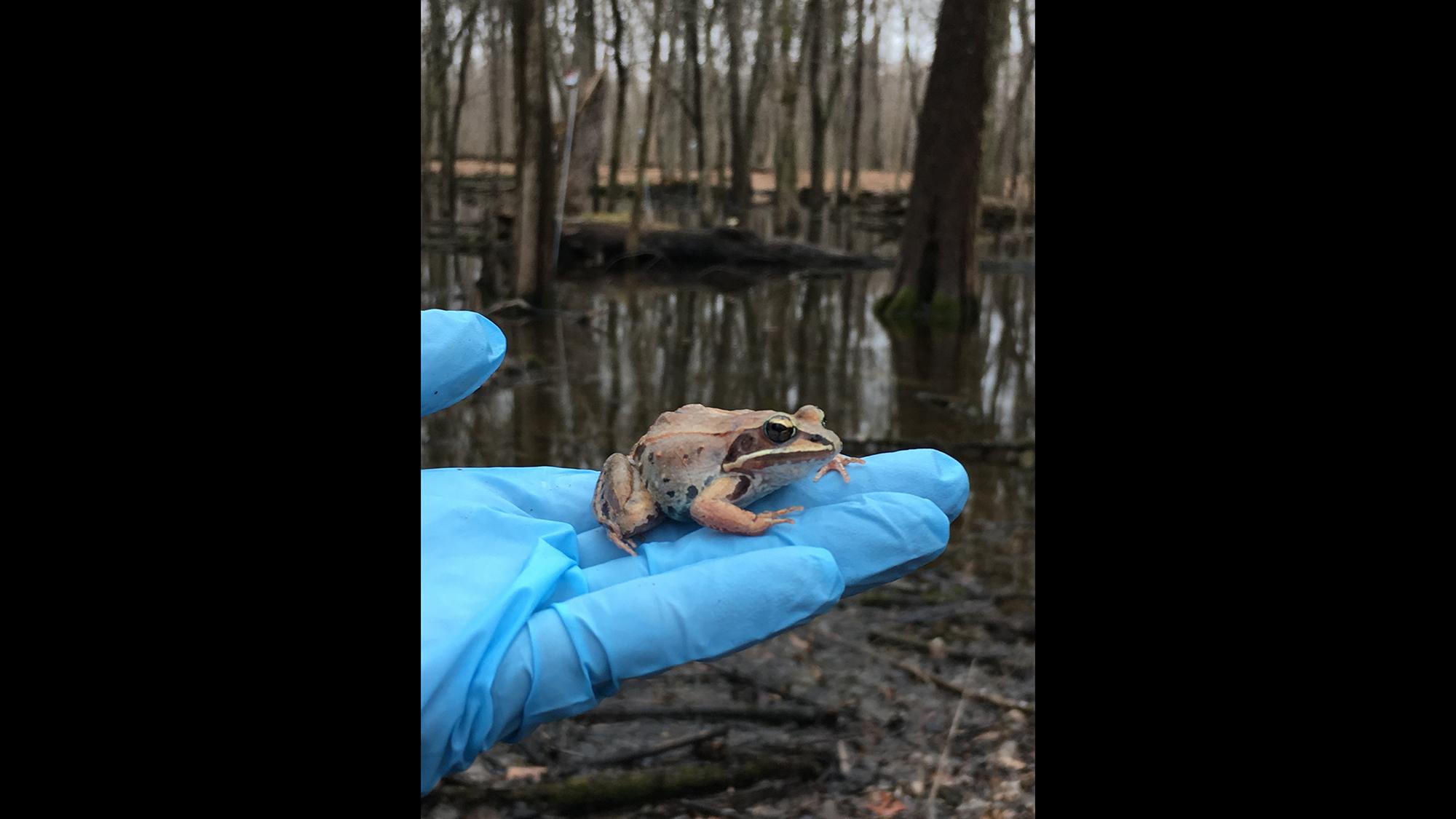 Herpetologists are observing wood frogs in Lake County as they emerge from hibernation and migrate to a pond for a period of mating. (Courtesy Peggy Notebaert Nature Museum)
Spring serves as mating season for all sorts of animals found in Illinois, but no creature goes about it quite like the wood frog.
Since last week, researchers from Chicago's Peggy Notebaert Nature Museum have been observing armies of wood frogs as they awake from hibernation and start mating for anywhere from two days to two weeks.
After emerging from beneath shallow depressions of mud and logs, the frogs migrate to a breeding pond to meet, chirp and mate in what biologists call "explosive breeding." By getting right to it, the frogs are able to beat other amphibians to the temporary pools of water required for breeding. (The frogs cannot breed in larger ponds that contain predatory fish.)
"It gives them an advantage for development and size [by] getting into the pond with as few competitors for food as possible, and with as few predators as possible," said Allison Sacerdote-Velat, the Nature Museum's curator of herpetology.
On Tuesday, Sacerdote-Velat and her team were again at the Lake County Forest Preserves to document the explosive breeding event, which provides the best opportunity to monitor the wood frog population and conduct health assessments on the frogs.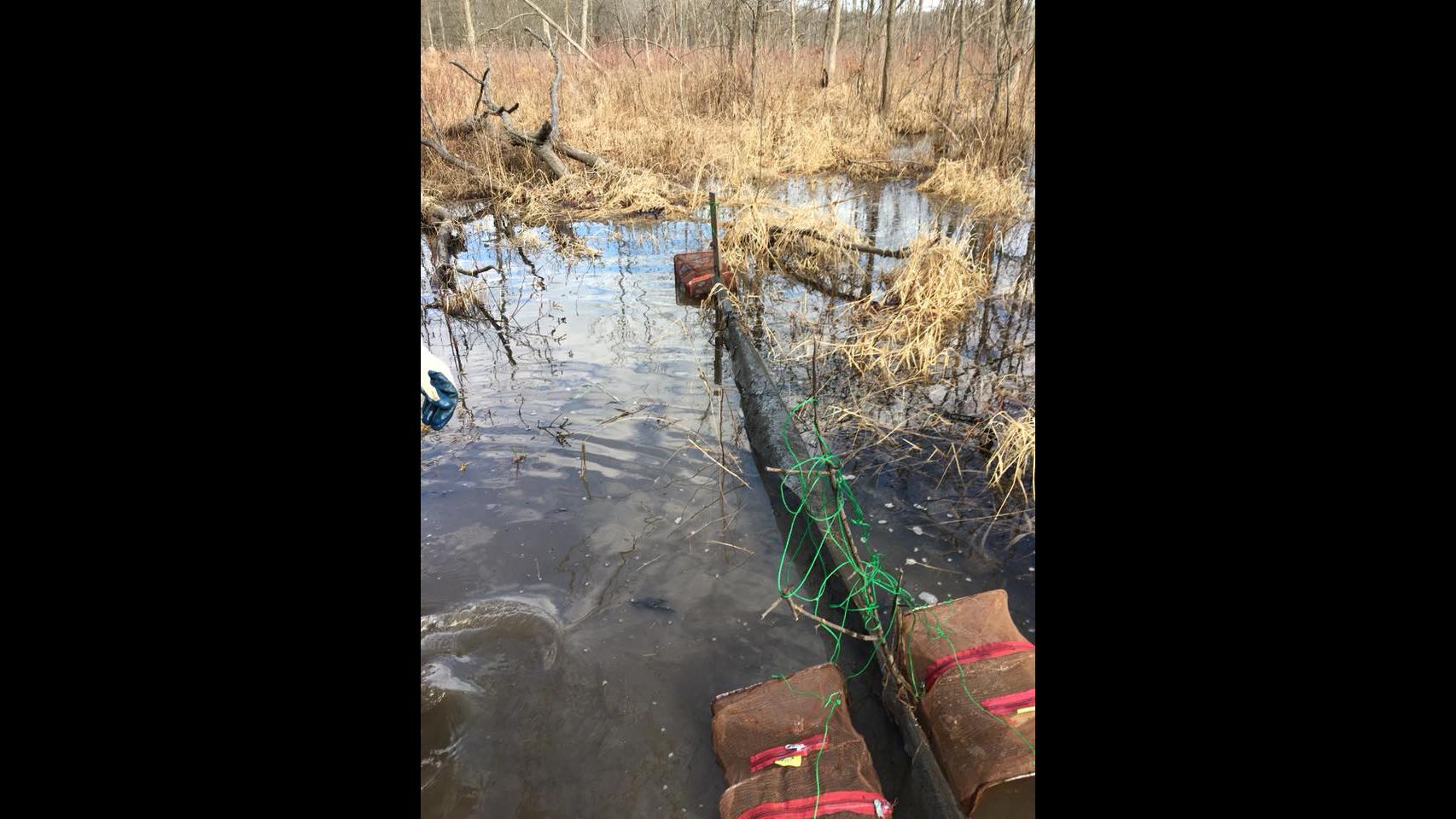 Biologists use an aquatic drift fence and funnel traps to temporarily catch wood frogs in Lake County and in order to conduct health assessments. The frogs are threatened by a number of fungal pathogens. (Courtesy Peggy Notebaert Nature Museum)
The species was once found in abundance in the area but suffered population loss because of invasive species and other environmental factors. The frogs continue to face threats from fungal pathogens, including the chytrid fungus, which is wiping out frog populations worldwide.
Since 2004, wildlife monitoring efforts led by Sacerdote-Velat have resulted in projects to supplement and reestablish species that are rare to the region or endangered, including the wood frog, which are designated as "in great need of conservation" in Illinois.
From 2007-10, the forest preserve relocated wood frog eggs to restored areas where invasive shrubs had been removed. Within four years, biologists had documented successful reproduction and population of the species.
Today, Sacerdote-Velat estimates that 600 wood frogs live at the site.
Although the species has returned to the area, the researchers' work is not finished. Sacerdote-Velat and other biologists return to the frogs' habitat intermittently for check-ins, including during breeding season. Researchers set traps near breeding ponds that allow them to capture and observe a frog and then set it free.
Examining the frogs includes taking measurements, identifying their sex and photographing each frog's unique markings. Researchers also use a noninvasive skin swab to test the frogs for stress and diseases.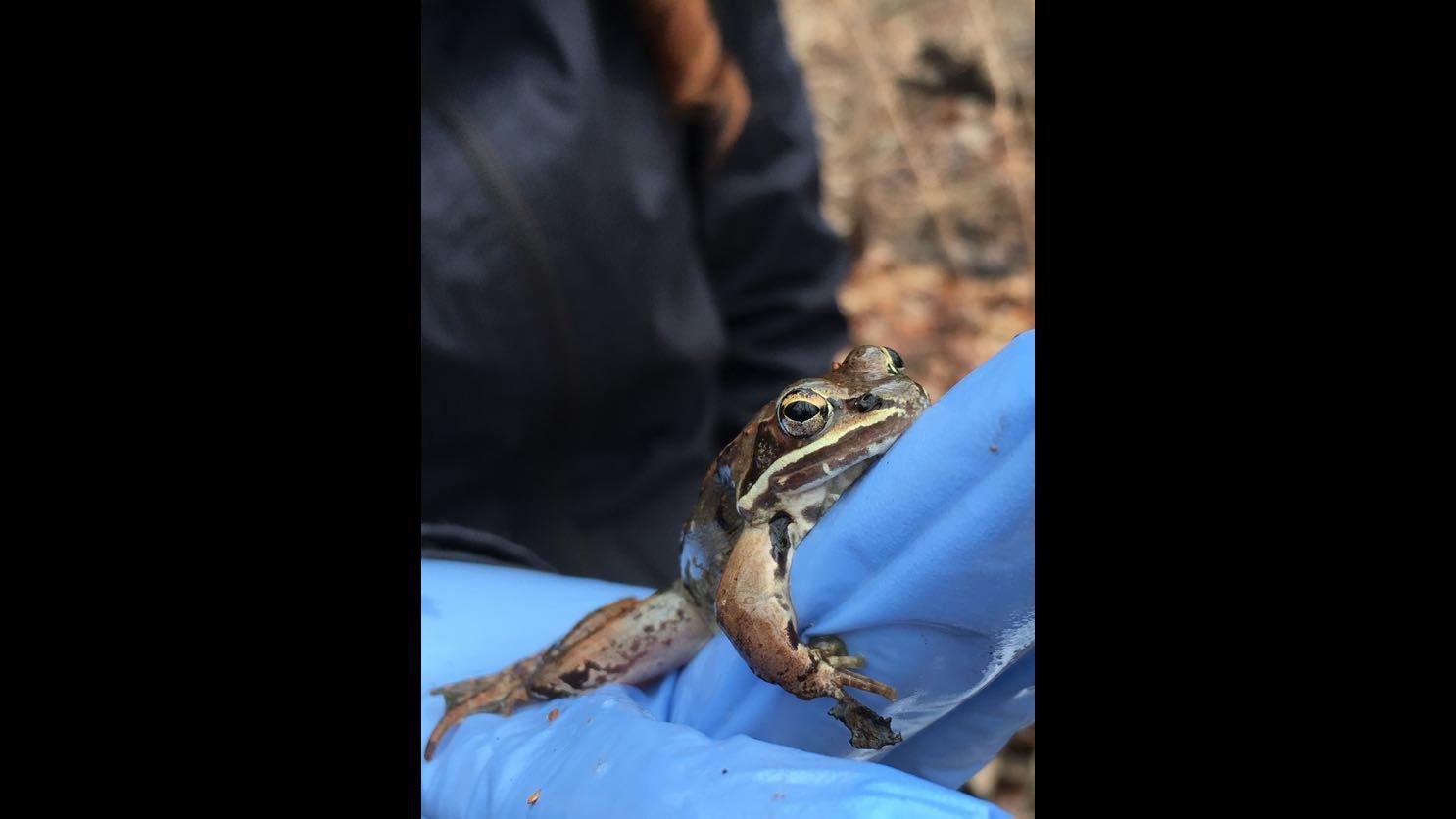 (Courtesy Peggy Notebaert Nature Museum)
Monitoring the status of wood frogs is important because of their role as an indicator species, or one that can provide insight into the health of a number of other species, Sacerdote-Velat said. They also help transfer nutrients between terrestrial and aquatic environments, she said.
"They really have quite a lot to do with the [health] of the ecosystem," she said.
Mating during the current breeding season has proven more difficult for the frogs because of the cold, Sacerdote-Velat said. When temperatures hit 60 degrees for a few hours last week, all of a sudden she heard four different frog species calling out at once.
Sacerdote-Velat and her team will continue monitoring the frogs after mating season, in part via signals sent from tiny radio transmitters fastened to the frogs' backs with custom-fit, nonabrasive belts. The devices allow researchers to track the frogs' movements and collect survival data.
The biologists also plan to reintroduce groups of wood frogs to two additional sites in southern Lake County later this year, Sacerdote-Velat said.
"If you have more populations on the landscape, that's going to boost the survival rate on a region-wide scale," she said.
Contact Alex Ruppenthal: @arupp | [email protected] | (773) 509-5623
---
Related stories:
Brookfield Zoo Euthanizes Beloved Gorilla Ramar
April 12: The 50-year-old gorilla was the zoo's oldest animal. "Knowing it's the right decision doesn't make it hurt any less," said Amy Roberts, curator of mammals for the Chicago Zoological Society.
---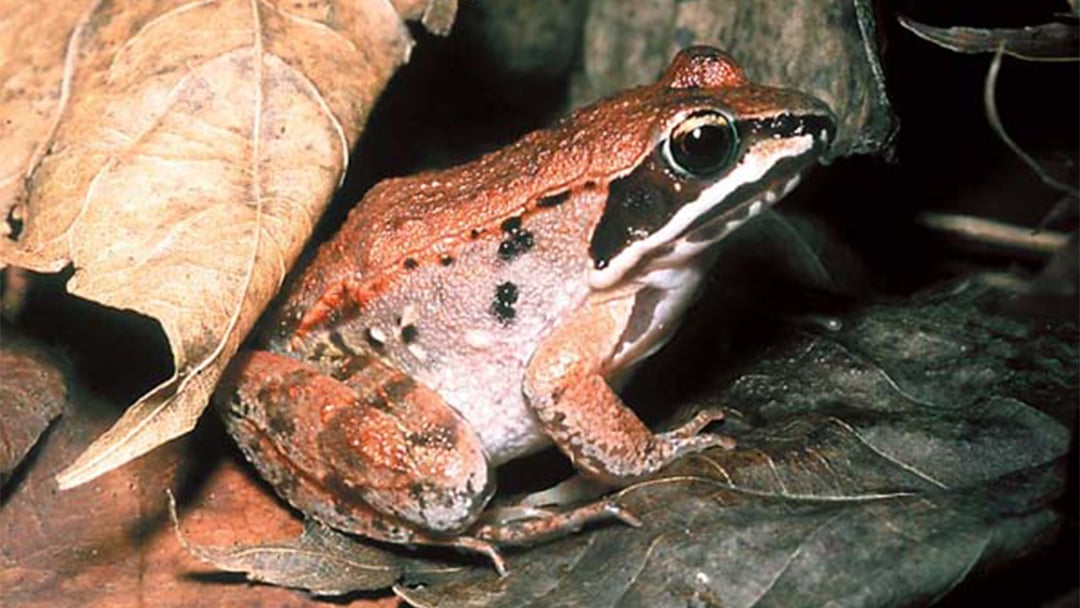 Frogs Get Stress Test in Lake County Habitat Study
July 6: Life as an amphibian is no easy hop through the woods. Why Chicago scientists are measuring levels of cortisol (the stress hormone) in Lake County frogs.
---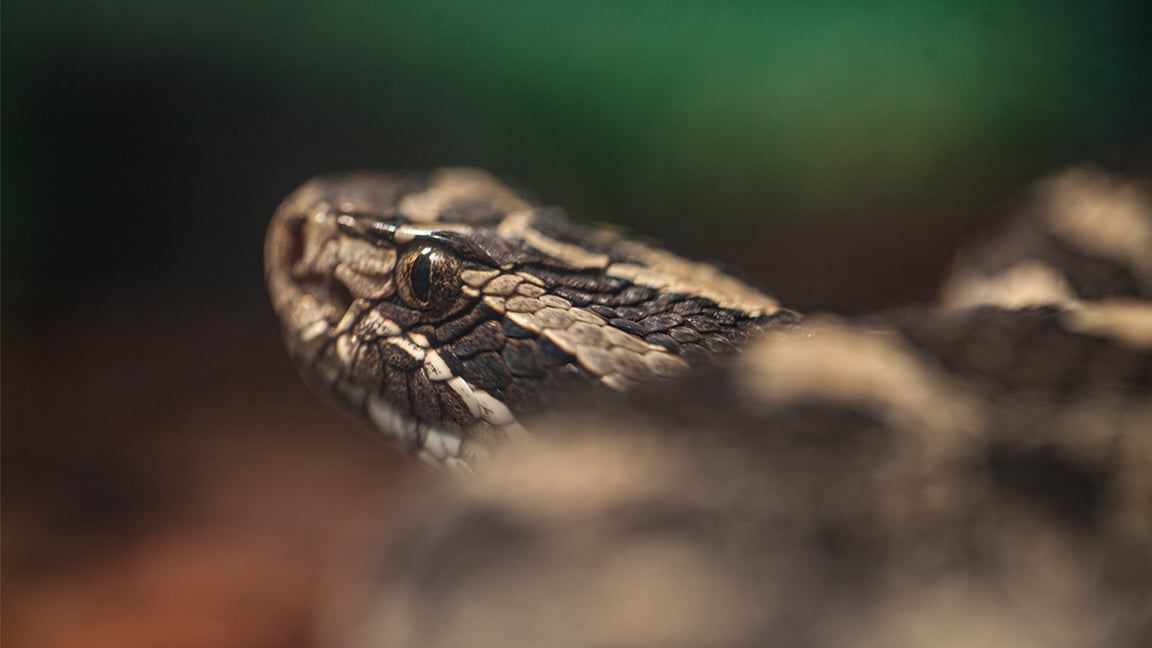 Venomous Illinois Rattlesnake Gets Federal Protection
Oct. 4, 2016: The eastern massasauga rattlesnake, also known as the "swamp rattler," produces venom more toxic than most other rattlesnakes.
---