The term "outsider artist" is big enough to include a creative person without classical training – and a silent artist who communicates only through the mysterious pictures she makes.
A dual art show at Intuit looks at works by artists from Chicago all the way to Auckland, New Zealand. All of them make the case for art as therapy.
TRANSCRIPT
Brandis Friedman: At Intuit, the Center for Intuitive and Outsider Art, a pair of new shows couldn't be more different.
On one side, cartoon worlds created by a New Zealand artist who hasn't spoken in more than 50 years.
On the other side, works by two Chicago artists who fight addiction with creativity. For this, Intuit brought in a curator who ran the South Side Community Art Center for six years.
Faheem Majeed, guest curator: We're in a space of outsider art. At the South Side Community Art Center they're not called outsider artists. They're called artists.
Labels are real important to this institution and we need to challenge labels but also kind of bolster them and figure out when to leverage them, so it's exciting for these artists to be able to tap into something, a whole community of artists that traditionally they would not be in dialogue with.
Friedman: He chose artists with colorful work and colorful lives.
Robert Johnson, artist: I left Chicago in 2007 in order to join the Army. I was 38 years old. I was going thru a really rough patch. It was my own form of treatment in order to overcome my own personal addictions and also to support my daughters.
Friedman: Early on, Robert Johnson painted the glass on discarded windows. But he stopped making art for years while in the Army. Now he has a new approach.
Johnson: I've kind of shifted to different materials: canvas board, found canvases from thrift stores and things like that that I just rework. But I do still have a basement full of windows that I will be giving some attention to.
Friedman: We asked the other Chicago artist in the show about using art as therapy.
E. Nix, artist: I'm using it now to kind of keep me anchored because I'm really struggling to stay clean and stay healthy. It's very important for me and my son.
Friedman: Nix's work includes sculpture, metalwork and collage. This one is called "Heroin, the Musical."
Nix: I'll start, maybe, with an idea that may totally change by the time I'm finished with a piece. And, what happens is, I start creating stories in my mind as I'm working on the piece, kind of narratives that only make sense to me. The piece kind of evolves out of that and becomes part of this narrative in my head that, you know, would seem like nonsense to someone else.
Friedman: In the gallery next door, cartoon narratives have an unusual origin.
They were created by Susan Te Kahurangi King, a now 68-year-old New Zealander who hasn't spoken in almost 60 years.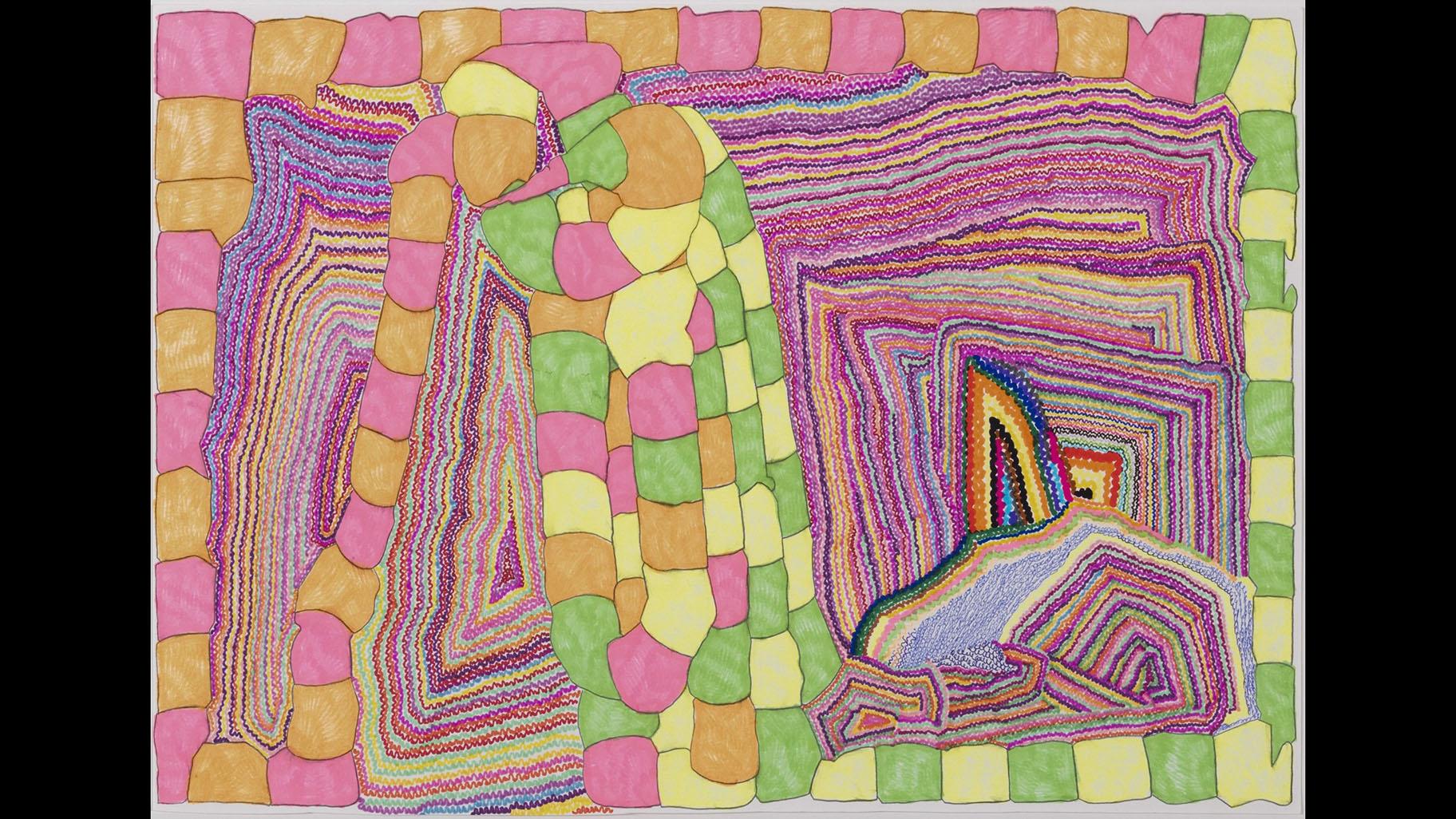 Susan Te Kahurangi King (New Zealand, b. 1951). Untitled, c. 2015. (Private collection, courtesy of the artist, Chris Byrne, Andrew Edlin Gallery, and Marlborough Contemporary, London and New York)
Alison Amick, Intuit: Susan was one of 12 children and she began creating art at a very young age, received much support from her family. She quit speaking by the age of eight and so we'll never quite know exactly the meaning behind each individual artwork.
Coupled with these wonderful drawings we have the archives of her sister, Petita Cole, who has begun collecting works that relate to Susan's life and artwork.
Friedman: We spoke to her sister about growing up with a unique sibling, at first in rural New Zealand.
Petita Cole, Sister of Susan Te Kahurangi King: There wasn't really a school for Susan in the small town because she had special needs. There was no diagnosis but she was a little different – she couldn't talk though she was talking prolifically as a 3-year-old. In order to address Susan's educational needs, the family shifted to Auckland.
Friedman: Susan stopped drawing for almost 20 years – and then resumed her work in 2008. Her life story became the basis for a feature-length documentary.
Cole: She keeps to herself. She draws in the background, and we always know they're great drawings but there's not really any or very little if any interaction.
Friedman: In recent years, her work has been shown in Paris, New York, and now Chicago.
Cole: Now it's like everybody's rallying around Susan. It's like, "She's the man!" you know?
---
More on this story
The exhibition "Susan Te Kahurangi King: 1958-2018" is on display through Aug. 4, 2019; "Creative Impulse: Works by Robert Johnson and E. Nix" is on view through April 21, 2019.
Note: This story was first published on April 1, 2019.
---
Related stories:
Chicago Music Fan Turns Weekend Hobby Into Second Career
Artists, Architects Reimagine the Possibilities of Design in 'Dimensions of Citizenship'
Local Museums Embrace Rich History of Design in Chicago
---