What do you do after dropping out of the University of Chicago, serving four years in the Navy, and then moving back to your parents' house in Rockford? If you're Stephen Warde Anderson, you teach yourself how to paint.
We recently met the artist during one of his rare visits to Chicago. It gave us the chance to get to know a genuine – and genuinely eccentric – outsider artist.
TRANSCRIPT
Phil Ponce: Portraits of Cleopatra, George Washington and pop music royalty Karen Carpenter.
Figures from history sit side-by-side with stars of popular culture, obscure actors, even scenes of alien visitation.
The small museum inside the Intuit Center for Intuitive and Outsider Art is currently packed with paintings of alluring women – and unusual men, including a self-portrait of the artist as a young man.
Stephen Warde Anderson: I go through different periods, but I always seem to come back to portraits, at one time or another I'll go through maybe a year or something and don't do any. I've done sort of fantasy scenes, things with fairies, things with UFOs and aliens. I've done things with animals.
Generally the work is sort of whimsical. It has a naïve quality. I've tried to make it very polished and professional and realistic, but it never turns out that way. It always has this naïve feel to it. I guess it's the technique or maybe it's just me.
Ponce: One technique he used on early works is decidedly unorthodox.
Anderson: I began painting in tempera rather than oil or acrylic and I found early on that if I let the tempera dry I could re-liquefy it with saliva, and instead of the original tempera with a water base, the saliva would make it a little thicker, a little stickier, and it would go on better and make a richer look to it. So I've got it all down to a science.
Ponce: Anderson lives in the house he grew up in in Rockford, Illinois. It was built by his father, a bricklayer.
Anderson: Born in 1953 in Rockford, I've spent just about my whole life in Rockford in my parents' house. I had a year at the University of Chicago. I was four years in the Navy – I served on a frigate home ported in Athens Greece. That was an interesting experience, and then the rest of my life has been kind of hermit-like. Even today, I haven't been to Chicago for eight years or something, so I don't get out very much.
Michael Noland, artist/friend: He's an interesting guy, I mean, he's very intelligent, but he's not like anybody I've ever met.
Ponce: In 1997, WTTW cameras visited the Rockford home of Anderson for the "Wild Chicago" program.
Noland: I say to people going to visit him at his house it's almost like a David Lynch film, it's a strange experience. I don't mean it in a bad way. It's just, I've met hundreds of artists over the years and met a lot of self-taught artists, but I've never had the experience I've had with him.
Ponce: Now this one-of-a-kind painter has a one-man show.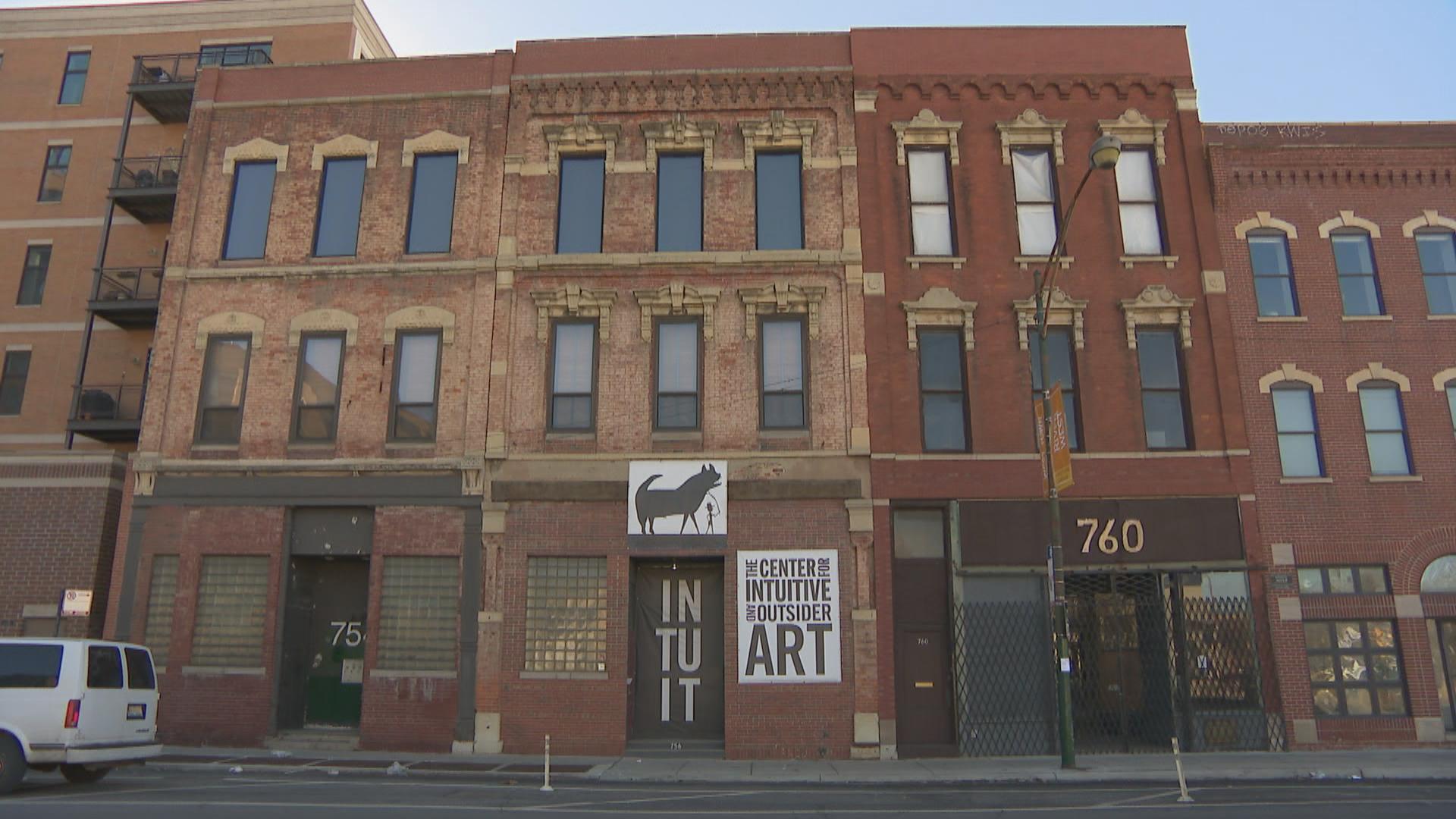 Debra Kerr, executive director of Intuit: Intuit exhibits outsider art, and we define that as works by artists who are self-taught without a great influence from the mainstream art world, and many of those artists might have been incarcerated, hospitalized, have mental illness.
Stephen is not someone who has come from a classically trained background. He does this because he's compelled to do it.
Ponce: Being labeled as an "outsider artist" doesn't faze him.
Anderson: It doesn't bother me, it's all good. If I have to hang next to a convict or a lunatic, that's all right, you know, because the part of their brain they're using for creating, it's a good part of the brain, and even if the painting is a little wild there's a certain sanity to the insanity of painting.
Ponce: Anderson has many enthusiasms. He's fascinated by genealogy, and the Bible – he's currently writing his own annotated edition.
But a few of his favorite things are old movies and television programs.
Anderson: Oh yes indeed, I think that was my great passion as a child and teenager: movies, TV. I still have records that tell me what movies I've seen since 1967, like if you say, 'What did you see on Jan. 21, 1983?' I can go to my records and find out!
Video: Outsider artist Stephen Warde Anderson talks about encountering aliens and hippies – and why "Carnival of Souls" (1961) is one of his favorite movies.
---
Kerr: Chicago is a place that early on accepted, embraced and promoted outsider art.
Noland: He's sort of almost old-fashioned. He has mannerisms from another time – and his mother had it too. I've never heard Stephen say anything off-color, I've never really heard him talk bad about anybody. He's a real gentleman.
Ponce: The artist has some parting advice for consumers of modern media.
Anderson: People should round out there education in popular culture by learning about and seeing old movies, old music. And it's so easy to do – just go to YouTube. But, be adventurous, because you'll find things that you like that you'd never dreamed that you'd like.

More on this story
The exhibition is called "Stephen Warde Anderson: Attention to Detail." It is at the Intuit Gallery until May 13.