It is a window into a world of weird and wonderful art with a Chicago pedigree. We visit Intuit, the local gallery and museum that preserves and promotes unusual art made by unusual people.
Its new show looks at Chicago art that swims against the current.
TRANSCRIPT
Phil Ponce: There are alluring women, strange landscapes, heroic little girls, and many views of the city that inspired the artists.
All of the works were created by people without artistic training who followed their sometimes compulsive intuitions.
The story of so-called outsider artists is a little-known piece of Chicago art history.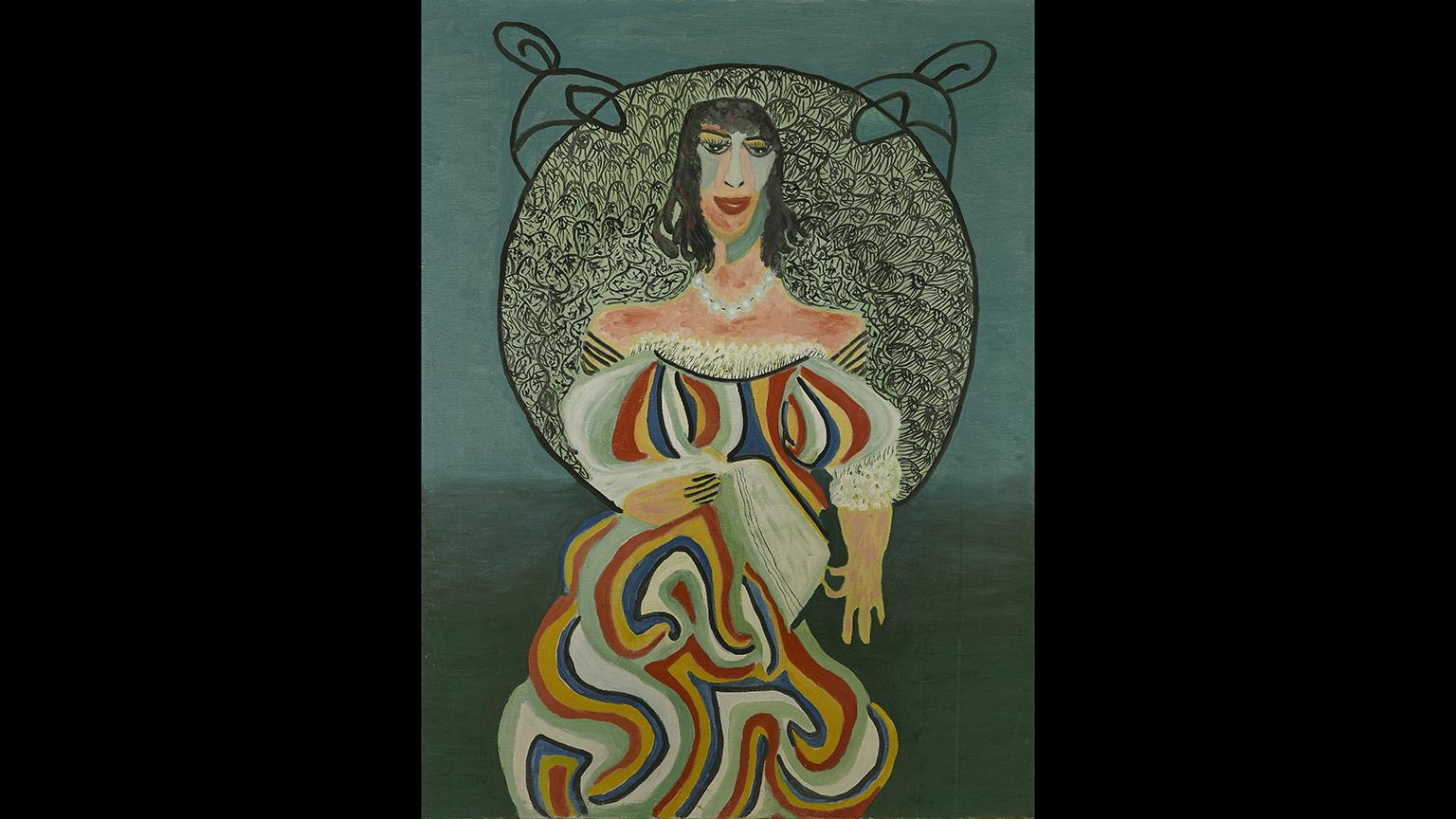 Pauline Simon (American, 1898-1976), "Untitled (woman with book)," 1968. Collection of Karl Wirsum and Lorri Gunn.
Debra Kerr, executive director, Intuit: The Center for Intuitive and Outsider Art: This show really represents the story of Chicago being one of the first places in the United States that accepted, embraced, promoted and looked for outsider art and artists. It's the reason Intuit is even in Chicago, because Chicago is this place that embraced the genre, had people that were really interested in it and wanted to showcase it in a more visible way.
Intuit has been around for 27 years, and it was much earlier than that that the story really began where people were interested in outsider art in Chicago.
In 1951 the Arts Club hosted the French artist Jean Dubuffet who had come to the United States to really talk about what he called "art brut" – raw art. And he didn't get a very great reception in New York but Chicago really embraced it and that helped to further spur on Chicago's interest in art made by people who are self-taught and outside the academic mainstream.
Ponce: The show is called "Chicago Calling: Art Against the Flow." It features 10 Chicago artists – including Henry Darger, the reclusive creator of "The Story of the Vivian Girls" – a 15,000-page graphic manuscript about children rebelling against slavery.
For creators such as these, there is an intense need for self-expression.
Kerr: There's a compulsion factor among outsider artists where they have to create, and even if they don't have access to art supplies, they create with whatever is to hand – so sometimes, for instance swe see Lee Godie works that were made on pieces of window shade or sculptures that were made by Mr. Imagination with bottle caps and, and other kinds of, of found objects cobbled together.
Ponce: So why did Chicago embrace these visionary artists?
Kerr: I think we don't really know "why Chicago," but we do know that Chicago is a city that is not influenced by Europe or other cities. I don't think we ever felt like we ever felt we had to compete maybe in the way that New York did at one point. And Chicago is just its own place: It's edgy, its people are interested in new things, and the fact that this art genre was accepted here is all about Chicagoans looking for the new and unusual and accepting this quirky, funky art from the edge.
Ponce: The exhibition is part of Art Design Chicago, the citywide, yearlong exploration of the city's art and design legacy.
After Chicago, the show gets a European tour, visiting Paris, Heidelberg, Lausanne and Amsterdam.
Kerr: We're very excited that this exhibit is going to go to four venues in Europe. When I talked to my colleague who's the director of Halle Saint Pierre in Paris she said, "When we think of outsider art and America, first we think Chicago, then we think New York, then we think of the rest of the country."
These are artists who really express a range of their representation of the genre – paintings, sculptures, photography even.
And we hope that this exhibit opens our doors to many more Chicagoans who are going to learn about outsider art, learn about these incredible artists and their art, and the fact that Chicago was a place that embraced them, welcomed them and supported them.

More on this story
The exhibition "Chicago Calling: Art Against the Flow" is on view through Jan. 6, 2019 at Intuit, the Center for Intuitive and Outsider Art.
---
Related stories:
Stephen Warde Anderson: One-of-a-Kind Painter Has One-Man Show
New Arts Club Show Explores Chicago as 'A Home for Surrealism'